The best 'Phở' stands in Ho Chi Minh City
What list of Vietnamese cuisine would be complete without pho? It is almost impossible to walk a block in Vietnam's major cities without bumping into a crowd of hungry patrons slurping noodles at a makeshift pho stand. This simple staple consisting of a salty broth, fresh noodles, a sprinkling of herbs and chicken or beef, features predominately in the local diet – – and understandably so. It is cheap, tasty, and widely available at all hours. This authentic, nutritious and delicious food has attracted not only Vietnamese people but also tourists traveling to Vietnam.
Pho Hoa
A restaurant with a long legacy, Pho Hoa consistently ranks as one of the best places to sample Vietnam's most popular noodle soup. This restaurant has been run by successive generations of the same family which adds a little history to your meal. The broth recipe here is a family secret helping create a little mystique around the flavors.
Actually, the place was so well-known and popular that many restaurants in the US are named some variations of Pho Hoa Pasteur.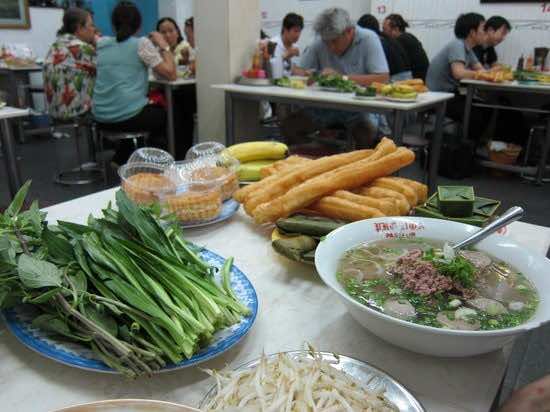 Add: 260C Pasteur Street, Ward 8, District 3, HCMC.
Opening hours: 6am- 11pm.
Pho Le
The atmosphere is a cross between low stool hardcore Vietnamese street food and air-conditioned, low-end restaurant. I have to say that the broth seems to be richer than normal pho. You can see some fat bubble in the soup, definitely not for the health conscious or those on a diet. There is a wide variety of topping such as beef ball, rare beef, boiled beef, beef brisket, beef plate, beef tendon…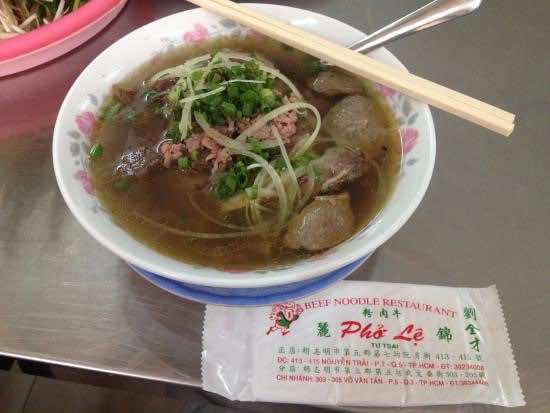 Add: 370 Nguyen Trai Street, District 5, HCMC/ 303 Vo Van Tan Street, District 3, HCMC.
Opening hours: 6am to 1am.
Pho Dau
Pho is Vietnam's national dish which is famous all over the world. Although Pho originated in the North of Vietnam, you can easily find pho stands everywhere in Ho Chi Minh City. If you would like to enjoy a bowl of original Vietnam noodle soup served without vegetables, black soya bean paste, beef ball, let's come t pho 'Dau' located in a small alley in Nam Ki Khoi Nghia Street.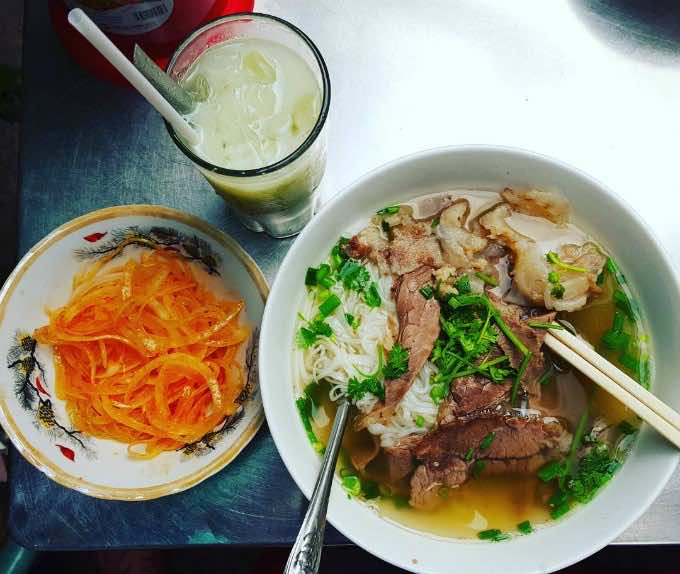 Add: 288 M1 Nam Ki Khoi Nghia Street, Ward 8, District 3, HCMC.
Opening hours: 6am to 12pm
Pho Hien
Pho Hien is special for its broth cooked from beef bone and many kind of vegetables. The blood is the nicest I've had by far in Ho Chi Minh City, so you should give it a try.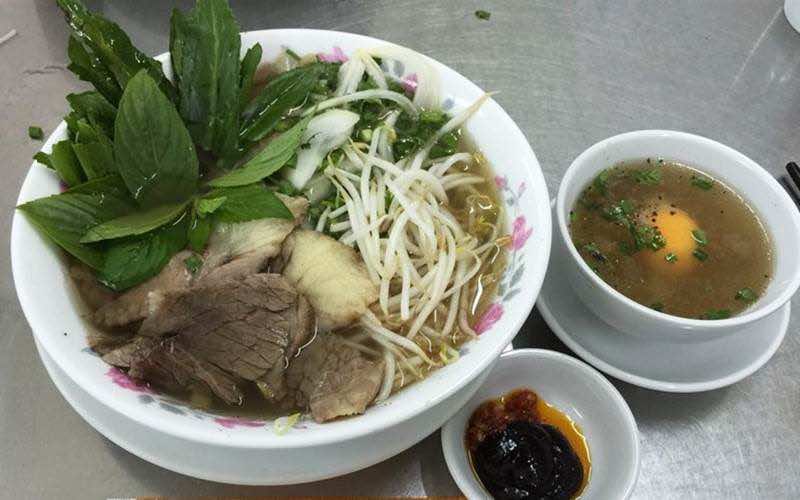 Add: 68/9A Tran Quang Khai, Tan Dinh Ward, District 1, HCMC.
Opening hours: 6am to 10pm.
Pho Cao Van
The owner of this pho stand is Mr Tran Van Phon moving from the North to the South to open one of the best pho in Saigon with its special recipe. Especially you should order a small bowl of egg to add into the noodle soup bowl.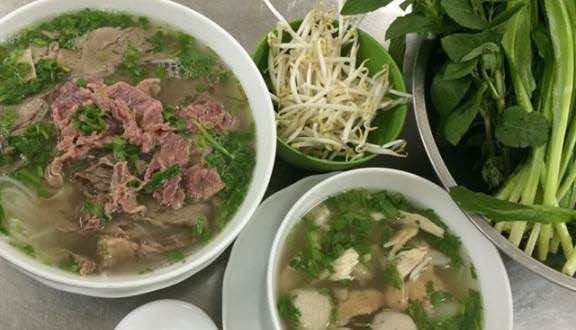 Add: 25 Mac Dinh Chi Street, Da Kao Ward, District 1, HCMC.
Opening hours: 6am to 10:30pm.
Pho Minh
When it comes to pho in Saigon, many people may opt for Pho Hoa at Pasteur street. I would like to recommend Pho Minh located in a small alley of this street. This food shop features on the taste of Northern cuisine. Escape from the hustle and bustle of the city, you can enjoy the traditional flavor at the spacious place with old tables and chairs.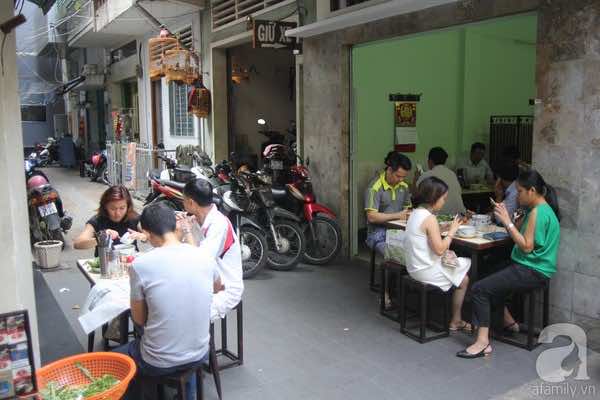 Add: 63/16 Pasteur Street, Ben Nghe Ward, District 1, HCMC.
Opening hours: 6am to 10am.
Pho Tau Bay
Although the shop is located in a small alley, Pho Tau Bay is one of the oldest and most famous Pho stands in Saigon. Pho in this shop originated in Nam Dinh province. When it comes to Pho Tau Bay, almost customers may remember two special things: ceramic spoon and fat sauce. It has been said that it seems to be tastier to eat pho with ceramic spoon.
Add: 433-435 Ly Thai To Street, Ward 9, District 1, HCMC.
Opening hours: 6am to 11am.
Pho Ky Dong
Apart from Vietnamese noodle soup served with beef, you should try pho with chicken. Pho Ky Dong serves pho with chicken and chicken broth, especially you will have a chance to taste delicious Vietnamese garden chicken and many kinds of topping such as chicken brisket, chicken drumstick, chicken wings…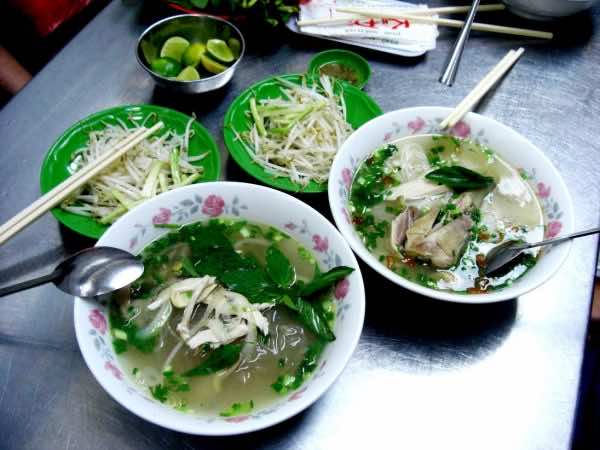 Add: 14/5 Ky Dong Street, Ward 9, District 3, HCMC.
Opening hours: 5am to 11:30pm.
I hope that all the shops mentioned above will serve you the most delicious bowl of Vietnamese noodle soup and help you to have a great experience in Saigon. Enjoy!!!!