A one-day trip to Can Gio Mangrove Forest
Escape from the hustle and bustle of the city and explore one of Vietnam's most diverse ecological areas. From Ho Chi Minh City, take a speed boat trip to the Can Gio Mangrove Forest and have the exploration of the lush jungle surroundings of this UNESCO Biosphere Reserve.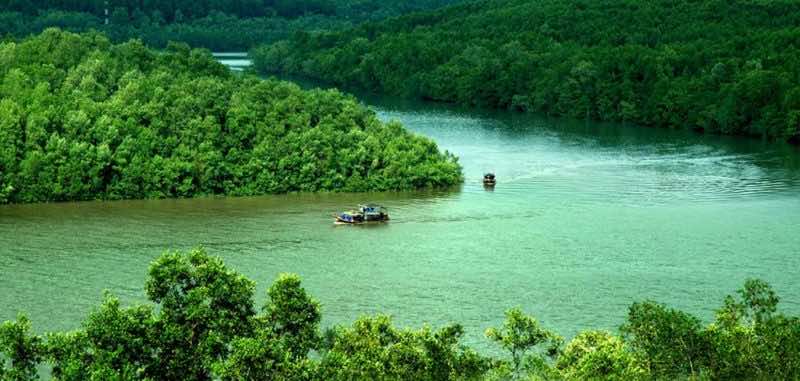 Can Gio is one of the 24 districts of Ho Chi Minh City, Vietnam. This district is located 50 km from the city center. It shares borders with Nhon Trach, Vung Tau by the rivers and South China Sea.
Can Gio is home to Can Gio mangrove forest, a biosphere reserve listed by UNESCO. The Can Gio mangrove forest is home to around 160 flora species, more than 700 spineless species, 137 fish species and more than vertebrate animal species.
How to get there
Because the distance from the city center to Can Gio is not too long that makes it easy to go there by bus or motorbike. Apart from them, you can get there by speedboat if you book a tour with a travel operator.
What you expect in Can Gio
Explore Vam Sat Mangrove Forest
Vam Sat mangrove forest is listed in the World Network of Biosphere Reserves with the abundant fauna and flora. You will have a chance to explore the famous attractions such as bird yard, Dam Doi, crocodile farm… Also, taking part in some interesting activities like fishing, crab fishing, watch the birds, crocodile fishing will leave you some first- hand experience.
Added to this, you can opt for go canoeing through green and cool canals surrounded by rows of mangrove along.
Monkey island is another attractive action for the trip. You can have fun with the monkeys or take a walk through the island to see saltwater crocodile reserve. It is also a good idea to bring along some fruits to feed these hungry monkeys.
Rung Sac Guerrilla Base is also a highlight point for the trip where you can broaden your knowledge about the Vietnam War and how Vietnamese guerrillas executed their clever war strategies.
Can Gio is also known as the home of excellent seafood with a booming fish farming industry. You can have a look at Hand Duong market where you can buy seafood, and make a request processing them right away at an economical price and enjoy them at the beach.
Paying a visit to Ca Ong mausoleum. Ca Ong is a general term for huge fish such as whale and shark. A common ritual practice among local Vietnamese is to workship the giant and the powerful.
CODE: Can Gio Mangrove Forest tour 1 day