Ho Chi Minh City offers diners a wealth of choice in cuisines. In addition to the obvious plethora of Vietnamese restaurants, cuisines from many countries are readily available throughout the city. There has a long history of Chinese people living here and of course Cholon, Saigon's Chinatown, is testament to that. In fact, the city used to be called Saigon-Cholon. It is therefore not surprising that Chinese restaurants enjoy a full and varied representation within city boundaries.
Chinatown itself consist of the western half of District 5 and several joining wards from District 5 and several joined wards from District 6. It is here that you will find many Chinese restaurants will be found in early hours, purchasing fresh ingredients to supply their kitchens. The restaurants in Cholon are mainly small business catering not only for the expat Chinese community but also for the locals in Ho Chi Minh City.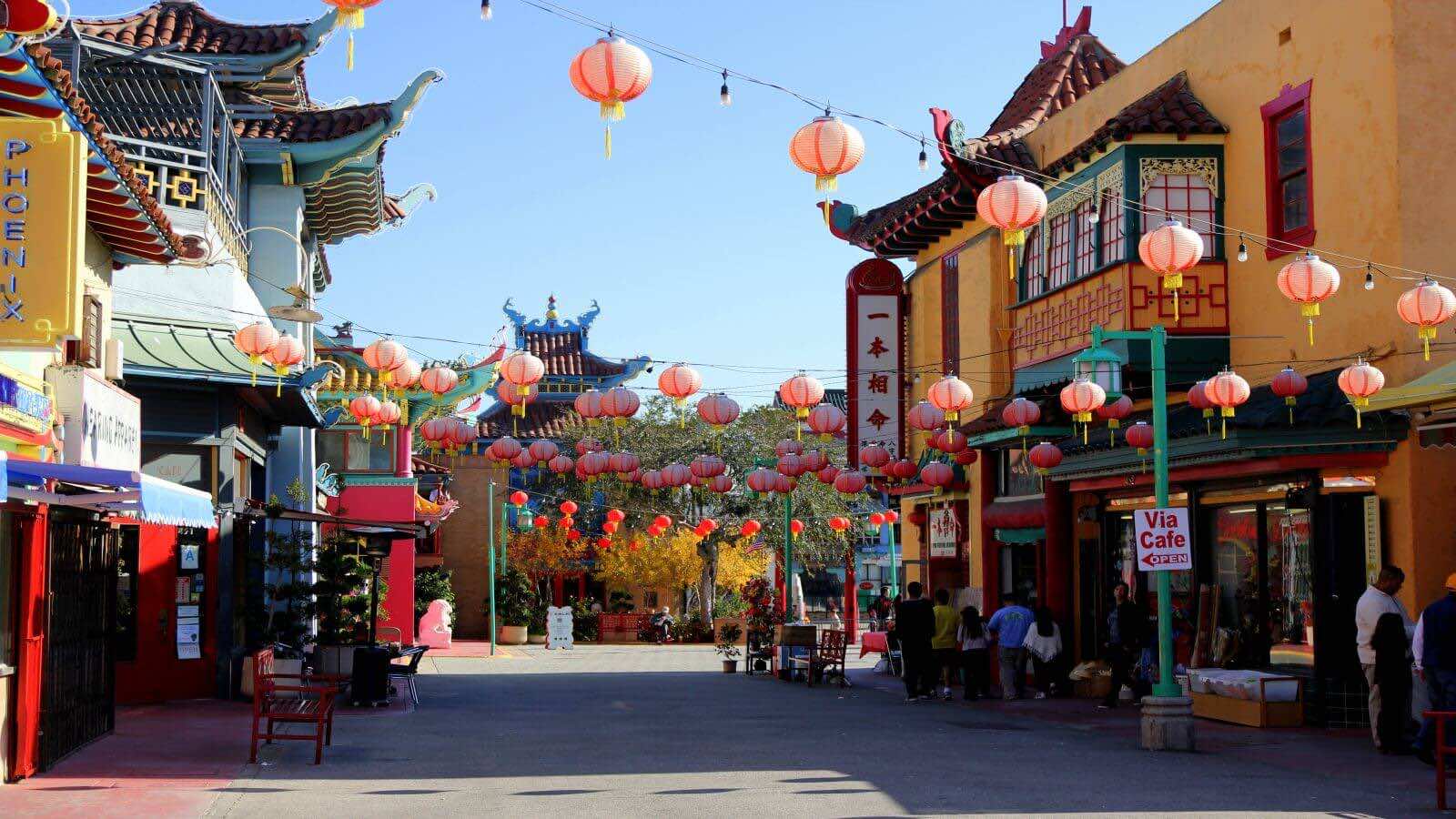 Here is the list of best places that you can satisfy your appetite when getting around Chinatown in Ho Chi Minh City.
1.Bot chien
Among the munchies in Saigon, bot chien is found on almost every street corner come sun down. Bot chien starts off as a scrambled mess of one or two eggs and fried rice flour cakes, pre-marinated in a secret sauce. The result of bot chien are little bite sized nuggets of crispy sticky rice flour, enriched with egg, and with a nice smoky flavor. A smattering of shredded turnip is then added to the batch and garnished with chopped green onion before being delivered to your table, where you then have the option too top it off with shredded young papaya.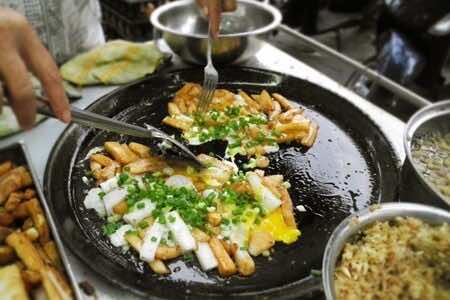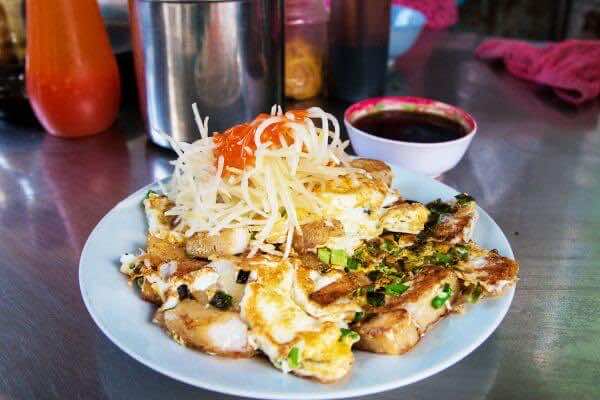 Bột chiên – 190 Hai Thuong Lan Ong Street, Ward 24, District 5, HCMC.
Opening hours: 2 pm – 10 pm
2.Fish noodle soup
The Chinese have their own special cuisine; they cut fresh snakehead fish into extremely thin slices. Chinese style noodles are softer and larger in width than Vietnamese noodles. The soup is cooked with snakehead fish and pork bone to give it a natural and unique sweetness. The pure white of noodles combine with opalescent fish slices, making dishes look incredibly gentle. The attractiveness of this dish lies in its bouillon.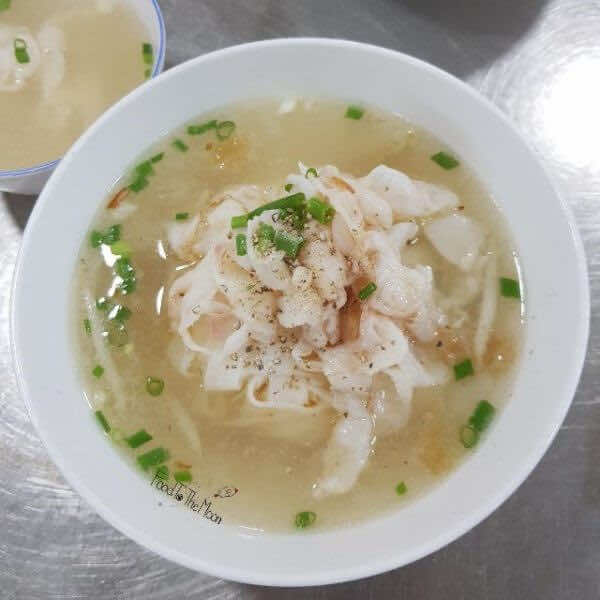 Hủ tiếu cá Nam Lợi – 43 Ton That Dam, Nguyen Thai Binh Ward, District 1, HCMC.
Opening hours: 6 am – 12 pm/ 1 pm – 5 pm
3.Roasted duck
A saying that is often heard is: "There are two things you must do in Beijing: eat Beijing Roasted Duck and the Great Wall." Beijing Duck has even been dubbed "the number one delicious food in the world."
In Vietnam, people usually come to the stalls to take away the roasted ducks, so most of the food stalls serving this dish do not have tables and chairs for customers to sit down. They only have a huge rack covered by glass where they can hang up the yummy roasted ducks inside. You can enjoy roasted duck with fired dumplings or sticky rice.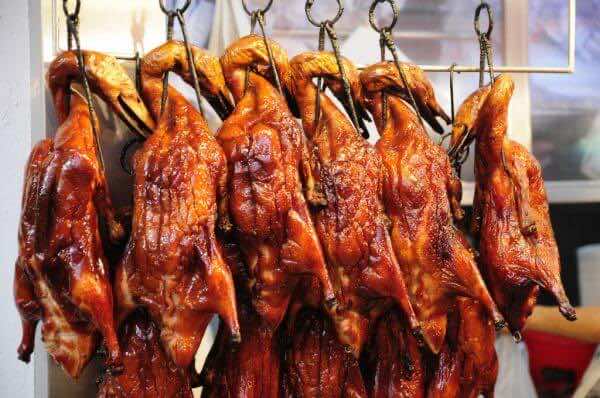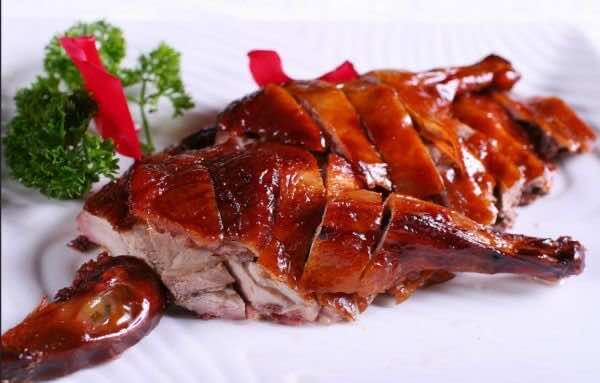 Vịt quay Quốc Ký – 471 Tran Phu, Ward 7, District 5, HCMC.
Opening hours: 9 am – 8 pm
4.Roasted duck with black pepper sauce
The roasted duck with black pepper sauce in Macau style is a special dish in Saigon's Chinatown. Crispy, irresistible flavorful and tasty skin, no thick fat layer under the skin, not too soft meat and well-marinated with aromatic black pepper duck sauce… and the sauce served together! Speechless!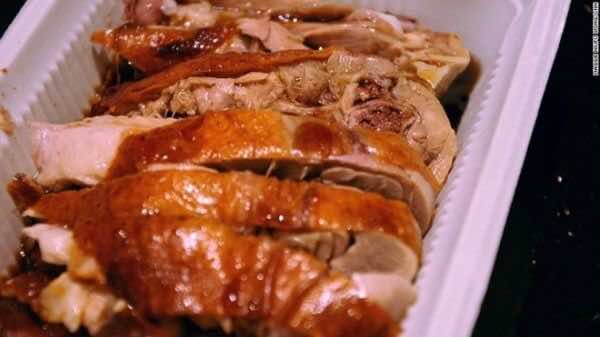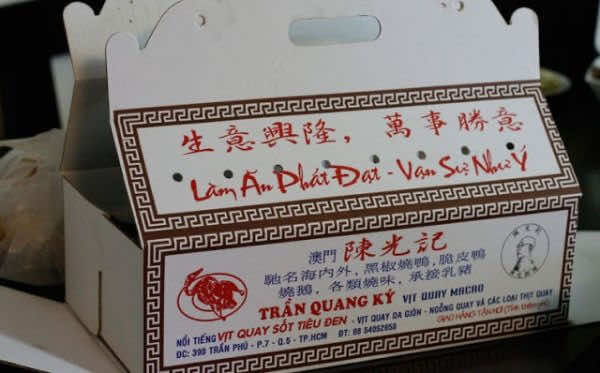 Vịt quay sốt tiêu đen Trần Quang Ký – 390 Tran Phu, Ward 7, District 5, HCMC.
Opening hours: 6 am – 9 pm
5.Sui cao
Sui cao is a kind of Chinese dumpling which has a thin cover and a meat kernel. A standard sui cao bowl features little in the way of embellishments, but its light, clear broth and plump wontons are really all you need. Packed with a single shrimp and savory minced pork, each wonton's meaty goodness balances out the subtlety of the broth, making this dish comfort food at its finest.
Diners can personalize the dish with an array of sauces, from hoisin sauce to chili and lemongrass. Those who prefer a bit more in the way of variety can fill their bowl with several other add-ons, including crab, squid and fish balls, if desired. And in the great food of the south, District 11's Ha Ton Quyen is where you go for sui cao.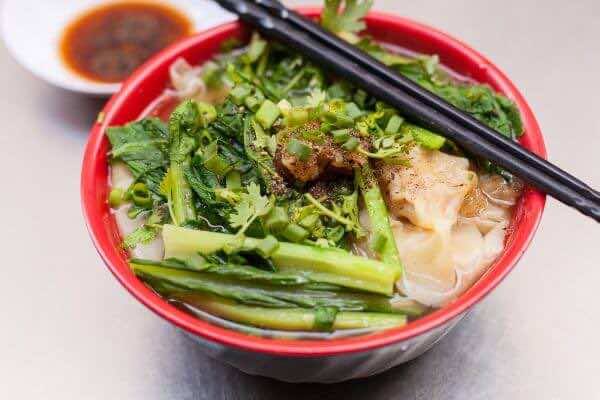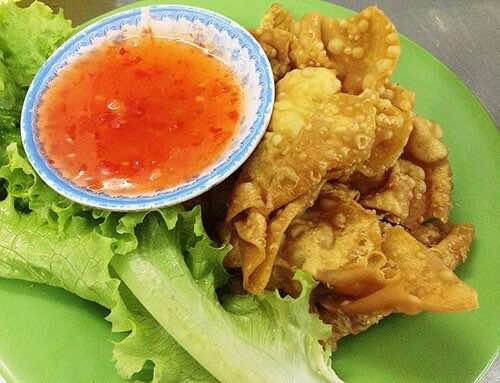 Sủi cảo Thiên Thiên – 195-197 Ha Ton Quyen, Ward 4, District 11, HCMC.
Opening hours: 1.30 pm – 1 am
6.Dim Sum
Dim sum has really taken off in Saigon over the last few years. There is now a growing number of dim sum joints that cater to the city's burgeoning youth, who have a thirst for new, foreign dining experiences, but haven't the cash to go high-end. The menu is as extensive as it is delicious, featuring nearly a dozen pages of steamed or pan fried dumplings. Classics, such as Hong Kong dumplings filled with whole shrimp, steamed dumplings filled with shrimp and chives, sit alongside some more creative ones, like seafood dumplings with salted duck egg yolk.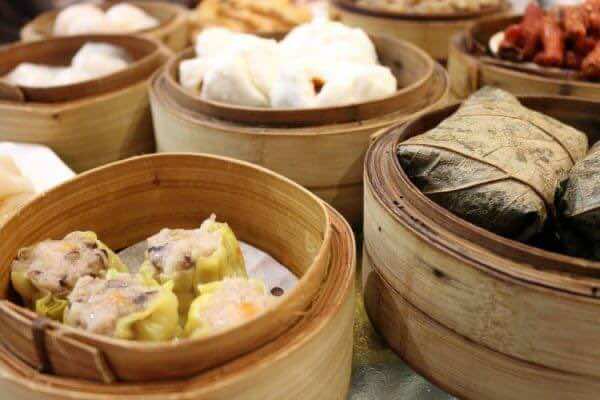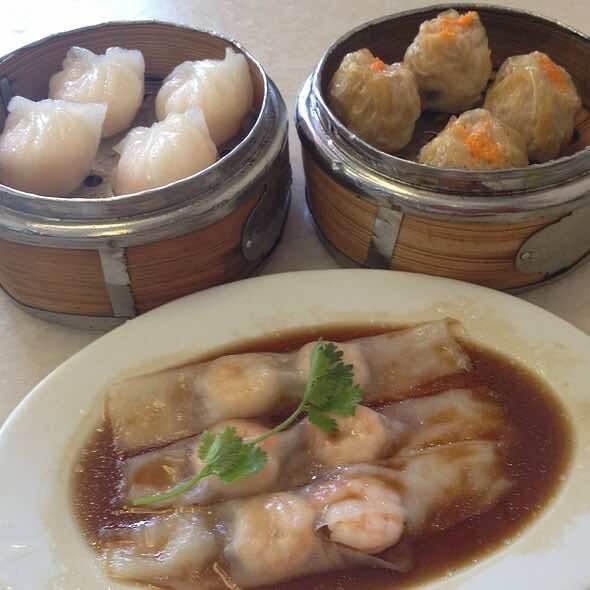 Dim sum Tân Nguyên Thái – 102D An Duong Vuong, Ward 9, District 5, HCMC.
Opening hours: 6 am – 2 pm
7.Che – Chinese sweet soup
It would be remiss not to mention che-sweet soup when talking about Chinese cuisine, and a pity not to visit the Chinese quarter of Ho Chi Minh City and sample the serving at Che Ha Ky.
A popular staple is a sweet soup with chicken eggs and tea. They make it by boiling the eggs first then poaching them in tea with sugar thrown in. The whites turn brown and become stiffer as they absorb the tea. The tea also makes the soup easier to digest. The diverse assortment of che also includes sweet potato soup, lotus seed soup and tofu, and almond soup. To make the most of these selections, eat them with some ice.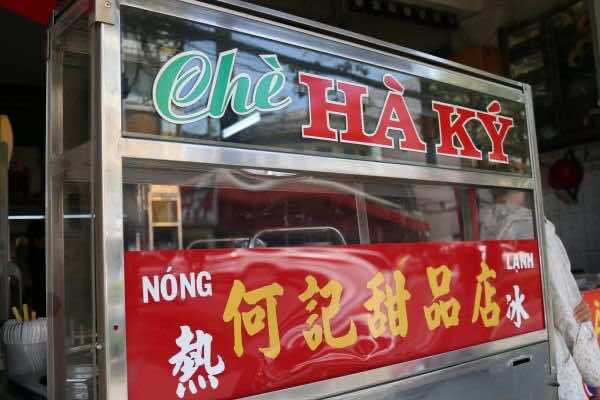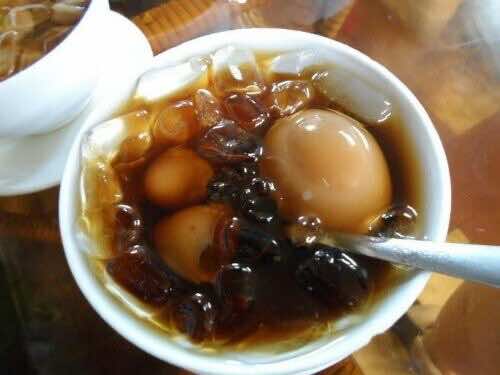 Chè Hà Ký – 138 Chau Van Liem, Ward 11, District 5, HCMC.
Opening hours: 2 pm – 11 pm
8.Handmade fresh noodles
Among culinary heritages of Cholon are survived till these days after tremendous changes, fresh noodles from Chinese residents must be mentioned. If we have to choose a typical dish of Cholon area, fresh noodles must be winner. There are numerous choices of noodle including ribs, char siu, stewed duck, kidneys or wontons. Good noodle threads must be handmade, shining yellow, and elastic until diners finish their bowl.
The giant pot of broth, clear and aromatic is always boisterously boiling with flowing pork ribs. The cook just need a pair of chopsticks to split them up since they are already so tender. The salty taste of char siu pork mixed with crunchy shrimp crackers and oyster sauce create a perfect combination in your mouth. The noodle soup is also delicious, so even when customers order the dried noodles, they usually want to have a bowl of noodle soup along side.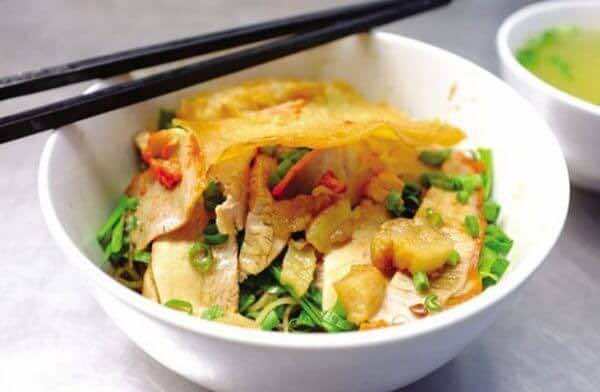 Thiệu Ký Mì – 66/5 Le Dai Hanh, Ward 7, District 5, HCMC.
Opening hours: 7 am – 1 am