9 Traditional Activities on Tet Holiday Lunar New Year in VietNam
Lunar New Year  or  Tet Nguyen Dan is the biggest traditional festival, the oldest, has the widest popular range in Vietnam. Tet Holiday in Vietnam usually falls in late January or early/mid February. The dates vary from year to year as it is based on lunar calendar. The celebration lasts one week or longer.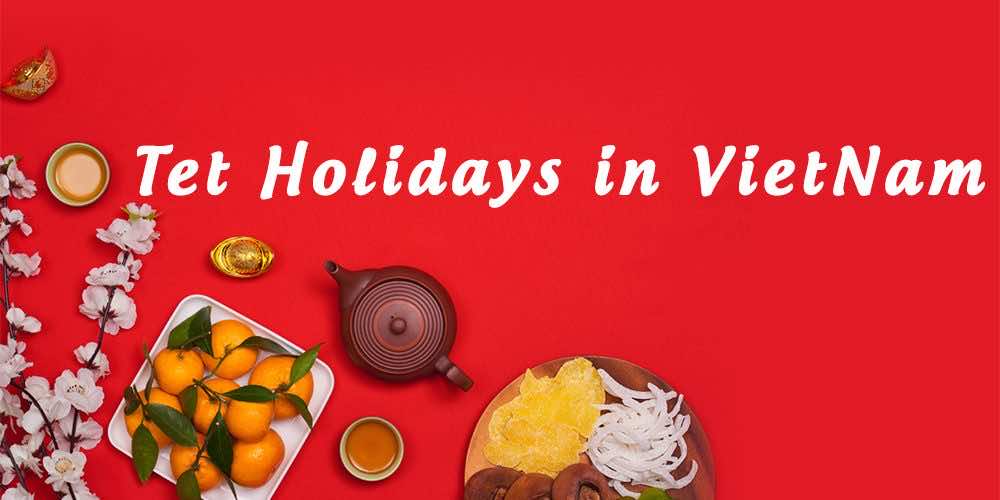 Tet Nguyen Dan is the occasion for Vietnamese to express their respects for ancestors as well as welcoming the Lunar New Year with family members. Overall, Tet holiday for Vietnam is a bit like the Spring Festival for Chinese: every family members will get together to have big meals to welcome a new year.
The general atmosphere leading up to Tet is in the bustle of shopping, decorating the home, cooking traditional foods and waiting for relatives to return home. People try to pay off their debts in advance so that they can be debt-free on Tet. Parents buy new clothes for their children so that the children can wear them when Tet arrives.
Apart from being a time to feast and reunite with family, the festivities are accompanied by a large array of customs and rituals. Here's a quick introduction to some of the most significant Vietnam Lunar New Year traditions.
House cleaning
Customarily, families give their homes a thorough cleaning in the days leading up to New Year's Day. Windows are scrubbed, floors are swept and furniture is dusted in preparation for the new year, sweeping away the bad luck of the past year. In addition, dusting is avoided on New Year's Day, for fear that good fortune will be swept away.
Decorating
Since Tet is the most important festival for Vietnamese, preparations for celebration begins well in advance. You can see the atmosphere of Tet is every corner of Vietnam because the festive scarlet décor adoring every street, storefront and home.
The red color is ubiquitous because it is associated with wealth and good fortune. Red lanterns are hung on the streets, while windows and doors are decorated with posters and papers bearing auspicious characters and phrases. Potted kumquat is a popular decoration for the living room during Tet. Its many fruits symbolize the fertility and fruitfulness that the family hopes for in the coming year.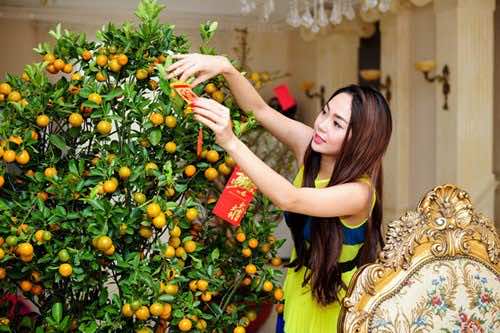 Giving New Year's greetings and red envelopes lucky money ( Lì Xì)
It is a long-lasting tradition that people will give New Year's greetings and lucky money to wish good things for one another in the upcoming year. Usually, people will exchange New Year's wishes, children give greeting to their grandparents, parents and relatives and receive the lucky money. Red envelopes are cash gifts that are given by senior family members to their junior relations ranging from a few dollars to quite hefty amounts. It is believed that money put inside exquisitely decorated red envelopes may bring luck to the recipient.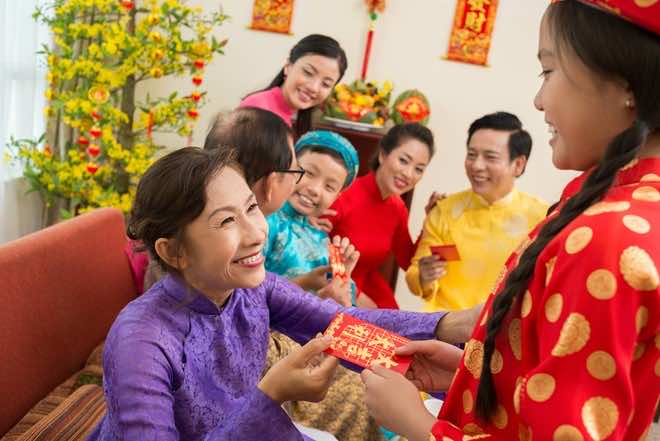 Praying at the pagodas
The Lunar New Year season is a busy time for Buddhist. Worshippers typically visit the pagodas in the beginning of the year to light incense and pray to the deities for blessings and good luck in the year ahead, the pagodas are more crowded than ever.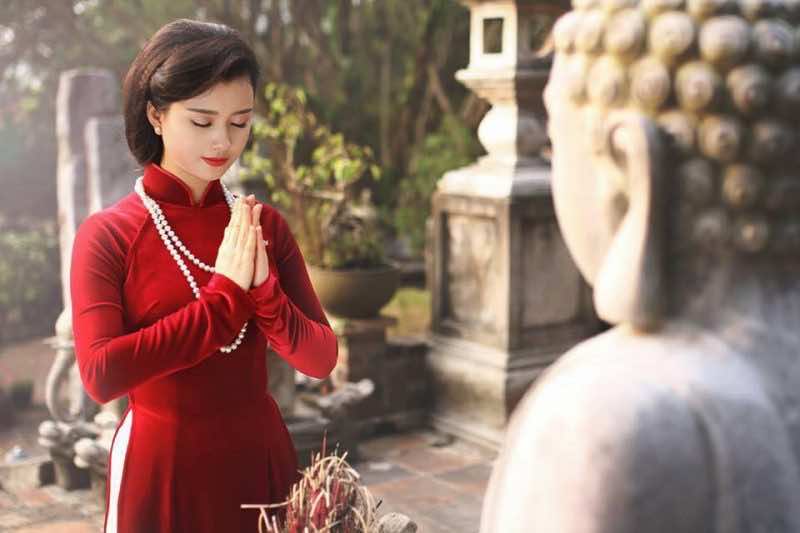 Preparing the traditional cakes
In the days leading up to Tet, each family cooks traditional foods served during Tet. Preparations for these foods are quite extensive, especially Vietnam traditional cake – Banh Chung-Banh Tet. Family members often take turns to keep watch on the fire overnight, telling each other stories about Tet of past years.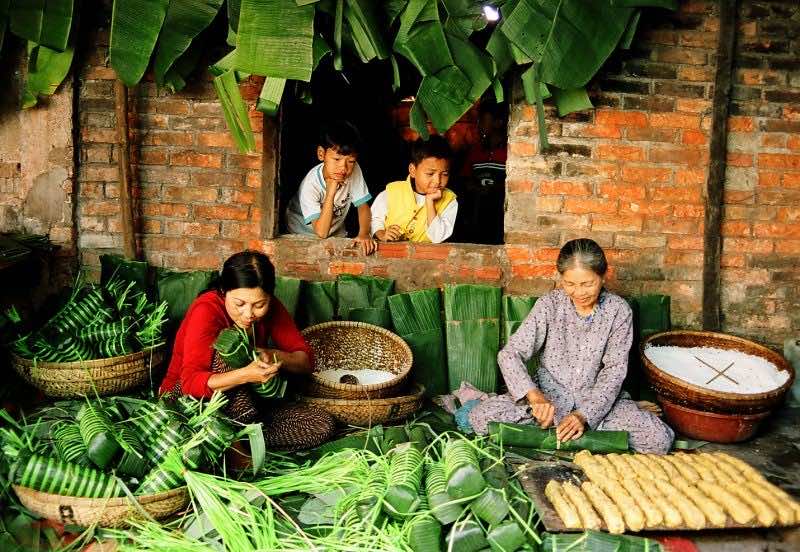 >>> Here are some Vietnamese Traditinal foods in Tet Holiday you should know
Xong Dat (The first visitor to a house)
It is believed that the first visitor entering to a house has a huge impact on how the following year will be for the residents of the house, so people tend to invite a cheerful person, his/her zodiac being good for the new year and the homeowner to their home as the first guest.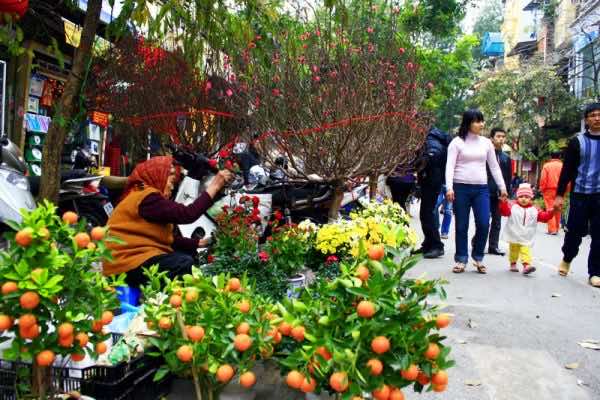 New Year's Markets
As the New Year approaches, open-air markets selling decorations, red envelopes, toys, clothes, flowers, potted plants and trinkets are a frenzy of activity. This time of the year also falls under the spring season of Vietnam, so you will see many flowers decorating streets and houses.
Five-fruit tray (Mam Ngu Qua)
The five-fruit tray is an integral part of the traditional New Year's Day of Vietnam. Each kind of fruit presented on the tray has a specific meaning, and depending on the regional differences, the fruits vary between three areas of the country. In northern region, it ornamented with pomelos, peaches, kumquats, bananas, and persimmons. In southern region, however, Mam Ngu Qua ornamented with pairs of watermelons, coconuts, papayas, custard apples, mangos, and figs. People say that the five fruits are symbolic of the five nature elements: metal, wood, water, fire, and soil. It not only displays a long life.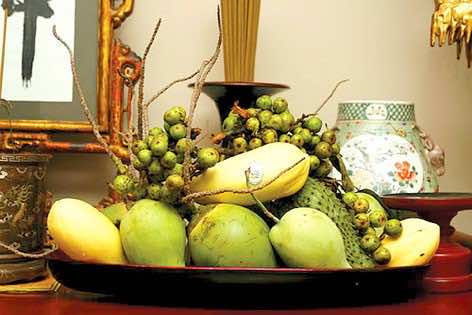 Taboos
For Vietnamese people, Tet is a wonderful occasion for family reunion but certain things must not be done during this festive season. For foreigners who are still not familiar with Vietnamese customs, or the way the Vietnamese celebrate Tet.
Don't sweep houses on the first three days of the year because all the money and success will be swept out too.
Don't use profanity. Refrain from swearing and using unlucky words.
Don't break glassware. Unless you want to have a "broken" year, be careful with your dining ware.
Don't take anything that are related to water or fire out of somebody's house. Fire is considered to be the source of warmth of the family, whereas water appears in the popular wish "Money rushes in like water".
Don't mention bad things or start any arguments and conflicts are prohibited.
Don't comb your hair when in someone else's home. This action is the same putting your bad luck in other's house or the action of calling for evil.
Time to Tet is counting down, 9 Traditional Activities on Tet Holiday Lunar New Year in VietNam hope you enjoy this article and have a great experience during Vietnamese Tet Holiday!