Shady people love to take advantage of tourists, and if you're not careful, it's easy to become a victim.
 A vacation can go downhill in a hurry when you find yourself the victim of fraud. Even if your trip goes smoothly, you may return rested and relaxed only to review your finances and realize you've been had.
Vietnam should be on the top of everyone's travel list. It's that simple. With its dramatic landscapes, fascinating history, epic food and pulsating energy, Vietnam will electrify all of your senses and seize you from all angles. Vietnam is at once crazy and serene, thrilling and relaxing. The Southeast Asian country also draws those people because of its French-style urban architecture, tropical beaches, hill tribe treks and Communist kitsch for sale.
However, Vietnam has its share of scams that target travelers. While it is nearly impossible to know when you will be scammed, it is important to know what kind of scams exist, and what to do should the situation arise.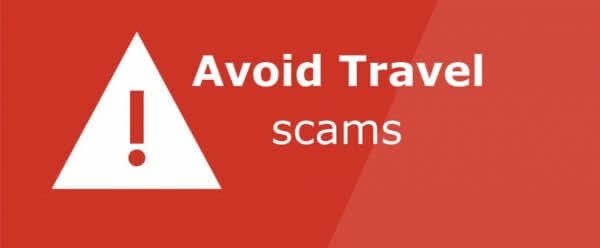 1.Confusing currency
Although the official currency of Vietnam is the Vietnamese Dong, many prices for food, hotels, and transportation are quoted in U.S dollars. Also be aware when a vendor tells you 10, it could mean 10 USD, 10,000 VND or even something else. Always confirm what currency a price is in and if it's for the whole group.
Many places also quote in USD to make overcharge easier for them. This is done by rounding up to USD (which is higher than the value in Vietnamese Dong) or by demanding payment in VND while using an unacceptable exchange rate.
2.The taxi drivers
This is one of the most common travel scams out there. Either the driver will tell you the meter is broken and try to charge you a huge rate or you'll see the meter go higher and faster than Superman.
Always confirm before getting inside any taxi that the driver will use the meter. What is more, to avoid this scam, first you need to know how much a ride should cost. You should ask the hostel or the hotel staff what a ride should be so I have a frame of reference. And never get in an unlicensed cab – no matter how amazing the deal is.
 3.Motorbike scam
You rent a bike, and then when you bring it back, the owner demands additional payment or expensive repairs because there is some damage you didn't know about.
To avoid this, take phots of the bike first to document any previous damage. Use your own lock, sometimes the owner will send someone to mess with the bike or steal it so you have to pay. You should rent from a reputable place.
4.Beware of counterfeit tour agencies
Theft and counterfeit agency scams are a lingering problem in Vietnam. On the one hand, there is an abundance counterfeit tourist agencies ranging from fake airlines shops to tourist agencies which use the name of a well-known reputable companies. As far as I know, they don't seem very dangerous, just trying to nab business from more reputable companies. Sue your best judgment when deciding upon agencies to go with. Neve trust store front signs and if you're looking for a specific store, have the address.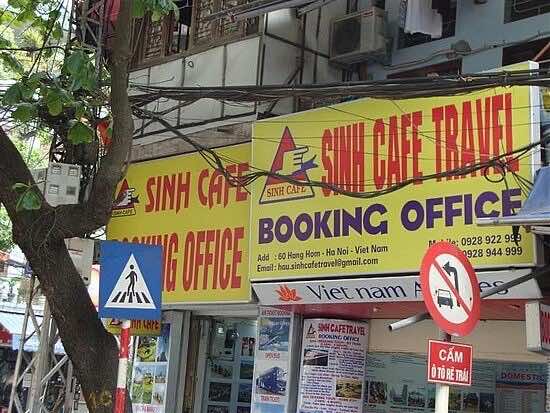 5.The flirtatious woman
You arrive in a new country and head to a bar, where a beautiful local comes up to you for a chat. You can't believe your luck. You have some drinks and amazing conversation, and go to a new bar or club that she suggested. However, after a wild night and lots of drinks, the woman disappears and you're forced to pay an overpriced bill with some really big guys bearing down on you to make sure you do. Or, worse, you get drugged and wake up completely robbed of everything on you.
The simple solution to this is to be wary of attractive women flirting you on the street.
6.Street vendors
Vendors who usually carry a pole with two baskets at the pole's ends often put the pole in tourists' shoulders and a conical hat on their head without asking, and then invite them to take a photo. After taking the photos, tourists think that Vietnamese people are just actin friendly. No, it's a common scam in Hanoi and big cities in Vietnam. The vendors will give the tourists a couple of pineapple pieces in a plastic bag, and ask them to pay like 100,000 VND to 500,000 VND.
The only way to avoid this scam from the vendors is say "NO" and walk away.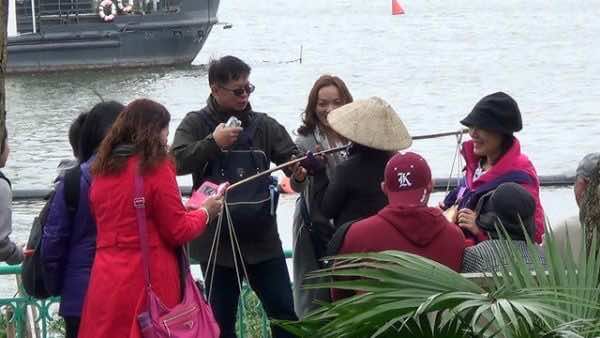 7.Restaurants do not display the prices
Some restaurants do not display the prices on the menu. Also, be careful of those that list prices in USD. Do ask the price before ordering. If all you get are vague replies, that's the sign to leave.
8.There are fake police
There are scammers in the city who pose as undercover police to try and get money from scared tourists. They flash an official-looking ID and then demand many after describing fake charges. They'll ask for your documents and tell you that you have to pay a fine you don't have these documents on you. Just walk away. Real police wear uniforms, and real undercover police will not demand money – not right away, at least.
9.Never use your phone and camera near traffic
If you snap pictures near traffic, you're serving up your gadget on a platter. Criminals who try to grab your phone but fail to do so, normally keep driving. However, if they successfully take your phone, they often sell it for a month's wages.
10.Overcharging
It is no surprise that in most South East Asian countries, especially developing nations like Vietnam, most people usually show an unfair treatment towards foreigners. The discriminatory attitude partly stems from foreigners being seen as richer because of their spending habits, attitudes, even the ways they dress. All travelers, regardless of where they are from, a developed or third-world country will be harassed or overcharged at some points.
At some markets for foreigners, offer the merchants ½ of the initial price. If they don't agree, gradually start to raise the price up until your resistance point. And if they still don't agree, pretend to walk away. Before that, do not express any kind of interest on the stuff you want to buy. Added to this, before you decide to buy something, go for around to see whether its price is different among similar shops. This way, you can compare the selling price of each store and select the most suitable one.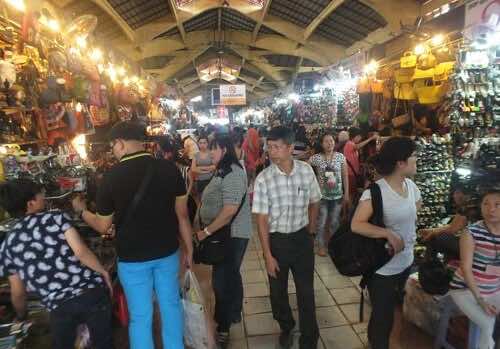 11.Fake bus/train/plane tickets
Someone offers to sell you train tickets at a discount, or avoid the line and pay a slightly higher price. However, the tickets they are selling aren't real, and by the time you figure it out, the scammers are gone with your money. Always buy transportation tickets from the official ticket office or website.
Unfortunately, scammers are out there, but don't let that discourage you from exploring the world.