So, you touch down in a foreigner city, eager to hit the coolest bars and restaurants, looking to get a real sense of a destination through its cuisine and dining culture. But where do you start? Often the sheer volume of choice and fickle nature of dining trends can make choosing a memorable restaurant a worthy but ultimately annoying and exhausting exercise.
There are of course the obvious steps. The Internet springs to mind. But online review sites are generally written by other tourists and as for guidebooks, well, they're quick to date and most wouldn't claim to be written by food experts anyway.
Saigon is Vietnam's culinary capital. It offers the best of the country's delicious regional cuisine, a vibrant food scene, and some international eating options too. District 5, more commonly referred to as Cholon, is Ho Chi Minh City's Chinatown and lies just west of the city's center. Dotted by colorful pagodas and sliced by chaotic boulevards, the area makes for a pleasant afternoon exploration. Great restaurants and food stalls reflecting the districts diverse heritage can be found throughout. These are some of best places that the locals opt for.
1.Com ga Dong Nguyen – Dong Nguyen chicken rice
Dong Nguyen chicken rice restaurant has a reputation for its chicken rice, which is a savory combination of sticky rice, well-cooked chicken and many other ingredients. Normally, I rice set includes steamed chicken, hot bowl of tice and a bowl of sweet kale. Today, menu is more than 30 kinds of rice, 25 kinds of soup and many of stir-fried dishes to make satisfaction for eateries. Besides, there are many dishes as stewed sweet herbal soup, pork's brain soup, charsiu. Frequented by locals and expats alike, this is one joint that deserves the reputation it's gained.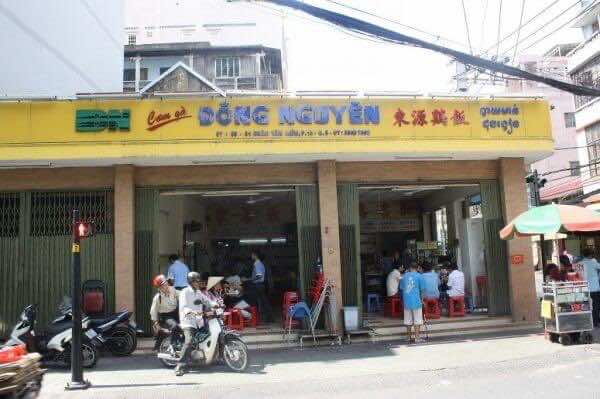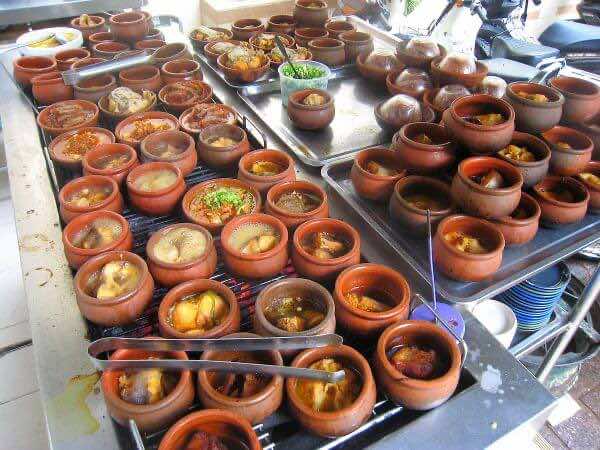 Cơm gà Đông Nguyên – 801 Nguyen Trai, Ward 14, District 5, HCMC.
Opening hours: 9 am – 9 pm
 2.Dim Sum Tan Nguyen Thai
Dim sum has really taken off in Saigon over the last few years. There is now a growing number of dim sum joints that cater to the city's burgeoning youth, who have a thirst for new, foreign dining experiences, but haven't the cash to go high-end.
Tan Nguyen Thai is a popular restaurant among Western expats, Chinese, and Vietnamese because of the best dumplings in town. This should be a stop on any food lover's visit to Ho Chi Minh City. The menu is as extensive as it is delicious, featuring nearly a dozen pages of steamed or pan fried dumplings. Classics, such as Hong Kong dumplings filled with whole shrimp, steamed dumplings filled with shrimp and chives, sit alongside some more creative ones, like seafood dumplings with salted duck egg yolk.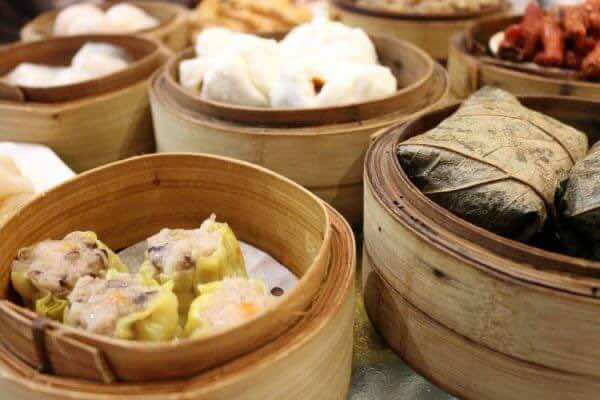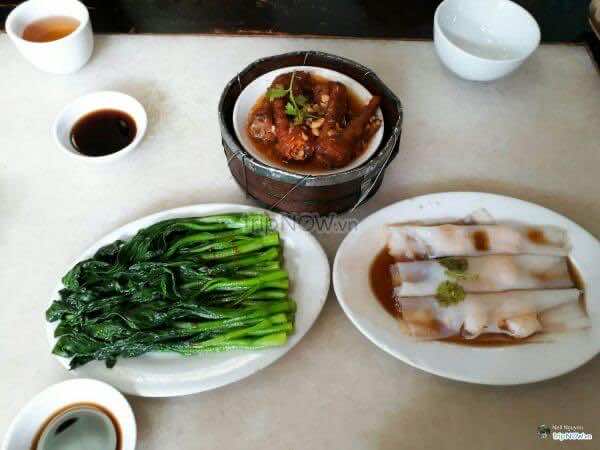 Dim Sum Tân Nguyên Thái – 102D An Duong Vuong, Ward 8, District 5, HCMC.
Opening hours: 6 am – 2 pm
3.Ga nuong Phi Long – Grilled chicken
The menu here is absurdly simple, as there is only one item available: whole grilled chickens. Service is incredibly efficient, with a plate piled with crispy chicken parts arriving mere seconds after ordering. Diners are literally served a whole chicken hacked into pieces, including feet, wings, legs and the head.
Loaves of banh mi and fried sticky rice can be ordered on the side, and a superb dipping sauce is served as well, in addition to a salt, chili and kumquat concoction that really brings out the kitchen flavor. The bread can be dunked in the sauce, or you can create your own grilled chicken sandwiches if you please. The chicken is outstanding, with crispy skin giving way to delicious, tender meat.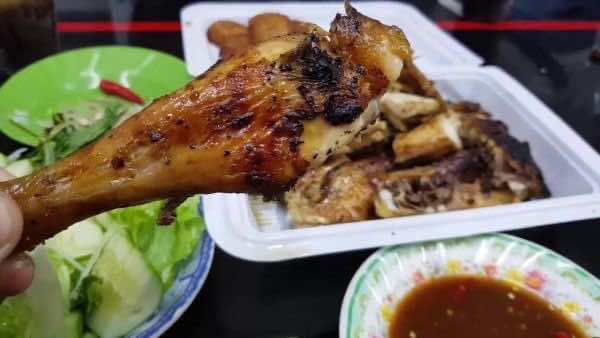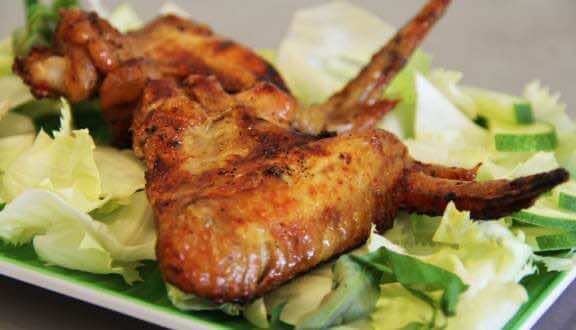 Gà nướng Phi Long – 51 Nguyen Bieu, Ward 1, District 5, HCMC.
Opening hours: 3 pm – 10 pm
4.Bot chien
Among the munchies in Saigon, bot chien is found on almost every street corner come sun down. Bot chien starts off as a scrambled mess of one or two eggs and fried rice flour cakes, pre-marinated in a secret sauce. The result of bot chien are little bite sized nuggets of crispy sticky rice flour, enriched with egg, and with a nice smoky flavor. A smattering of shredded turnip is then added to the batch and garnished with chopped green onion before being delivered to your table, where you then have the option too top it off with shredded young papaya.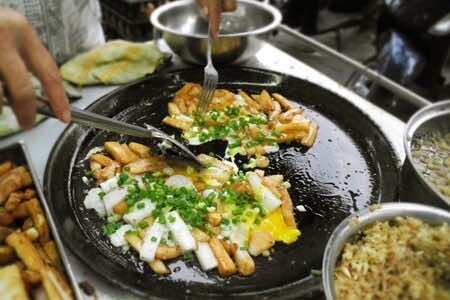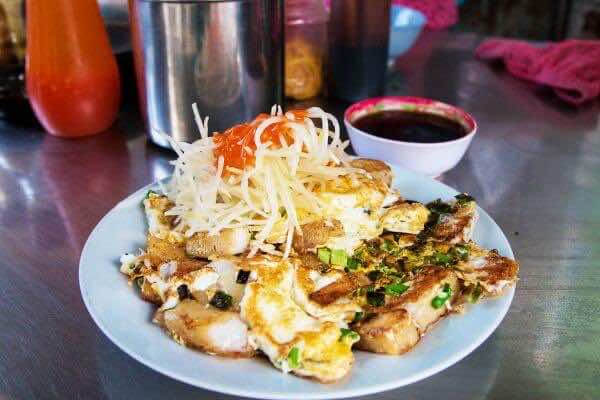 Bột chiên – 190 Hai Thuong Lan Ong Street, Ward 24, District 5, HCMC.
Opening hours: 2 pm – 10 pm
5.Hu tieu sa te – Satay rice noodles
As a specialty of the Chinese, inherited from the Chinese community, hu tieu sa te is rarely seen on the streets of Saigon. This is a very unique dish, you can easily spot about 20 species in a bowl of noodles such as peanuts, sesame, garlic, chili, and cinnamon. The mix of flavors brings a faint aroma and a very typical greasy taste. In addition to spices, ingredients used in this dish are meatballs, medium rare beef, tendon or venison and pork for you to easily choose from.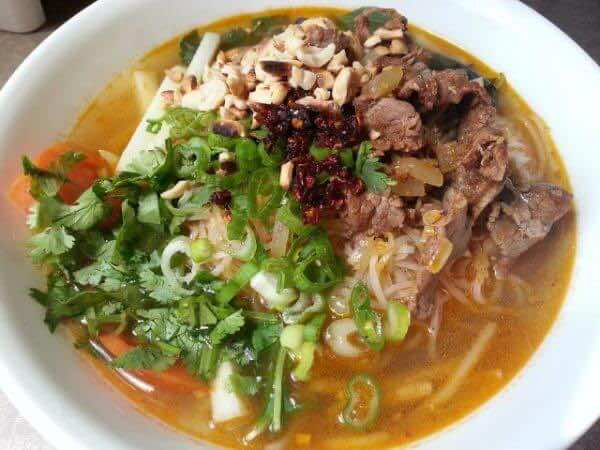 Hủ tiếu sa tế Quảng Ký – 118 Triêu Quang Phuc, Ward 11, District 5, HCMC.
Opening hours: 4 pm – 10 pm
6.Xoi man 409 –Xoi nha xac
The street cart at 409 Tran Phu is one of District 5's many street food secrets running for roughly 30 years and being reponsible for xoi man – savory sticky rice. But the name of this restaurant maybe makes you feel scared. Actually, the name is not related to the sticky rice dish in here. The source of this name comes from the location of this restaurant: surrounding many funeral homes. It is named that makes the customers easy to find this food stall in many decades. Wrapped in banana leaves and served in snack-sized portions, the hot sticky rice is topped with all manner of savory delights: Chinese sausage, pork floss, fried shallots, the oily spring onions and crushed peanuts.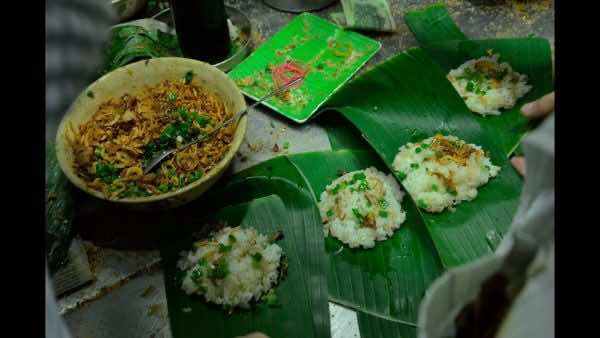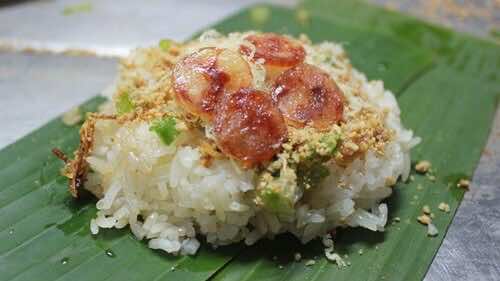 Xôi mặn 409 – 409 Tran Phu, Ward7, District 5, HCMC.
Opening hours: 4 pm – 12 am
7.Nuoc sam Le Hong Phong
Do you want to relieve the heat in a humid Saigon day? This herbal tea stand is here for you. Located at the Le Hong Phong – Nguyen Trai intersection, although just a small stnad, it is crowded by thoughsands of people daily for its cool, refreshing drinks made at home from herbs that are beneficial to the health. Famous, trustworthy and tasty, why not give it a shot?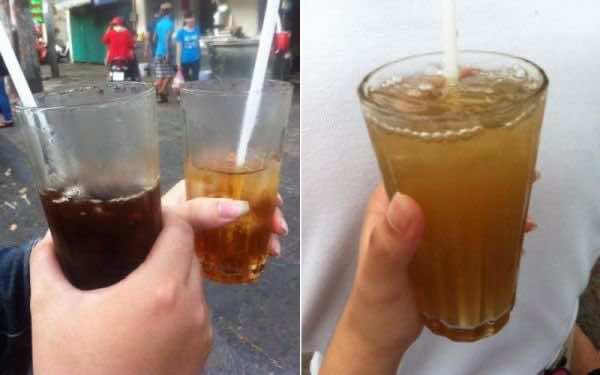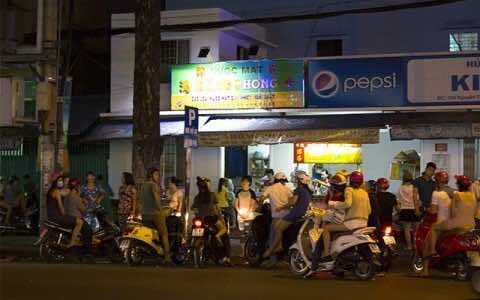 Nước sâm Lê Hồng Phong – at the corner of Le Hong Phong and Nguyen Trai streets,  Ward 3, District 5, HCMC.
Opening hours: 7 am – 11 pm
8.Che Ha Ki
It's a pity not to visit the Chinese quarter of Ho Chi Minh City and sample the serving at Che Ha Ky. A popular staple is a sweet soup with chicken eggs and tea. They make it by boiling the eggs first then poaching them in tea with sugar thrown in. The whites turn brown and become stiffer as they absorb the tea. The tea also makes the soup easier to digest. The diverse assortment of che also includes sweet potato soup, lotus seed soup and tofu, and almond soup. To make the most of these selections, eat them with some ice.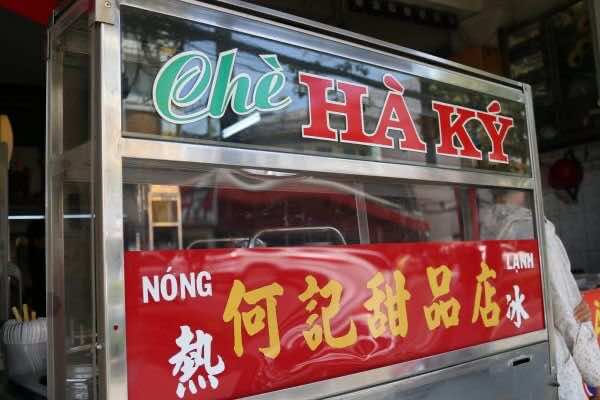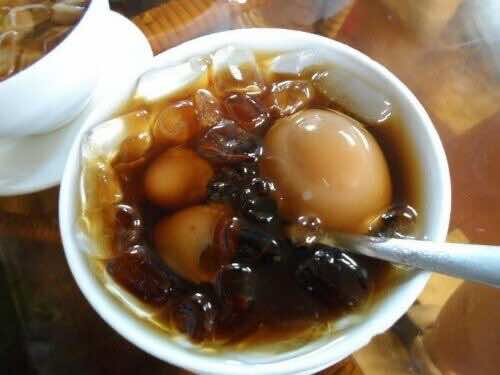 Chè Hà Ký – 138 Chau Van Liem, Ward 11, District 5, HCMC.
Opening hours: 2 pm – 11 pm