1.Sushi
Sushi seems to be as popular as McDonalds. Sushi shops are literally located all over the world. The Japanese experimented and created different types of sushi and this cuisine eventually spread around the world. And Ho Chi Minh City is no exception, thanks to a generation of more worldly youth, Japanese cuisine has started to spread.
Sushi M-H perhaps make a mockery of expensive, formal sushi restaurants. Right in the middle of a classic local neighborhood food street, the quality, variety and presentation is excellent. Prices are very reasonable and ingredients are crisp, fresh, and melt-in your-mouth delicious. This place is popular with Saigon's youth, middle-class families and increasingly, expat.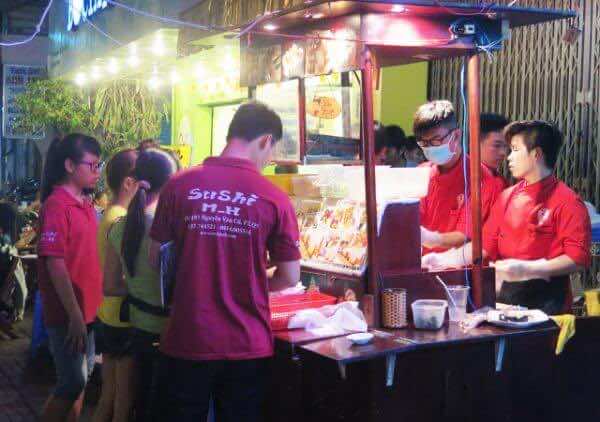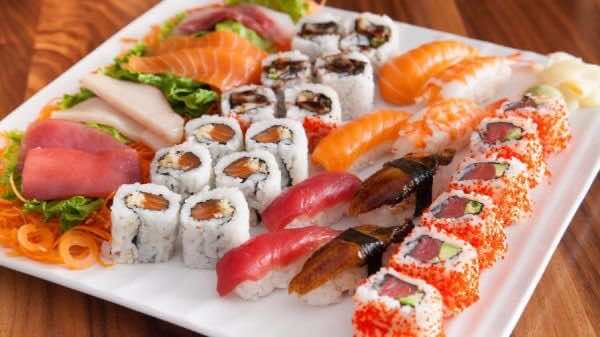 Sushi M-H – 192-193 Nguyen Van Cu, Ward 2, District 5, HCMC.
Opening hours: 6 pm – 10 pm
2.Xoi cade
Cade steamed sticky rice is a typical food of Chinese. The thick custard is cooked from egg, sugar, coconut milk, and durian. Besides the main topping, the glutinous rice is also served with shredded coconut and ground peanuts. The owner is an ole Chinese who has been serving this food for over 40 years with the rolling metal cart in front of the house on Tran Phu Street.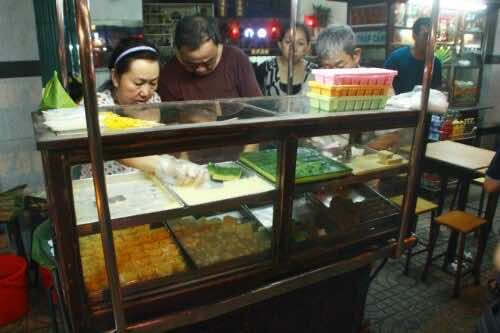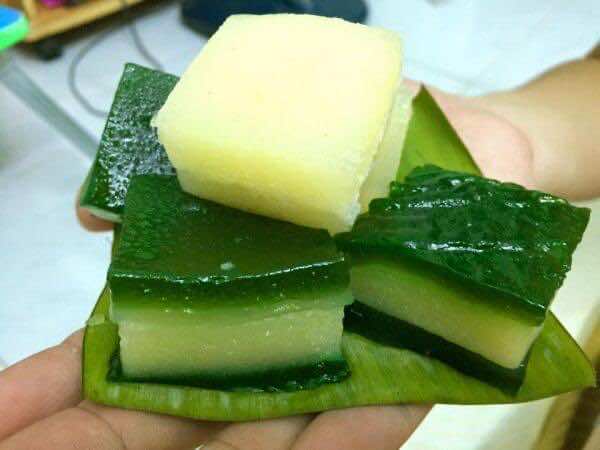 Xôi Cadé – 451 Tran Phu, Ward 7, District 5, HCMC.
Opening hours: 8 pm – 2 am
3.Che nha den – Sweet soup
This place lies near Chinatown in District 5, serving sweet soups with unique inspiration. Che Nha Den has been running for 70 years, and still local people of all ages flock here – tables and chairs extend along the sidewalks for a block. The special thing here is the electricity pylon that graces the sidewalk outside.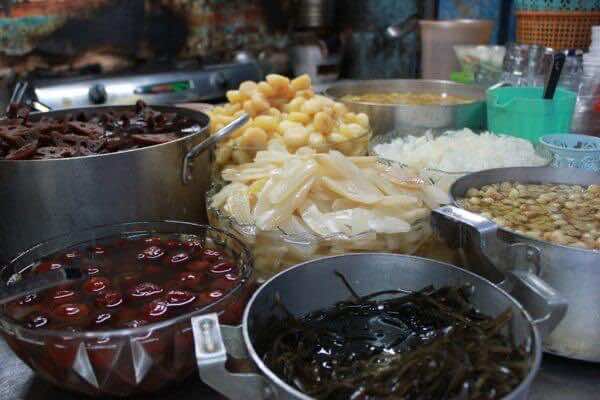 Chè Nhà Đèn – 476&478 Tran Hung Dao B, District 5, HCMC.
Opening hours: 4 pm – 11 pm
4.Banh canh cua 14
Banh canh is quite similar to Japanese udon noodles, except I thought the noodles, which are typically made with a combination of rice and tapioca starch, were more sticky and a little chewier than udon. There are a few different versions of banh canh, I fully enjoyed the thick starchy noodles with crab. Instead of being a typical noodle soup with a thin stock, banh canh cua is more like a heart stew, the broth is thickened like gravy. The gravy normally has quite a mellow crab flavor, but what's really impressive are the nuggets of crab meat that come in a bowl, and the toppings including chilies and limes.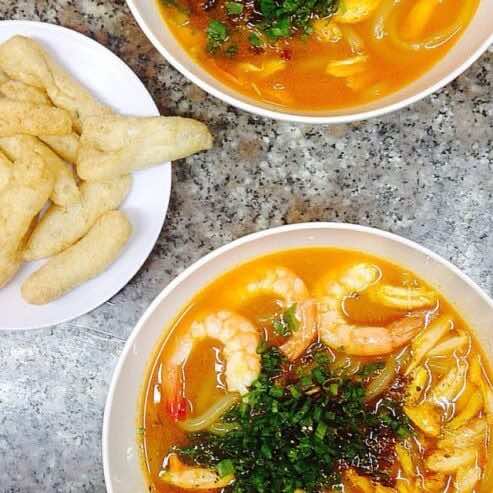 Bánh canh cua 14 – 223A Tran Binh Trong, Ward 3, District 5, HCMC.
Opening hours: 6.30 am – 10 pm
5.Banh bao Ca Can – Steamed bun
Banh bao comes in various shapes and fillings and are normally steamed (looking like a large dumplings). For a popular Saigonese version of banh bao, you have to take a mixture of ground pork, mushrooms or wood ear fungus, Chinese sausage and quail eggs to form a meatball. This is wrapped by a lightly sweetened flour dumpling and steamed to form a white exterior. Banh bao Ca Can seems fitting that the best banh bao in Ho Chi Minh City. The banh bao menu is quite extensive which is the sign of a very successful food stall in Vietnam. The options are beef and egg, vegetarian, char siu, chicken and egg. There are also two dessert banh bao, the first filled with a mustard-yellow custard made with salted egg and coconut milk, the second is a not-too-sweet taro mixture. This place is also known for hu tieu nam vang, but banh bao is legendary.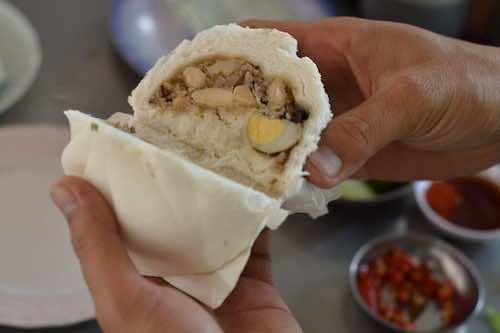 Bánh bao Cả Cần – 110 Hung Vuong, District 5 (at the junction with Nguyen tri Phuong)
Opening hours: 12.30 pm – 2.30 am
6.Sup cua Luong Nhu Hoc
This soup is a local Vietnamese street dish that not every traveler knows of. Even so, it can be found in any local market in Vietnam. however, it does seem as it Southern residents love eating this more than those in the North, so Saigon would be the ideal location for you to try this soup. Crab soup is called sup cua in Vietnamese. It is not really a proper meal and is usually served in a small bowl/cup for taking away. The Vietnamese usually have it for breakfast or as an afternoon snack for a fun hang out with friends. The main ingredients of the soup are crab meat, quail eggs, pig brain and other toppings such as mushroom, coriander, green onions, shredded chicken, shrimp, and century eggs.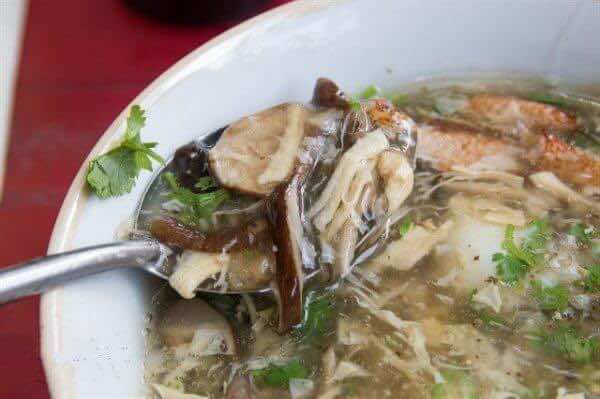 Súp cua Cô Lan – 239 Luong Nhu Hoc, Ward 12, District 5, HCMC.
Opening hours: 11 am – 8.30 pm
7.Chao 175
The downpours that so often put a pause in city life in Vietnam are always a good excuse for Saigon residents to find something hot to eat on the street, especially on the colder of the wet afternoons. And there's something special about splurging on a bowl of chao, or porridge in cold weather. Pig blood, dried squid and many other ingredients are the available in this porridge. The toppings are additional ingredients depending on the customer's demand. The porridge here is cooked by sticky and fragrant rice. The sweetness of this dish comes from dried squid, pig bone and dried shrimp.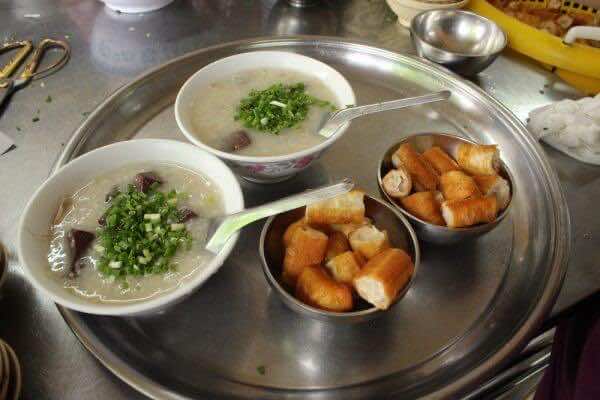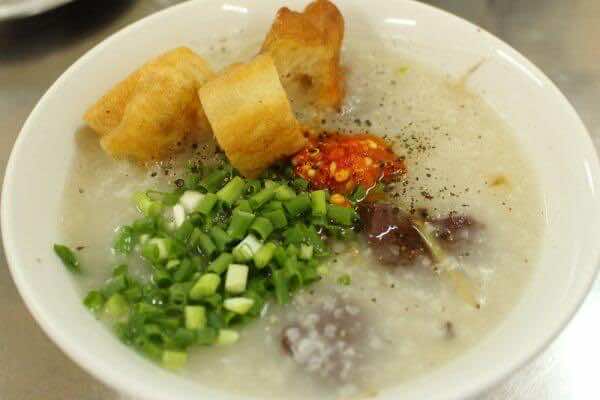 Cháo 175 – 175 Tran Binh Trong, Ward 3, District 5, HCMC.
Opening hours: 11 am – 9 pm
8.Pho Le
The atmosphere is a cross between low stool hardcore Vietnamese street food and air-conditioned, low-end restaurant. I have to say that the broth seems to be richer than normal pho. You can see some fat bubble in the soup, definitely not for the health conscious or those on a diet. There is a wide variety of topping such as beef ball, rare beef, boiled beef, beef brisket, beef plate, beef tendon… This is one restaurant best enjoyed with friends.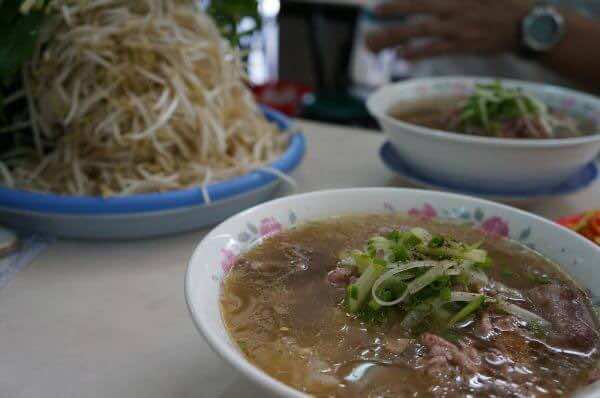 Phở Lệ – 413 Nguyen Trai, Ward 7, District 5, HCMC.
Opening hours: 6 am – 1 am