Vietnamese desserts stand out amongst most other sweet dishes worldwide because of the unique, out-of-the-box ingredients added in preparing them. Those having a sweet along with the desire to explore a variety of delicacies would find extreme delight in trying out the Che, a traditional name for any pudding, dessert soup and beverage in Vietnam, made from kidney beans, mung beans, cassava, taro, tapioca, jelly and much more. The south of Vietnam has 2 main seasons, rain and dry. Just like fruit, Che is seasonal and exceptional fresh.
You can enjoy Che either hot or cold, depends on the seasons. Normally, cold sweet soups will be served in see-through glass cups with ice on the side. On the other hand, hot sweet soup is served in small bowls. There is no better way to refresh your body in the middle of a hot summer day than having a cool fresh cup of Che, and warm up your body up with a hot bowl of Vietnamese sweet soup in a freezing winter night. It's a treat that might be bizarre at first for non-Vietnamese person but there's no doubt that it will leave you wanting more.
Here are some honorable mentions but keep on scrolling for the best Che in town.
1.Che mam Khanh Vy
The famous Khanh Vy sweet soup stall lasts past 3 generations, this place is a treasure trove of desserts. The friendly owners preside over an impressive array of large pots and pans, filled with gooney, slimy che varieties from black bean and taro soups to all manner of sticky rice. This is a perfect place to try various types of che at once. Their famous menu features a huge tray of 16 different kinds of che. One is enough to satisfy a family of 4, let bring some friends so you can try each other one of them. Otherwise, you can also order small bowls of che with the price at only 8,000VND each.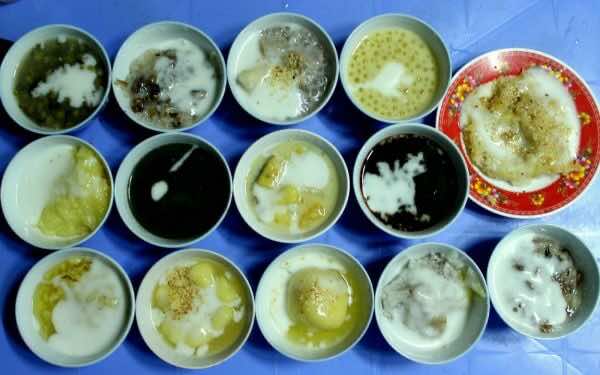 Chè mâm Khánh Vy – 242B Su Van Hanh, District 10, HCMC.
Opening hours: 5 pm – 10.30 pm
2.Che Ha Ky
It's a pity not to visit the Chinese quarter of Ho Chi Minh City and sample the serving at Che Ha Ky. A popular staple is a sweet soup with chicken eggs and tea. They make it by boiling the eggs first then poaching them in tea with sugar thrown in. The whites turn brown and become stiffer as they absorb the tea. The tea also makes the soup easier to digest. The diverse assortment of che also includes sweet potato soup, lotus seed soup and tofu, and almond soup. To make the most of these selections, eat them with some ice.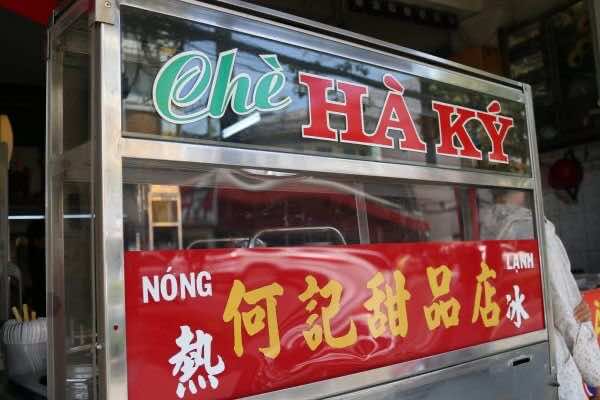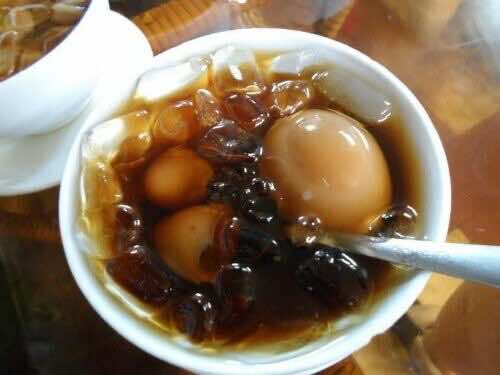 Chè Hà Ký – 138 Chau Van Liem, Ward 11, District 5, HCMC.
Opening hours: 2 pm – 11 pm
3.Che tham cam – Mixed sweet soup
It is an absolute perfect choice for someone who wants to a little bit of everything. This glass of this mixed sweet soup has it all: beans, jelly, tapioca, steamed green rice flakes, mashed mung bean, coconut milk and sweet syrup on top. Everything is served in layers and then mixed up when eaten, making a sweet and savory treat for a light and refreshing snack. The sweet soup at the corner of Nguyen Phi Khanh and Tran Quang Khai streets is one of the most popular mixed sweet soup shops in Saigon. Everything is super affordable and the quality of che thap cam is high. Not too sweet, not too bland, creamy or chewy.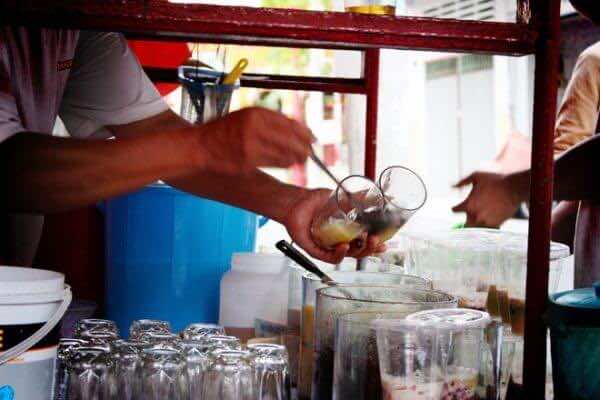 Chè thập cẩm – at the corner of Nguyen Phi Khanh and Tran Quang Khai streets, 142 Nguyen Phi Khanh, Tan Dinh Ward, District 1, HCMC.
Opening hours: 11 am – 4 pm
4.Che Hien Khanh
Upon arriving at Hien Khanh, it is like taking a step back in time dozens of years ago, when modern appliances are non-existent and people actually talk to one another during meals instead of perusing their phones. The eatery's front sign is a treat in itself: clean, retro typeface in vibrant shades of red, blue and orange. This sweet soup joint serves many options of che with beans and jelly. Sweet soups here are famous for their mild sweet taste and jasmine aroma. They also have some traditional treats like banh com (green glutinous cake), banh dau xanh (mung bean pastry) and banh phu the.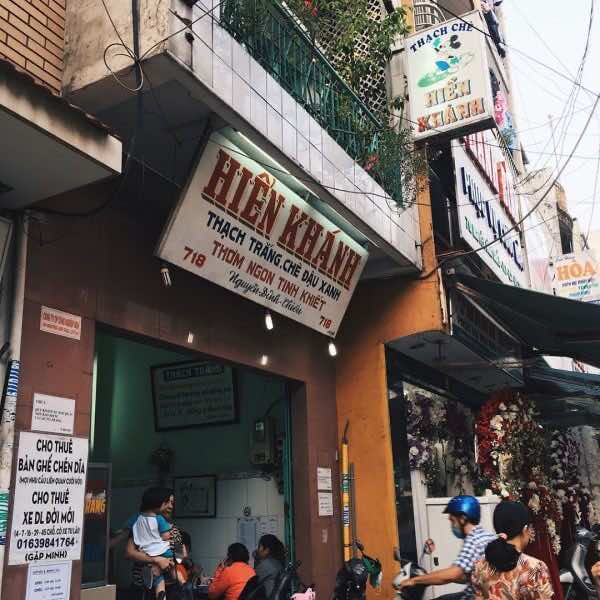 Thạch chè Hiển Khánh – 718 Nguyen Dinh Chieu, Ward 1, District 3, HCMC.
Opening hours: 9 am – 12.30 pm, 2.30 pm – 10.30 pm
5.Xoi Che Bui Thi Xuan
This place is very famous for its delicious sticky rice as well as sweet soup. It is not only spacious and airy but it also offers a diverse menu of different foods. There are probably a hundred or so types of che. Hot, cold, in a little bowl or a tall glass over ice – you can try them all. The recipe calls for a wide range of beans, fruit, seeds, vegetables, glutinous rice and tapioca.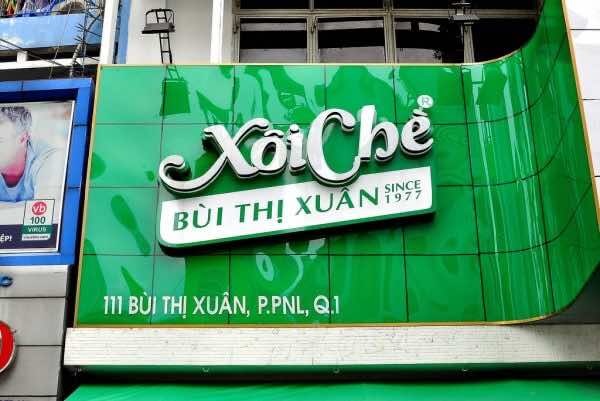 Xôi chè Bùi Thị Xuân – 111 Bui Thi Xuan, Nguyen Cu Trinh Ward, District 1, HCMC.
Opening hours: 7 am – 10 pm
6.Che Campuchia – Cambodia-style sweet soup
Cambodia-style sweet soup is made with shaved ice, coconut milk laced with durian sauce, strands of egg noodles, palm fruit with mung bean paste, baby tamarind, and pumpkin flan. This food stall has been selling Cambodia sweet soup for more than 40 years in Saigon. The seller is a friendly woman who continuously makes sweet soup throughout the day to please many customers she gets. It is very colorful and the taste is just as amazing. With just about 12,000 VND, you can eat a small bowl of this which has many kinds of ingredients, one of them which is pumpkin custard. This pumpkin is from Cambodia so it is very small yet sweet. You may think that it is weird but do it try.  There are also other choices for you such as red bean, sticky rice… for you to choose.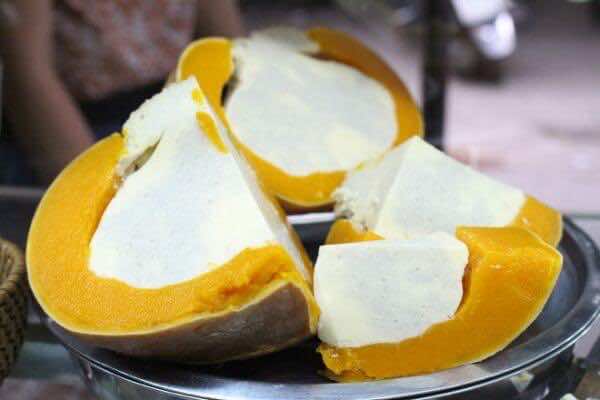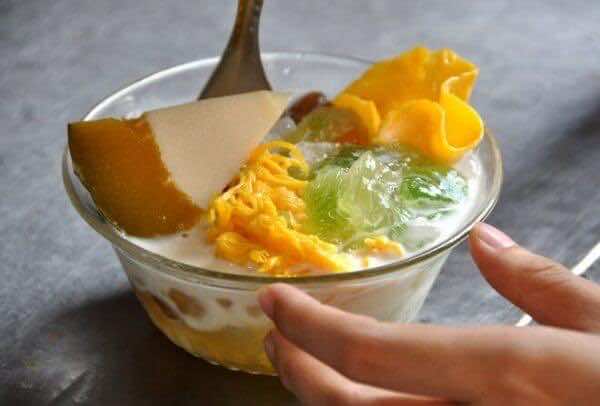 Chè Campuchia Cô Có – 57 Ho Thi Ky, Ward 1, District 10, HCMC.
Opening hours: 6 am – 6 pm
7.Che Nha Den
This place lies near Chinatown in District 5, serving sweet soups with unique inspiration. Che Nha Den has been running for 70 years, and still local people of all ages flock here – tables and chairs extend along the sidewalks for a block. The special thing here is the electricity pylon that graces the sidewalk outside.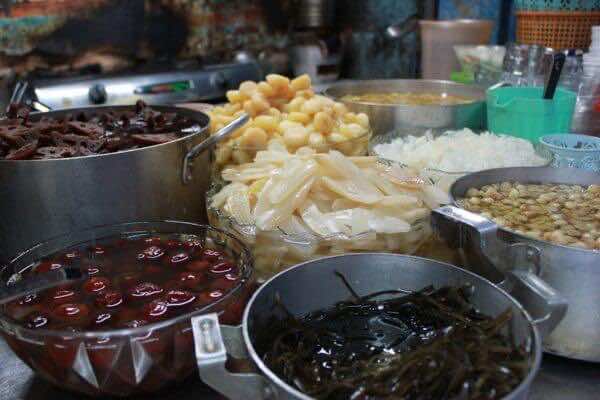 Chè Nhà Đèn – 476&478 Tran Hung Dao B, District 5, HCMC.
Opening hours: 4 pm – 11 pm
8.Che Ki Dong
With about 40 years of existing, this place has been attracted with many generations of people in Saigon. Customers, from teenagers to college students, from young couples to families with kids, sit on plastic chairs and tables overlooking the busy street and wait for their desserts to be served. The menu is updated every year with more new options for che lovers, but the soul of this shop will always be mixed sweet soup.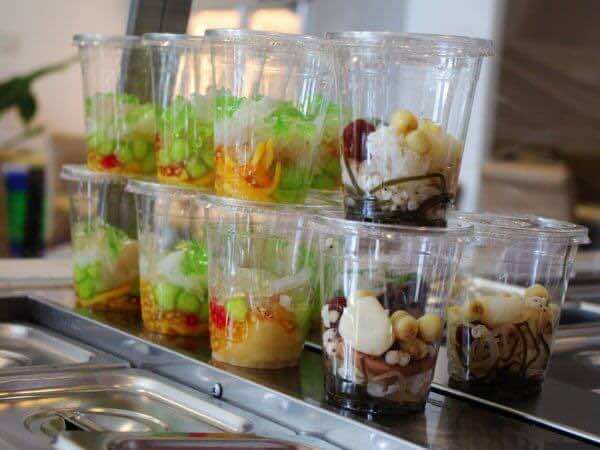 Chè Kỳ Đồng – 16C Ky Dong, Ward 9, District 3, HCMC.
Opening hours: 9 am – 10 pm
9.Be Che at Ben Thanh Market
The Ben Thanh Market is aggressive and overpriced – but one great thing about the market is the back section of food vendors. With a prime spot in the frenetic food court of ben Thanh Market, Be Che is another long-running food stall in Saigon (more than 40 years). It's heaving at lunch time, when shoppers, market workers, and a few adventurous tourists jostle for space around this colorful shrine to sweet soup, especially in hot days. The menu is illustrated in English and Vietnamese with prices making this place very accessible to travelers.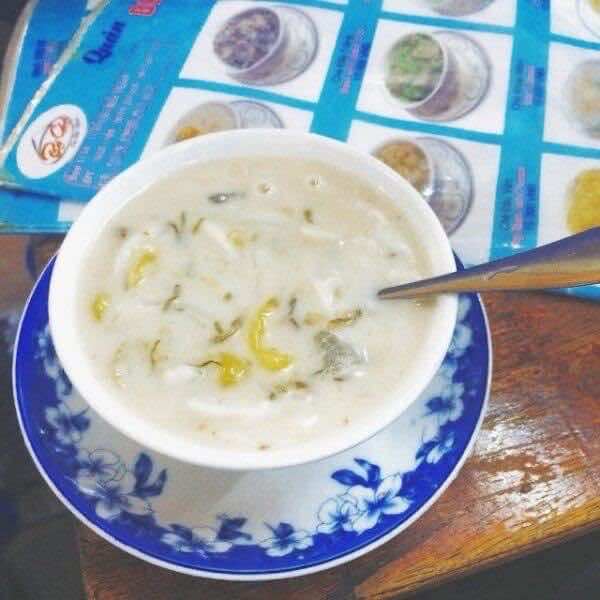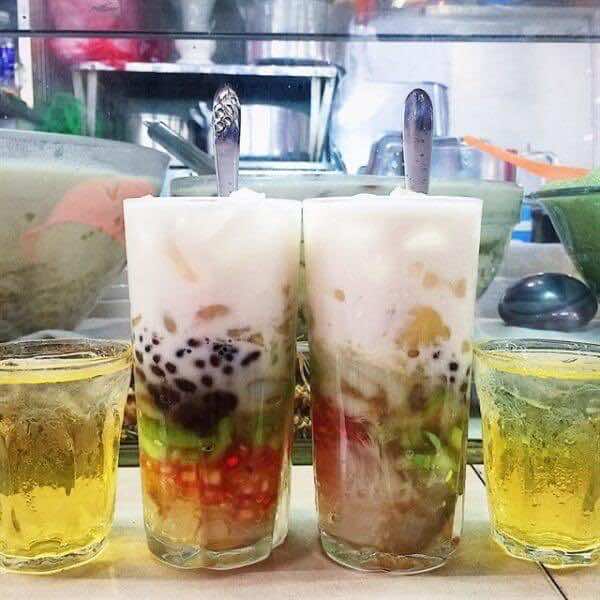 Bé Chè – Ben Thanh Market, stall No.1154-1130, District 1, HCMC.
Opening hours: 7 am – 5.30 pm