One of the greatest joys of travel is being able to sample local cuisine. Ah the excitement as your palette welcomes strange dishes, spices and tastes. There is nothing quite like it and frankly it is one of the many things I look forward to when in a new city. Eating your way through the local food is something which you must never miss. With vendors selling specialty dishes daily on every street corner, you don't stay hungry for long in Vietnam's Ho Chi Minh City.
From the upscale to the downright dirty, in Ho Chi Minh City's Binh Thanh District the eateries are as endless as they are fascinating. This is a corner of Saigon with a bit of an edge and more often than not, restaurants and food stalls to match. Local, foreign, and everything in between, here is the list of the top 10 must try food stalls in Binh Thanh District.
1.Ga nuong – Grilled chicken
The menu here is absurdly simple, as there is only one item available: whole grilled chickens. Service is incredibly efficient, with a plate piled with crispy chicken parts arriving mere seconds after ordering. Diners are literally served a whole chicken hacked into pieces, including feet, wings, legs and the head.
Loaves of banh mi can be ordered on the side, and a superb dipping sauce is served as well, in addition to a salt, chili and kumquat concoction that really brings out the kitchen flavor. The bread can be dunked in the sauce, or you can create your own grilled chicken sandwiches if you please. The chicken is outstanding, with crispy skin giving way to delicious, tender meat.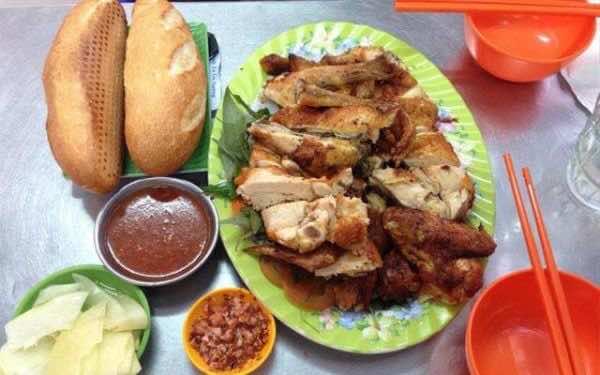 Gà nướng Anh Tư – 449 Le Quang Dinh, Ward 5, Binh Thanh District, HCMC.
Opening hours: 9 am – 10 pm
2.Sushi
Sushi Nhi perhaps make a mockery of expensive, formal sushi restaurants. Right in the middle of a classic local neighborhood food street, the quality, variety and presentation is excellent. Prices are very reasonable and ingredients are crisp, fresh, and melt-in your-mouth delicious. This place is popular with Saigon's youth, middle-class families and increasingly, expat.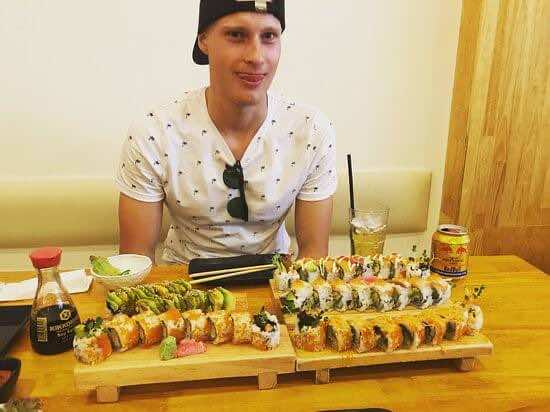 Sushi Nhí – 21 Nguyen Cong Tru, Ward 19, Binh Thanh District, HCMC.
Opening hours: 11 am – 2 pm/ 5 pm – 10.30 pm
3.Xoi – Sticky rice
Ba Chieu Market is one of the most ideal destinations for gourmands. Here, you can enjoy a wide variety of typical Vietnam dishes. It is also famous for sticky rice that is definitely worth giving it a try. With a very long time of existence, the eatery will for sure takes your endorsement of its signature ( Chinese roast pork and sticky rice). Besides, you can also choose chicken drumstick or shredded chicken as an alternative to have with sticky rice. Sticky rice is put in a banana leaf with your chosen topping. All in all, the sticky rice won't let you down.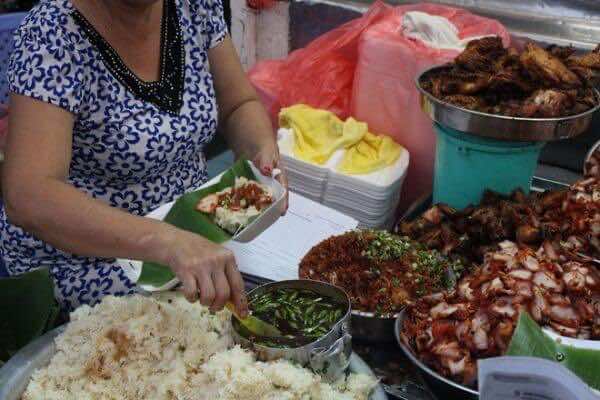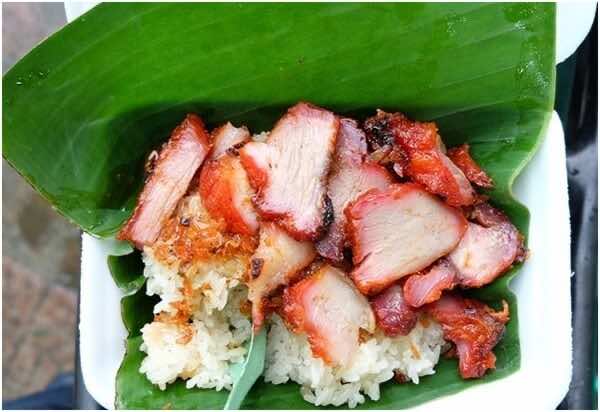 Xôi gà Bà Chiểu – 318/1 Bui Huu Nghia, Ward 1, Binh Thanh District, HCMC.
Opening hours: 5 pm – 11.30 pm
4.Chao trang – Congee
Congee has been a popular pick for diners in Ho Chi Minh City, celebrated as a go-to comfort with healthy-boosting benefits. Today, this delicious rice porridge dish is as popular as ever and can be found everywhere from street food stalls and markets, to the most high-brow restaurants in the city. Whether you are new to the city and in search of new places to feast on delicious congee, you will love our suggestion. It is the combination of rice boiled in water and an appealing aroma of pandan leaves. You can also customize your taste with pickled cabbage, salted egg, braised egg, fishes…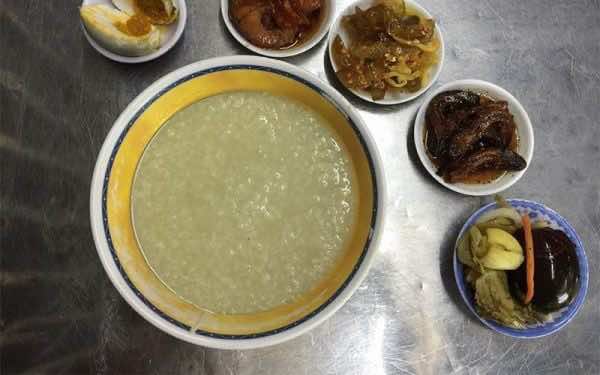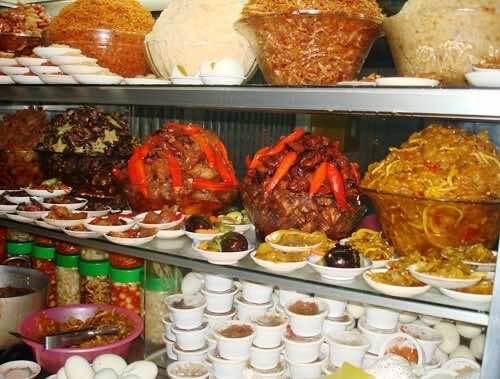 Cháo trắng Hàng Xanh – 283 Xo Viet Nghe Tinh, Ward 25, Binh Thanh District, HCMC.
Opening hours: 3 pm – around midnight
5.Chao vit
Chao is the name for Vietnamese rice congee, and though there are many different types, with pork and pig organs being extremely popular, there's another version called chao vit, congee made with duck. Something is that the congee and duck are served with a plate of Vietnamese salad, a mixture of finely sliced herbs and vegetables, dressed in a light sweet and sour fish sauce. The vegetables go extremely well with the salty rice porridge and the succulent duck.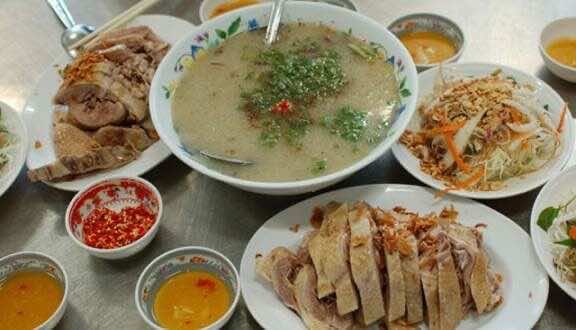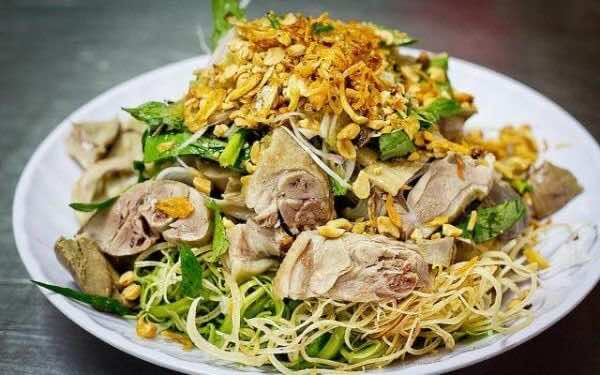 Cháo vịt Gốc Nhà Lá Thanh Đa – 118-120 Binh Quoi, Ward 27, Binh Thanh District, HCMC.
Opening hours: 8 am – 10.30 pm
6.Quan Ut Ut
Sometimes there's nothing better than good old-fashioned American barbecue. In Ho Chi Minh City, no one does it better than this food joint. With great craft beer and a massive smoker loaded with ribs, sausages, pork belly, and more, this is one exceptional excuse to put down the chopsticks and leave Vietnamese noodle behind.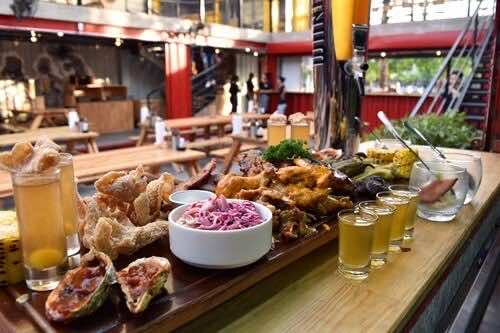 Quán Ụt Ụt – 60 Truong Sa, Ward 17, Binh Thanh District, HCMC.
Opening hours: 11 am – 10.30 pm
7.Banh canh ghe – Crab Tapioca Noodle
The tapioca noodles, which are heftier and chewier than plain old rice noodles, closely resemble Japanese udon noodles, except they are made from tapioca starch instead of wheat flour. In banh canh ghe, ghe – a type of grab isn't the only thing swimming around in this vibrant orange broth; you actually get a wide array of seafood. Ghe makes an appearance twice in this dish, in the form of de-shelled crab meat and spongy meatball. You'll also see a plump prawn pre-skinned, a small quail egg bobbing around, some straw mushrooms, thin slices of boiled pork, and both the chopped stalk and stems of green onions. The soup's blazing orange color comes from the natural coloring of shrimp and crab meat and is further saturated with drops of golden-yellow annatto oil.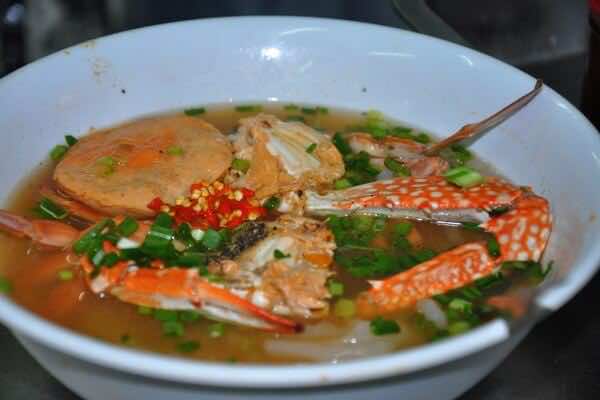 Bánh canh ghẹ Cầu Bông – 2 Dinh Tien Hoang, Ward 1, Binh Thanh District, HCMC.
Opening hours: 3 pm – 10.30
8.Bun mam – Vietnamese fermented shrimp noodle
When it comes to bun mam, a noodle soup with a fermented fish broth and seafood and pork belly and so much more. The soup is actually skew sweet thanks, and with thick rice noodles and chunks of delicious fish and meat, it's not to be missed. The eggplant in bun mam is extremely succulent and juicy.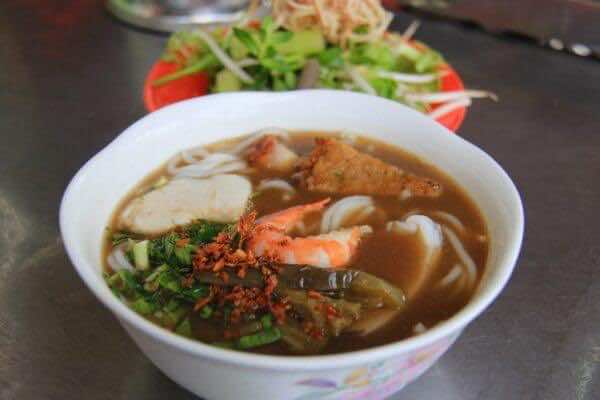 Bún mắm 444 – 369 Le Quang Dinh, Ward 5, Binh Thanh District, HCMC.
Opening hours: 8 am – 10 pm
9.Mi quang
Unlike some Vietnamese soups, mi quang hasn't yet found fame on the international foodie scene, but within Vietnam's borders it's a much-loved noodle dish that's available throughout the country. Originally form the central province of Quang Nam, mi quang is distinguished by its thick yellow noodles and shallow broth, prawn, pork, quail eggs, peanuts and shredded lettuce and herbs, especially the surprise bursts of mint and the crunch of bean sprouts, peanuts and rice crackers.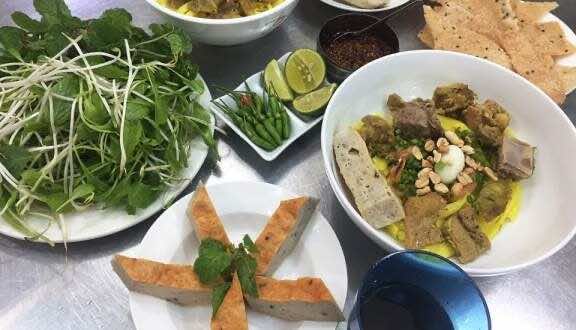 Quán mì quảng- 245 Phan Van Han, Ward 17, Binh Thanh District, HCMC.
Opening hours: 4 pm – 10 pm
10.Beefsteak
For all of Saigon's diversity when it comes to dining options, the reality is that the city is highly segregated in terms of food. For the most part, international cuisine can only be found in District 1, 2, and 7. The rest of city is packed with Vietnamese food stalls. If you are missing a dish of beefsteak, Titi is right there for you. Besides a variety of beefsteak dishes served with BBQ or pepper sauce, there are many more stunning Western cuisines such as spaghetti, lamb, ostrich steak, salad, soup and so on. Undoubtedly, Titi beefsteak is worth visiting except the fact that it may take you a while to wait due to being regularly crowded.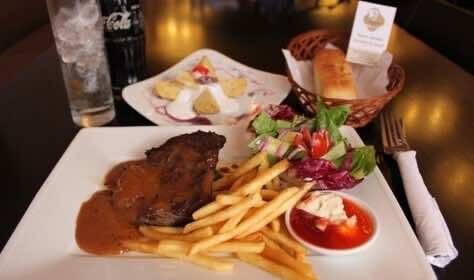 Titi Beefsteak – 67/4/118 Vu Huy Tan, Ward 3, Binh Thanh District, HCMC.
Opening hours: 10 am – 9.30 pm