There is no love sincerer than the love of food.
If you planning a journey is exciting and delightful, but also leaves you in a state of bewilderment, when it comes to food. Whether it's a planned long journey or a short outing to a mesmerizing visitor destination, one of the biggest things is to decide about food, as one needs to know the specialties of each intersection, in the route for a better food experience.
When we think about Vietnamese food, complex flavors and contrasting textures come to mind. Take, for example, pho, a noodle dish consisting of either beef or chicken broth that is simmered for hours before being served piping hot with a heaping plate of crunchy leafy greens and various aromatic herbs. Then there are rolls, a combination of as much fresh stuff into some rice paper as possible.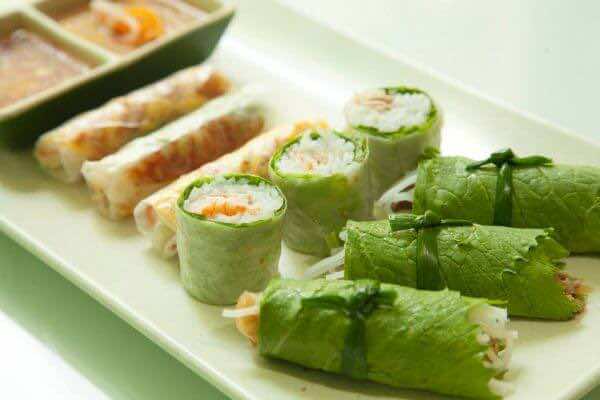 Here is the list of rolls in Vietnam that you should give it a try when traveling to Vietnam.
1.Fresh spring rolls – Goi cuon
We all know the fried spring rolls (cha gio), but its 'fresh' counterpart is a much lighter and healthier appetizer alternative. Slices of pork, shrimp, lettuce, mint, and vermicelli noodles are neatly wrapped up in a translucent rice paper before being dunked into a hoisin-peanut dip. Of different areas of the country, the locals have different ingredients in spring rolls. Many Vietnamese across the country consider it as an imperative part of a complete Vietnamese style family dinner.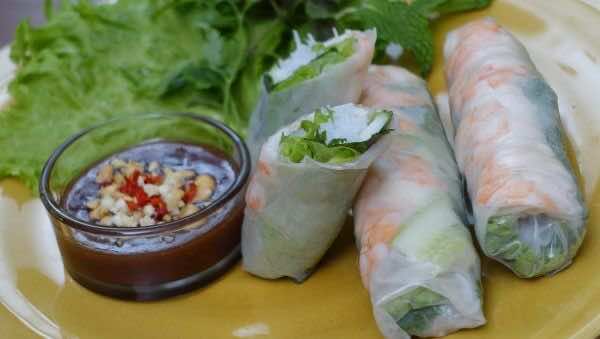 1.Vietnamese steamed rice noodle rolls – Banh cuon
These delicate rice noodle rolls may look familiar if you've had cheng fun at a dim sum restaurant before. When it comes to banh cuon, these parcels are filled with minced pork and wood ear mushroom, then topped with a smattering of fried shallots and dipped into fish sauce. Make sure to eat them while they're hot and soft.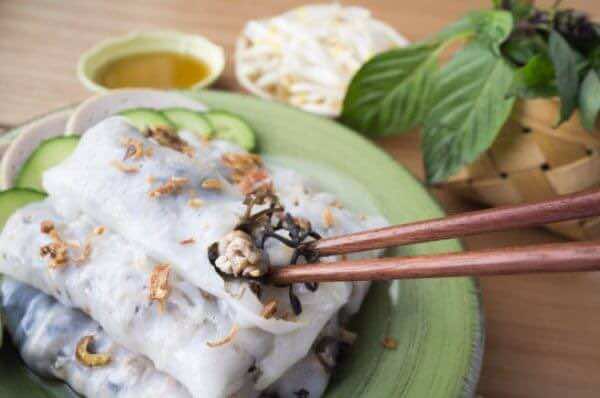 3.Fried spring rolls – Cha gio
When thinking of Vietnamese cuisine, fried spring rolls would probably belong to the three top of mind dishes. It is a preferred food on special food on special occasions such as Tet and other family festivals. The filling is very variable depending on each local but usually it comprises of minced pork, sea crabs or unshelled shrimps, edible mushroom, dried onion, eggs, different kinds of seasoning. You can go for a vegetarian version. Whichever they are, all ingredients are mixed thoroughly before being wrapped with rice paper into small rolls. These rolls are then fried in boiling oil.
This Vietnamese deep fried spring rolls calls for a classic Vietnamese dipping sauce that should be served in small individual bowls for each guest. There are so many recipes out there that you really need to try a few, but the basic ingredients are Vietnamese fish sauce, rice vinegar, sugar, garlic cloves, birds eye chilies, and lime juice.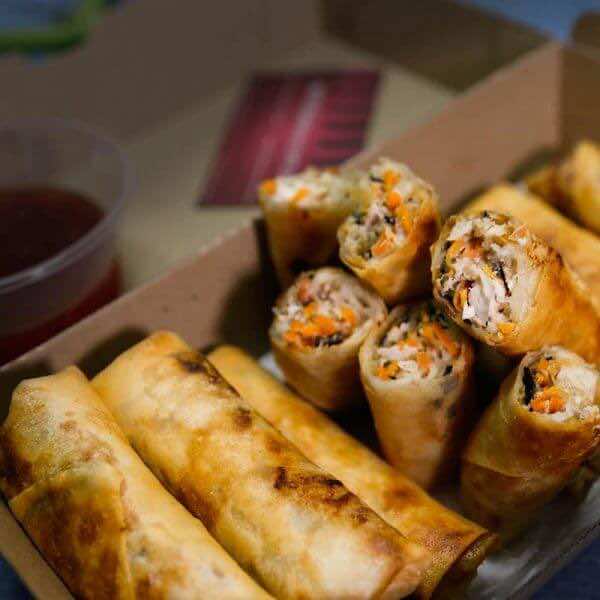 4.Vietnamese grilled pork patties – Nem nuong
Nem Nuong is among dozens of specialties you should try when traveling to Vietnam. A typical set includes the grilled pork roll, raw vegetable, fermented cucumber, crunchy rice cracker and special sauce. People often wrap the roll in the vegetable leaves and rice paper, and then dip the ensemble into the sauce to eat the whole. It is so hard to demonstrate the excellent balance of flavor and texture in the food.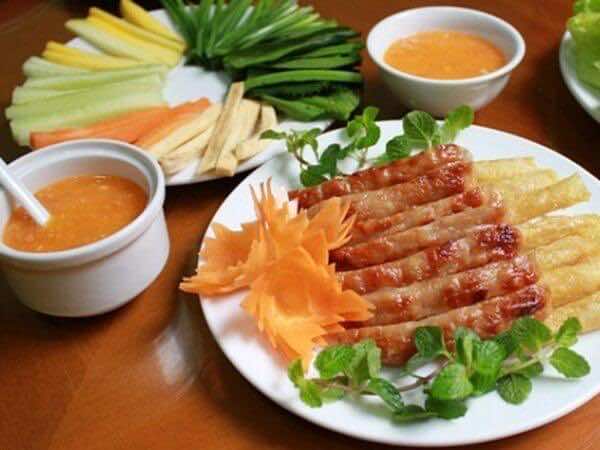 5.Vietnamese fresh rice noodle rolls – Pho cuon
Pho cuon consists of a slightly of cooked rice paper shell the same thickness as a pho noodle. Inside this soft shell is a selection of herbs and greens – mainly cilantro, mustard leaf, lettuce and thinly sliced beef that has been cooked with garlic and generous amounts of pepper. It is served cold with a bowl of fish sauce, garlic, carrots, radish, vinegar, boiled water, chili and some sugar for dipping. you could serve these rolls as an appetizer before a main course or serve them alongside a handful of other dishes of you're feeding a family or a group of friends.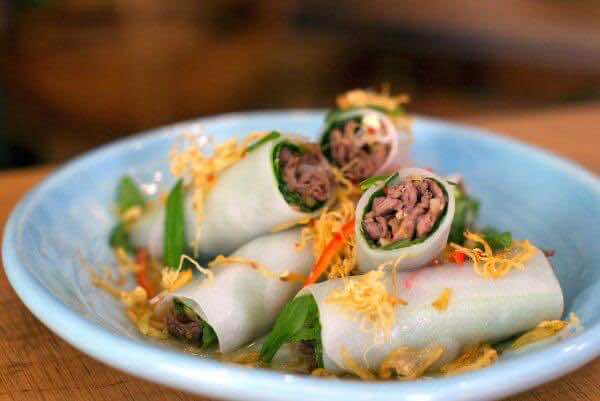 6.Fresh spring rolls with Chinese sausage – Bo bia
Since its appearance in Vietnam, bo bia has become a favorite dish which is indispensable for the students because of the delicious taste that is easy to eat. In Vietnam, this dish was introduced by the Chaozhou immigrants and varied slightly to meet the taste of the Vietnamese. Bo bia is made with ingredients including sausages, chicken eggs, carrots, lettuce, jicama, or kohlrabi, dried shrimps, herbs… all are chopped and rolled in rice paper. The sauce served with this is chili sauce mixed with roasted peanut butter and fried onions.
If bo bia in Saigon is made from the sausage and other ingredients, bo bia in Hanoi is made from sugar and coconut.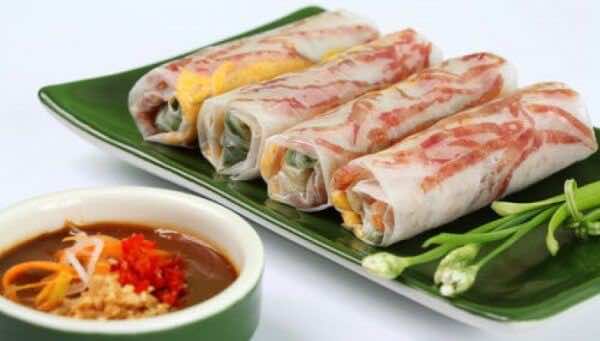 Bo bia in Saigon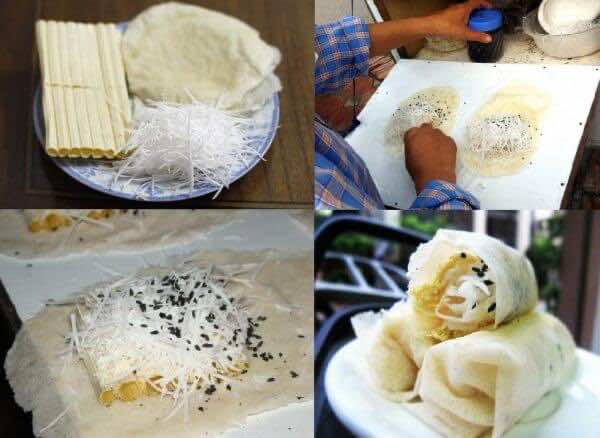 7.Summer rolls with tamarind dipping sauce – Banh Trang Cuon
Banh trang cuon are made with rice paper, known as banh trang, that's slightly moistened, then filled with, typically a mixture of quail eggs, fried onions, peanuts, herbs, dried small shrimp…then being wrapped. This kind of summer rolls are served with tamarind dipping sauce, mayonnaise, chili sauce, peanuts… You should order at least 10 rolls because the summer roll here is quite small with a small price.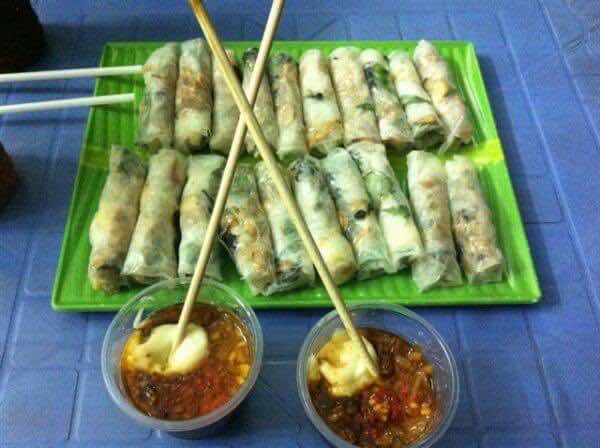 8.Summer rolled with shredded pork skin – Bi cuon
Popular among Vietnamese eaters, bi cuon, are filled with shredded pork skin and pork meat, as well as lettuce and Vietnamese herbs. Bi cuon is a treat that usually shows up at every Vietnamese family's celebration buffet table. Summer rolls should be dipped in sauce, which often has tangy strips of pickled daikon and carrots floating on top.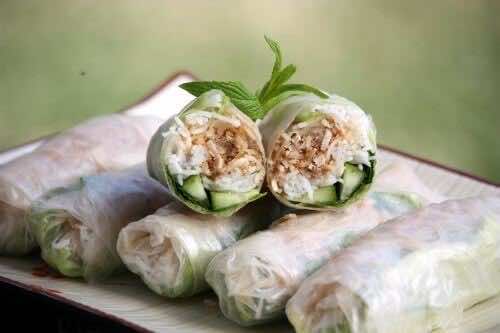 Let try and share your experience with us!