Visiting different heritage sites is good for your happiness and wellbeing, a new study has found.
Vietnam is an astonishing mix of natural highlights and cultural diversity. The scenery ranges from jagged peaks seen from winding mountain passes down to verdant paddy fields painted every shade of green in the palette, while the nation's long history and amazing number of ethnic minorities mean that culture-vultures will find plenty to admire.
After decades of conflict, Vietnam is littered with historic war sites. The Vietnam War had a major impact on millions of lives from both sides. It is no doubt that a trip to Vietnam would not be complete without paying a visit historic war sites of interest. In this article I will introduce to you the best places where you can learn about the history of Vietnam.
1.The Cu Chi Tunnels
Cu Chi Tunnels were not only home for thousands of Viet Cong guerrillas, but it was also a complicated structure consisting of numerous trenches, bunkers, booby traps, bomb shelters and an amazing air ventilation system. Located about 60 kilometers to the Northwest of Ho Chi Minh City, the Cu Chi tunnel network is an extensive labyrinth of underground tunnels stretching all the way to the Cambodian border. They were built over a period of some 25 years and initial construction began in 1948 by the Viet Minh during the war against the French. Soldiers cooked, ate, slept, worked, and even went to school in these tunnels as conflict raged above, not to mention that there were hospitals, theatres, schools, kitchens, all built into this extraordinary tunnel system.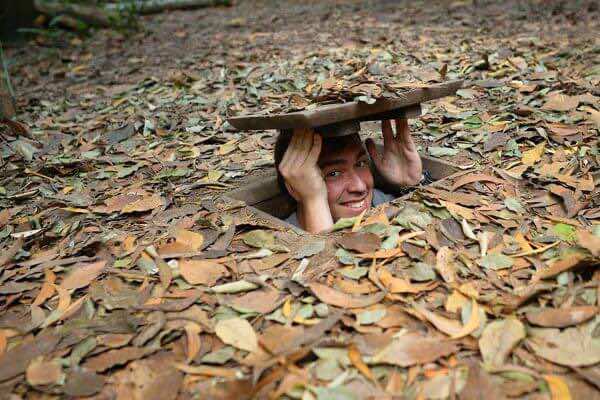 2.War Remnants Museum
The War Remnants Museum offers half a million visitors each year a narrative of what Vietnamese people have experienced in the years that they fought for the freedom. The museum specializes in researching, collecting, preserving and displaying evidence- the crimes and consequences of the Vietnam War.
For VND 15,000, you can get to go around this 3-floor museum and be humbled with the collection of over 20000 photos, relics, and information.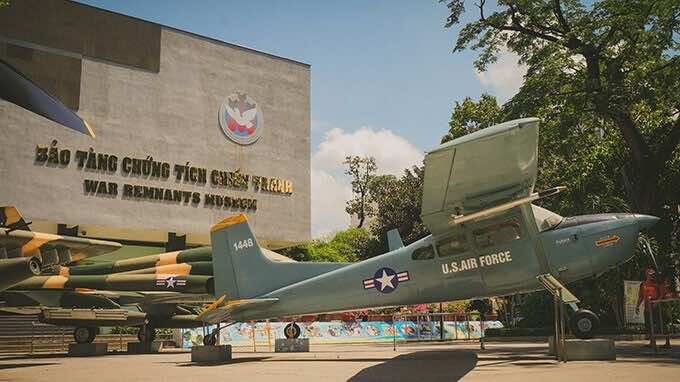 3.Hue Imperial Citadel
For nearly 150 years until World War II, the Imperial Citadel of Hue served as the capital of Vietnam's Nguyen dynasty. In the very center of these secure walls was the Purple Forbidden city, an area reserved exclusive for the royal family. The enormous Imperial Citadel was also a strategic hold during the Vietnam War, as it stands very close to the demilitarized zone that separated North and South Vietnam. This destination is significant for all those who are interested in the history of the nation.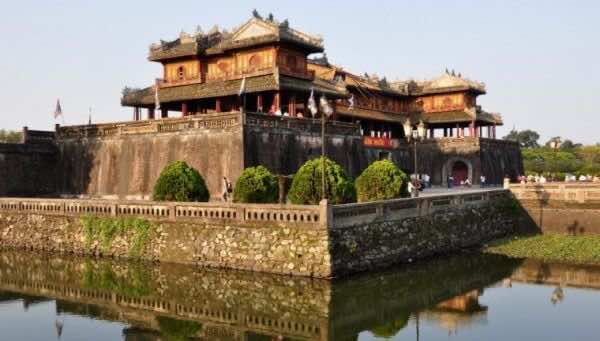 4.Khai Dinh Tomb
The Nguyen Emperor Khai Dinh's Royal Tomb is unique among the royal tombs in Hue, Vietnam. Where other royal tombs are expansive and invite respectful reflection, Khai Dinh built his final resting place to be monumental in style and bombastic in execution.
What sets Khai Dinh's tomb apart from the others around Hue is its architectural fusion of Chinese, Vietnamese, and European Gothic elements. There are fierce dragons guarding the steps, stone elephants and warriors outside, and finally, massive wrought iron gates at the entrance. The inside of the tomb has some of the Emperor's personal effects and gifts, as well as incredibly intricate patterns of ceramic and glass decorating the walls.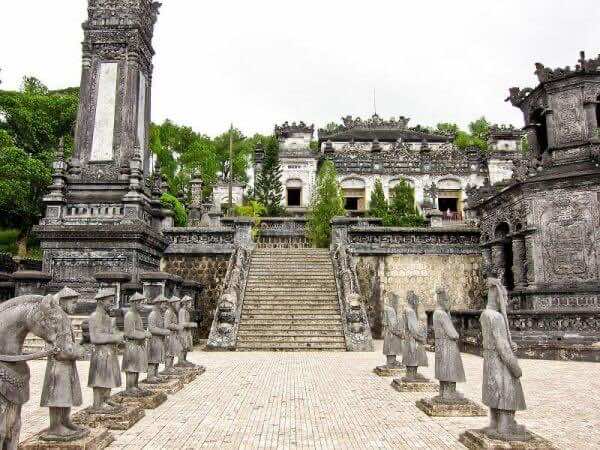 5.My Son Cham Ruins
Surrounded by lush jungle-covered mountains, My Son is a ruined Cham are temple city that dates from the 4th century. This old Hindu religious center was still very much in use during the 7th to 10th century. There are around 20 temple structures still standing here, all built of brick or sandstone blocks and showing interesting influences from various Asian empires, including Indian and Malay. Note that the temples of Group B are the oldest, while Group A once contained the site's most important monument but was destroyed deliberately by US during Vietnam War. A good museum on-site houses plenty of information on the Cham.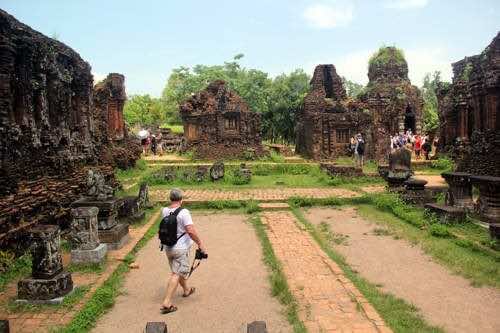 6.Con Dao Prison Complex
For 113 years, Con Dao was not the beautiful tropical idyll that you see today, but rather a prison where thousands endured pain and suffering. While travelers are drawn to the island's water, sun and sand, a visit to the Con Dao Museum and at least one of Con Son Island's many prisons is a must. A complex of several prisons, built by the French, and later utilized by the Vietnamese and the Americans still remain. Many of the cells and 'Tiger Cages' are also fitted out with very life-like models of those who resided and were tortured here, that give you a lot more to look at than just empty rooms and their ghosts.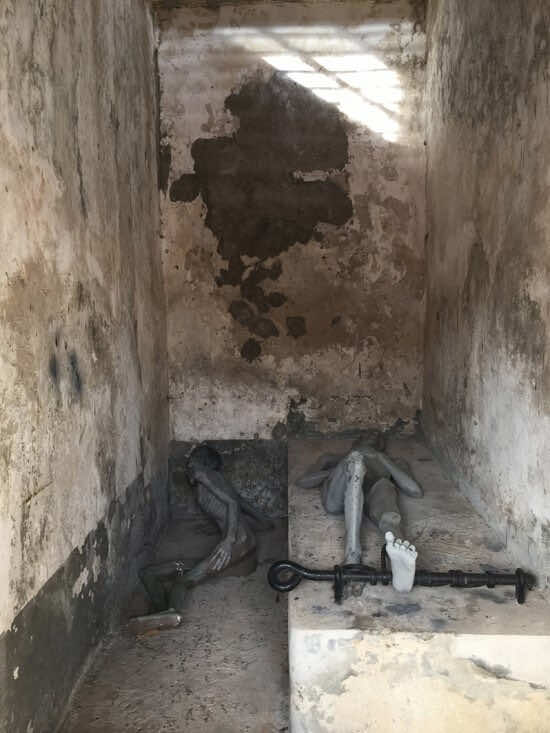 Known as the true hell on the earth, the 'tiger cages' were the deepest, darkest part of it.
7.Phu Quoc Prison
Phu Quoc Prison is also known as Coconut Tree Prison, an ironic twist on the horrible things that have been inflicted in "rebellious subjects" and prisoners of war alike. The whole complex is a depressing prison camp, built by the French between 1949 and 1950 and kept running during the Vietnam War. Approximately 40.000 people were imprisoned in Phu Quoc during the war alone. The area is a tourist attraction for people interested in the dark side of humanity and Vietnamese history. Near the entrance you see a small museum with relics and information plates, depicting and explaining various subjects of murder and cruelty. Prisoners of war and everybody else who was perceived a danger to the government was kept there and subjected to several terribly creative methods of torture. Many life-sized figures depict scenes of the daily life, violence and torture. The victims were unable to stand up or move more than a little wiggling and most were kept for these days, if not weeks to break their spirits.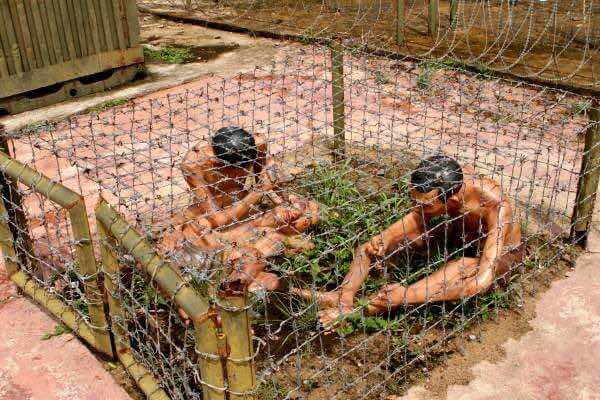 Tiger cages in Phu Quoc Prison
8.Hoa Lo Prison in Hanoi

The Hoa Lo Prison in Hanoi was built by the French between 1886 to 1901 as a place to punish Vietnamese activists seeking independence. There are also displays focusing on the American pilots who were incarcerated at Hoa Lo during the American War. These pilots include Pete Peterson and Senator John McCain.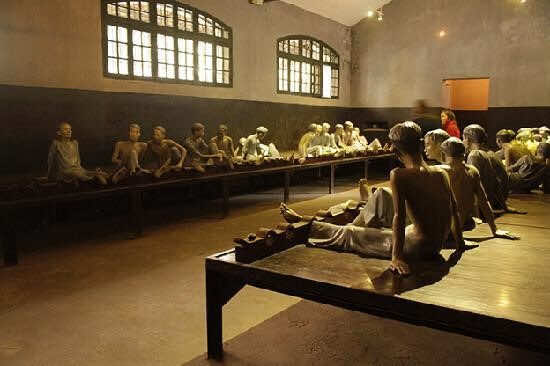 Although the time flies, these historical sites still reflect a dark side of the country heavily affected by war for centuries.