Ho Chi Minh City is one of the best cities in the world for street food. Every stall has a specialty dish, and no experience says "Saigon" more than a bumpy scooter ride between the many food in the city. And if you want to make the most of your time (and stomach space), you'll want to head out with an in-the-know local to pick out the best of Saigon's street food.
Phu Nhuan district may not be well known to many travelers to Ho Chi Minh City, but it's a popular expat area due to cheap rent and prices. Over the years, many food stalls have popped up in this district, catering to the different tastes those living in Ho Chi Minh City.
Put your eating pants and follow us to experience the street food paradise in Phu Nhuan District.
Com tam – Broken rice
Com tam can be found on almost every street corner in Ho Chi Minh City, and all around the country in fact. Most com tam joints are street food stalls but more and more, com tam has been cropping up on the menus of high-end restaurants. A plate of broken rice with many beautiful colors from grilled pork chop with multi- flavor to steamed pork with egg custard, pork skin, vegetable… If I have to opt for the best place to enjoy Com Tam, it should be Com Tam Ba Ghien having a passed a legion of loyal fans.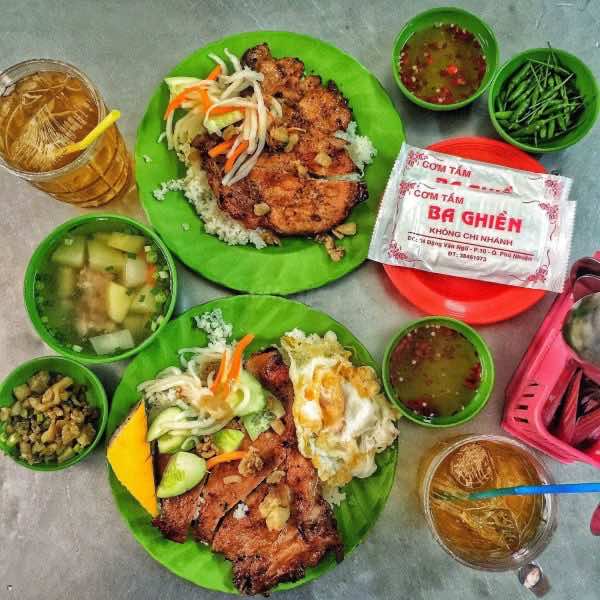 Cơm tấm Ba Ghiền –  84 Dang Van Ngu, Ward 10, Phu Nhuan District, HCMC.
Opening hours: 7.30 am – 9.30 pm
Bo la lot
Bo la lot are little minced rolls, lightly spiced and seasoned, which are then filled into la lot – wild betel leaves, and tightly wrapped into thin tubes. They are grilled over charcoal. A plate of bo la lot is then served with rice paper, a typical bounty of leaves and herbs, a dipping sauce which I think is often made with fermented fish sauce, and finally, chilies, which should never forgotten.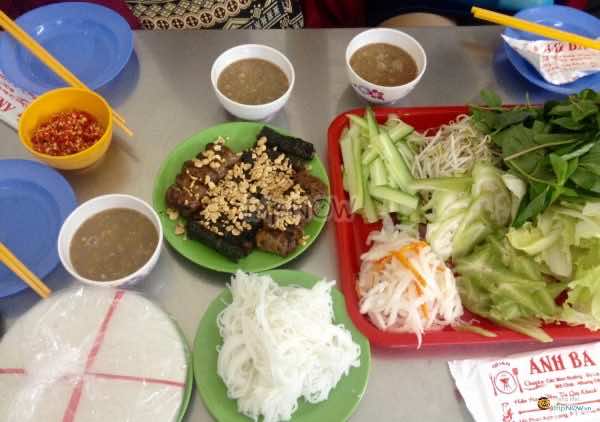 Bò lá lốt Anh Ba – 460 Phan Xich Long, Ward 2, Phu Nhuan District, HCMC.
Opening hours: 5.30 pm – 10 pm
Bun dau mam tom
Like durian, bun dau mam tom, Vietnamese fermented shrimp paste noodle, may be smelly but both these foods have loyal fans. Bun dau mam tom has 3 main ingredients: vermicelli noodle, fried tofu and shrimp paste. The tofu should be well deep fried until it turns yellow on the outside but still can retain the moisture, softness and the original taste on the inside. The shrimp paste shouldn't be too salty or too thick, but definitely it needs to have a specific sour taste from the lemon or kumquat served to you and the spice from the chili.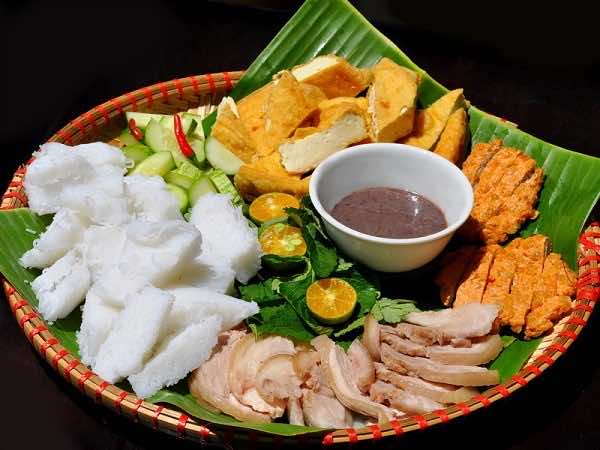 Bún đậu mắm tôm Cầu Gỗ – 442 Phan Xich Long, Ward 2, Phu Nhuan District, HCMC.
Opening hours: 8 am – 10 ppm
Chuoi nuong – Grill banana
In the diverse spectrum of Vietnam's many desserts, grilled bananas stand out because of its distinctive taste and the perfect combination of banana and coconut milk. The most important factor deciding a good grilled banana is the coconut milk. The recipe to make an excellent coconut milk is kept secret. There are two main ways grilled banana is served: you can find plain grilled banana, or you can also find grilled banana covered with sticky rice. No matter what you get, you will get it served with coconut milk and some dried sesame or peanuts.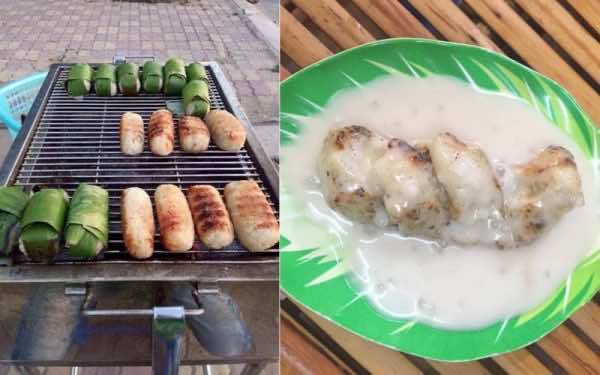 Chuối nướng Nam Bộ Út Lúa – 115 Phan Dang Luu, Ward 7, Phu Nhuan District, HCMC.
Opening hours: 9 am – 10 pm
Banh canh cua
Banh canh is quite similar to Japanese udon noodles, except I thought the noodles, which are typically made with a combination of rice and tapioca starch, were more sticky and a little chewier than udon. There are a few different versions of banh canh, I fully enjoyed the thick starchy noodles with crab. Instead of being a typical noodle soup with a thin stock, banh canh cua is more like a heart stew, the broth is thickened like gravy. The gravy normally has quite a mellow crab flavor, but what's really impressive are the nuggets of crab meat that come in a bowl, and the toppings including chilies and limes.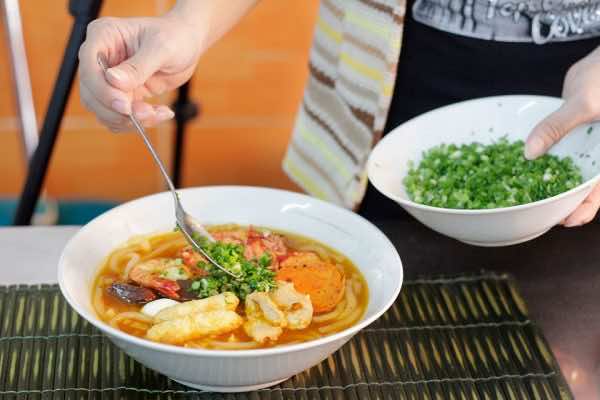 Bánh canh cua Cô Diệu – 710-712 Nguyen Kiem, Ward 14, Phu Nhuan District, HCMC.
Opening hours: 9 am – 10 pm
Bun rieu
Vietnam is a land of noodle soups, and many enjoy at least one bowl of noodle a day, some, maybe even a few. The broth in bun rieu is made from a crab base stock, and another key ingredient are tomatoes, which create a broth that's slightly seafood tasting, yet has a beautiful natural sweet and tartness from the tomatoes. Topping the noodles are pieces of golden fried tofu, sometimes meatballs, healthy chunks of pork, squares of congealed pig's blood, and finally a slab of rich crab paste. To enjoy bun rieu, you normally garnish it with shrimp paste, then load it up with chili sauce, a squeeze of lime juice, and then devour it with a small mountain of herbs and shredded vegetables.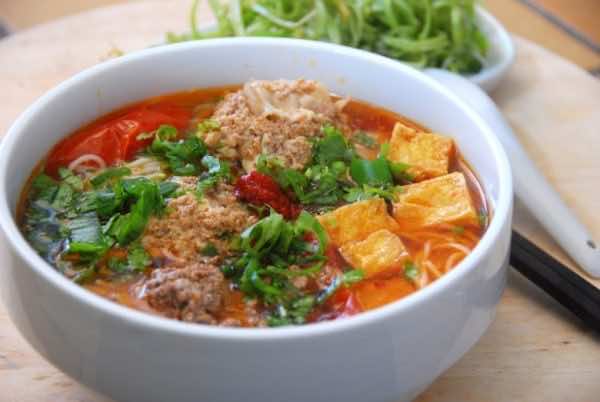 Bún riêu hẻm ông Tiên – alley 96 Phan Dinh Phung, Ward 2, Phu Nhuan District, HCMC.
Opening hours: 9 am – around 2 pm
Banh cuon – Vietnamese steamed rice rolls
Vietnam has an endless list of dishes that can be eaten for breakfast but this is one of our absolute favorite. Simple, healthy and delicious, banh cuon is a must try when in Vietnam. Banh cuon's filling is a beautiful combination of various types of mushroom, especially the wood ear mushroom, pork and onion. Different regions may have their own alternatives. These ingredients are minced and mixed all together with spices. Banh cuon tastes best when accompanied by a delicious, flavor-enhancing sauce. Fish sauce is most commonly used to make the liquid.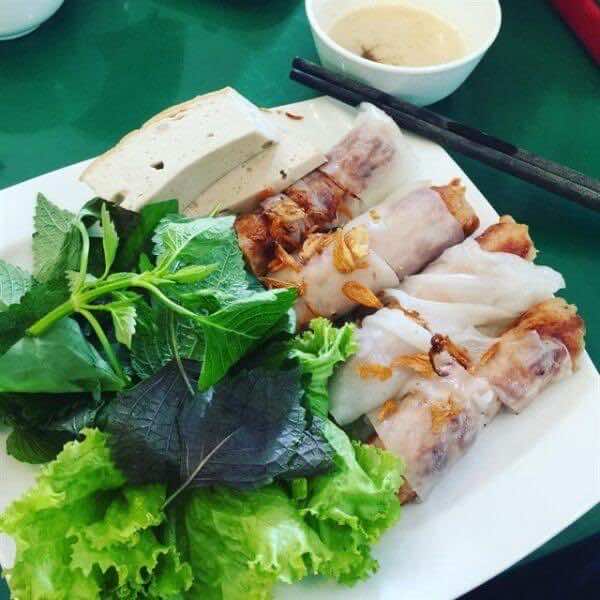 Bánh cuốn Nhớ – 448 Phan Xich Long, Ward 2, Phu Nhuan District, HCMC
Opening hours: 6 am – 1 pm/ 4.30 pm – 10 pm
Banh khot
These popular cakes are mainly made of coconut milk and rice flour, topped with flash fried seafood such as medium-sized shrimp or squid, and served with fresh vegetables and sweet fish sauce. The plate of banh khot is set on the table leaving you to assemble your very own wrap. If you've tasted banh xeo, a kind of Vietnamese pancake, then you will be familiar with the greasy and sweet-smelling taste in its tinier form.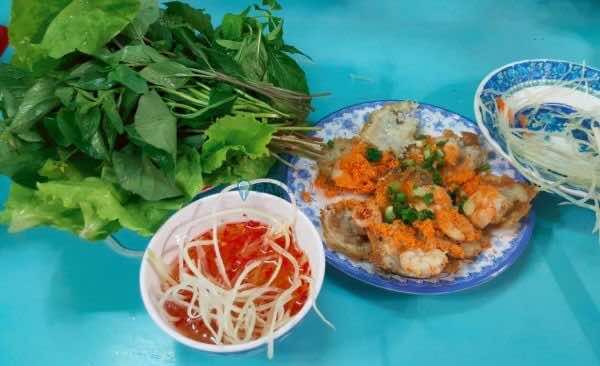 Bánh khọt Dì Gái – 211/116 Hoang Hoa Tham, Phu Nhuan District, HCMC.
Opening hours: 2 m – 4 pm Monday to Thursday
Banh duc
Banh duc is a very popular dish in almost rural areas in Northern Vietnam. its main ingredients are from agricultural products, including non-glutinous rice flour, and peanut. It is in white color with a soft texture and mild flavor. Banh duc is typically accompanied by such savory ingredients as ground pork, fried onions, sesame seeds, peanuts and grilled ground prawns. It is served with commonly with Vietnamese sweet fish sauce.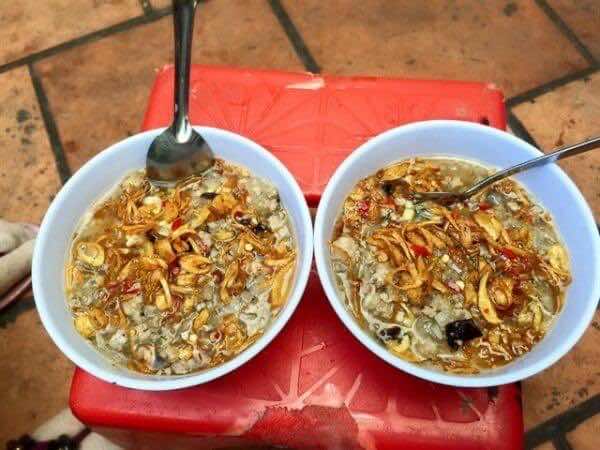 Bánh đúc Phan Đăng Lưu – 116/11 Phan Đăng Lưu, Ward 3, Phu Nhuan District, HCMC.
Opening hours: 3 pm – 6 pm
Oc
Snails on a plate have been such a favorite and delicious Vietnamese street food for generations. Over the years, the dishes het more and more diverse thanks to the locals' creativity and learning from other culture
There are countless of street foods in Ho Chi Minh City and seafood is one of the most favorite dishes among locals and tourists. Saigon people usually eat seafood at street food stalls in the evening. Traveling to Saigon, foreign visitors should try amazing seafood and have fun like the locals.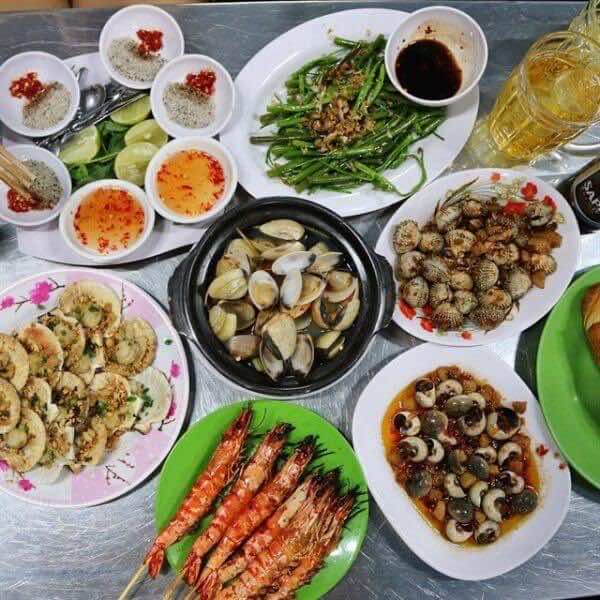 Quán ốc Luộc – 533/59 Huynh Van Banh, Ward 14, Phu Nhuan District, HCMC.
Opening hours: 3 pm – 11 pm