Eating a country's food is the best way to get to know its culture. Vietnam is famous for its cuisine, and has a diverse range of dishes, from pho to banh xeo to com tam. The food even changes as one makes their way from the south to the north or in reverse. Street food is the way to go when in Vietnam, but you get basically anything you crave.
Northwest of District 1, clogged thoroughfares give way to orderly boulevards walled by French colonial architecture hidden from the afternoon sun by the generous shade of massive dipterocarp trees looming overhead. Embarrassingly few tourists make it beyond the buzz of the city center, but those who do are welcomed to a more relaxed way of life. In less travelled District 3, things move by just a notch slower, the air feels noticeably cleaner and the food, well, the food remains the same – delicious.
Here is the list of top street food in District 3 that you should give it a try.
Bot Chien
Among the munchies in Saigon, bot chien is found on almost every street corner come sun down. Bot chien starts off as a scrambled mess of one or twi eggs and fried rice flour cakes, pre-marinated in a secret sauce. A smattering of shredded turnip is then added to the batch and garnished with chopped green onion before being delivered to your table, where you then have the option too top it off with shredded young papaya.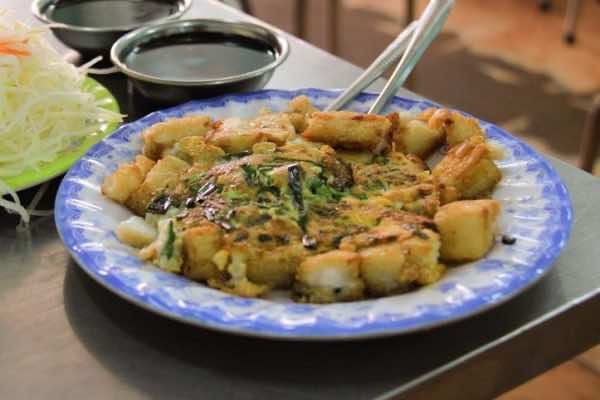 Bot chien Dat Thanh – 277 Vo Van Tan, Ward 5, District 3, HCMC.
Snails
It is situated in the crowded Nguyen Thien Thuat apartment complex, this has been a longtime favorite of "oc" gourmet. The stallholder is very creative in using a lot of ways to make Vietnamese snails that people can hardly resist and keep wanting more. The kinds of snails and shell vary from big to small ones. The dipping sauces go with these dishes also play an important part in making them special. Especially, you can enjoy these delicious dishes at the spacious outdoor dining space.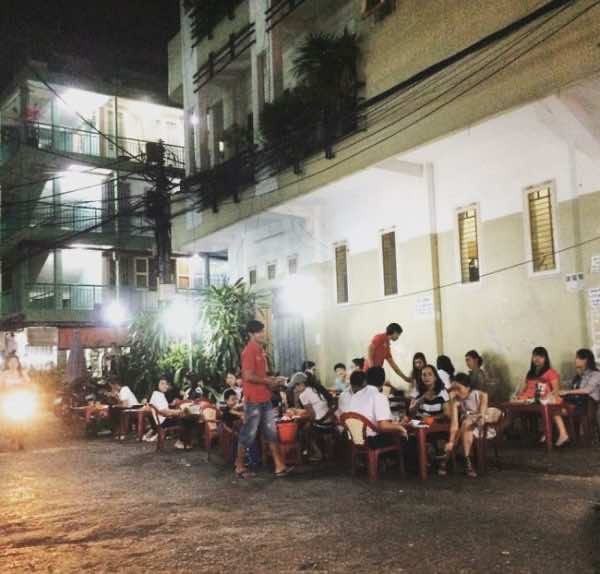 Oc Loan – 175/26 Nguyen Thien Thuat, Ward 1, District 3, HCMC.
Chuoi Nuong – Grilled Bananas
In the diverse spectrum of Vietnam's many desserts, grilled bananas stand out because of its distinctive taste and the perfect combination of banana and coconut milk. The most important factor deciding a good grilled banana is the coconut milk. The recipe to make an excellent coconut milk is kept secret. There are two main ways grilled banana is served: you can find plain grilled banana, or you can also find grilled banana covered with sticky rice. No matter what you get, you will get it served with coconut milk and some dried sesame or peanuts.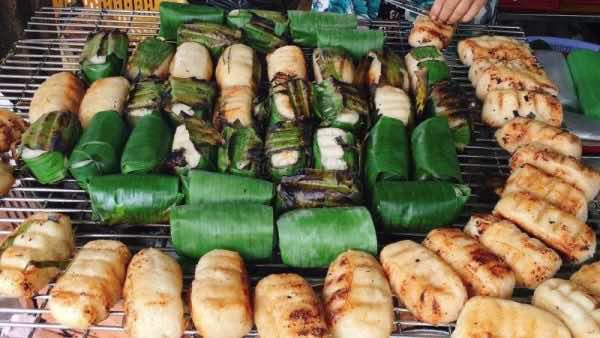 Chuoi Nuong – 378 Vo Van Tan, Ward 5, District 3, HCMC.
Pho Chua – Sour Pho
Most street food that makes its way to Saigon from elsewhere gets adapted to the local palate. One such dish is pho chua. This dish did not originate in Saigon, but was brought from the mountainous provinces of northern Vietnam. No matter where it comes from, pho chua has been Saigonised and Saigon has embraced it as its own, just as people from all over Vietnam are accepted as part of the city.
Pho chua in Saigon is served with chicken and a piece of shrimp cake. The sweet and sour sauce together with the spice of the chilly, the rich pork crackling, the crunchy chicken and the fresh herbs make you feel like your taste buds are about to explode.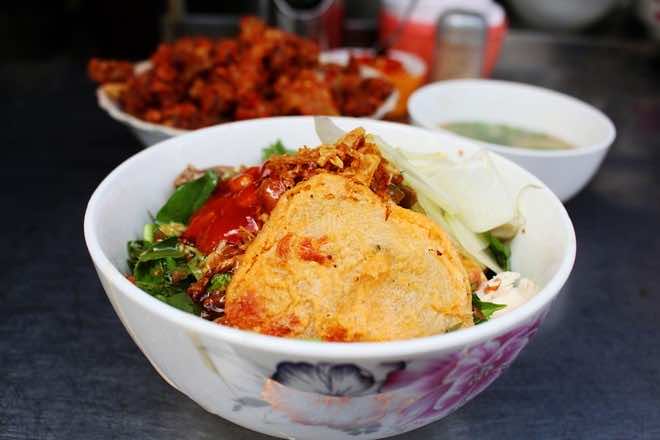 Phở chua Thành– 242/101 Nguyen Thien Thuat, Ward 3, District 3, HCMC.
Opening hours: 3 pm – 7 pm
Banh Trang Tron
Banh trang tron is a relatively recent Vietnamese creation, a snack of shredded rice paper, seasoned with a chili sauce, and filled with herbs like Vietnamese coriander and basil and supplemented with pieces of squid, salty fish, and quail eggs. It's basically a snack or junk food, especially popular with younger generation, and often available at parks and public places, and nearly always served in a plastic bag.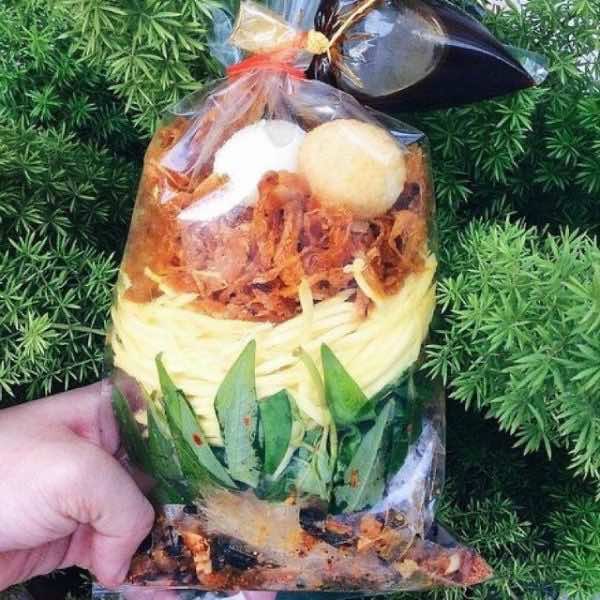 Bánh tráng trộn chú Viên – 38 Nguyen Thuong Hien, Ward 5, District 3, HCMC.
Opening hours: 2 pm – 10 pm
Bun Bo Hue – Hue Beef Noodle
More over Pho, Bun Bo Hue is the Vietnamese soup you need to know. Bun Bo Hue, a soup that starts with pork and beef bones, gets a kick from lemongrass, annatto and shrimp paste, and finishes the job with a tangle of herbs, a squeeze of lime and a few delicious add-ons like sliced brisket, crab balls and, in some cases, cubes of congealed pig's blood. Flavors are deep and rich, providing a satisfying meal that will fill up most diners for several hours.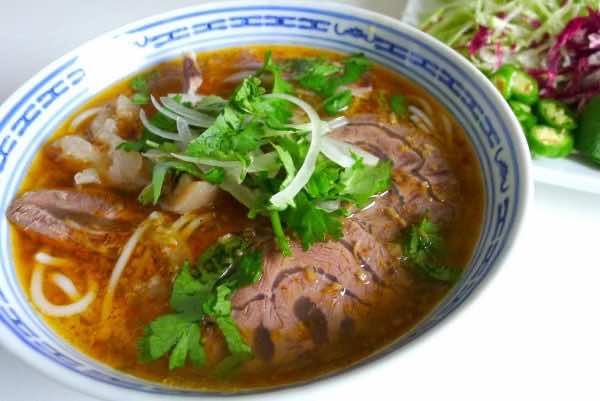 Bún bò Huế chú Há – 300 Vo Van Tan, Ward 5, District 3, HCMC.
Opening hours: 7 am – 10 pm
Banh Mi Op La
A beautiful alternative to the banh mi is a Vietnamese dish called op la, or eggs cooked in a litter personal pan, often supplemented by slices of meat like ham, onions, and served with those wonderful crusty Vietnamese baguettes. Banh mi op la makes a favourite breakfast for many locals in Saigon, and it most definitely hits the spot before a long day exploring the city.
Along with serving wonderful food, another great thing about eating here is the open air, side of the street dining atmosphere. The kitchen is located on the corner of the Cao Thang street, but little plastic tables and chairs are set up along the quieter side of the alley, lined up in a row.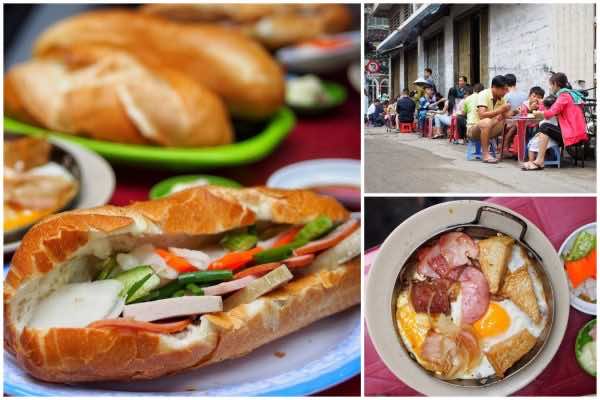 Bánh mì Hòa Mã – 53 Cao Thang, Ward 3, District 3, HCMC.
Opening hours: 6 am – 11 am
Chao Long
In some countries, they throw away pork organs and only use the pork meat and bone. It's a big chance for foreigner living or coming to Vietnam to enjoy an amazing food which cooked form pork organs. Don't be scared because it's totally delicious and comfort dish of Vietnamese people. I would like to introduce Vietnamese pork organ rice congee. One of the highlights of Vietnamese pork organ rice congee is the flavourful broth cooked from pork bone, meat and organs in a few hours.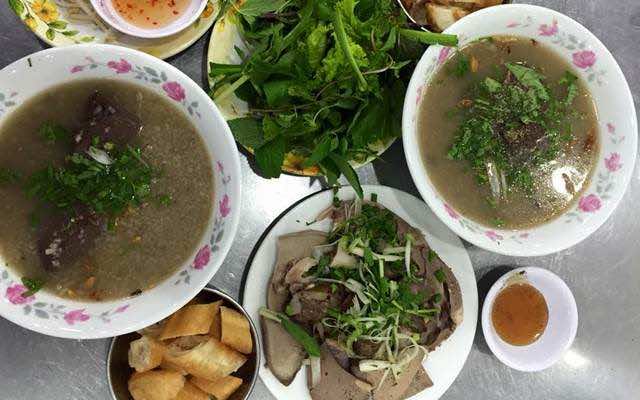 Cháo Lòng – 107B Vo Thi Sau, Ward 8, District 3, HCMC.
Opening hours: 11 am – 10.30 pm
Bo Kho – Beef Stewed
Bo kho in Vietnam is usually a stew that's tomato based, filled with nuggets of deliciously tender beef, carrots, shallots, and other small vegetables, and slow simmered to pool all the flavours together. Just like Vietnamese noodles, or nearly you're served in Vietnam, bo kho is typically accompanied with a basket of fresh herbs and vegetables to garnish. It's common to eat bo kho with either bread or a type of noodles.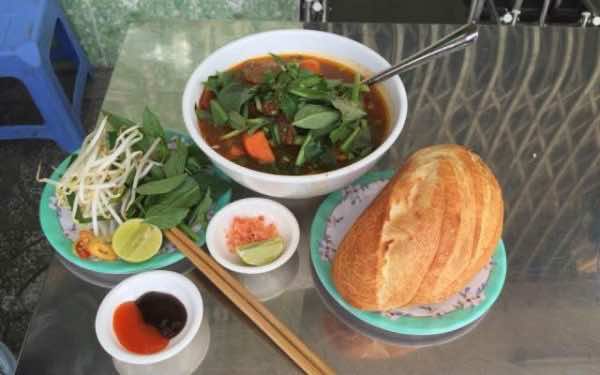 Bò kho Út Nhung – 109/7 Nguyen Thien Thuat, Ward 2, District 3, HCMC.
Opening hours: 6 am – 11am/ 1 pm – 10 pm
Bo La Lot
Bo la lot are little minced rolls, lightly spiced and seasoned, which are then filled into la lot – wild betel leaves, and tightly wrapped into thin tubes. They are grilled over charcoal. A plate of bo la lot is then served with rice paper, a typical bounty of leaves and herbs, a dipping sauce which I think is often made with fermented fish sauce, and finally, chilies, which should never forgotten.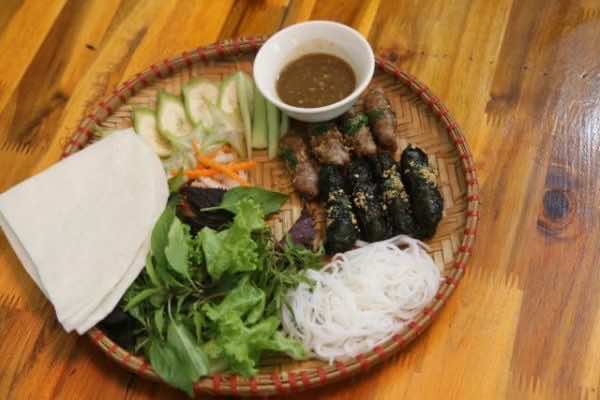 Bò lá lốt Cô Liêng – 321 Vo Van Tan, Ward 5, District 3, HCMC.
Opening hours: 8.30 am – 9.30 pm
>>> Enjoy street food in District 1 (Saigon) Ho Chi Minh city Vietnam