Enjoy street food in District 1 (Saigon) Ho Chi Minh city Vietnam
 The street food scene in Saigon permeates every district, neighborhood and alleyway: the city boasts so many street food outlets that, at times, Saigon feels like one gigantic, open-air restaurant. Every day, thousands of street-side eateries offer up delicious, cheap food in an informal environment on the city's sidewalks. But street food is about more than food: it's about the atmosphere and ambiance. Eating street food is without doubt the best thing to do in Saigon.
In the city's center, as district 1 has blossomed into the core of a globalized Vietnam, another layer has been added to the already food culture. It's common to see people enjoying their dishes while sitting on the sidewalk, on stools just a few centimeters off the ground. Streets are cluttered with hundreds of people just enjoying their dishes with their friends, or even alone on their bikes. It's a beautiful and colorful sight.
Here is the list of some street food stalls waiting to be explored in District 1.
 Street food in District 1: Bánh mì Huỳnh Hoa
Undoudtedly, banh mi is one of Vietnam's greatest culinary gifts to the world, and there is no better place to try one these special sandwiches than in Ho Chi Minh City. For many years, Banh Mi Huynh Hoa has had the reputation of making the best one in Ho Chi Minh City operating from 2.30 pm to midnight. Their business has been very successful. There is not just one, but two fully loaded glass cabinets, packed with all the ingredients needed to make monstrous Vietnamese sandwiches. Interestingly, you have to be prepared to shout out your order as soon as you make eye contact with the staff because there is no real system of a queue. The sandwiches here are made to order, stuffed with as many as nine layers of cold cuts, and slathered liberally with pate.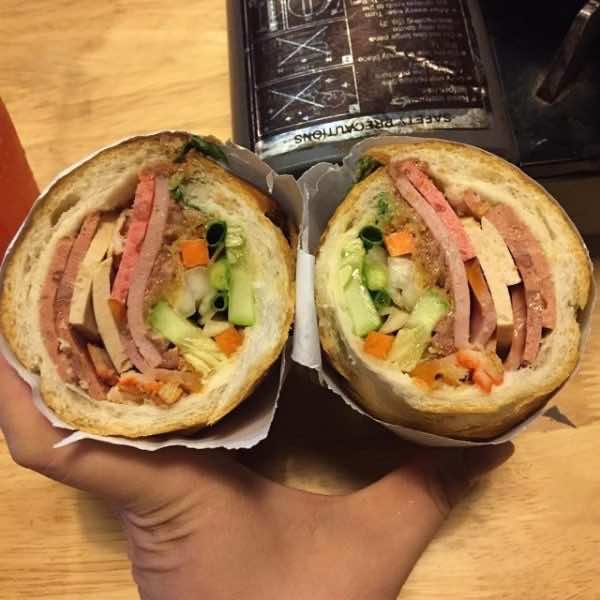 Bánh mì Huỳnh Hoa – 26 Le Thi Rieng, Pham Ngu Lao Ward, District 1, HCMC.
Opening hours: 2.30 pm – 11 pm
Street food in District 1: Bánh mì 37 Nguyen Trai
In an unassuming corner off Nguyen Trai in Ho Chi Minh City lies Banh Mi 37 Nguyen Trai whose name is the combination of the single item on the menu and the street address where it's parked, a small Banh Mi push cart, with an international following and snacking lines of customers. The woman who operates it sets up the cart about 5pm, and might be sold out by 8pm, so you need to get there early.
Specializing in Banh Mi Nem Nuong, it is stuffed with the grilled pork patties, luxurious sticky brown gravy, and freshly cut chunks of cucumber. It has a crisp bite, succulent meat, and the sauce is cloys to your mouth leaving you craving or more.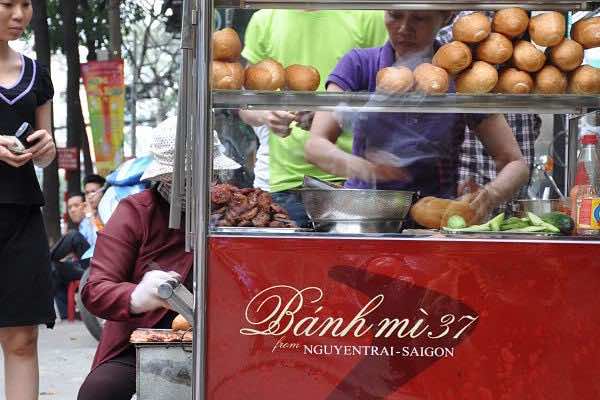 Bánh mì 37 Nguyễn Trãi – 37 Nguyen Trai, Pham Ngu Lao Ward, District 1, HCMC.
Opening hours: around 5 pm to 8 pm
Street food in District 1: Ốc Đào
When it comes to seafood restaurants in Saigon, the first name highly recommended is Oc Dao. Everything is super fresh and every single dish ordered are very delicious. To the right of the entrance of the restaurant you can have a look at what's available on the day and choose your favorite snails to eat inside.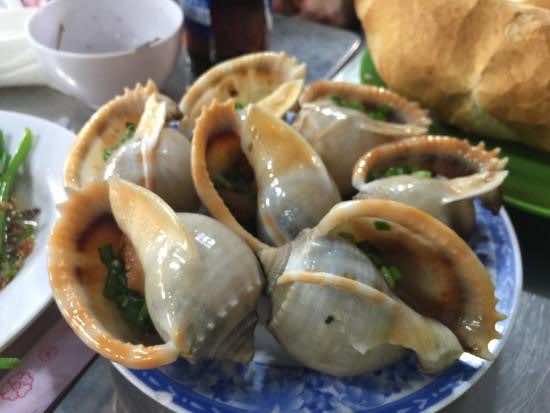 Ốc Đào – 212B alley, Nguyen Trai Street, Nguyen Cu Trinh Ward, District 1, HCMC.
Opening hours: 10 am – 10.30 pm
Street food in District 1: Chuối chiên– Vietnames Fired Bananas
Chuoi Chien is a popular Vietnamese dessert recipe made with bananas dipped in a rice flour batter and fried till golden and crispy. Crispy on the outside but warm, sweet, and fragrant on the inside- it is no wonder this is a really common street snack in Saigon. This popular dessert is made from small bananas, known locally as chuối xiêm or chuối sứ, which are much sweeter than the large bananas usually sold in Western countries. Actually, if you want to make the most heavenly crunch outer crust, you have to fry it double. When the bananas fritter begins to golden, take it out and dip it back in the batter, and then refry it.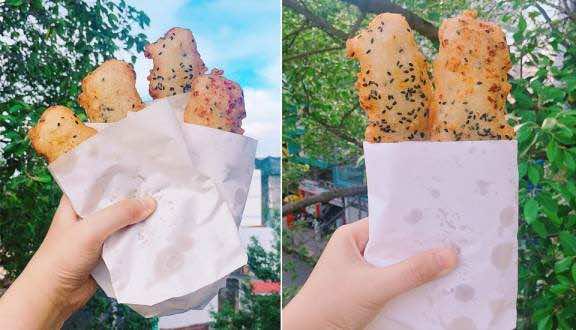 Chuối bí ngô chiên giòn– 286 Co Bac, Co Giang Ward, District 1, HCMC.
Opening hours: 9 am – 12 pm/ 1.15 pm – 7 pm
Street food in District 1: Bánh Xèo
Banh xeo is a crepe made from rice flour and coconut milk colored with turmeric and packed with a standard filling of mung bean paste, shell-on prawns, bean sprouts, and slices of boiled pork. The batter gets evenly spread across the large piping hot wok with a generous amount of oil, creating a crispy exterior that is folded in half when fully cooked. The result is a thin and savory pancake. You 'll be wrapping these slices in an array of herbs and dipping them into sweetened fish sauce.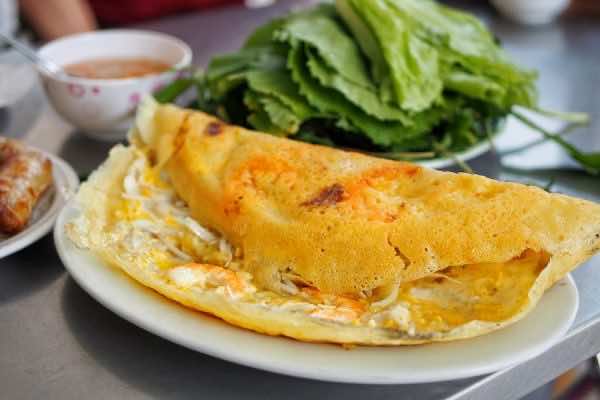 Bánh xèo – 46A Dinh Cong Trang, Tan Dinh Ward, District 1, HCMC.
Opening hours: 10 am – 2 pm/ 4 pm – 9 pm
Street food in District 1: Bánh canh cua
Banh canh is quite similar to Japanese udon noodles, except I thought the noodles, which are typically made with a combination of rice and tapioca starch, were more sticky and a little chewier than udon. There are a few different versions of banh canh, I fully enjoyed the thick starchy noodles with crab. Instead of being a typical noodle soup with a thin stock, banh canh cua is more like a heart stew, the broth is thickened like gravy. The gravy normally has quite a mellow crab flavor, but what's really impressive are the nuggets of crab meat that come in a bowl, and the toppings including chilies and limes.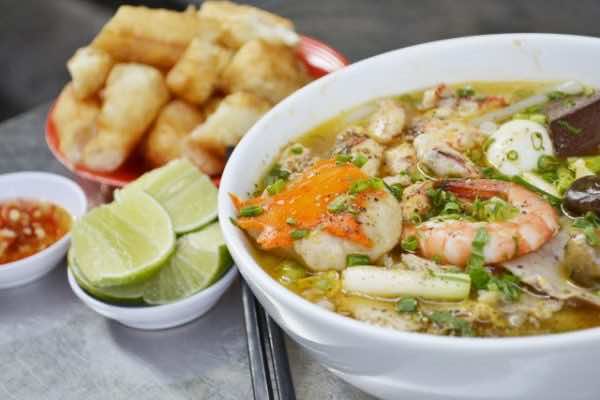 Bánh canh cua – 87 Tran Khac Chan, Tan Dinh Ward, District 1, HCMC.
Opening hours: 2 pm – 9 pm
Street food in District 1: Bún mộc
The broth in bun moc is normally pork based, a simple and soothing soup, that's not spicy at all, but just comforting. It's the type of noodle soup you might want to eat relaxing rainy day. Along with the rice vermicelli noodles and pork broth, a bowl of bun moc also typically includes some chunks of pork meat, maybe even a bone, meatballs, and Vietnamese sauce.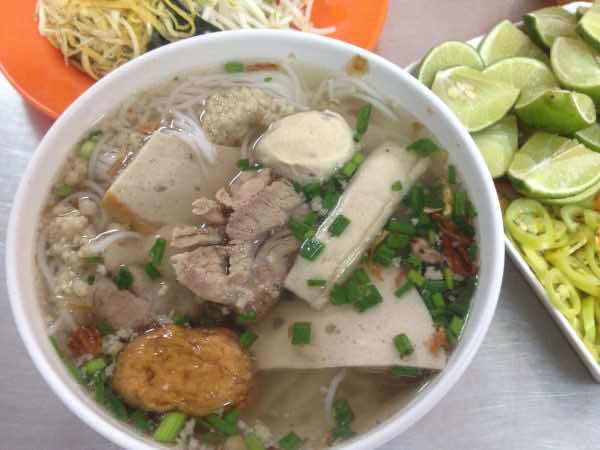 Bún mọc Thanh Mai – 14 Truong Dinh, Ben Thanh Ward, District 1, HCMC.
Opening hours: 5 am – 2 pm
Street food in District 1: Bún Riêu
Vietnam is a land of noodle soups, and many enjoy at least one bowl of noodle a day, some, maybe even a few. The broth in bun rieu is made from a crab base stock, and another key ingredient are tomatoes, which create a broth that's slightly seafood tasting, yet has a beautiful natural sweet and tartness from the tomatoes. Topping the noodles are pieces of golden fried tofu, sometimes meatballs, healthy chunks of pork, squares of congealed pig's blood, and finally a slab of rich crab paste. To enjoy bun rieu, you normally garnish it with shrimp paste, then load it up with chili sauce, a squeeze of lime juice, and then devour it with a small mountain of herbs and shredded vegetables.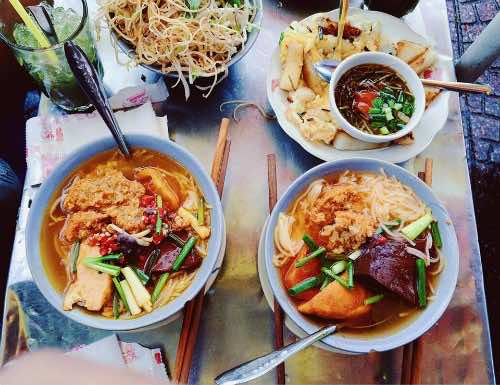 Bún riêu Gánh – 4 Phan Boi Chau, Ben Thanh Ward, District 1, HCMC.
Opening hours: around 2 pm to 5 pm
Street food in District 1: Fruit Bowl ( Trái Cây Tô)
This food stall steal heart of food lover for its signature mix-fruit bowl. Fresh fruits (bananas, kiwi, watermelon and so on) with different colors are arranged in crystal clear glass bowl and served with yogurt. To make it more interesting, you can ask for some crushed ice. The dish is the best choice for the hot day. Besides, they do sell caramelized pudding cake and fish balls.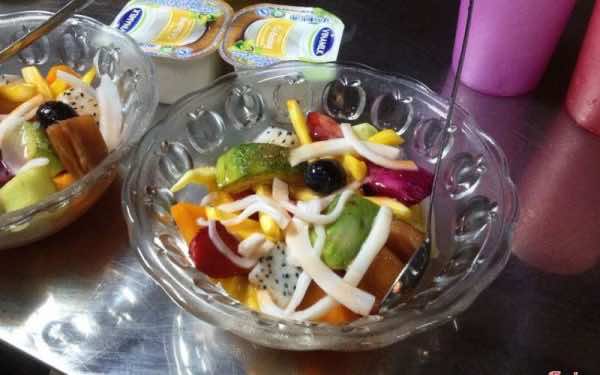 Fruit Bowl (Trái cây tô) 177 – 177 Ly Tu Trong, Ben Thanh Ward, District 1, HCMC.
Opening hours: 3 pm – 10 pm from Monday to Saturday, closed on Sunday.
Street food in District 1: Cơm Tấm – Broken Rice
It is almost impossible to walk a block in Saigon's major streets without bumping into a crowd of hungry patrons enjoying broken rice at a food stand and dense smoke spread through the street. You will see it being served at countless little restaurants and street food stalls around the city. When you come to Ho Chi Minh city, you should try this dish at least once time, and you will not regret. A plate of broken rice with many beautiful colors from grilled pork chop with multi- flavor to steamed pork with egg custard, pork skin, vegetable…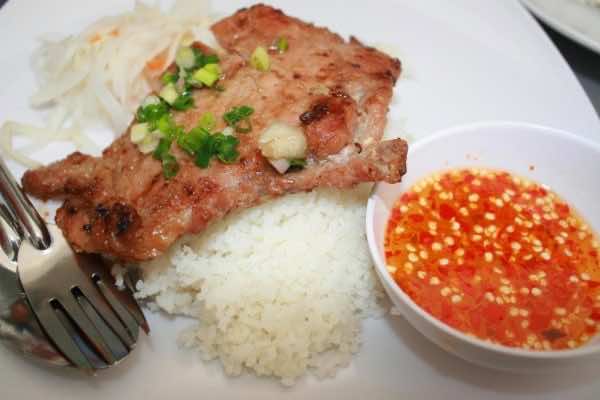 Com Tam – Broken Rice No.1 – 150/1 Nguyen Trai, Pham Ngu Lao Ward, District 1, HCMC.
Opening hours: 6.30 am – 1 pm