Street food paradise in District 4 (Saigon) Ho Chi Minh City VietNam
The street food scene in (Saigon) Ho Chi Minh city permeates every district, neighborhood and alleyway: the city boasts so many street food outlets that, at times, Saigon feels like one gigantic, open-air restaurant. Every day, thousands of street-side eateries offer up delicious, cheap food in an informal environment on the city's sidewalks. But street food is about more than food: it's about the atmosphere and ambiance. Eating street food is without doubt the best thing to do in Saigon.
District 4 is the smallest district in Ho Chi Minh City with a total of 4 km2. It's also the most notorious. Located next to District 1 and acting as a connection to the suburbs of District 7. It's also well-known as a place to eat seafood. Vinh Khanh is a great place to sample some crustacean fare as seafood restaurants run all the way down the street. Street snacks are also big in district 4.
Why don't you pay a visit to street food paradise in district 4 and give it a try!
Ốc Oanh
Sometimes referred to as "seafood street", Vinh Khanh Street offers several blocks of sidewalk restaurants on the either side. The place really comes alive at night, when young locals descend on this street to enjoy freshly cooked seafood with beer, on the tiny plastic chairs that are a common sight in Saigon. Oc Oanh is one of the well-known stalls, serving every imaginable kind of seafood, and the signature item of this place is the salted roasted crab claws with reasonable prices.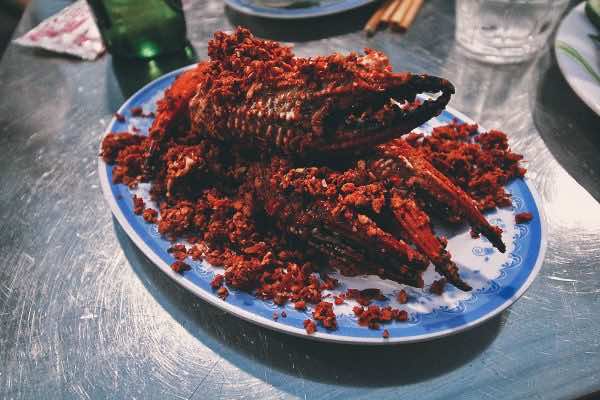 Ốc Oanh – 534 Vinh Khanh, Ward 10, District 4, HCMC.
Opening hours: 1 pm – 12 am
Ốc Tô
All kind of dishes in this place are served in "to"- simply means a big bowl with the price at 50,000 VND each. Another special thing of this this seafood stall is that the chef can cook one type of sea snail in many different ways meeting the requirements of different customers.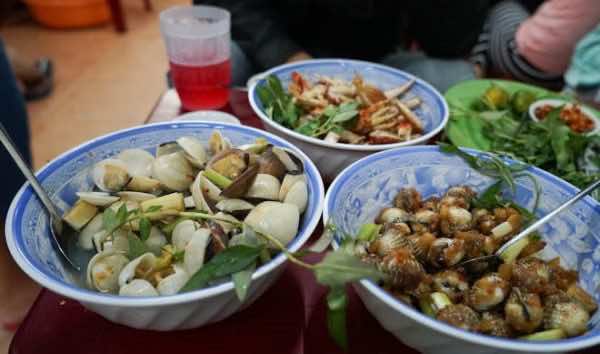 Ốc Tô – C218 Xom Chieu, Ward 15, District 4, HCMC.
Opening hours: 11 am – 9.30 pm
Ốc Thảo
This is also the delicious snail shop in Ho Chi Minh City are favored by Vietnamese famous actors, actresses, and models in spite of its location in the little corner. In this place, eateries will enjoy many delectable dishes with prices ranging from 25,000 VND to 35,000 VND each. They offer two kinds of dipping sauces: salt with green pepper and Vietnamese dipping sauce.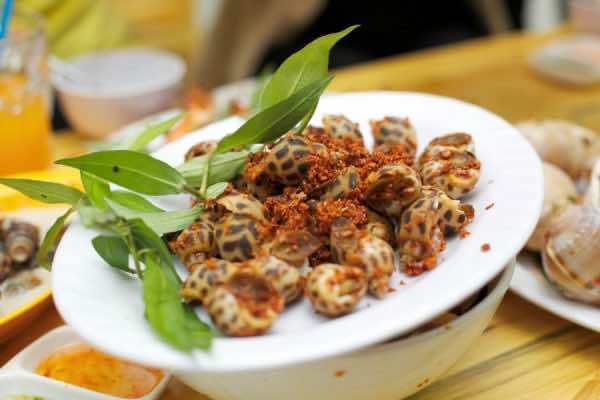 Ốc Thảo – 229-231 Hoang Dieu, Ward 9, District 4, HCMC.
Opening hours: 11 am – 11 pm
Sushi Ko
Located in the lively, trendy street food, Sushi Ko's Japanese menu has been pulling in crowds of young Vietnamese and expats for a couple of years now. It has a large range of grilled and cold appetizers to choose from before just jumping straight into the sushi. The sushi, tempura and gyoza are fabulous and this sushi stall really makes the mockery of expensive price.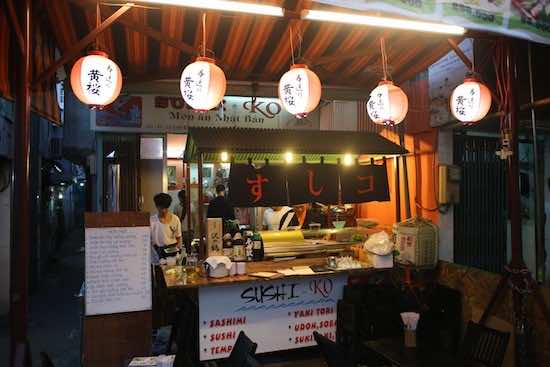 Sushi Ko – 122 Vinh Khanh, Ward 10, District 4, HCMC.
Opening hours: 4.30 pm – 11 pm
Mi Vit Tiem – Stewed Duck Noodle Sou
Mi vit tiem is a nutrient rich dish, this is because the duck meat is stewed with various medicinal herbs. The duck meat is mixed with herbs and spices, then fried and stewed, making the meat soft and easy to eat. The noodles are made of eggs and flour; they are long and though. The chefs tend to add bok choy to the bowl in order to make the dish greener and healthier. The bouillon has a slightly sweet taste and smells similar to Chinese medicine.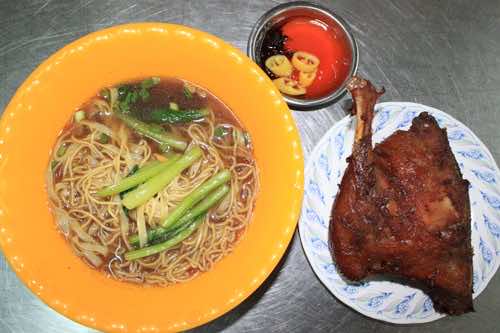 Mỳ vịt tiềm Thuận Hiếu – 3 Hoang Dieu, Ward 12, District 4, HCMC.
Opening hours: 5 pm – 10.30 pm
Pha Lau – Cow Intestine Soup
Cow intestine soup is a dish that many locals love. This dish is a combination of the culinary styles of the Vietnamese and the Chinese. Instead of throwing away the inner organs of the cow, Vietnamese people use them for more dishes. To make magic happen, the cook washes all of the organs many times, using salt and lemon to remove bacteria. Then ginger and wine to remove the bad scent, then, they will cook it with coconut milk to make noodle soup. Finally, they will chop the kidney stomach, intestines and heart to serve the hungry phal au lovers. The texture and taste pf the soup goes well with the sweet and sour dipping sauce. On rainy days, a bowl of cow intestine soup with instant noodles or Vietnamese baguette has the magic to brighten up one's mood.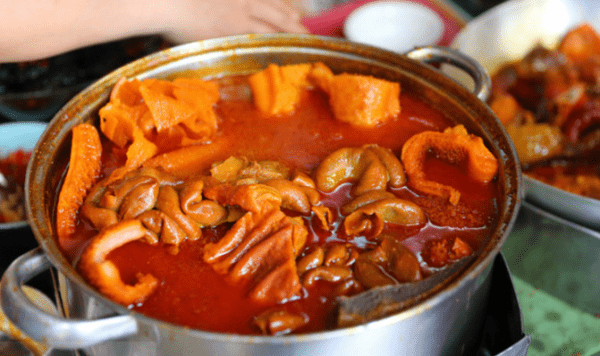 Phá lấu dì Núi – 240/30 Ton Dan, Ward 15, District 4, HCMC.
Opening hours: 2.30 pm – 9 pm
Com Ga Xoi Mo
The chicken was pre-cooked, probably about 90%, maybe just in an oven, and then for the final crispy-frying process, as soon as they would get an order, they'd grab his length pair of tongs and toss in a piece of chicken, and let it sizzle on the pouring fountain of hot oil.
The plate of chicken that comes out is minimal in its appearance. Just a piece of chicken, the pink coloured rice, a few of cucumber slices and a couple of sprigs of Vietnamese mint. The overall is good, but despite it being so crispy, there is a hint of oiliness.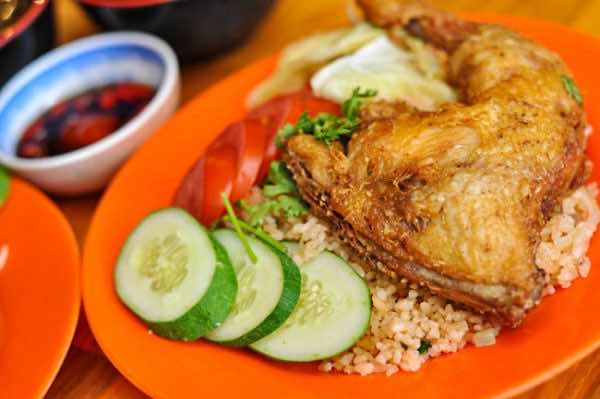 Cơm gà Xóm Chiếu – C200/12 Xom Chieu, Ward 14, District 4, HCMC.
Opening hours: 10 am – 9 pm
Banh Trang Cuon
Banh trang cuon are ade with rice paper, known as banh trang, that's slightly moistened, then filled with, typically a mixture of quail eggs, fried onions, peanuts, herbs, dried small shrimp…then being wrapped. This kind of summer rolls are served with tamarind dipping sauce, mayonnaise, chili sauce, peanuts… You should order at least 10 rolls because the summer roll here is quite small with a small price.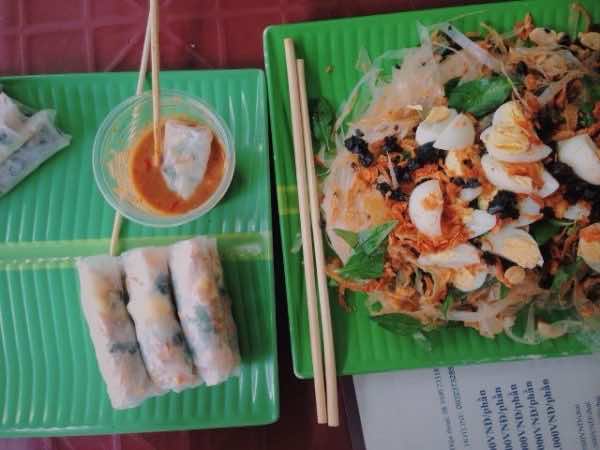 BÁnh tráng cuốn Hà Bắc – 40 No11 Street, Ward 4, District 4, HCMC.
Opening hours: 8 am – 10 pm
>>> Street food in Distict 1 Saigon Ho Chi Minh city Vietnam
Comments
comments