Getting around District 1 in (Saigon) Ho Chi Minh City VietNam
Ho Chi Minh City, also known as Saigon, is Vietnam in high gear. To travel to Ho Chi Minh City is to be introduced to a dramatic meeting of old and new culture, a dynamic metropolis of skyscrapers and traffic juxtaposed with a wealth of ancient temples and traditional markets. Motorbikes zoom day and night along the wide boulevards, through the narrow back alleys and past vendors pushing handcarts hawking goods of all descriptions. This is a city full of surprise. The madness of the city's traffic – witness the oddball things that are transported on the back of motorbikes – is countered by tranquil pagodas, peaceful parks, quirky coffee shops, and whole neighborhoods hidden down the tiny alleyways, although some of these quiet spots can be difficult to track down.
District 1 is the financial and commercial hub of Ho Chi Minh City. Most travelers will spend the majority of their time here. It is home to most of the sights and an expanding number of bars and restaurants. In this article, I will briefly introduce to you several highly recommended activities in District 1.
Explore the life-pace on two wheels
There are several ways to navigate the maze of Saigon. You can only truly know Vietnam, and Saigon in particular, once you zigzag among the crowded city streets on a motorbike. I highly recommend Grab Bike or Uber Moto, which are more transparent in terms of price and route, and they are getting more than popular in the city. Added to this, there are many professional services in town providing you with exciting tours with English speaking tour guides and professional drivers to experience the local life.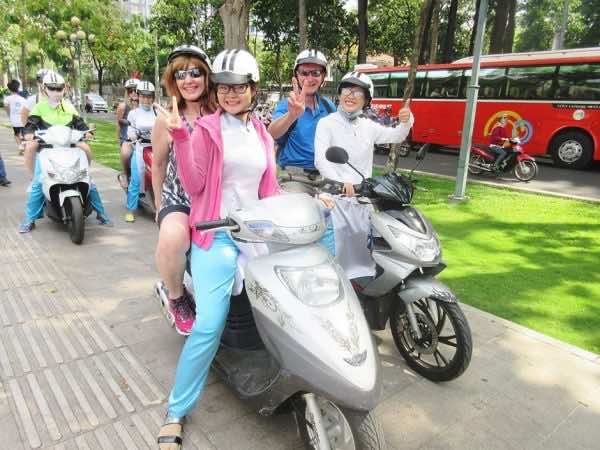 Ben Thanh Market
Saigon's main public market sells everything from dried spices and live chickens to cheap clothing and souvenirs. And while it may be chaotic and crowded, it's always entertaining to explore – and especially good for a quick snack from the many food vendors here. Most vendors are inside the dimly lit, aircraft-hanger-size main shed, which stays relatively cool on blazing-hot days; around the perimeter spilling onto the surrounding streets are more food stalls, produce bins, butchers, and fishmongers.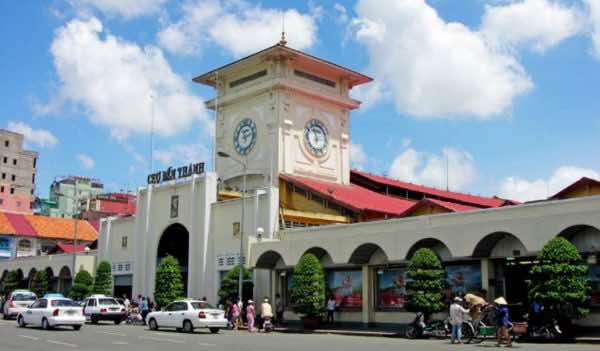 Visit the Notre Dame Cathedral and Post Office
Notre Dame Cathedral was built between 1863 and 1880 under the French colonists, located in the middle of Saigon's chaotic District 1. The church has an overall neo- Romanesque design. All building materials were imported from France. The outside wall of the cathedral was built with bricks from Toulouse. Although the contractor did not use coated concrete, these bricks have retained their bright red color until today.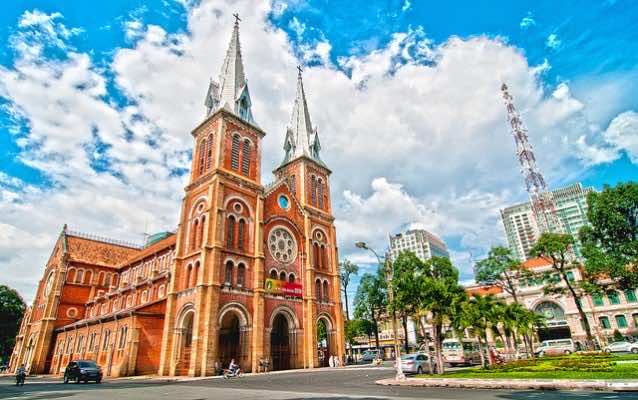 From Notre Dame Cathedral, you just need to take some steps towards the Central Post Office. Its Gothic- styled began in 1886 and remains one of the country's most celebrated structures. Inside, beneath a long, domed roof, walls decorated with French colonial maps flank a portrait of Ho Chi Minh, while the elaborate tiled floors complete the refined look.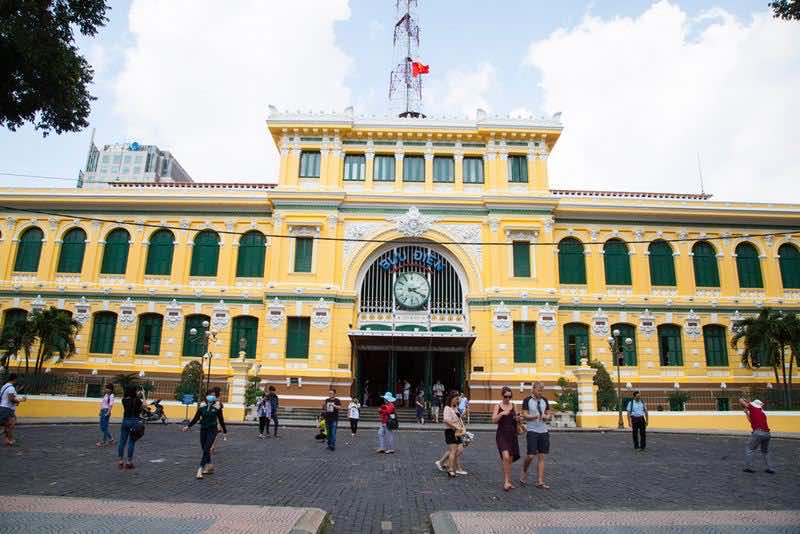 Trace the history of Vietnam at the Independence Palace
Also within walking distance, you can pay a visit to Reunification Palace which is one of the most important historical buildings in Vietnam. The building is deeply associated with the fall of Saigon in 1975. In addition to historical significance, the Reunification Palace is a showpiece of South Vietnamese 1960s modernist architecture and interior decoration. There are some beautiful original pieces of art, especially lacquer on the palace walls.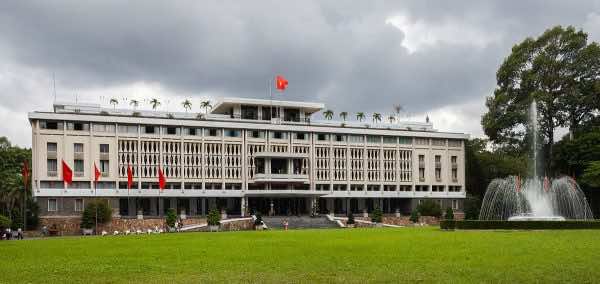 Enjoy the Backpacking Area
Bui Vien Street has been known as the town of the backpacker. The area since then has been travelers and expats from around the world, bringing into the small town rich culinary culture. You could easily spot out an Indian restaurant with an Indian chef, or have a pizza as if you were in Rome, Starbucks from the USA, and the plethora of local Vietnamese restaurants and stalls serving all kinds if dishes. Bars and pubs line the streets of this sleepless town, and more cafes are open 24 hours a day.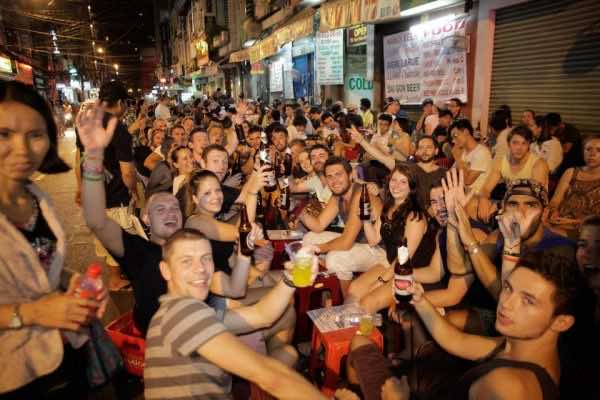 >>> Backpacker district in (Saigon) Ho Chi Minh City Vietnam
Experience the café spots
Best place to experience the world-famous Vietnamese coffee is at the heart of District 1. It is not by chance that there are hundreds of cafés around this area. Not to mention that drinking coffee is a daily routine of the Saigonese, so the center of District 1 attracts coffee lovers with a combination of nostalgia-inspiring coffee houses and luxury cafes. There is an interesting building filled up with coffee shops and tea houses- the 42 Nguyen Hue Building. This is more commonly referred to as the Café Apartment. Popular cafés like Phuc Long, The Coffee House, Highland, Trung Nguyen, Ciao Café are for the white-collar workers gathering for a morning talk.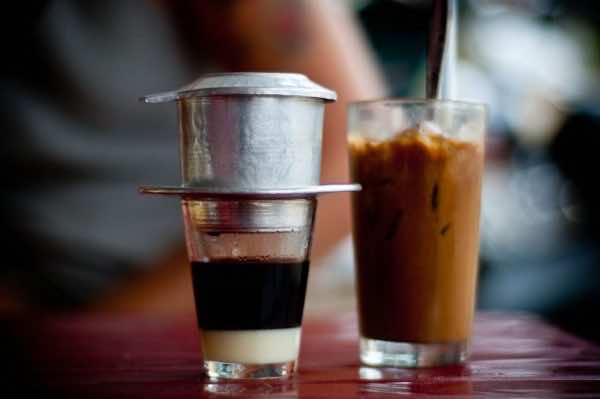 A panorama of the city from the Bitexco Tower Skydeck
Ho Chi Minh City's Bitexco Financial Tower- Sky Deck stands 262 metres high at the center of the city's business district and offers visitors an unparalleled city view from its Sky Deck. This structure also received an 'Excellence in Structural Engineering' award from NCSEA in 2011 and is currently the 124th tallest building in the world. The main attraction at the tower is the Sky Deck where visitors enjoy dramatic views across the bustling city below. At the Sky Deck there are English speaking guides, interactive touch screen fact boxes and maps to explain the sites you see below.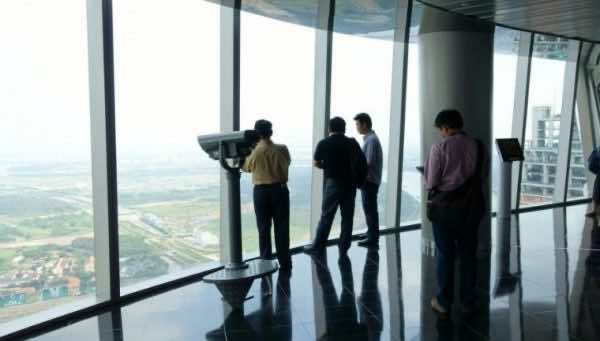 Blend with the locals at Nguyen Hue Walking District in the evening
At night, thousands of people come to chat, snap selfies and play games on one of Vietnam's only walking streets. It has been opened in 2005, then became a treasure in District 1. The nightly congregation of locals here is a great experience of people watching. And there are some interesting little pieces of architecture and other tidbits along the way too.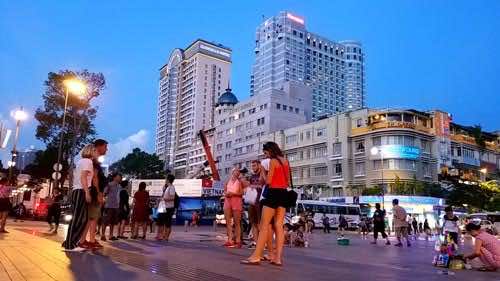 The beautiful city of Ho Chi Minh is teeming with life and culture, especially the District 1. Why do not you have a plan to Ho Chi Minh City and have your own experience?
>>> Kim Travel is Located at the corner of bui vien and pham ngu lao streets. We are a tour operator specialising in inbound tours for international travelers to Vietnam: Mekong Delta Tours, Cu Chi Tunnels Tours, Ho Chi Minh city tours, Boat Tours,, Group Tour Packages… from Ho Chi Minh City