The area backpacker district in Ho Chi Minh City, famous for its vibrant and messy culture, is the mecca for backpackers.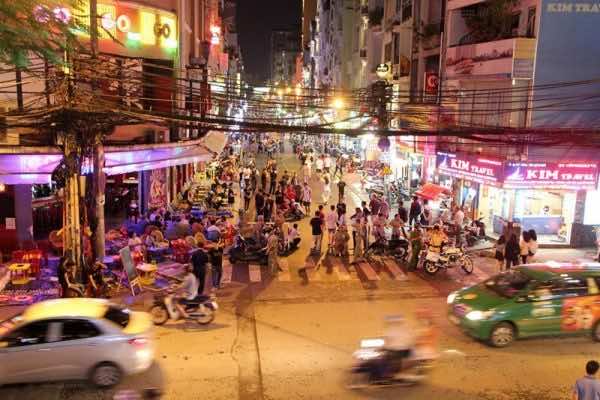 The Pham Ngu Lao-De Tham-Bui Vien area in Ho Chi Minh City is known as the 'backpacker district' where most backpacking travelerers stay during their holiday, made up of two parrarel streets, Bui Vien and Pham Ngu Lao.
It is plausible to say that Pham Ngu Lao-De Tham-Bui Vien area is the 'budget travel district' because it is a convenient place in Sai Gon to find cheap accommodation, food, nightlife and to make a booking to any elsewhere.
In fact, the whole industry of backpacking has exploded in recent years, with hundreds of holiday companies now vying for the very lucrative business of providing budget holidays to a mainly young people. There is a tendency for the youth from other countries to travel to Vietnam, Thailand, or Cambodia, and thus the operators in this area offer many services meeting the backpacker's requirements.
Some famous travel agents:
1. The Sinh Tourist
3. TNK Travel
4. Buffalo Travel
5. VietNam Adventure tours
Set along these alleyways are western-style restaurants, coffee shops, and international bars, countless tour conpanies and kiosks, affordable motels, hostel and guesthouses, internet cafes, souvenir and craft shops.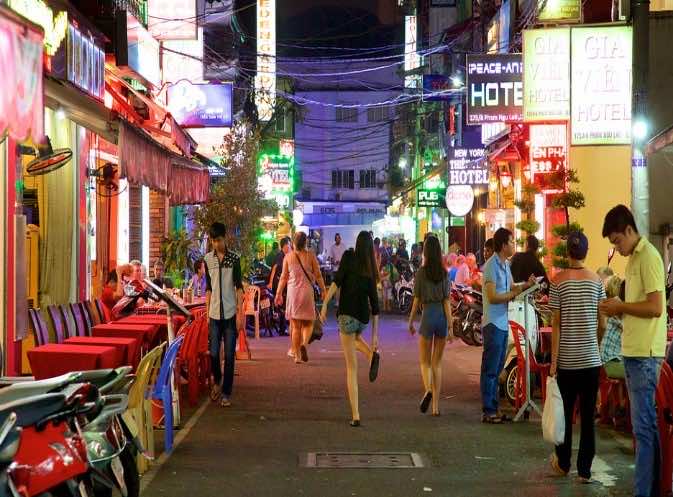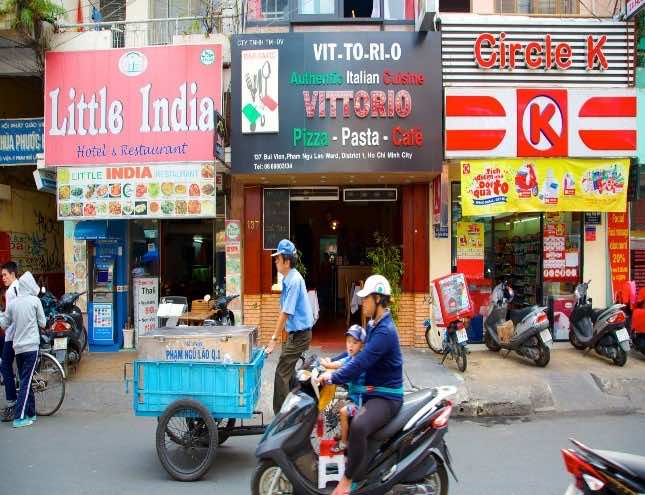 Actually, Pham Ngu Lao-De Tham-Bui Vien area is not limited to only low-budget travellera. Its own unique vibe draws people from everywhere due to its close proximity to prominent landmarks in Ho Chi Minh City. As there is always something going on in this area, many visitors prefer to enjoy local street food and stir up the atmosphere or people- watching while enjoying beer on the pavements.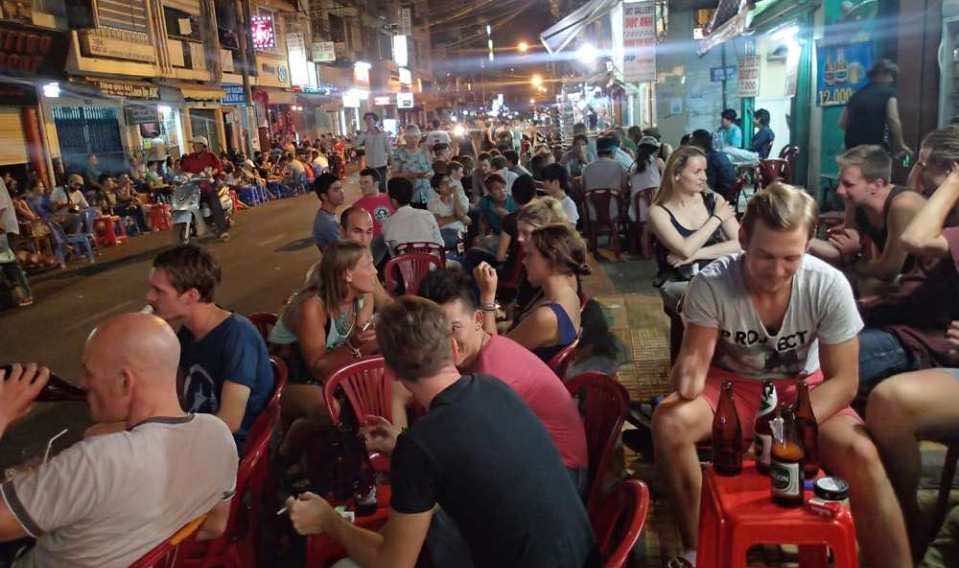 Bars around Pham Ngu Lao-De Tham-Bui Vien area easy to find, at almost every corner. The most famous Pham Ngu Lao bars offer a great deal of local beers and atmosphere: Allez Boo bar, Crazy Buffalo Bar, Go2 Bar. It is also common here to meet friendly expats who are more than happy to share a few tips about traveling in and beyond Vietnam.
It is well mentioned that its location is convenient to pay a visit to nearby many city landmarks and interesting attractions. The famous Ben Thanh market and Ho Chi Minh Fine Arts are a 10-minute walk away from the backpacker district while Reunification Palace and Mariamman Hindu Temple are less than 10 minutes away via taxi.
Added to this, if you want to immerse yourself in the local culture, I highly recommend you to get up early and visit the park in this area. It is interesting to see and join with the elders in exercise sessions. If you want to have a deeper understanding about this area in particular and Ho Chi Minh as a whole , it is the perfect place to explore on foot, and the best time to do this is in the morning and late afternoon as the weather can be rather scorching at the miidle of the day.
But you also have to pay high attention to scams, touts adn thieves looking to exploit travelers, especially harassment from people attemping to rent their motorbikes, sell drugs and even prostitutes.
The Saigon's backpacker district has a different feel to other parts of the city. You will either love it or hate it.