The top vegetarian restaurants in (SaiGon) Ho Chi Minh City VietNam you should know
Incorporating more vegetarian meals into your weekly routine is a great way to boost your health. Research shows that eating more plant-based foods and less meat increases your intake of key nutrients, such as dietary fiber, and reduces the risk of heart disease, type 2 diabetes and even some cancer. Because plants are low in calories but high in essentials vitamins, minerals and antioxidants, vegetarian diets can be very nutrient-dense. Plus, going meatless has environmental benefits.
Well, if you are new in Ho Chi Minh City, you do not know how to explain the meatless dishes in Vietnam, we will give you some tips to have a wide range of veggie-friendly and vegan options. You can look for the word 'quan chay'or 'nha hang chay' which means vegetarian restaurants
Whether you are vegan, vegetarian, or just searching for plant-based dining options, it's nice to have personal recommendations. From breakfast to lunch, dinner to late-night snacking, and every meat-free meal in-between, we're sure that you will find the very best very dining experiences using some recommendations in this article.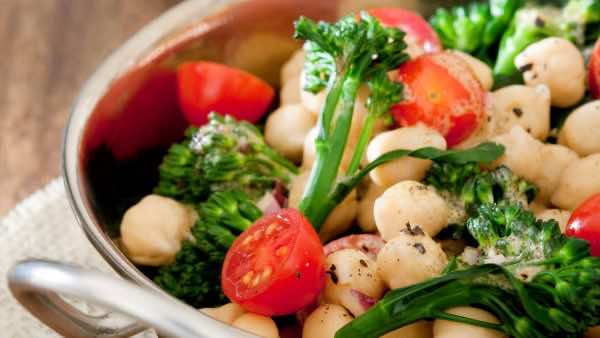 Hum Vegetarian, Café & Restaurant
It is a tranquil space making yourself comfortable as you delve into an atmosphere that embraces calmness and harmony. Serene music, natural wooden interiors and an array of beautiful plants and trees will give you moments of peace, joy, and mindfulness. At Hum, they appreciate the body- they offer it with simple yet nourishing food so it becomes healthy and they, in turn, live in a happy and wholesome life. The dishes are prepared using only the freshest natural ingredients, handpicked to give you the care you deserve.
Taking the inspiration from Southeast Asian cuisines, they proudly deliver a delicate balance of flavors and aromas, sure to delight your taste buds in the best of ways.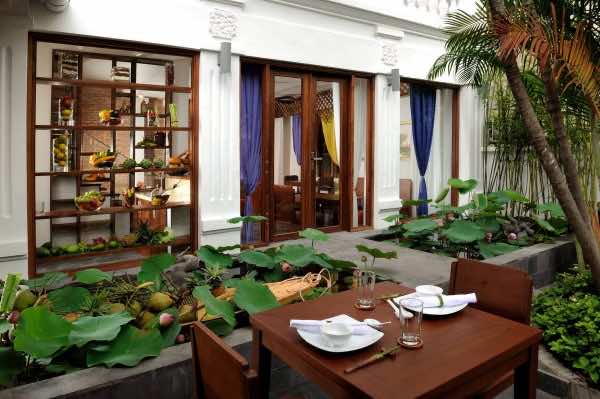 Add: 32 Vo Van Tan Street, Ward 9, District 3, HCMC/ 2 Thi Sach Street, Ben Nghe Ward, District 1, HCMC.
Opening hours: 10Am to 10Pm
Prem Vegetarian Bistro
Prem was born to life by the desire to share such simple and sweet experience with others. Wanting it to be a place of love and freedom, Prem- meaning Love in Sanskrit- is more than suitable for a name. Being more than a home to everyone, they want to fill Prem with bits and pieces from everywhere they have been to. Therefore, there are no boundaries from the way they decorate the place to how they cook their food and blend their refreshment.
Following the spirit of being spontaneous and push all the boundaries of rules, they offer a menu of delicious and affordable food and most of all diversity for customers. They also all freshly juices and freshly blended smoothies with some specialties such as crazy sexy green smoothies (avocado, spinach almond), beet the weak juice (beet root, carrot, baby bok choy, spinach, celery, ginger).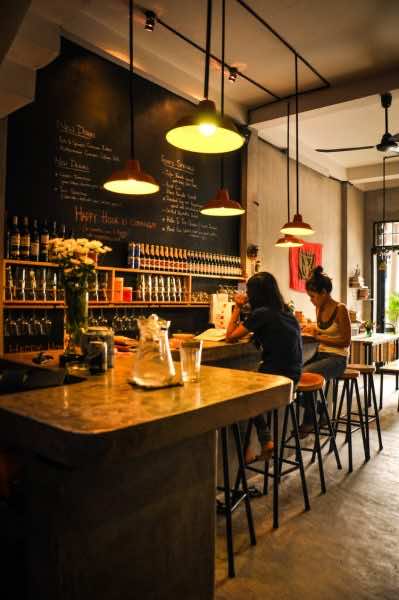 Add: 204 Nguyen Dinh Chieu Street, District 3, HCMC.
Opening hours: 10am to 3pm and 5pm to 9:30pm
Phap Hoa Restaurant
Perhaps the oldest dedicated veggie house in Saigon is Phap Hoa in District 1. Here you will find mountains of mock meat, faux fowl, and fake fish. This restaurant specialises in making tofu look and taste like anything in the world but tofu. It can look like a shredded chicken breast, skewered beef, mushrooms, imperial rolls, a fillet of fish or a duck breast. It is all very tasty counterfeiting. All the dishes are Vietnamese, using only local ingredients. And many of the recipes come from customers. They are encouraged to give suggestions for their favourite dishes or for the new ideas.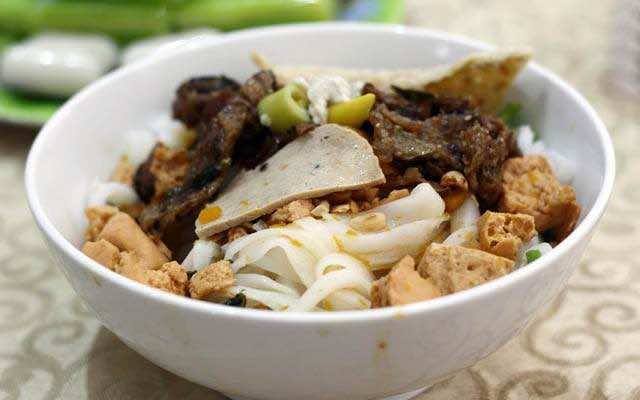 Add: 212A/52 Nguyen Trai Street, Nguyen Cu Trinh Ward, District 1, HCMC.
Opening hours: 6:30am to 8:30pm
Saigon Vegan Restaurant
Saigon Vegan has an extensive selection of dishes, some desserts and different beverage. The atmosphere is the ambiance of the rustic, wooden and indoor interior. This place is also suitable for business lunch or dinner because of its modern space and its convenient locations at the city centre – one in the backpacker area and
Why don't you come here to enjoy Vietnamese-style curry served as a soup with vermicelli or with a small bowl of rice.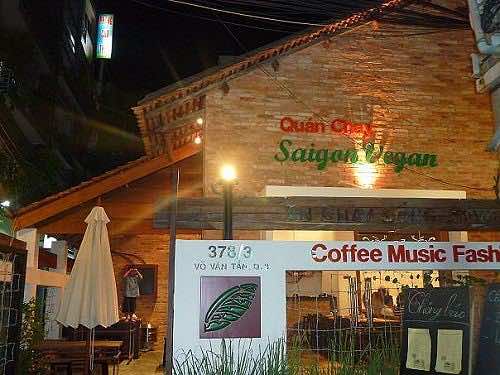 Add: 378/3 Vo Van Tan Street, Ward 5, District 3, HCMC.
Opening hours: 8am to 10pm
Bong Sung Restaurant
Tucked away down a quiet alley off Nguyen Du, just take some steps from Notre Dame Cathedral, it is a French-style villa. It may take you few minutes to find it but well worth giving it a try. This restaurant is quirky, charming with bohemian influences in its decoration. It offers a chilled, relaxed vibe for a quiet lunch, or perhaps a romantic tête-à-tête in the cool evening breeze. The food from fresh ingredients is well delicious and suitable for the appetite of many people at any age.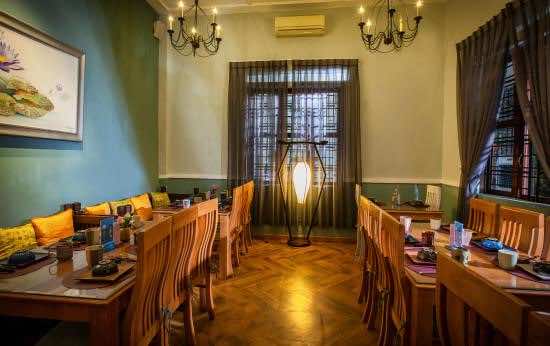 Add: 86 Nguyen Du Street, Ben Nghe Ward, District 1, HCMC.
Opening hours: 7:30am to 10pm
Here & Now Restaurant
It is a perfect place to escape from the hustle and bustle of the city and enjoy excellent vegetarian and vegan food. The layout is designed to make you feel at peace, relaxed, and content with the intent of letting your daily troubles face away, especially listening to welcoming music and the flow of water coming from the pond at the corner. In terms of the food, it offers a unique menu items blending between traditional Asian cuisine and a slight modern. Whether you are a vegan or not, you will have a great experience when eating here.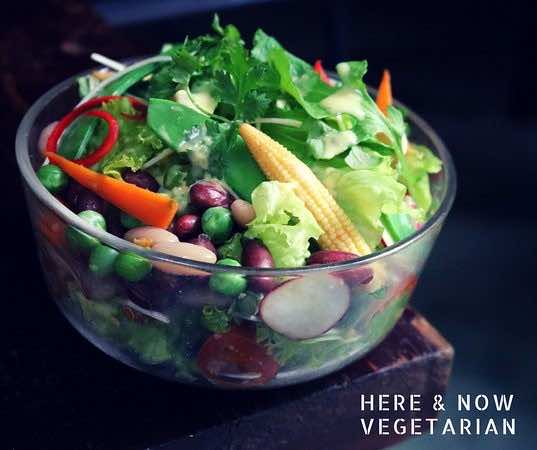 Add: 89E Nguyen Cong Hoan Street, Ward 7, Phu Nhuan District, HCMC.
Opening hours: 7:30am to 2pm and 5pm to 9:30pm
>>> Top Sushi Restaurants in Ho Chi Minh city
Comments
comments