It is worth paying a visit to Mekong Delta you should know when travelling to Vietnam
"Completely focused around the water, shows you a way of life that has continued unchanged for hundreds of years. You'll see fruit orchards, rice paddies and floating markets- every inch is filled with life."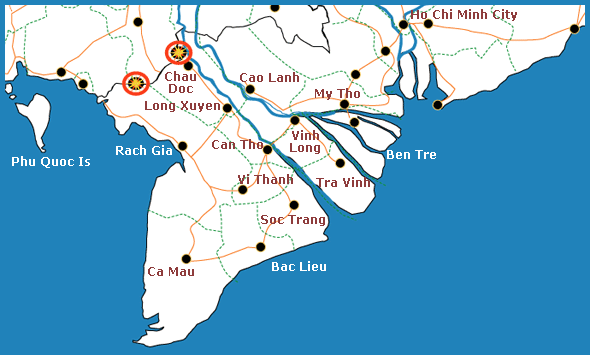 In Southern Vietnam, the River Mekong unravels into nine sprawling the Mekong Delta  rivers, forming the fertile Mekong Delta. It's here the river rules. Daily life flows with the ever-changing waters, fisheries thrive during the annual flood and rice fields are quickly dug as the water recede. In addition to the tropical climate found here, the Mekong Delta gives the area unique landscape, particularly charming characteristics, and a special floating lifestyle of the people. The towns bustle with vendors trading their fresh produce, and endless flow of river traffic passing through daily. Veer off into a smaller stream and you'll find orchards, Buddhist temples and family homes clinging to the banks of the rivers. Pay a visit to the Mekong Delta in Vietnam and it'll be a unique experience.
Floating markets
Lived here is much lived on, by or near the water. You can see the region's flourishing agricultural trade at one of the many floating markets where stalls take the form of boats that converge at trading posts on the water in large numbers. It is very easy for you to find a boat to explore the area once you arrive at one of the provinces in the region.
Here is a list of the best floating markets in the Mekong Delta:
Cai Rang floating market, can Tho Province
Cai Be floating market, Tien Giang Province
Phong Dien floating market, Can Tho Province
Nga Bay floating market, Hau Giang Province
Nga Nam floating market, Soc Trang Province
Tran On floating market, Vinh Long Province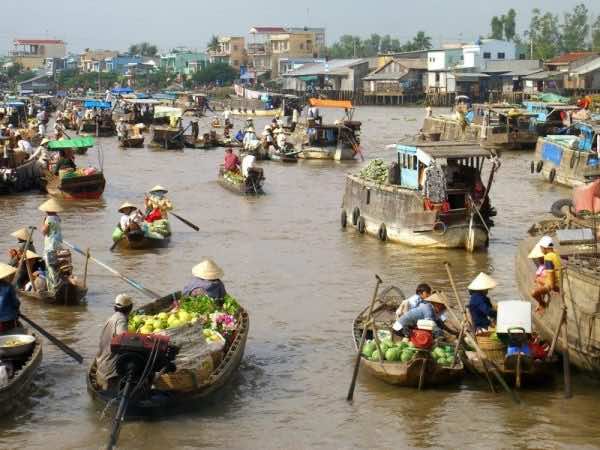 Many travelers opt for Cai Rang floating market, the biggest one in the Mekong Delta. Boats are filled with teetering piles of fruit and vegetables, from carefully balanced watermelons to bright flowers. From the nearby bridge, it's possible to see right across the market, the throng boats making it difficult to glimpse the water. For the best vantage point, you can travel in a traditional boat through the market, watching buyers carefully examine the produce and deals being brokered. But you have to make sure to visit them around 5am-6am to capture the liveness and vibrancy of the market.
There are a lot of tour operators that organizing Cai Be Floating Market Tour for nature lovers and adventurous visitors. All you must do is simply to book a package tour as well as have yourself ready to get up early in the morning, give it a try with our Mekong Delta Tour (Cai Be- Vinh Long tour full-day )
>>> Paying a visit to Cai Rang floating market in Can Tho province 2 days 1 night
Food
Visitors should not miss out interesting eating experiences while visiting the Mekong Delta because there're so many delicacies using their wide array of fruits available. Some of them are just unforgettable delightful, some of them will require a bit of time and bravery to get used to. Visiting the Mekong Delta would not be complete without a taste of bun mam (vermicelli cooked with fish sauce broth topped with shrimp, fish, fish cake, slices of aubergine), Sa Dec noodle soup, Vietnamese pancake… You will have opportunity to satisfy your craving of fruit because there are a dozen different kind of tropical fruits that are grown here such as mango, coconut, pineapple, rambutan, jackfruit, mangosteen, durian…, to say nothing of providing 70% of the fruits consumed throughout Vietnam.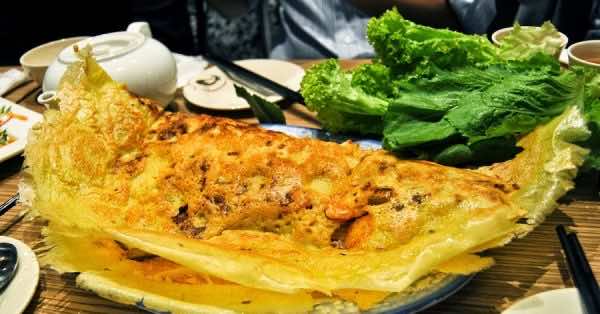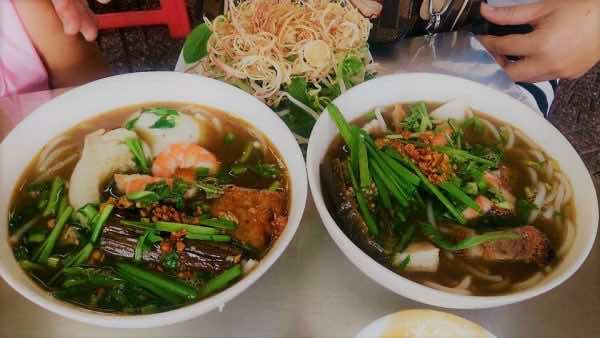 3. Stay with a local family
A major transit hub, Vinh Long has good connections to Vietnam's outer islands and its mainland. Tucked down the surrounding network of streams and canals are many family homes, which take advantages of the flow of traffic to trade. Many families now welcome visitors as guests, giving the opportunity to experience daily life on the Mekong.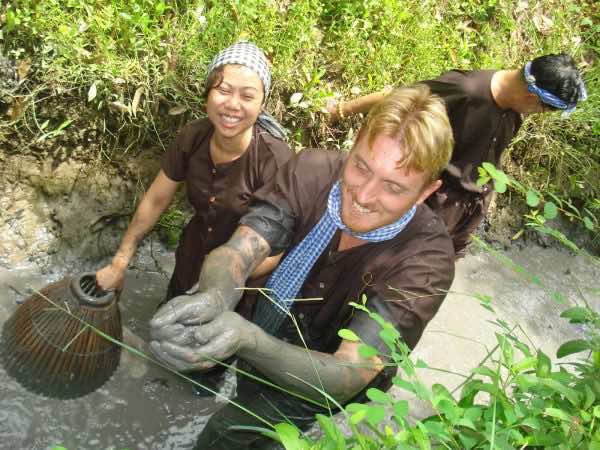 The homes sit on the riverbank, surrounded by gardens that nearly always include a small tropical fruit orchard. Sitting down to enjoy home-cooked meals with your host family, you'll find them keen to share more about their culture. the best way to deeply understand Vietnamese culture for sure isn't sitting on Bui Vien Street, downing beers and watching people stagger up and down the street.
>>> 
Go some special places
Historical sites: Ba Chuc, the site of Vietnam's 'Killing Fields' from its clash with Cambodia's Khmer Rouge in the late 1970s, has long been a destination for visitors who want to satisfy their thirst for adventure and history.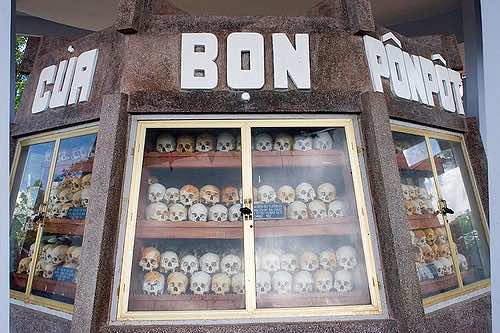 Famous temples: Vinh Trang Temple (Tien Giang Province), Truc Lam Phuong Nam Temple (Can Tho Province), Doi Temple (Soc Trang Province), Phat Lon Temple (An Giang Province)
Bird watching: Tram Chim is considered the best place in Vietnam for bird watching.
Net fishing with no modern equipment at all, it is done by your hands and net.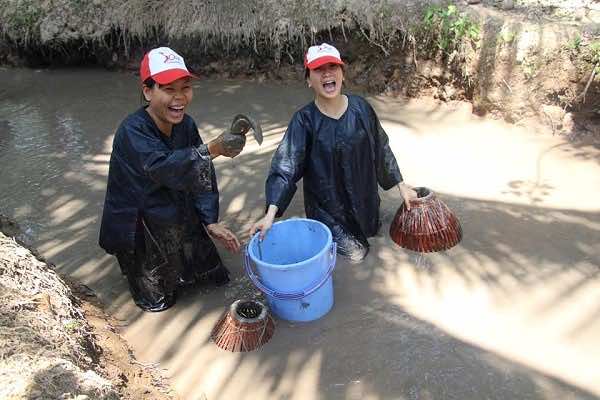 Forests: Xeo Quyt Forest in Dong Thap, it features a blend of emply widerness of the flooded cajuput forests and the historically strategic base of Viet Cong soldiers during the Vietnam War. Tra Su Forests in An GIang is also the home of cajuput and a wide range of birds and fishes.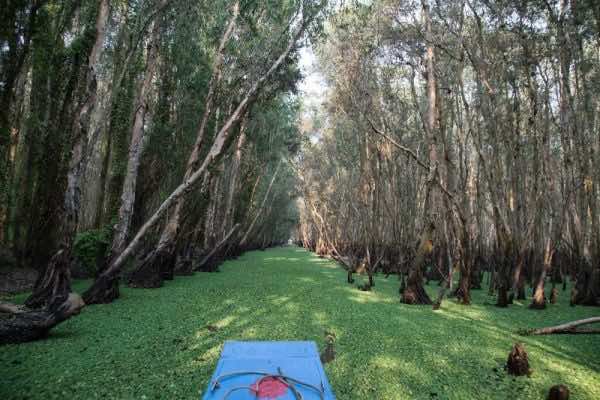 If you enjoyed this post please consider sharing it. I will be updating many great articles about traveling in Vietnam and beyond, so keep following our websites.
>>> If you want to Explore Mekong Delta in 1 or 2 days, I will recommend you to book a tour at any tour operators( KIM TRAVEL). It will be easier and smoother because they make all travel arrangements for you. Also, they can tailor a tour to meet your need in terms of your schedule, your budget and your travel style.