Going to the night market at night? This concept sounded very strange for me back then; when I was only a little girl and night markets weren't those popular tourist destinations like nowadays. I remember how thrilled I was to go to the night market for the first time. There was an enormous variety of goods on offer including clothes, footwear, hats, hair clips, jewelry, watches, etc. I was fascinated by everything, even by the simple fact that it was a market under the stars.
For many travelers, the day is just too hot to spend shopping, and the cooler night air offers an ideal opportunity to grab some souvenirs, while for locals the evening is an ideal time to meet and gather outside and share a meal or a drink under the stars. The prices are normally cheaper than the day markets or supermarkets as the sellers pay less for the rent, so there are some great bargains to be had. As well as the choice in souvenirs there's also a great range of food, with many street vendors setting up sop to take advantage of the passing trade.
When you have a plan to visit Vietnam, don't miss out these top night markets in your itinerary.
1.Ben Thanh night market – Ho Chi Minh City
Unlike other night markets, Ben Thanh night market was formed in the last decade, primarily as a tourism site to boost up the city's tourism industry. It is located on both left and right side of Ben Thanh building. If you take a walk to Ben Thanh market at around 6pm, you will be able to watch the mad dash of vendors setting up their stalls for the market. At 7pm, shopkeepers and restaurant workers are ready to start shouting out and invite travelers to come to their stores. Here they sell mostly clothes, Vietnamese souvenirs, handy crafts, coffee, tea, bags, footwear, etc. while there is not as much variety of gods that are sold here as compared to the day markets, I found that the booths are set up to be very eye-catching, or maybe everything just looks better at night.
All the items in the outdoor night market are diverse and abundant for a night jaunt despite the modest number of stalls. With reasonable price, local people as well as tourists can enjoy the specialties of the South, the Central and even the North of Vietnam. One of the best things about eating at Ben Thanh night market is that you can watch the chef cooking in front of you, and take in every delicious smell and sound, allowing you to enjoy the food with all your senses. Although it is just a night food court on a less-than-200-meter street, the food is hygienic and sophisticated.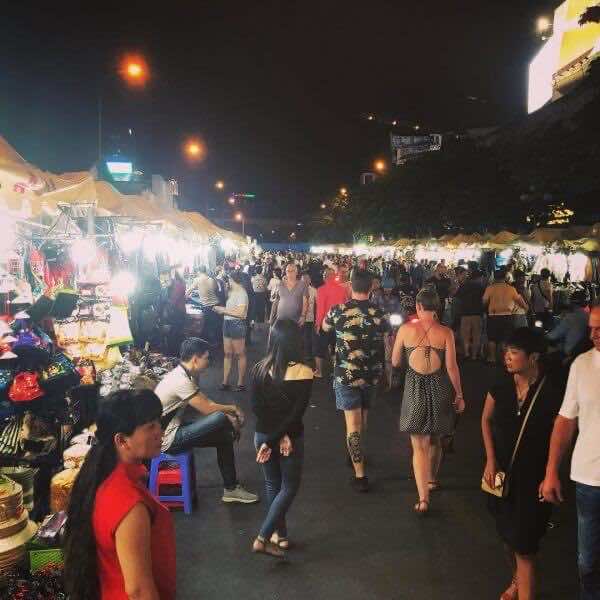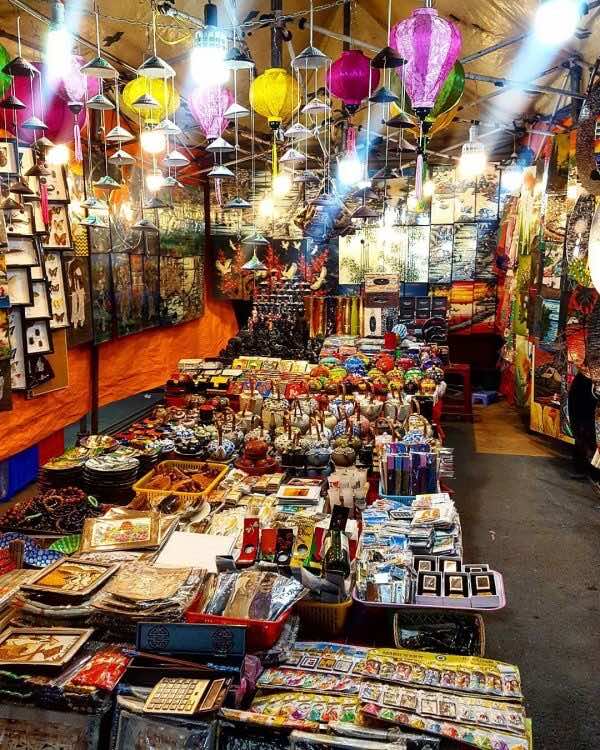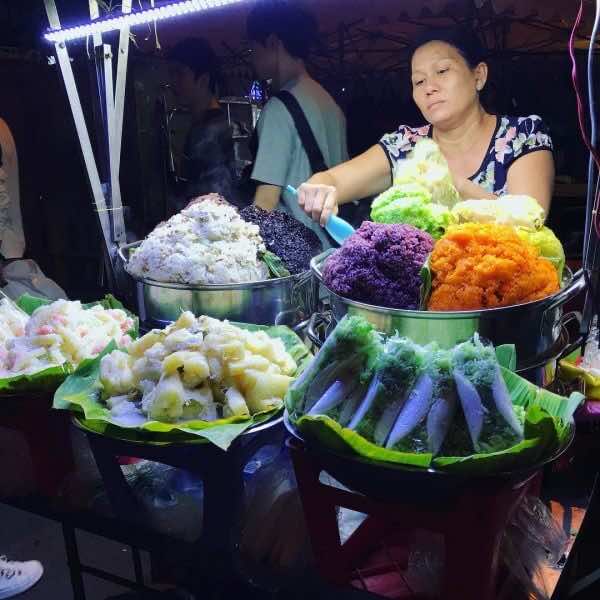 2.Old Quarter's night market – Hanoi
Found in the Old Quarter, this market bridges the gap between tourists and locals. it occupies some of the busiest streets including Hang Duong, Hang Ngang, and Hang Dao. With the aim of promoting Vietnamese culture in foreigners' eyes and Vietnamese new generation, the night market represents Hanoi's cultural life and activities in the past.
This walking street opens from 7 pm until 11 pm on Friday, Saturday and Sunday nights and consists of over 300 stalls from numerous small traders selling foods, clothes, accessories, daily goods, souvenirs and handicrafts. All the stuffs are pretty cheap here, however, bargain is still an interesting aspect in Vietnamese market culture, so make sure to do it when you are about to buy something.
Hanoians have a tradition of meandering around the streets of the Old Quarter. Every weekend, the night market attracts a large number of visitors, including both locals and tourists from around the world. The night market in the Old Quarter is surely a must-see attraction for anyone visiting the city. Meandering around the market, you surely will have a great night of shopping with countless things to bring back home after your traveling.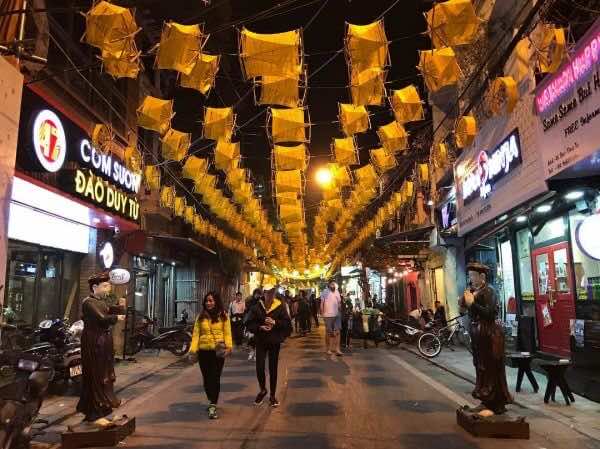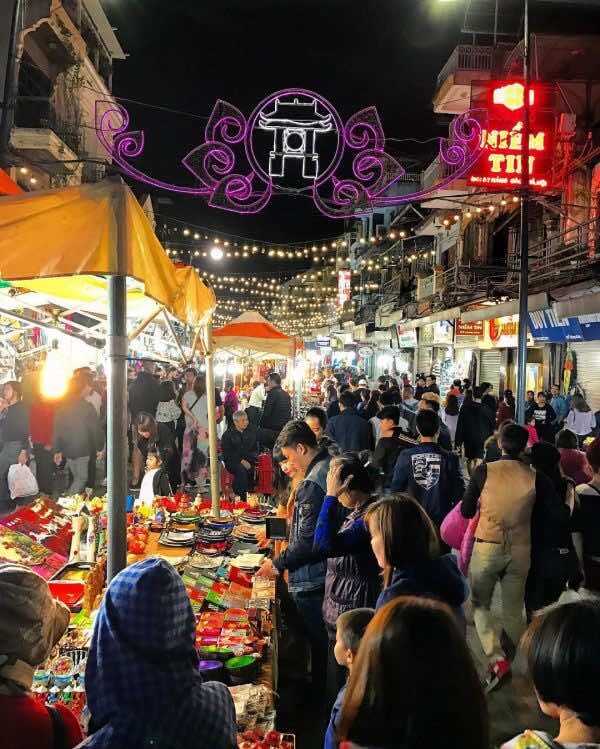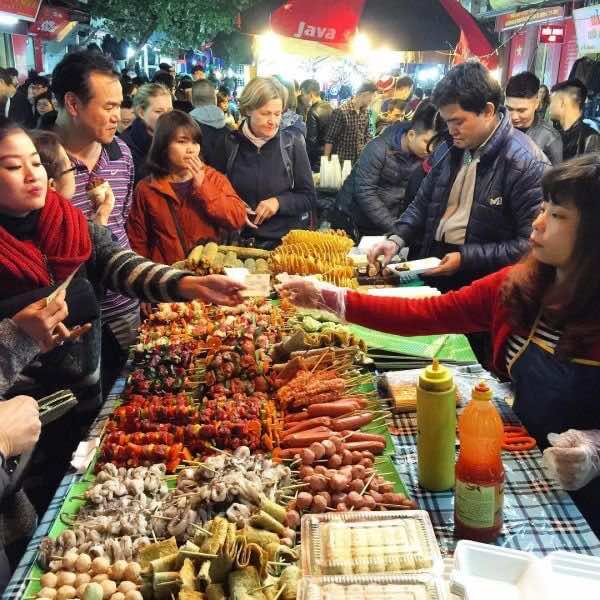 3.Hoi An night market – Hoi An
Hoi An by night is very calm and magnificent. The whole town is lit up by a thousand lanterns. The ancient architecture and nice antique atmosphere will make you feel as if you are getting lost in a fairy tale. Besides the warm atmosphere, there is also amazing street food, and of course, the bars.
When night falls, this place seems to put on a very glamorous outfit with a mix of the old and new. Things have probably changed over time but there is still a rustic charm of this old town that will capture you and make you want to return time and time again. The ancient town is free of motorbikes until 9 pm, so take advantage of the town immediately after dinner for a relaxing stroll. Immerse yourself in this magical scene as more than a thousand beautiful lanterns light your way.
Hoi An night market starts from down Bach Dang Street. Another crowded and bustling destination near the Japanese covered bridge is the night food market. How can you ignore the mouth-watering extensive collection of local cuisine here? Hawkers sitting along the bank of the Hoai river with their simple stuff, a couple of tables and chairs will make you feel like you are back to the old Hoi An ancient town.
Hoi An night market is sparkling by the yellow lights from the ancient houses. Lots of opportunities to take photos here with the colorful ancient walls. You shouldn't miss the chance to take photos of hundreds of lanterns hung up in the shops night by the night market as well. You now can completely contemplate the exquisite beauty of a fairytale city.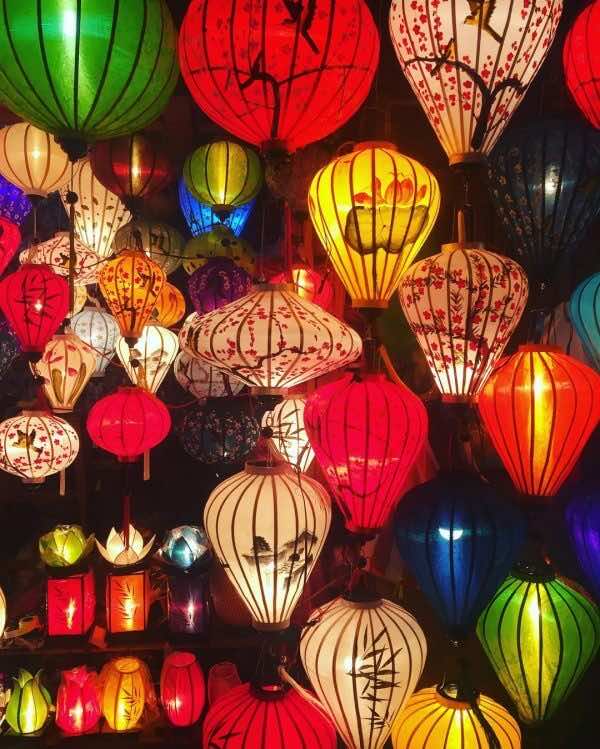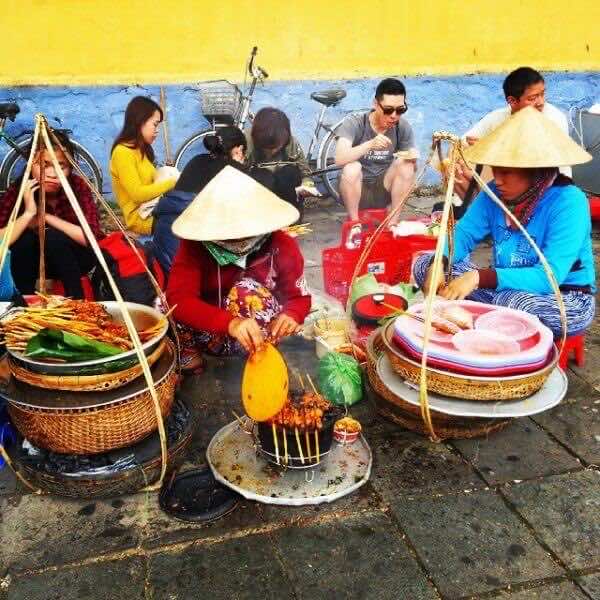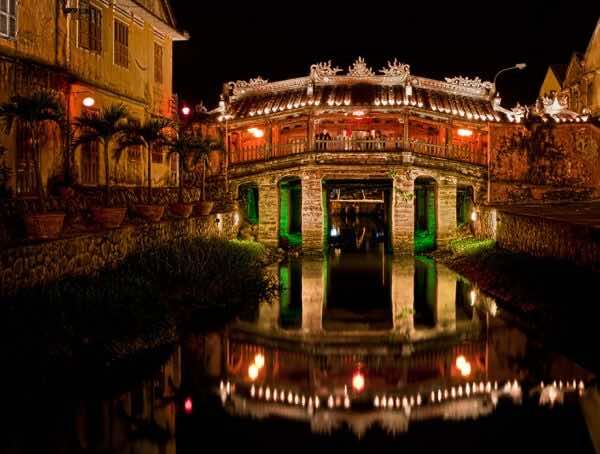 4.Dalat night market
Night markets are a popular shopping opportunity all over Asia, and that of Vietnam's picturesque Dalat is no exception. Dalat is a destination unlike any other in Vietnam, its refreshing weather and clean air will also be a welcome change if you're coming from a place like Ho Chi Minh City or Hanoi.
Dalat night market offers what seems like an endless number of food stalls, which spill into the streets around Nguyen Thi Minh Khai. Offering many local cuisines at affordable prices like traditional rice noodles, Vietnamese pizza (grilled rice paper with a variety of toppings) and fresh soy milk.
At Dalat night market, you can expect a huge selection of fashionable shoes, hats and all the items of clothing you're longing for. Especially, the night market in Dalat has an extensive collection of woolen caps, gloves and scarves on display because the climate in the highlands is much colder than in Ho Chi Minh City after all.
Dalat night market also features an area dedicated to street performance. Youth groups practice and perform their hobbies here such as hip-hop dancing, roller skating and other sporty pastimes.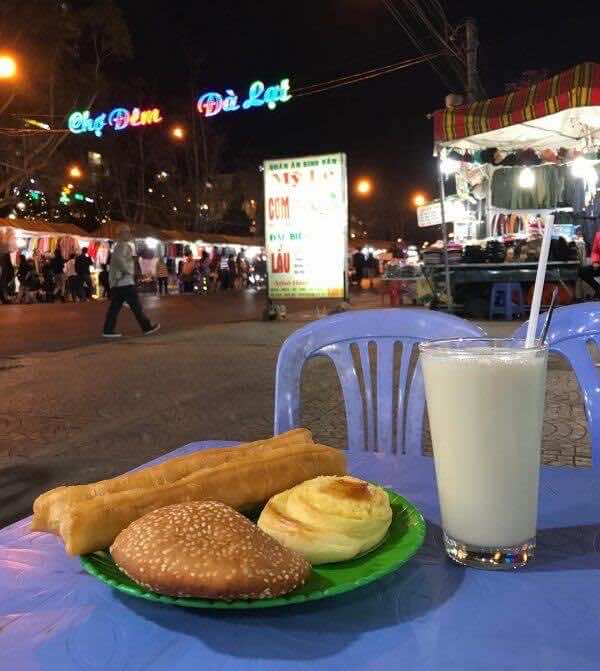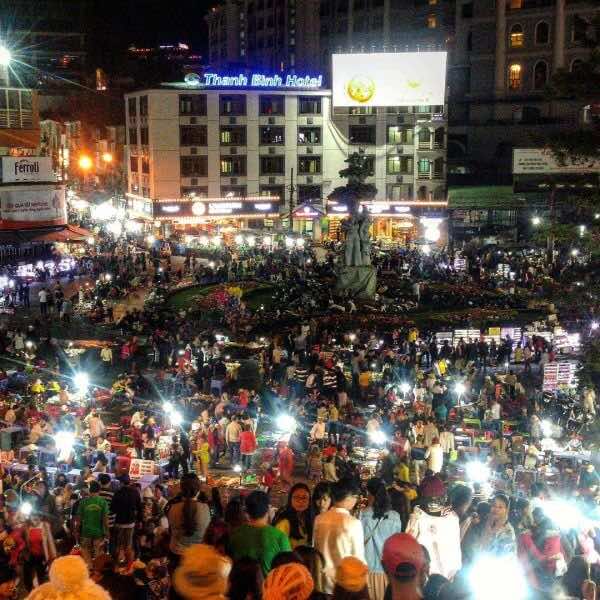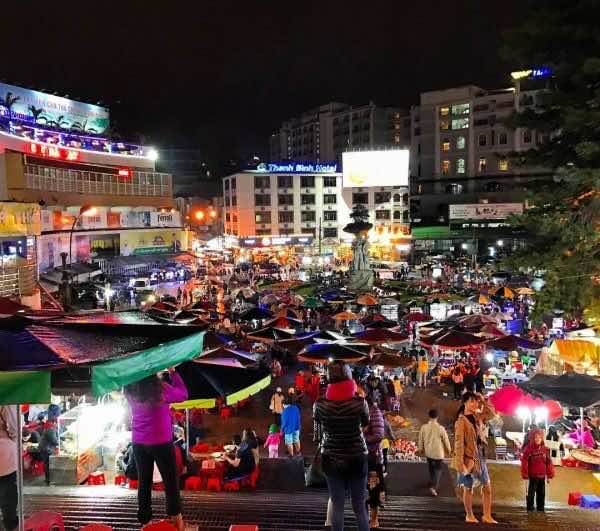 5.Dinh Cau night market – Phu Quoc
Dinh Cau night market is a must-visit for travelers on Phu Quoc Island, one of the best place to sample seafood. Grilled sea urchins for example are something you don't get to eat every day. Located along Vo Thi Sau Street in Duong Dong, this pedestrian friendly-market is about a five-minute walk from Dinh Cau Rock.
The night market in Duong Dong town offers not just the usual souvenirs and keepsakes you might expect at a famous landmark like this with about 100 stalls, more than half of which sell fresh seafood, street snacks, and beverages at affordable prices. Choose from prawns, squid, scallops, crab, elephant snails and a variety of fish then sit and wait as it is cooked to order.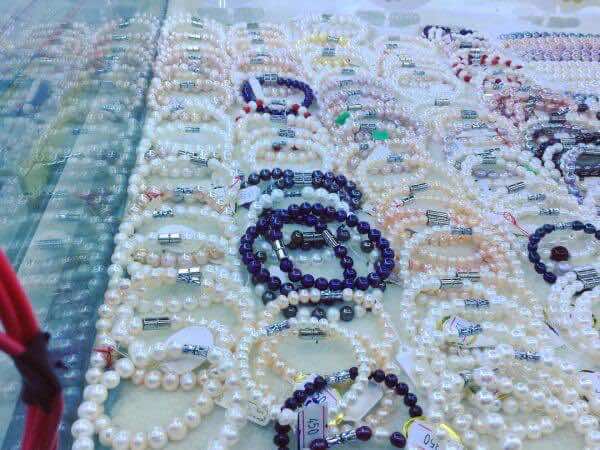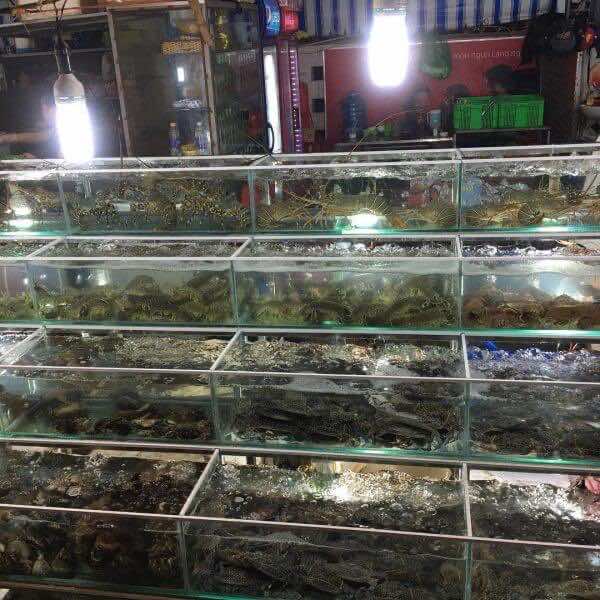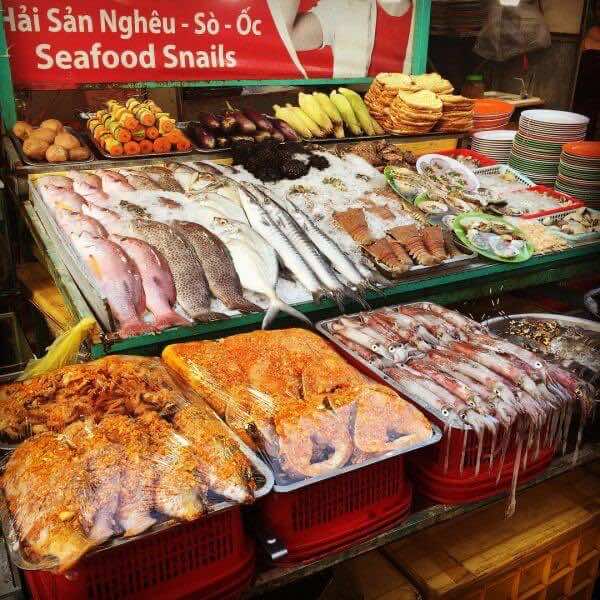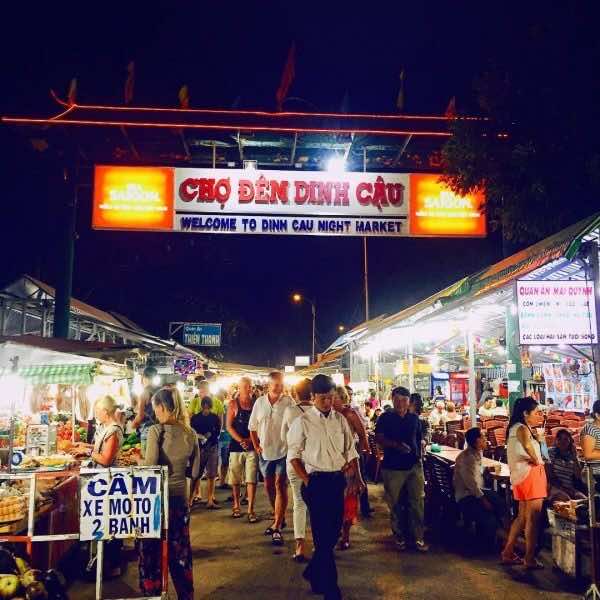 6.Tay Do night market – Can Tho
Far about 1 km from Can Tho to the west of Hau River, Tay Do night market í situated inside Can Tho International Exhibition. Although operated in recent years, Tay Do night market is considered as one of the most enchanting cultural Can Tho attractions, alluring not only the locals but also the international tourists.
Hundreds of specialty fruits are neatly sold in the market with attractive colors and affordable prices, to say nothing of souvenirs and food stalls. Tay Do night market is also home to entertainment services reflecting contemporary rhythms such as electronic games, outdoor music theater and other recreation programs. Come to Tay Do night market, tourists will have a chance to enjoy the complex picture illustrating the daily life of residents in the downstream of famous Mekong River.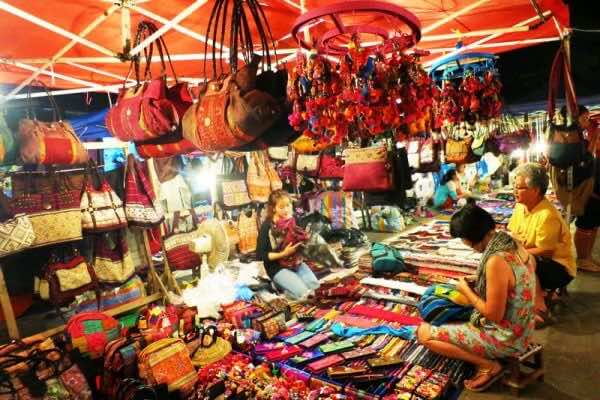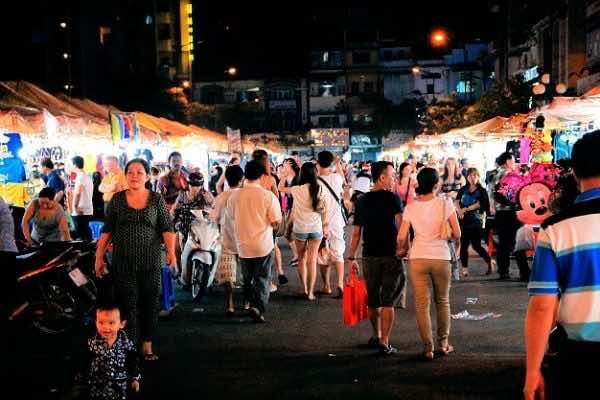 7.Nha Trang night market – Nha Trang
Nha Trang night market is also known as the walking town of Nha Trang. There are over 50 stalls running their business in this market. The main merchandise sold here includes souvenirs and clothing, together with 16 food counters. Spending time wandering in Nha Trang night market is not a bad activity to do in the evening. How comfortable it is when sitting at the city center and sampling great local dishes.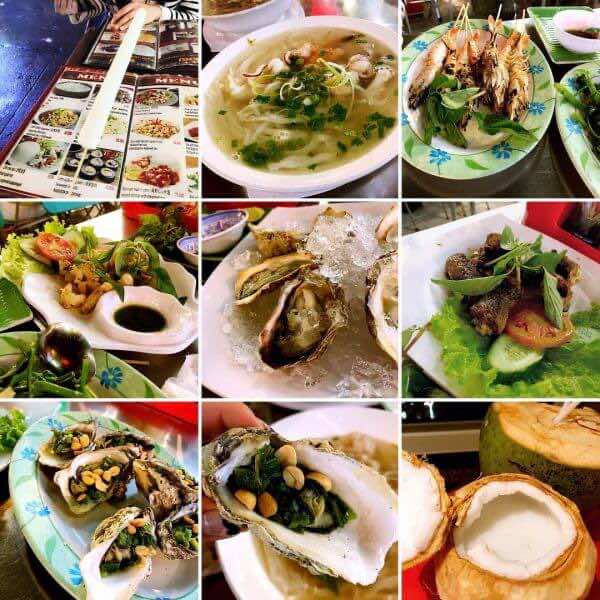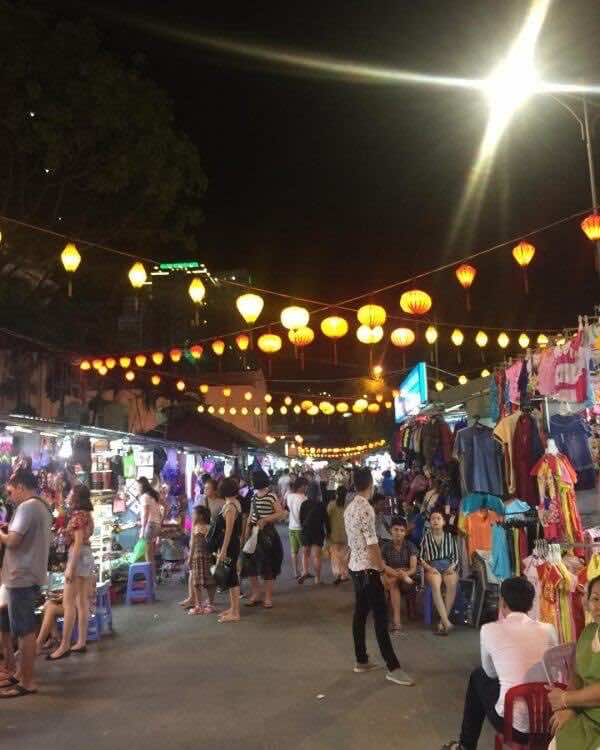 I have detailed the collection of famous night markets in Vietnam. I hope you will spend your time to wander at these night markets when traveling in Vietnam.