1.Bun rieu
Vietnam is a land of noodle soups, and many enjoy at least one bowl of noodle a day, some, maybe even a few. The broth in bun rieu is made from a crab base stock, and another key ingredient are tomatoes, which create a broth that's slightly seafood tasting, yet has a beautiful natural sweet and tartness from the tomatoes. Topping the noodles are pieces of golden fried tofu, sometimes meatballs, healthy chunks of pork, squares of congealed pig's blood, and finally a slab of rich crab paste. To enjoy bun rieu, you normally garnish it with shrimp paste, then load it up with chili sauce, a squeeze of lime juice, and then devour it with a small mountain of herbs and shredded vegetables.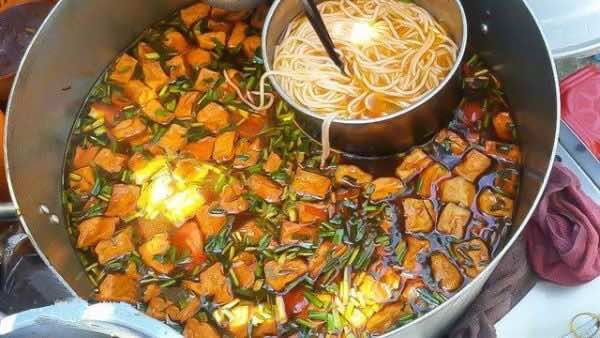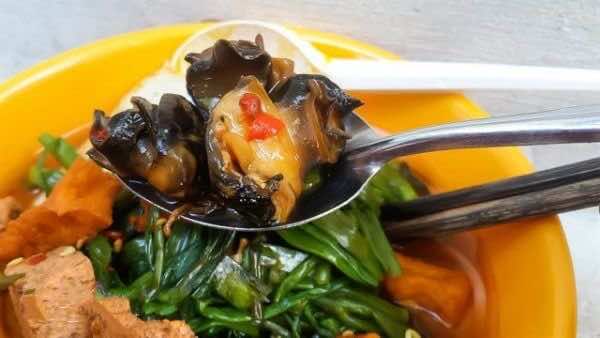 Where to eat:
Bún riêu – 384/22 Nam Ki Khoi Nghia, Ward 8, District 3, HCMC.
Opening hours: 11 am – 5 pm
Bún riêu – 153 Nam Ki Khoi Nghia, Ward 6, District 3, HCMC.
Opening hours: 8 am – 2 pm
Bún riêu cua – 128/1 Ban Co, Ward 3, District 3, HCMC.
Opening hours: 6 am – 10 am
2.Goi cuon
We all know the fried spring rolls (cha gio), but its 'fresh' counterpart is a much lighter and healthier appetizer alternative. Slices of pork, shrimp, lettuce, mint, and vermicelli noodles are neatly wrapped up in a translucent rice paper before being dunked into a hoisin-peanut dip. Of different areas of the country, the locals have different ingredients in spring rolls. Many Vietnamese across the country consider it as an imperative part of a complete Vietnamese style family dinner.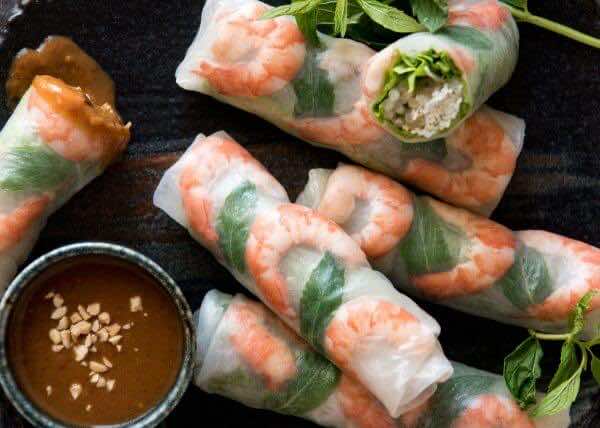 Where to eat:
Gỏi cuốn Cô Huệ – 57 Chau Van Liem, Ward 14, District 5, HCMC.
Opening hours: 9 am – 9 pm
Gỏi cuốn Đạt Thành – 277 Vo Van Tan, Ward 5, District 3, HCMC.
Opening hours: 2 pm – 10 pm
3.Banh trang nuong – Vietnamese pizza
Vietnamese pizza is the nickname of a dish known as banh trang nuong, which translates into "grilled rice paper". This dish is a relative newcomer to the realm of Vietnamese food, having been around for only five to seven years. It starts off as a circular sheet of rice paper slathered with butter and then set atop a coal brazier. The vendor sprinkles the sheet with minced pork, shredded pork floss, dried baby shrimp, and chopped spring onions. The finishing touch is some quail egg yolk to bind all the ingredients together and a squirt of chili sauce. When it's done grilling, it has a crunchy bite similar to the consistency of a taco shell.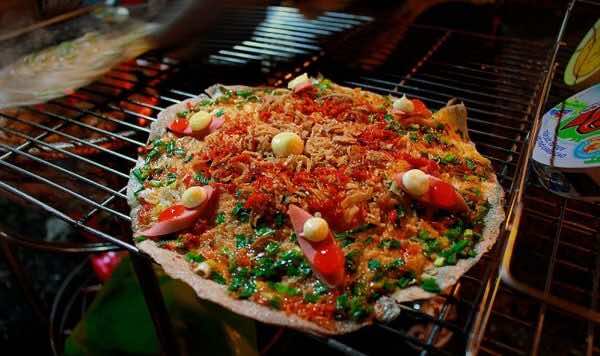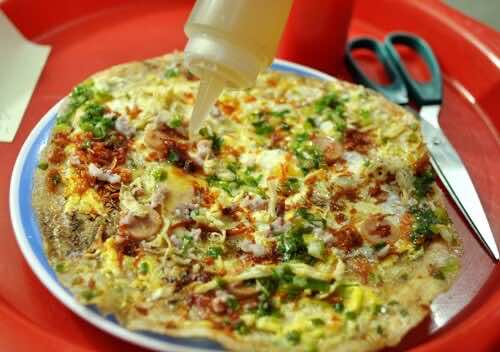 Where to eat:
Bánh tráng nướng Cao Thắng – 57 Cao Thang, District 3, HCMC.
Opening hours: 4 pm – 10 pm
Bánh tráng nướng C002 – 002 Block C, 23/49 Dinh Tien Hoang, Binh Thanh District, HCMC.
Opening hours: 4.30 pm – 11 pm
Đà Lạt Quán – 214/19/19 Nguyen Van Nguyen, Tan Dinh Ward, District 1, HCMC.
Opening hours: 5 pm – 9.30 pm
4.Banh trang tron
Banh trang tron is a relatively recent Vietnamese creation, a snack of shredded rice paper, seasoned with a chili sauce, and filled with herbs like Vietnamese coriander and basil and supplemented with pieces of squid, salty fish, and quail eggs. It's basically a snack or junk food, especially popular with younger generation, and often available at parks and public places, and nearly always served in a plastic bag.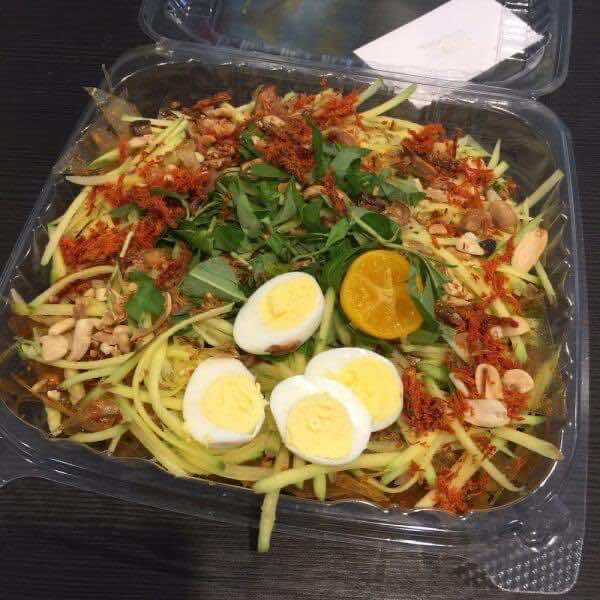 Where to eat:
Bánh tráng trộn chú Viên – 38 Nguyen Thuong Hien, Ward 5, District 3, HCMC.
Opening hours: 2 pm – 10 pm
Bánh tráng trộn Cô Long – 24 Nguyen Thuong Hien, Ward 5, District 3, HCMC.
Opening hours: 2 pm – 10 pm
Saigon Notre-Dame Basilica and Turtle Lake in District 1
5.Bap xao
Stir-fried sweet corn is one of the top street foods in Saigon that students and young people choose on the go. It seems to be a perfect alternative to other popular street food such as com tam or banh mi. A typical serving will have corn stir fried with butter, with some small dried shrimps, topped with chili sauce and green onion. This infusion of different ingredients takes your tongue on a journey from sweet to spicy and salty.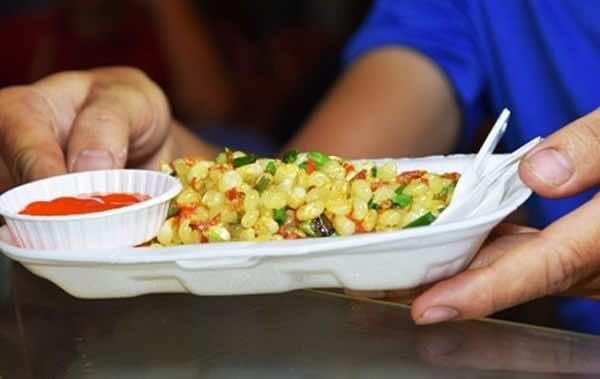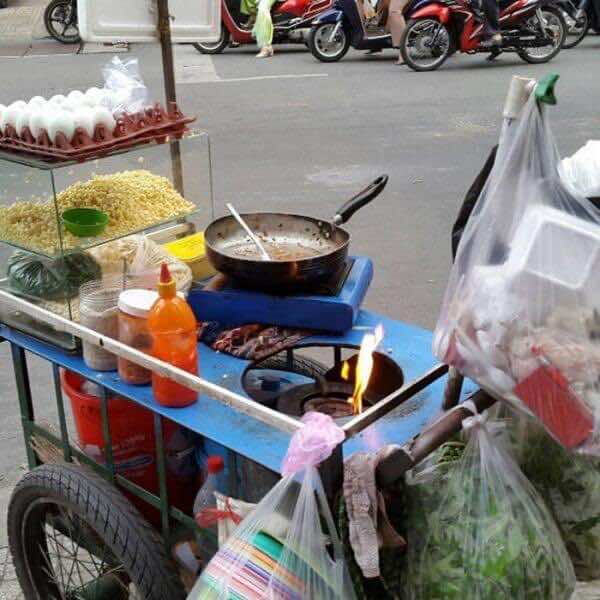 Where to eat:
Opposite to Ho Chi Minh City University of Economic on Pham Ngoc Thach Street, Turtle Lake area, District 1.
Opening hours: 6 pm to midnight
6.Banh bao – Steamed bun
Banh bao comes in various shapes and fillings and are normally steamed (looking like a large dumplings). For a popular Saigonese version of banh bao, you have to take a mixture of ground pork, mushrooms or wood ear fungus, Chinese sausage and quail eggs to form a meatball. This is wrapped by a lightly sweetened flour dumpling and steamed to form a white exterior. The options are beef and egg, vegetarian, char siu, chicken and egg. There are also two dessert banh bao, the first filled with a mustard-yellow custard made with salted egg and coconut milk, the second is a not-too-sweet taro mixture.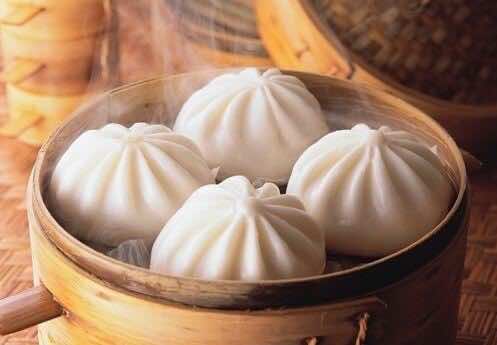 Where to eat:
Bánh bao Cả Cần – 110 Hung Vuong, District 5 (at the junction with Nguyen tri Phuong)
Opening hours: 6 am – 2.30 am
Bánh bao Thọ Phát – 78 Nguyen Tri Phuong, Ward 7, District 5, HCMC.
Opening hours: 5 am – 11 pm
7.Pha Lau – Cow Intestine Soup
Cow intestine soup is a dish that many locals love. This dish is a combination of the culinary styles of the Vietnamese and the Chinese. Instead of throwing away the inner organs of the cow, Vietnamese people use them for more dishes. To make magic happen, the cook washes all of the organs many times, using salt and lemon to remove bacteria. Then ginger and wine to remove the bad scent, then, they will cook it with coconut milk to make noodle soup. Finally, they will chop the kidney stomach, intestines and heart to serve the hungry phal au lovers. The texture and taste pf the soup goes well with the sweet and sour dipping sauce. On rainy days, a bowl of cow intestine soup with instant noodles or Vietnamese baguette has the magic to brighten up one's mood.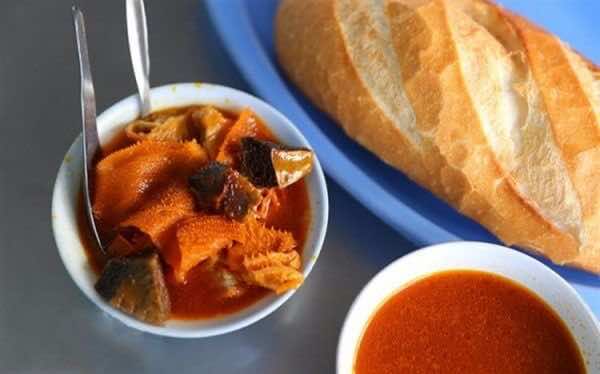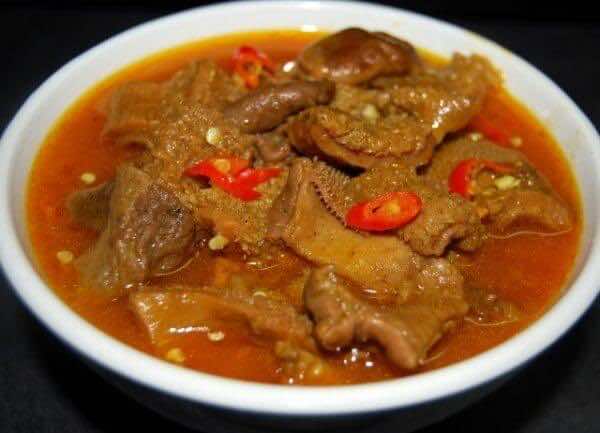 Where to eat:
Phá lấu dì Núi – 240/30 Ton Dan, Ward 15, District 4, HCMC.
Opening hours: 2.30 pm – 9 pm
Phá lấu – Alley 177 Ly Tu Trong, Ben Thanh Ward, District 1, HCMC.
Opening hours: 4 pm – 9 pm