There is no love sincerer than the love of food.
If you planning a journey is exciting and delightful, but also leaves you in a state of bewilderment, when it comes to food. whether it's a planned long journey or a short outing to a mesmerizing visitor destination, one of the biggest things is to decide about food, as one needs to know the specialties of each intersection, in the route for a better food experience.
When we think about Vietnamese food, complex flavors and contrasting textures come to mind. Take, for example, pho, a noodle dish consisting of either beef or chicken broth that is simmered for hours before being served piping hot with a heaping plate of crunchy leafy greens and various aromatic herbs. Then there's banh mi, which literally translates to bread, but is the most frequently used to refer sandwiches traditionally made of variety of pork products with pickled vegetables stuffed into a toasted baguette. And we certainly can't leave out fish sauce, a fundamental ingredient that is pungent yet delicious if you can handle its singular taste.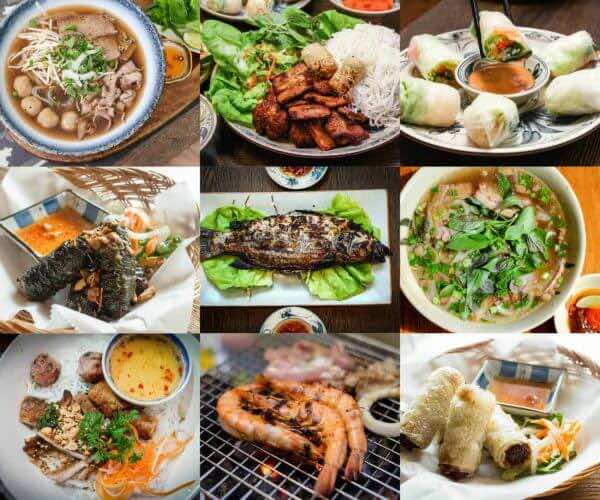 Here is the list of Vietnamese dishes that should be enjoyed once in a lifetime.
1.Pho
What list of Vietnamese cuisine would be complete without pho? It is almost impossible to walk a block in Vietnam's major cities without bumping into a crowd of hungry patrons slurping noodles at a makeshift pho stand. This simple staple consisting of a salty broth, fresh noodles, a sprinkling of herbs and chicken or beef, features predominately in the local diet – – and understandably so. It is cheap, tasty, and widely available at all hours. This authentic, nutritious and delicious food has attracted not only Vietnamese people but also tourists traveling to Vietnam.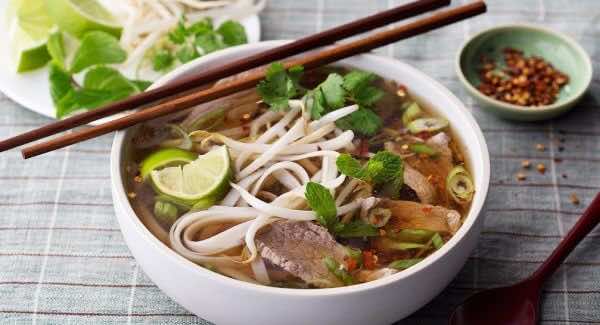 2.Banh Mi
What is that makes this sandwich so fantastic that its notoriety is spreading across the world so quickly? As a cool and foodie, I appreciate the balance of the sandwich. It touches every sensation on my tongue perfectly and leaves nothing more to be desired from such a humble and simple sandwich. Layered with meat, smothered in pate and mayo, and topped with fresh herbs, pickles, and chili creates a texture and flavor party.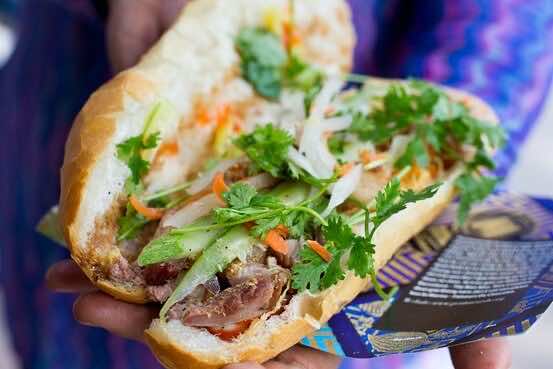 3.Com Tam – Broken Rice
What list of Saigon street food would be complete without Com Tam?
It is almost impossible to walk a block in Saigon's major streets without bumping into a crowd of hungry patrons enjoying broken rice at a food stall and dense smoke spread through the street. You will see it being served at countless little restaurants and street food stalls around the city. A plate of broken rice with many beautiful colors from grilled pork chop with multi- flavor to steamed pork with egg custard, pork skin, vegetable…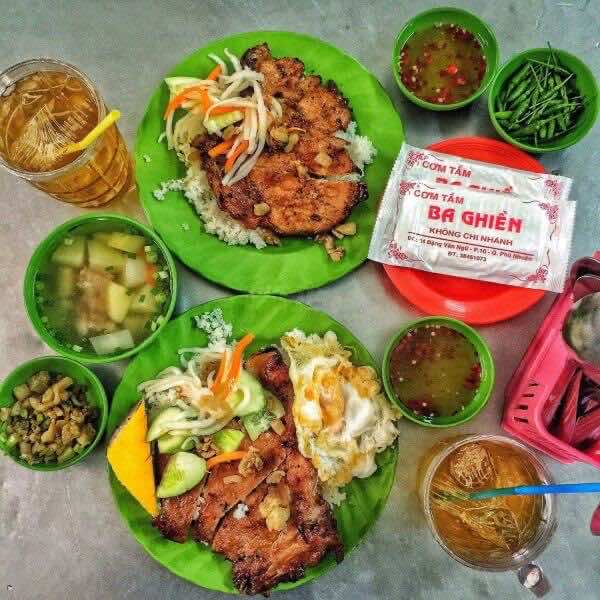 4.Goi Cuon – Spring Rolls
We all know the fried spring rolls (cha gio), but its 'fresh' counterpart is a much lighter and healthier appetizer alternative. Slices of pork, shrimp, lettuce, mint, and vermicelli noodles are neatly wrapped up in a translucent rice paper before being dunked into a hoisin-peanut dip. Of different areas of the country, the locals have different ingredients in spring rolls. Many Vietnamese across the country consider it as an imperative part of a complete Vietnamese style family dinner.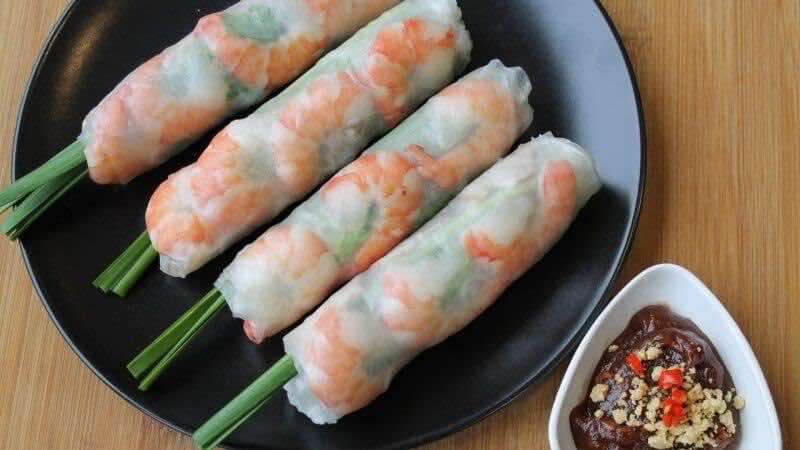 5.Banh Xeo – Vietnamese Pancake
A good banh xeo is a crispy bulging with pork, shrimp, and bean sprouts, plus the garnish of fresh herbs that are characteristic of most authentic Vietnamese dishes. To enjoy one like a local, cut it into manageable slices, roll it up in rice paper or lettuce leaves and dunk it in whatever special sauce the chef has mixed up to you. The size of banh xeo varies throughout the country as well, and the biggest version can be found down south, in Saigon.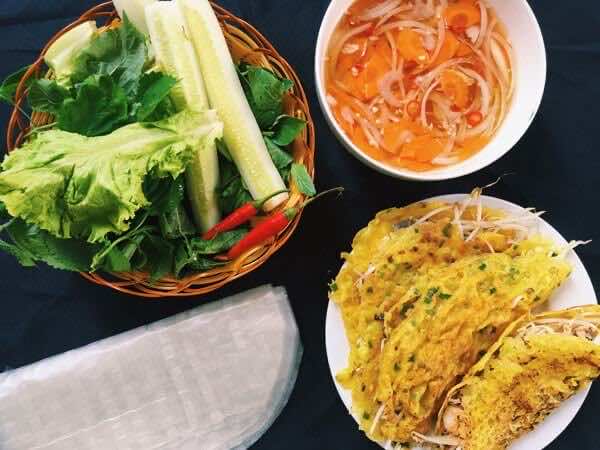 6.Bun Bo Hue – Hue Beef Noodle
More over Pho, Bun Bo Hue is the Vietnamese soup you need to know. Bun Bo Hue, a soup that starts with pork and beef bones, gets a kick from lemongrass, annatto and shrimp paste, and finishes the job with a tangle of herbs, a squeeze of lime and a few delicious add-ons like sliced brisket, crab balls and, in some cases, cubes of congealed pig's blood. Flavors are deep and rich, providing a satisfying meal that will fill up most diners for several hours.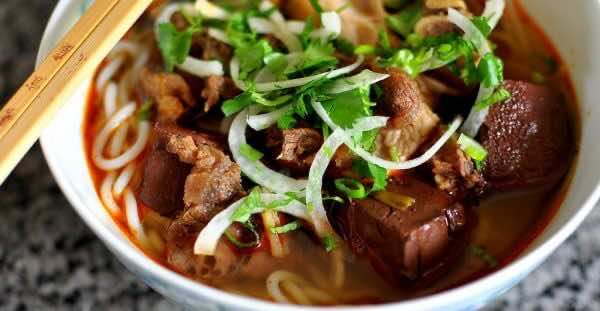 7.Snails and shellfish
Every day of the week, particularly on weekends, large groups of work colleagues, friends, and families descend on snail eateries to eat, drink and talk the night away. Snail of all shapes and sizes come from Vietnam's fresh water sources- flooded rice paddies, rivers and lakes and from the ocean.
Snail eating is all about sauces and textures. A 'naked' snail is quite boring, unappetizing prospect, but stuff with spices and herbs and cover it in all sorts of rich, creamy, juicy sauces and you have a mouthwatering snack.
There are so many kinds of snails and shellfish that you will constantly discovering new and delicious ones. The bigger eateries will offer over two dozen kinds, and even the small vendors boast at least a dozen. Then, there are several ways to have your snails cooked.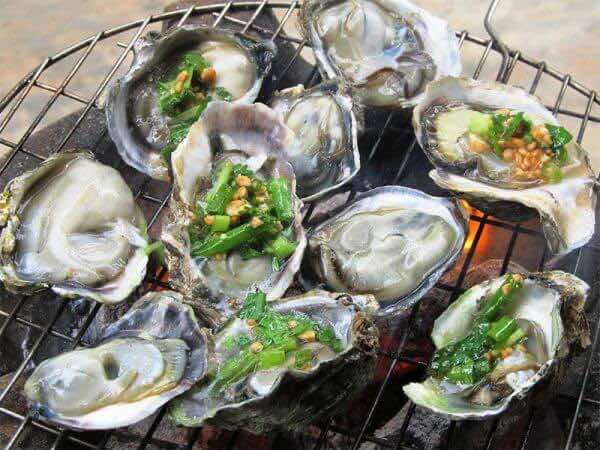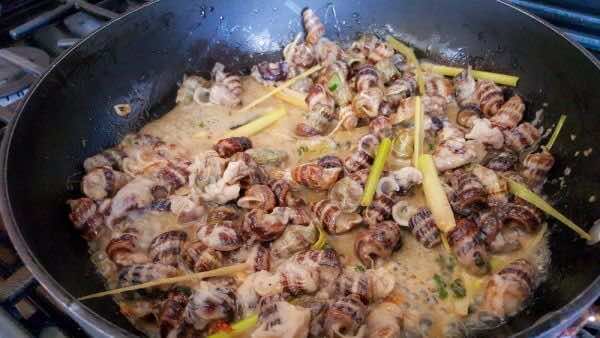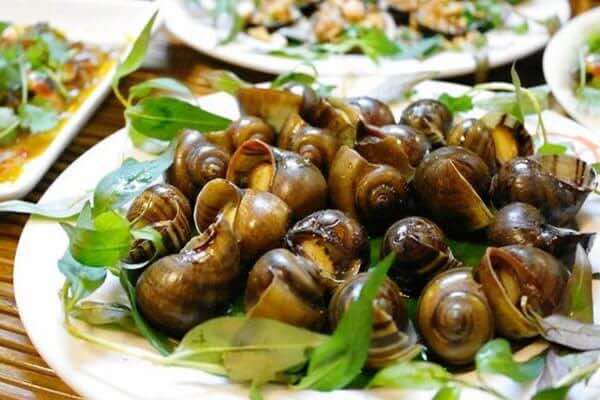 8.Bun Cha
Hanoi is not only famous for the home of beautiful landscaped but also the land of great culinary culture in Vietnam. In the capital of Vietnam, you can find many delicious local dishes, especially bun cha. President Obama fell in love with Vietnamese cuisine when he tried Bun Cha during his visit to Vietnam. This simple dish is a great combination of savory and fresh, it has vibrant colours and the harmony of the meat, vegetables and dipping sauce makes this dish special.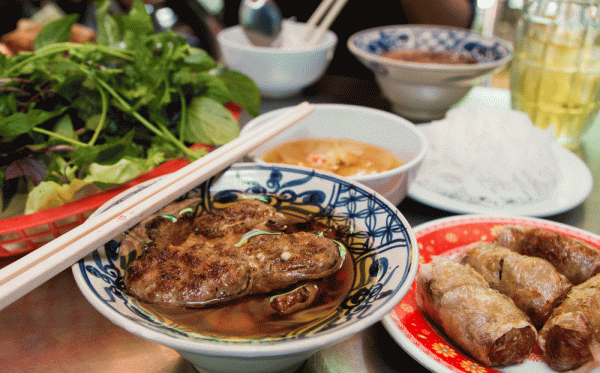 9.Mi Quang – Quang Noodle
Unlike some Vietnamese soups, mi quang hasn't yet found fame on the international foodie scene, but within Vietnam's borders it's a much-loved noodle dish that's available throughout the country. Originally form the central province of Quang Nam, mi quang is distinguished by its thick yellow noodles and shallow broth, prawn, pork, quail eggs, peanuts and shredded lettuce and herbs, especially the surprise bursts of mint and the crunch of bean sprouts, peanuts and rice crackers.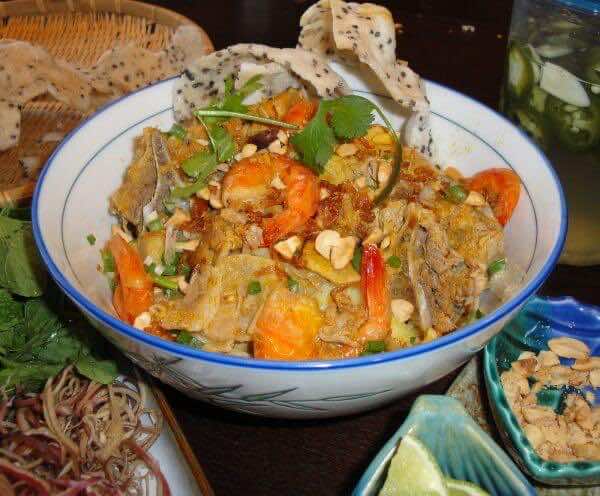 10.Banh Cuon
These delicate rice noodle rolls may look familiar if you've had cheng fun at a dim sum restaurant before. When it comes to banh cuon, these parcels are filled with minced pork and wood ear mushroom, then topped with a smattering of fried shallots and dipped into fish sauce. Make sure to eat them while they're hot and soft.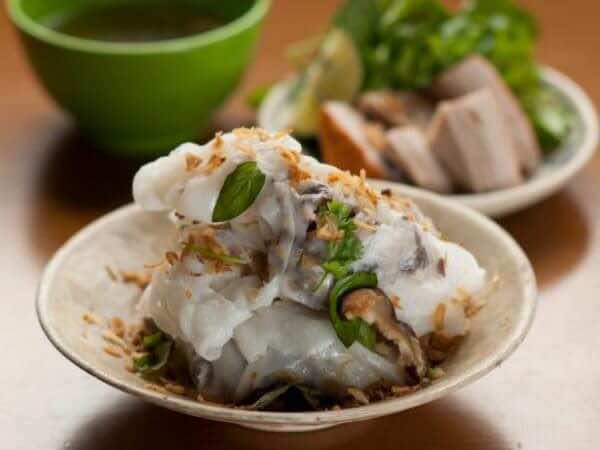 Immerse yourself in the list of must-try dishes in Vietnam and know some insightful stories about the food culture in Vietnam!
Comments
comments