What list of Vietnamese cuisine would be complete without pho? It is almost impossible to walk a block in Vietnam's major cities without bumping into a crowd of hungry patrons slurping noodles at a makeshift pho stand. No matter what time of the day, a steaming bowl of pho is never hard to find in Vietnam. Just like pad thai in Thailand, pho is Vietnam's unofficial national dish, exported with pride all over the world. Traditionally, pho noodle soup was eaten by Vietnamese people for breakfast and sometimes lunch. Today, both locals and foreigners alike can be found hunched over steaming bowls of pho at street carts throughout the night.
This simple staple, consisting of salty broth, fresh rice noodles, a sprinkling of herbs and chicken or beef, features predominately in the local diet – and understandably so. It is cheap, tasty, and widely available at all hours. Despite its outward simplicity, pho is underpinned with a complex arrangement of flavors and textures.
When it comes to pho in Saigon, not only can you enjoy the flavor of pho with the traditional toppings, but you also have opportunities to try many kinds of toppings from different cultures in Vietnam adapted for Saigon people. Ingredients and styles of pho noodle soup vary by region throughout Vietnam, but you can enjoy all of them in Saigon.
1.Pho bo – Beef noodles
The most popular version, made with beef is thus a relatively recent addition to the rich culinary landscape, but a widely popular one. The best pho outfits focus on creating a clear but flavorful broth. It's harder than it looks: pho cooks rely on a well-made soup stock and a cleverly formulated spice mix that primarily uses anise and cinnamon, with touches of cardamom, fennel, and cloves. Roasted onions and sliced finger add a final, herbal touch to the soup. The freshly-made flat rice rice-noodles strands that constitute the real bulk of the dish. The noodles play off the small amounts of meat – thin slices of beef, or springy meatballs – which are cooked separately from the broth and included at the last minute.
That being said, its sophisticated flavor makes meeting the strict standards in cooking the dish become quite a challenging task, even for the most skilled of chefs.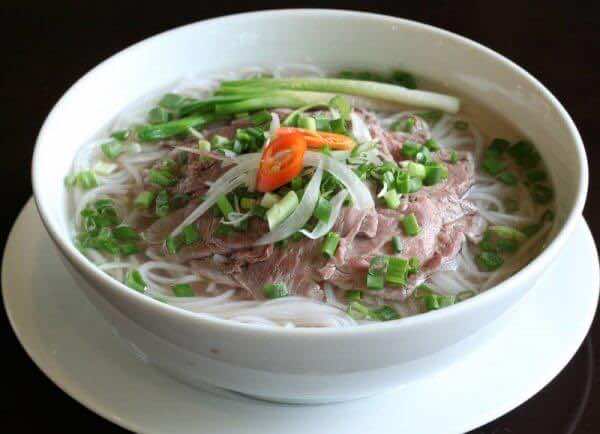 Where to eat:
Phở Hòa – 260C Pasteur Street, Ward 8, District 3, HCMC.
Opening hours: 6am- 11pm
Phở Lệ – 370 Nguyen Trai Street, District 5, HCMC/ 303 Vo Van Tan Street, District 3, HCMC.
Opening hours: 6am to 1am
Phở Dậu – 288 M1 Nam Ki Khoi Nghia Street, Ward 8, District 3, HCMC.
Opening hours: 6am to 12pm
Phở Hiền – 68/9A Tran Quang Khai, Tan Dinh Ward, District 1, HCMC.
Opening hours: 6am to 10pm.
2.Pho ga – Chicken noodles
Pho is Vietnam's national dish, there's no doubt about that. From street vendors to high-end restaurants, local eateries have managed to bring the hearty beef soup to every corner of the country. Still, while most Vietnamese chefs have perfected the art of cooking pho bo, it's hard to come up with the name of a stall when one has a hankering for pho ga. At a glance, a bowl of pho ga is simple in its presentation: a bed of noodles submerged in chicken broth, on top of which lies a generous helping of tender chicken meat, garnished with diced herbs and onion. Actually, the broth makes all the difference: the flavor profile is complex and rich in chicken essence. The restaurant's gigantic pots full of chicken bones and innards might be the reason behind that wonderful broth.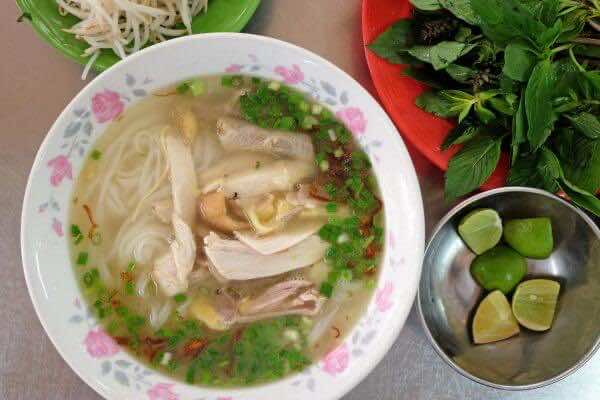 Where to eat:
Phở gà Kỳ Đồng – 14/5Bis Ky Dong, Ward 9, District 3, HCMC.
Opening hours: 5 am – 1.30 am
Phở Bình – 7 Ly Chinh Thang, Ward 8, District 3, HCMC.
Opening hours: 6 am – 9 pm
3.Pho chua – Sour pho
Most street food that makes its way to Saigon from elsewhere gets adapted to the local palate. One such dish is pho chua. This dish did not originate in Saigon, but was brought from the mountainous provinces of northern Vietnam. No matter where it comes from, pho chua has been Saigonise and Saigon has embraced it as its own, just as people from all over Vietnam are accepted as part of the city.
Pho chua in Saigon is served with chicken and a piece of shrimp cake. The sweet and sour sauce together with the spice of the chilly, the rich pork crackling, the crunchy chicken and the fresh herbs make you feel like your taste buds are about to explode.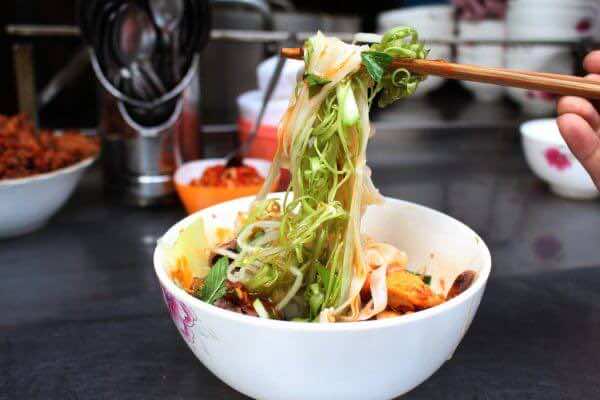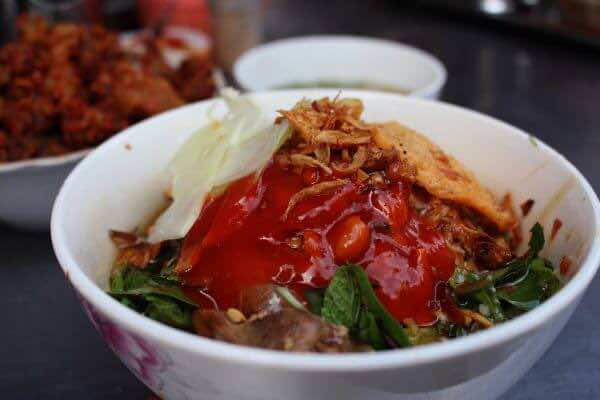 Where to eat:
Phở chua Thành– 242/101 Nguyen Thien Thuat, Ward 3, District 3, HCMC.
Opening hours: 3 pm – 7 pm (closed on Monday)
4.Pho kho Gia Lai – Gia Lai dried pho
Apart from traditional pho, there are many notable different recipes of pho from different provinces: and one of the best versions is dried pho from Gia Lai Province in the Central Highlands. It gives customers a totally new experience while still keeping that aromatic scent of the traditional pho. You will be served Gia Lai dried pho in a set of three: the main bowl containing noodle, minced pork, fresh salad and dried garlic and onion without any soup, the second bowl is a bit of hot soup with diced beef giving a very pho scent, and the last is soya paste with chili infused oil on top. You will mix the three components together into the main bowl, and then keep stirring until everything has a beautiful brown color. Gia Lai's recipe offers a thinner and chewier than the normal pho.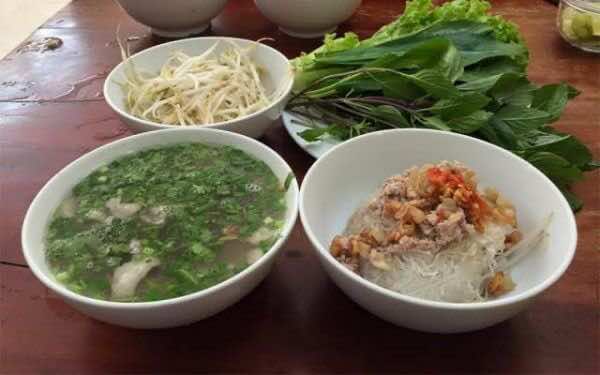 Where to eat:
Pho kho Gia Lai Hồng – 82 Dong Nai, Ward 15, District 10, HCMC/ 114 Phan Xich Long, Ward 2, Phu Nhuan District, HCMC.
Opening hours: 6.30 am – 2 pm/ 5 pm – 10 pm
Trung Nguyen Coffee Shop – 7 Nguyen Van Chiem, Ben Nghe Ward, District 1, HCMC.
Opening hours: 6.30 am – 10 pm
5.Pho cuon – Vietnamese rolling pho
Pho cuon consists of a slightly of cooked rice paper shell the same thickness as a pho noodle. Inside this soft shell is a selection of herbs and greens – mainly cilantro, mustard leaf, lettuce and thinly sliced beef that has been cooked with garlic and generous amounts of pepper. It is served cold with a bowl of fish sauce, garlic, carrots, radish, vinegar, boiled water, chili and some sugar for dipping. you could serve these rolls as an appetizer before a main course or serve them alongside a handful of other dishes of you're feeding a family or a group of friends.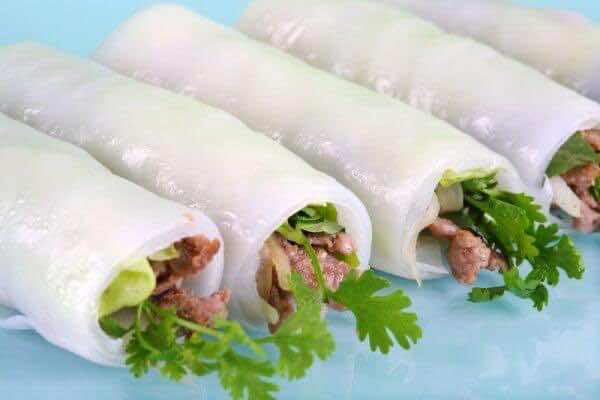 Where to eat:
Quán Bếp Nhỏ – 001 Block E Le Thi Rieng Apartment, Nguyen Gian Thanh Street, Ward 15, District 10, HCMC.
Opening hours: 3 pm – 10 pm
Wrap & Roll – 62 Hai Ba Trung, Ben Nghe Ward, District 1, HCMC
Opening hours: 11 am – 10.30 pm
6.Pho ap chao – Vietnamese pan-fried noodle
This is prepared in a very hot wok making the noodles get a smoky flavor. At first sight it is a simple dish, but only the wok skills of a good cook, gives the smoky flavor that cannot be beaten at home. The flat, smoother pho noodle doesn't crisp up like its pre-boiled instant cousin. When done well the outer edges acquire a browned crunchiness, whilst the center stays soft and glutinous. This dish tastes best with a fried egg and seasoned with chili or soy sauce.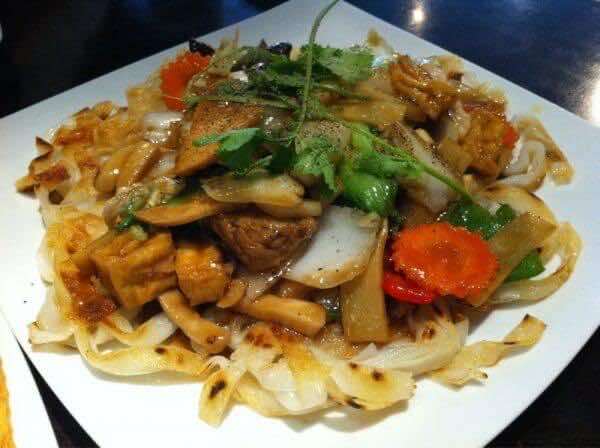 Where to eat:
Phở Bắc Hà – 147 Nguyen Du, Ben Thanh Ward, District 1, HCMC.
Opening hours:  6 am – 10 pm
7.Pho bo sot vang –Vietnamese beef stew in red wine
Eastern and Western cooking styles and flavors are blended in this dish which is inspired by the French "bordelaise sauce", made with red wine, bone marrow, butter and shallots. The traditional broth is added to this rich mixture, giving it a noticeably refined taste, quite a departure from the normally humble pho.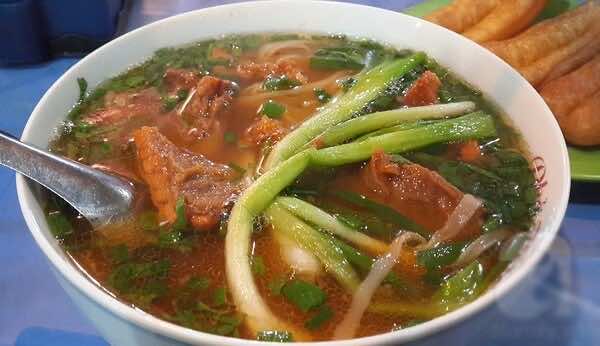 Where to eat:
Phở Hoàng Tùng – 205 Dinh Tien Hoang, Tan Dinh Ward, District 1, HCMC.
Opening hours: 6 am – 1 pm/ 4 pm – 9 pm
Comments
comments