There is no doubt that Vietnam has become one of the top destinations in South-East Asia for all kinds of travelers around the world. It has a distinctly peaceful vibe to it, a relaxing that should feel strange given the contrast buzzing of scooters and local chatter on the streets. All the same, it's incredibly peaceful and the locals know just how to make you feel incredibly welcome and at ease. You'll be greeted with big, warm smiles and genuine interest in your travels. If that isn't enough just wait until you try the food. It's everything salty, sour, bitter and spicy, the perfect combination of flavors.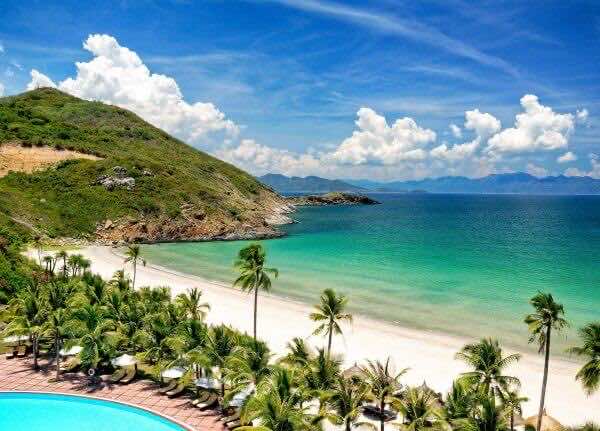 Vietnam is a crazy place. Between the traffic and the bustling city populations, just strolling down the street can be an insane experience. Here is a selection of some of the oddest things you'll see during your trip in Vietnam, and you should try once in your life.
1.Eating fetal duck egg (Trung vit lon)
Trung vit lon, aka fully-formed duck egg is a nutritious and popular food un Vietnam even though it looks a little bit scary to Western and international tourists. The reason why people around the world find this food creepy is that the egg contains a duck fetus and you can see its beak, feet, and feathers very clearly after breaking the shell. Sound a bit frightening, doesn't it? But believe me, the taste is very different to the look, and freaking yummy. You can enjoy it slowly, piece by piece, accompanied by the irreplaceable herb and a mixture of salt, pepper, and chili. You can also add kumquat juice to the mix if you like a sour flavor. As you're eating, the aromatic scent of pepper and kumquat along with the spicy chili will not only drown out the pungent smell of duck egg but also harmonize the flavors providing you with one of the most exceptional food experiences ever.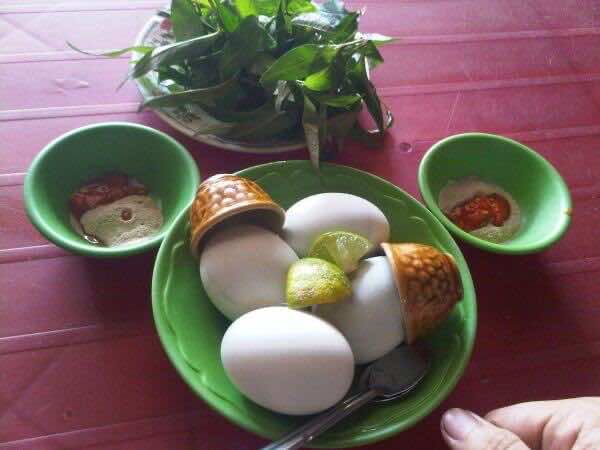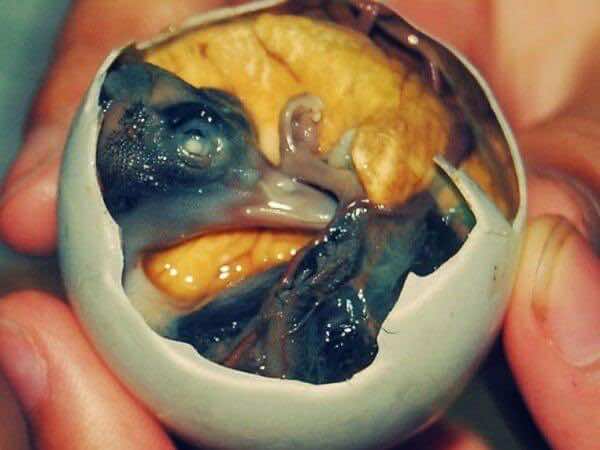 2.Slurping a bowl of Vietnamese noodle soup
In many Western countries, table manners encourage restraint and self-control. Sadly, these rules often have the effect of suppressing all the pleasures of eating. In Asia, which is surely the "foodiest" continent on Earth, things are very different. One of the most important "table manners" in Vietnam is slurping. Contrary to Western standards, there's nothing rude, disgusting or inelegant about slurping. In fact, it's joyful, respectful, and practical too.
Like most things that foreigners find strange about Vietnam, there are practical reasons behind slurping. Noodles and the broth they're served in are hot, and food tastes better when it's hot. The problem is that you don't want to scorch your tongue. In Western countries, you might blow on your forkful of food or wait for your meal to cool down. But it doesn't work in Vietnam. slurping is the most efficient way to do this. The quick intake of air serves the function of cooling the noodles on their way from the bowl to mouth, rather than stopping and blowing them.
What list of Vietnamese cuisine would be complete without pho? It is almost impossible to walk a block in Vietnam's major cities without bumping into a crowd of hungry patrons slurping noodles at a makeshift pho stand. This simple staple consisting of a salty broth, fresh noodles, a sprinkling of herbs and chicken or beef, features predominately in the local diet – – and understandably so. It is cheap, tasty, and widely available at all hours. This authentic, nutritious and delicious food has attracted not only Vietnamese people but also tourists traveling to Vietnam.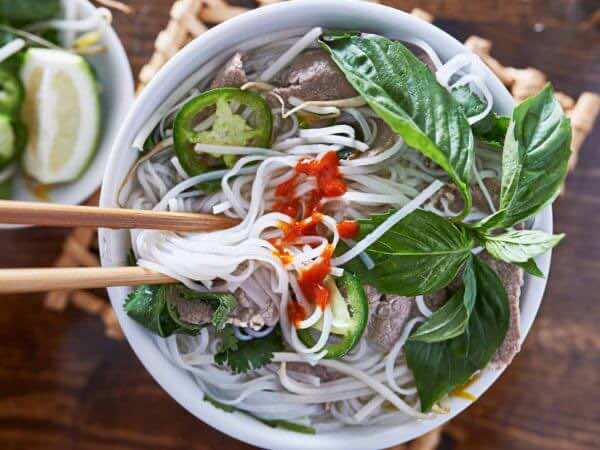 3.Experiencing the city of Vietnam on two wheels
The freedom of being on a bike is bliss, isn't it? It is the feeling of total freedom, of really immersing yourself in the scenery around you, about the sun warming your face, a cool freeze blowing through your hair and all those kind people you need on the road. You have a full 360-degree Panoramic view of your environment and you get to your destination far more relaxed than you would in a car. Personally, I think it is one of the best ways to really explore a place and I can recommend everyone to at least give a try.
Vietnam is one of the few countries in the world where motorbikes is still used widely. Riding one is fun, but you must take into account the fact that people do not always follow the rules on the road. In principle, you need a driver license to ride a motorbike but traffic police hardly stop tourists for license check. If you are not brave enough to ride one yourself, sitting on the back of someone else is also an experience that most tourists should try.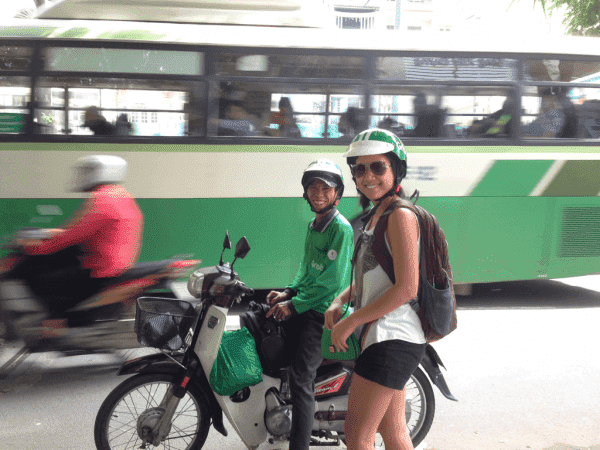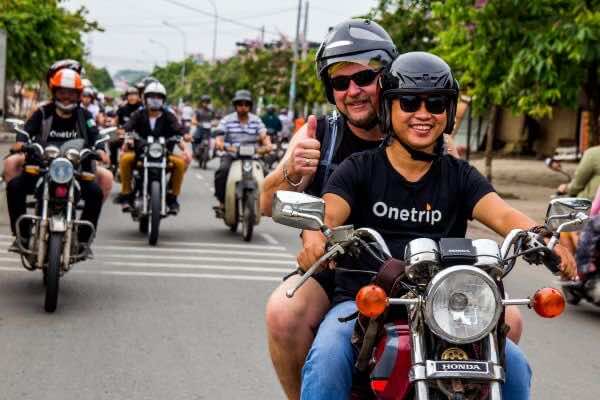 Well, actually I highly recommend Grab Bike or Uber Moto to get around the city because of its transparent prices and route, and they are now more and more popular in the city. By using the app to book your destination, you do not have to worry about the gap between different languages, the riders will take you there in the blink of an eye.
4.Visiting the floating markets in Mekong Delta
Lived here is much lived on, by or near the water. You can see the region's flourishing agricultural trade at one of the many floating markets where stalls take the form of boats that converge at trading posts on the water in large numbers. It is very easy for you to find a boat to explore the area once you arrive at one of the provinces in the region.
Many travelers opt for Cai Rang floating market, the biggest one in the Mekong Delta. Boats are filled with teetering piles of fruit and vegetables, from carefully balanced watermelons to bright flowers. From the nearby bridge, it's possible to see right across the market, the throng boats making it difficult to glimpse the water. For the best vantage point, you can travel in a traditional boat through the market, watching buyers carefully examine the produce and deals being brokered. But you have to make sure to visit them around 5am-6am to capture the liveness and vibrancy of the market.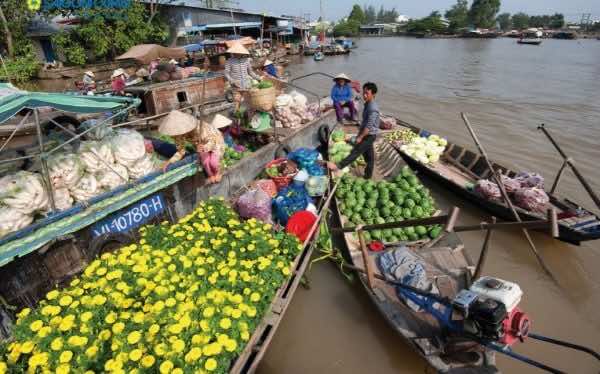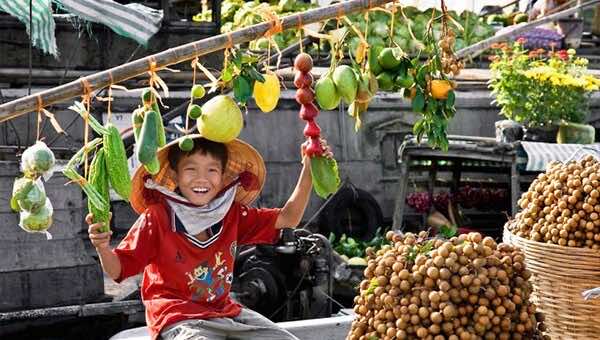 Here is a list of the best floating markets in the Mekong Delta:
Cai Rang floating market, can Tho Province
Cai Be floating market, Tien Giang Province
Phong Dien floating market, Can Tho Province
Nga Bay floating market, Hau Giang Province
Nga Nam floating market, Soc Trang Province
Tran On floating market, Vinh Long Province
5.Enjoying street food paradise
Not only did President Barack Obama sample some of Vietnam's finest local food in Vietnam, but a great deal of travelers also tried and had the same idea with him. You know, in addition to the stunning and breathtaking views sketching the whole country, unique cultures, interesting history and welcoming locals, Vietnam is also famous for its cuisine. It is plausible to say that Vietnam is known as one of ten countries having the best street food. If you are a gourmet and a good traveler, you for definite have much know about the listing of special street food in Vietnam.
The cheapest and one of the most delicious places to find cuisine in Vietnam is in a traditional open-air market. Here, single-dish food stalls, run mostly by women, offer crafted dishes passed from mother to daughter for generations. Eating on the street is by far the most exciting and accessible- way to fully experience daily life in Vietnam, and it's also where you'll find the best food. Walking through shops, heading up secret stairways, meandering side alleys- this excellent guiding can show you the very heart of Vietnam, its food and its culture.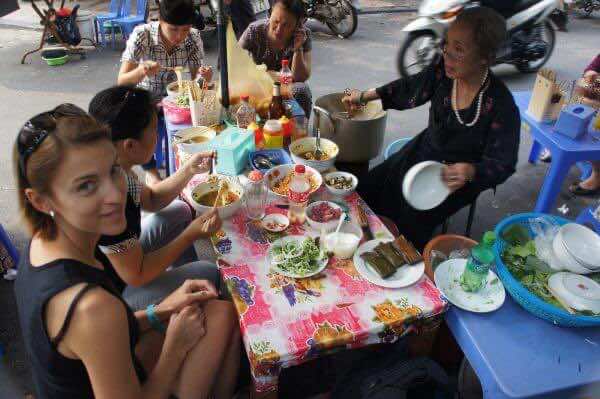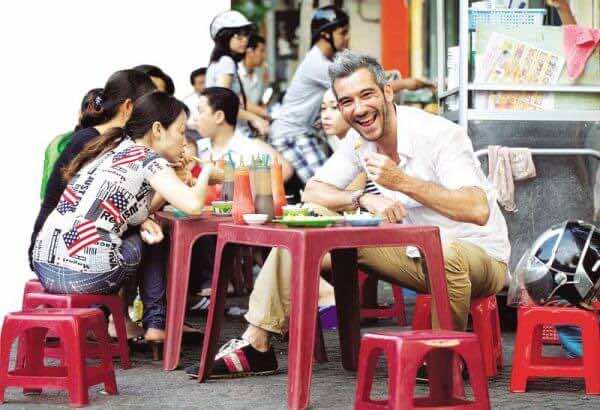 To be continued…