No one likes to get sick, but it can be especially stressful if it happens while you're traveling on vacation. Worries about the safety of food and water, diseases, and foreign health care can be enough to make you consider staying home. However, some of these fears are exaggerated, and others can be eliminated or reduced with research and precautions. Don't let a fear of getting sick while traveling keep you from booking a trip.
Thanks to Vietnam's readily available tourism activities, you will find yourself anywhere from flying, taking cruise trips, staying at a high-end resort, going kayaking on the bay or even simple crossing the streets. Fun as they may sound, some may be more prone to risk than others.
The healthcare system in Vietnam combines aspects of Eastern and Western medicine. At present, most Vietnamese citizens have to pay for medical services themselves at both private and public hospitals. In many cases, Vietnamese people opt for private hospitals as these are better equipped.
Expats and visitors should take out health insurance before they travel to Vietnam. This will cover them for treatment at private healthcare establishments.
Here is the list of international hospitals in Ho Chi Minh City having better equipped and less likely to suffer overcrowding, thus able to cater for the needs of foreign travelers better than public hospitals which have a lower quality due to less funding.
1.FV Hospital (Franco-Vietnamese Hospital)
6 Nguyen Luong Bang, Saigon South (Phu My Hung), District 7, Ho Chi Minh City.
Tel: +84 28 5411 3333
24/7 emergency: +84 28 5411 3500
Vietnamese, English and French speaking doctors
Over the past few years, Vietnam has become a new destination for tourists seeking a unique cultural experience, with the country's untouched beaches, beautiful landscapes, and booming cities. However, very few people would associate Vietnam with modern healthcare. Sensing a need to cater to the growing number of upper and middle class patients in Vietnam, a large group of French doctors decided to set up FV Hospital, a luxury, modern hospital in bustling Ho Chi Minh City.
Staffed with around 20 expatriate doctors, most of whom come from France but also America, Belgium, Korea and with 80 Vietnamese doctors, most of them trained overseas, often in France. FV Hospital, which opened its doors in 2003, has gained a reputation premier location for international quality healthcare in Vietnam.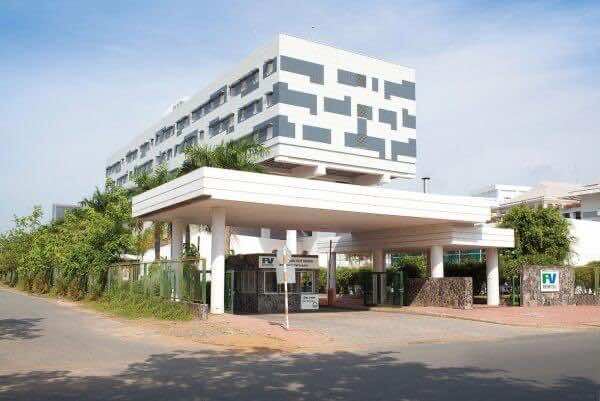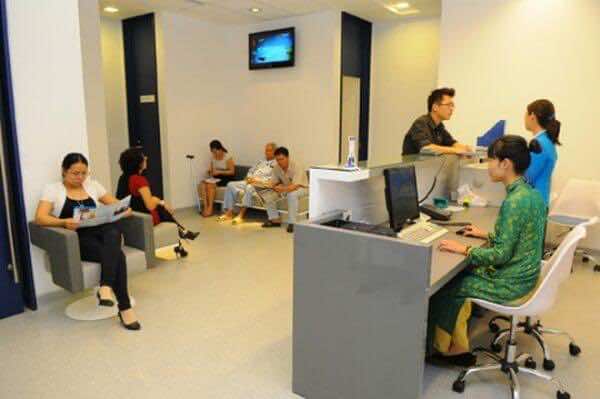 2.Family Medical Practice Vietnam
FMP District 1 Medical Center (24/7)
34 Le Duan Street, District 1, Ho Chi Minh City.
Tel: +84 28 3822 7848
FMP District 2 (Monday-Friday: 8 am – 5 pm, Saturday: 8.30 am – 12.30 pm)
95 Thao Dien Street, District 2, Ho Chi Minh City.
Tel: +84 28 3744 2000
As the first foreign-operated multidisciplinary medical provider to open in Vietnam, Family Medical Practice has consistently remained at the forefront of international-standard medicine since 1994. With a diverse multinational team of physicians and the latest in medical equipment and diagnostic tools, we can now offer extensive healthcare and emergency medical services nationwide to Vietnamese, expatriate, and corporate customers. The considerable combined experience and expertise forms the basis of a compassionate, ethical professional and confidential approach.
The multinational team of physicians are recruited from around the world including the US, Israel, Japan, South America, Spain, Canada, France, the Philippines, and Vietnam. Their combined experience provides a standard healthcare that is among the best in the region.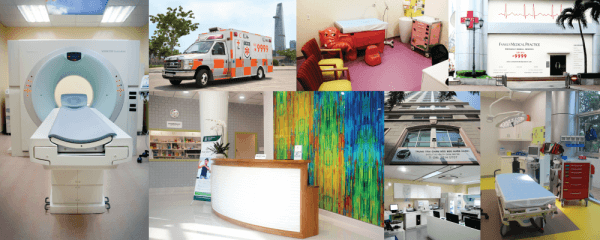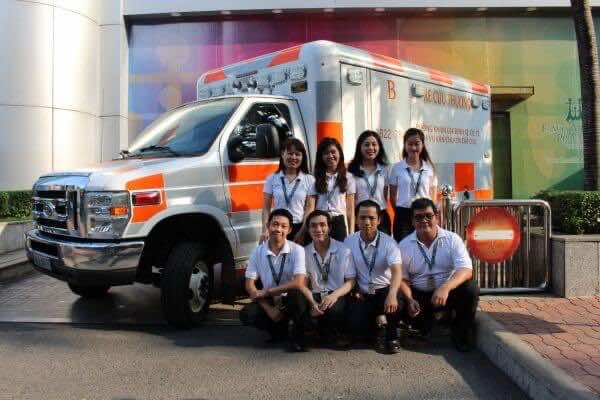 3.Raffles Medical Ho Chi Minh City
167 Nam Ky Khoi Nghia Street, District 3, Ho Chi Minh City.
Tel: +84 28 3824 0777
The clinic has been operating in Ho Chi Minh City for over 20 years. It is conveniently located at the intersections of District 1 and District 3 in the city center and not far from Tan Son Nhat International Airport.
The clinic is open 24/7 for emergency and in-patient services, and offers a wide range of medical services including general practice, vaccinations, dentistry and specialist services, and diagnostic services such as X-ray, ultrasound and laboratory services. They also provide health screening services encompassing employee and Australian Visa health checks.
There is a dedicated multilingual medical team to serve the local community, and a Japanese clinic staffed with Japanese doctor, nurse and customer service representative to cater to the Japanese community residing in Ho Chi Minh City.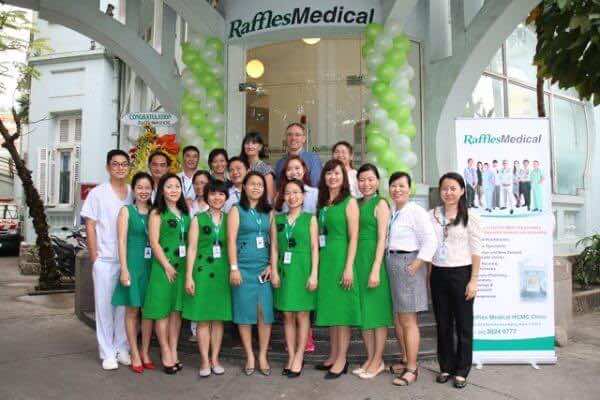 4.Columbia Asia International Clinic
8 Alexandre de Rhodes Street, Ben Nghe Ward, District 1, Ho Chi Minh City.
Tel: +84 28 3823 8888
Columbia Asia Vietnam is private hospital and clinic system, 100% foreign-owned by US fund. Columbia Asia Vietnam is dedicated to deliver effective healthcare excellent value and to be the preferred choice for families and business.
Columbia Asia Vietnam has been in operation nearly 20 years and has gained both trust and loyalty from patient. Besides, the medical team help patient understand thoroughly the cause and method treatment, patients and their families get high-quality, compassionate care to all patients across this health system.


5.International Medical Centre (CMI)
1 Han Thuyen Street, Ben Nghe Ward, District 1, Ho Chi Minh City
Tel: +84 28 3827 2366
CMI is an outpatient clinic located in the heart of Ho Chi Minh City which offers high quality medical services to foreigners, French and Vietnamese nationals. The medical team, made up of French and Vietnamese trained doctors who speak English, French and Vietnamese, provide general and specialized treatments as follow: general and tropical medicine, cardiology, psychology, paediatric, osteopathic medicine, speech and language therapy, obstetrics/gynaecology, psychiatry, etc.
When in HCMC, trust CMI to provide high quality, affordable medical care delivered with the highest standards of ethical conduct.
CMI donates 100% of its profits to the Children's Solidarity Fund at The Heart Institute in Ho Chi Minh City.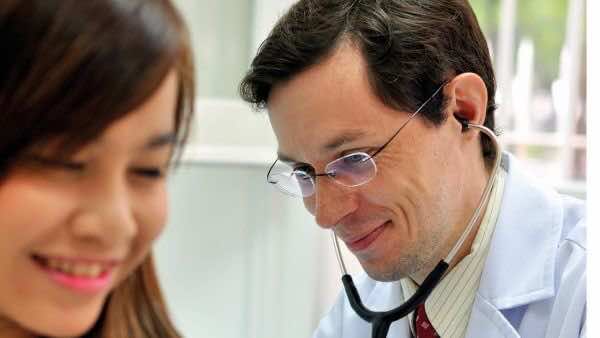 6.Vinmec International Hospital – Central Park
208 Nguyen Huu Canh Street, Binh Thanh District, Ho Chi Minh City.
Tel: +84 28 3622 1166
Vinmec Central Park International Hospital apply all the JCI (Join Comission International) standards to operation and occupational activities of Vinmec Central Park Hospital with the aim of supplying a level and perfect medical system which reaches the international standard and gives a guarantee for the safety of patients and staffs in the hospital from the first days.
At the Vinmec Central Park:
Safety culture becomes a leading priority. The hospital found a system of analysing, evaluating risks, and then bring up suitable improvements, giving a guarantee for the safety of both patients and staffs. The staffs are safe and comfortable to work and bring the greatest satisfaction to the customers.
Health condition of patients is continuously evaluated before, in and after the treatments.
Choices of treatment for patients are considered carefully, guaranteeing to be suitable and effective for each circumstance.
Patients and family are educated about healthcare.
Beneficiaries of patients are respected and featured, including the right of privacy and information security, the demands of mentality – beliefs – cultures.
Patients and medical staffs are protected from the risks of bacterial infections.
The hospital is always ready to deal with urgent circumstances.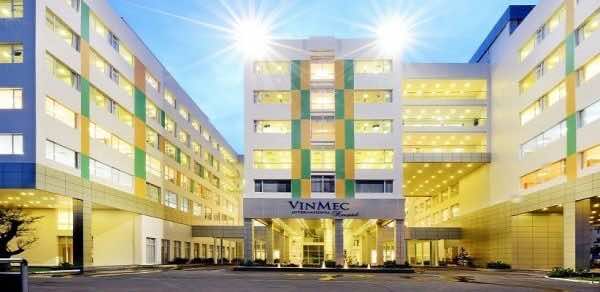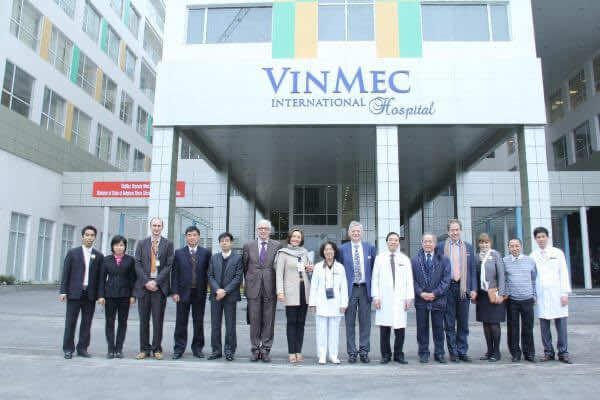 Your health is important, and there's a lot to consider when traveling to make sure you stay healthy. Don't let a fear of getting sick while travelling prevent you from taking a vacation!