It you're planning on traveling to Vietnam, the one sandwich you will hear about and will not want to miss is the Banh Mi. This iconic sandwich has been consistently ranked as one of the best sandwiches in the world. Undoudtedly, banh mi is one of Vietnam's greatest culinary gifts to the world, and there is no better place to try one these special sandwiches than in Ho Chi Minh City.
What is that makes this sandwich so fantastic that its notoriety is spreading across the world so quickly? As a cool and foodie, I appreciate the balance of the sandwich. It touches every sensation on my tongue perfectly and leaves nothing more to be desired from such a humble and simple sandwich. Perhaps the hunt for Saigon's best banh mi is a never ending search that's impossible to ever come to a complete conclusion or agreement upon, and I'm sure there are hundreds of the best banh mi you could eat in Saigon. So you never end up going to McDonald's and wasting your trip munching in unhealthy fast food.
Not only layered with meat, smothered in pate and mayo, and topped with fresh herbs, pickles, and chili creates a texture and flavor party, you can enjoy many kinds of toppings inside Vietnamese bread. In order to help you, we have come up with some tips to make the best of your time enjoying the local food on your trip, experience a paradise of banh mi in Saigon.
1. Banh mi thap cam – Brimming with all the ingredients
If you have to pick up one version to present banh mi in Saigon, this must be it. Distinctive, simple, cheap, tasty, widely available locally and can be found at every corner of the city. Both locals and foreigners favorite for this kind of sandwich in Saigon for reason: it is incredibly, and incredibly meat and healthy. Along with a substantial layer of mayonnaise and pate, there are easily some layers of salty lunch meats and grilled pork, ranging from pink to white, and quite a generous sprinkle of pork floss tossed in as well. While it heavy on the meat, it is light on vegetables, with just a few slices of cucumber, cilantro, and a small amount of Vietnamese pickles – daikon and carrots.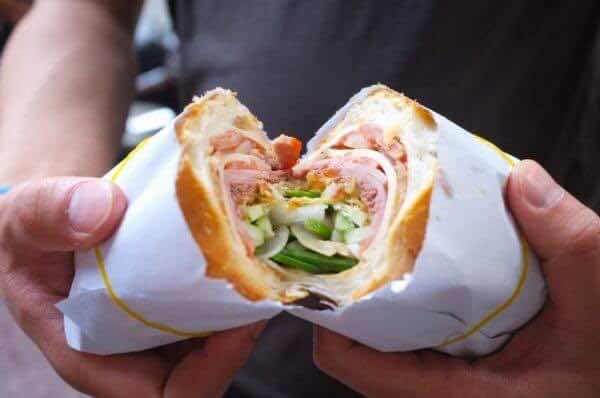 Where to eat:
Bánh mì Huỳnh Hoa – 26 Le Thi Rieng Street, Ben Thanh Ward, District 1, HCMC.
Opening hours: 3.30 pm – midnight
Bánh mì Hồng Hoa – 62 Nguyen Van Trang, Pham Ngu Lao Ward, District 1, HCMC.
Opening hours: 5.30 am – 9.30 pm
Bánh mì Bảy Hổ – 19 Huynh Khuong Ninh, Da Kao Ward, District 1, HCMC.
Opening hours: 2 pm – 5 pm
2.Banh mi ga – Chicken bread
Unlike normal version of banh mi, banh mi ga is round in shape and filled with cotton mea originally made from chicken, mayonnaise, vegetable pickle. You know, many of Vietnamese sandwich involve pork liver pate or pork belly or ham slices, plus maybe mayo, some cucumber. Banh mi ga is quite cheap and simple, yet super tasty and addictive. Who can resist the sweet and salty taste of cotton meat, sourness of carrot and daikon pickle, spiciness of chili sauce, and fatness of mayonnaise… all combined in a crispy hot bread roll. The chicken shreds are not big or tiny but medium enough to be fluffy.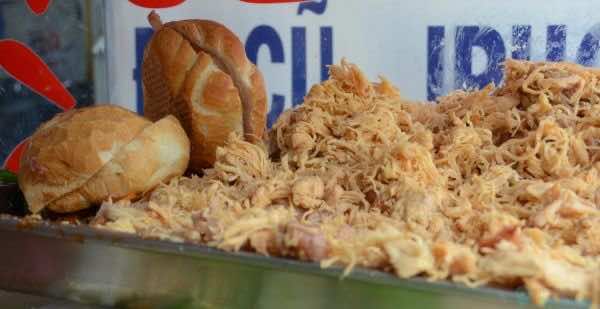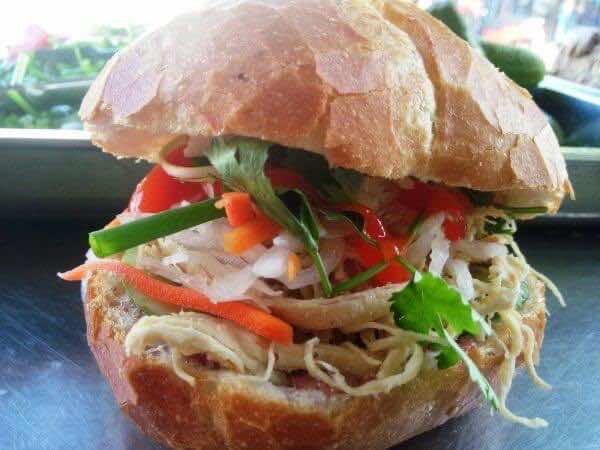 Where to eat:
Bánh mì Cô Bích – 72/38 Nguyen Thai Son, Ward 3, Go Vap District, HCMC.
Opening hours: 5.30 am – 8.30 am, 3 pm – 9 pm
Banh mì gà Nhân Ngãi – 97 Xo Viet Nghe Tinh Street, Ward 17, Binh Thanh District, HCMC.
Opening hours: 6 am – 9.30 pm
3.Banh mi cha ca – Fish cake bread
The French introduced baguettes to Vietnam, however the Vietnamese created a large variety of delicious and creative fillings to go inside. This fish cake baguette is one of my favorite as there are great contrasts of textures – from the crisp baguette to the bouncy fish cakes. Divide the fish cakes among the bread, then top with spring onion and coriander. Drizzle with soy sauce and chili sauce, and scatter with sliced fresh chili.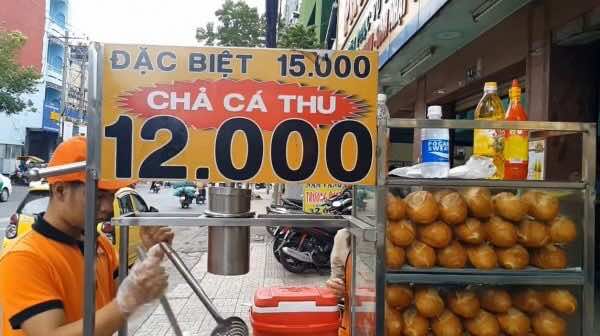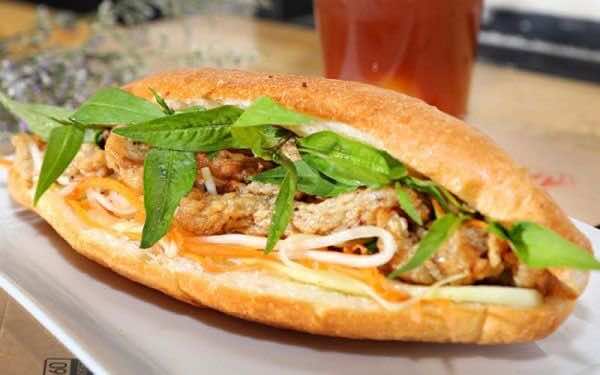 Where to eat:
Bánh mì chả cá – 41/1 Nguyen Binh Khiem, Da Kao Ward, District 1, HCMC.
Opening hours: 6 am – 1 pm
4.Banh mi bi – Shredded pork skin bread
Here is one of the most popular bread in Saigon. From kids to elderly fall in love with it. If you love banh mi, I think you should try this dish at least once time. Firstly, I will tell you the main ingredients to create one of stunning Vietnamese sandwich recipes. It is called shredded pork skin. This ingredient is also served along with broken rice. Other ingredients are chopped green onion oil, pickles, coriander and sweet and sour fish sauce dip with minced chili and garlic.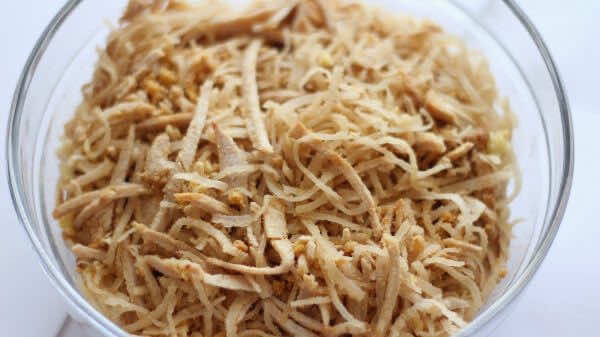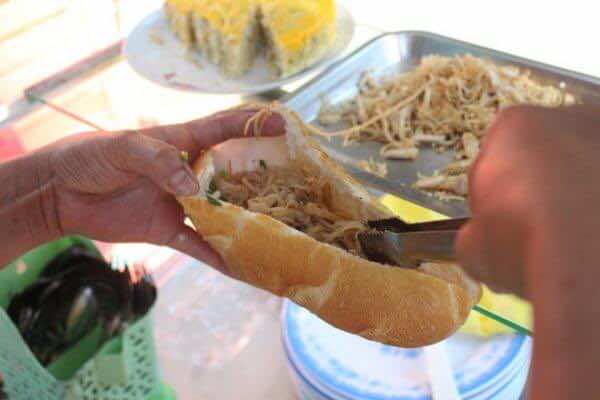 Where to eat:
Bánh mì bì – 172 Tran Hung Dao, District 5, HCMC.
Opening hours: 5.30 am – 9 am/ 2 pm – 5 pm
5.Banh mi pha lau – Vietnamese sandwich with stewed organ
Cow intestine soup is a dish that many locals love. This dish is a combination of the culinary styles of the Vietnamese and the Chinese. Instead of throwing away the inner organs of the cow, Vietnamese people use them for more dishes. To make magic happen, the cook washes all of the organs many times, using salt and lemon to remove bacteria. Then ginger and wine to remove the bad scent, then, they will cook it with coconut milk to make noodle soup. Finally, they will chop the kidney stomach, intestines and heart to serve the hungry phal au lovers. The texture and taste pf the soup goes well with the sweet and sour dipping sauce. On rainy days, a bowl of cow intestine soup with instant noodles or Vietnamese baguette has the magic to brighten up one's mood.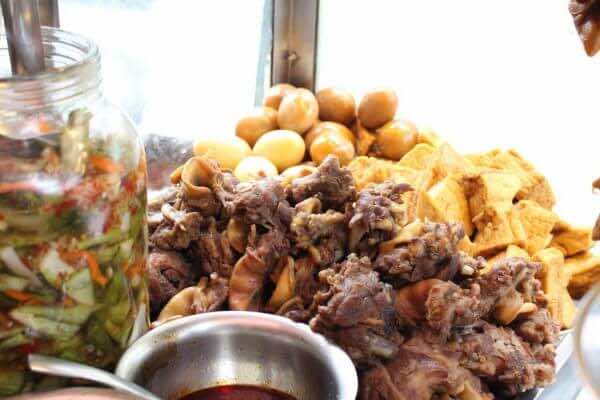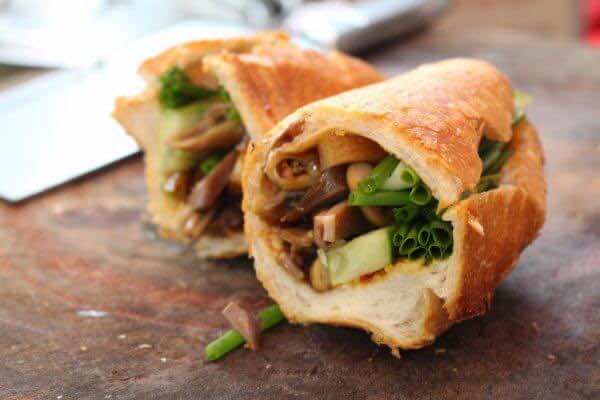 Where to eat:
Phá lấu Tâm Ký – 823 Nguyen Trai, Ward 14, District 5, HCMC.
Opening hours: 11 am – 8.30 pm
Phá lấu dì Núi – 240/30 Ton Dan, Ward 15, District 4, HCMC.
Opening hours: 2.30 pm – 9 pm
6.Banh mi thit nuong – Grilled pork sandwich
In an unassuming corner off Nguyen Trai in Ho Chi Minh City lies Banh Mi 37 Nguyen Trai whose name is the combination of the single item on the menu and the street address where it's parked, a small banh mi push cart, with an international following and snacking lines of customers. The woman who operates it sets up the cart about 5pm, and might be sold out by 8pm, so you need to get there early.
Specializing in banh mi thit nuong, it is stuffed with the grilled pork patties, luxurious sticky brown gravy, and freshly cut chunks of cucumber. It has a crisp bite, succulent meat, and the sauce is cloys to your mouth leaving you craving or more.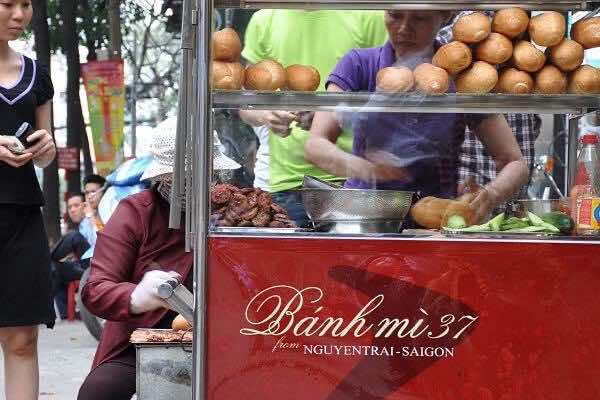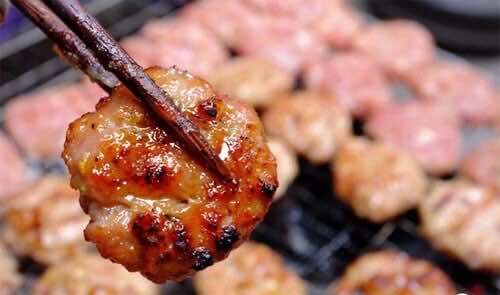 Where to eat:
37 Nguyen Trai Street, Pham Ngu Lao Ward, District 1, HCMC.
7.Vietnamese sandwich with wonton
Although steamed wonton is a new type of filling inside banh mi, it attracts many foodies in Ho Chi Minh City. Ground pork and other ingredients are wrapped in a wrapper made of rice flour. Then it will be steamed until it is well-done and put into the baguette.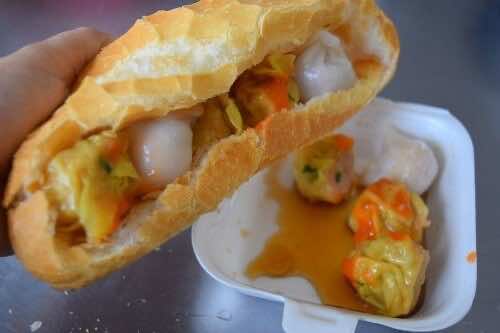 Where to eat:
Bánh mì xíu mại khô – 358 Nguyen Thi Minh Khai, Ward 5, District 3, HCMC.
Opening hours: 5.30 am – 11 am
8.Vietnamese sandwich with roasted pork
The fillings include roasted pork with crunchy skin, pickled carrot and radish, cucumber and herbs, especially it is quite spicy.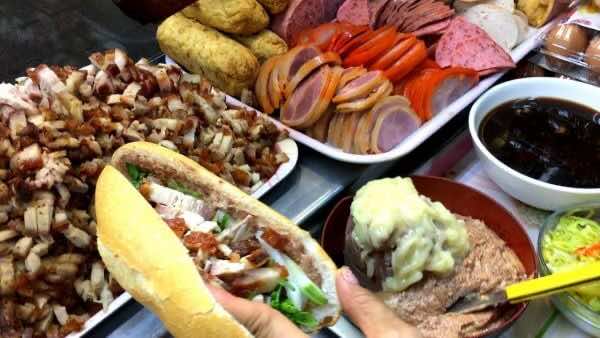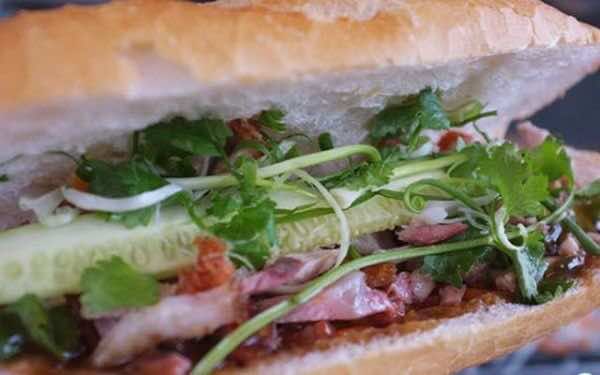 Where to eat:
Bánh mì Liên Thái – 95 Tran Dinh Xu Street, Nguyen Cu Trinh Ward, District 1, HCMC.