Travel around the world, I'd rather eat my way through it.
When it comes to traveling, most people play it safe. The more exotic or different the place is, the safer people tend to become with their food choices. We believe that one of the best ways to experience the local food and culture is through authentic food.
After all, you've taken the time off from work to travel, you've booked your flights and you know where you are staying. Now what's left is to open yourself to new flavors, tastes and experiences. All of which will not only feed your body, but give you a deeper appreciation for the local food, people and culture.
Different areas of the world have so many few flavors and dishes that you would never even think of. From decadent scoops of gelato to exotic acarajé, there is always something fun to try.
There are a wide range of traditional Vietnamese cakes you shouldn't miss when you visit the country. Main ingredients of many delicious Western sweet cakes are wheat flour, cheese and butter. Most of our favorite sweet cakes are made from glutinous rice, rice or rice flour, and coconut cream. In Vietnam, cakes are not only foods but also gifts in daily life of each Vietnamese person.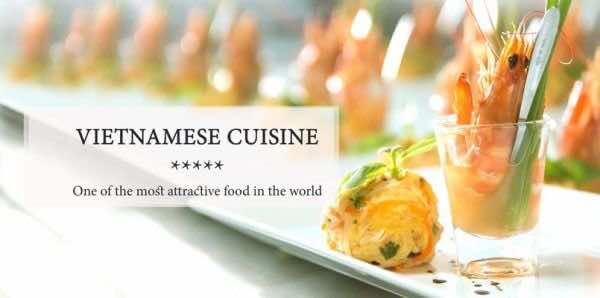 Here is a selection of special cakes that you should try when traveling to Vietnam.
1.Banh xeo – Vietnamese pancake
Vietnamese pancake – banh xeo – is one of the most popular dishes in Vietnam. Because of geographical differences in cooking styles and spices in Vietnam, banh xeo can have many different regional interpretations. Southern, Northern, or Central style banh xeo all have different variations to meet local tastes.
Banh xeo is a crepe made from rice flour and coconut milk colored with turmeric and packed with a standard filling of mung bean paste, shell-on prawns, bean sprouts, and slices of boiled pork. The batter gets evenly spread across a large piping hot wok with a generous amount of oil, creating a crispy exterior that is folded in half when fully cooked. The result is a thin and savory pancake. To enjoy one like a local, cut it into manageable slices, roll it up in rice paper or lettuce leaves and dunk it in whatever special sauce the chef has mixed up to you. The size of banh xeo varies throughout the country as well, and the biggest version can be found down south, in Saigon.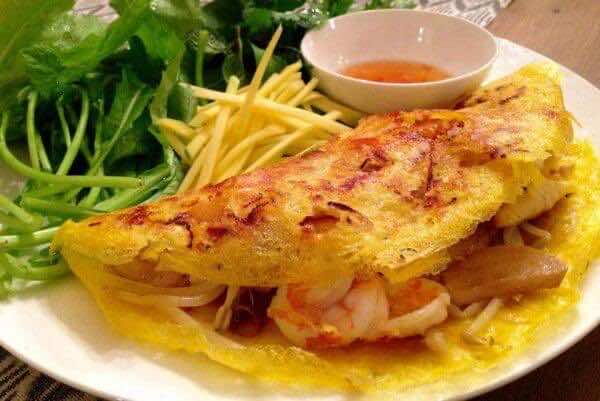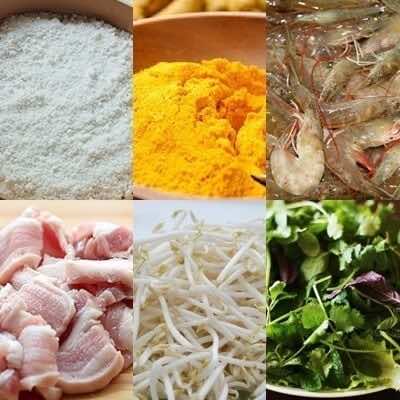 2.Banh cuon – Vietnamese steamed rice rolls
Vietnam has an endless list of dishes that can be eaten for breakfast but this is one of our absolute favorites. Simple, healthy and delicious, banh cuon is a must try when in Vietnam. These delicate rice noodle rolls may look familiar if you've had cheng fun at a dim sum restaurant before. When it comes to banh cuon, these parcels are filled with minced pork and wood ear mushroom, then topped with a smattering of fried shallots, Vietnamese sausage, thinly sliced cucumbers and bean sprouts, and dipped into fish sauce. Make sure to eat them while they're hot and soft.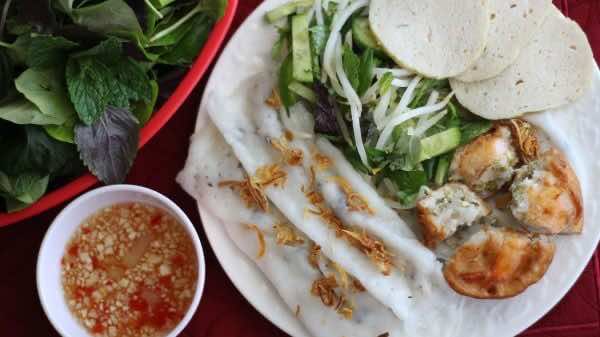 3.Banh mi – Vietnamese baguette
If you're planning on traveling to Vietnam, the one sandwich you will hear about and will not want to miss is the Banh Mi. This iconic sandwich has been consistently ranked as one of the best sandwiches in the world. What is that makes this sandwich so fantastic that its notoriety is spreading across the world so quickly? As a cool and foodie, I appreciate the balance of the sandwich. It touches every sensation on my tongue perfectly and leaves nothing more to be desired from such a humble and simple sandwich.
A good banh mi would have a combination of many things – fresh bread that is crunchy, delicious fillings and fresh veggies with a nice spicy and savory sauce. You can find many different banh mi vendors around the city, literally hundreds of those. The size of the banh mi is shorter than the typical French baguette as well, and the types of fillings used is endless. Some of these include pork belly, roasted pork, grilled pork, meatballs, different kinds of Vietnamese sausages, omelet, fish meat, cheese, pate, homemade mayonnaise and of course various veggies such as pickled carrots, daikon, cucumber, coriander, onions…
4.Banh Chung – Sticky Square Cake
This is the cake in Vietnam food culture since long time ago. According to the old legends, banh chung appeared on the Hung dynasty. This cake symbolizes the ground expressing gratitude to the ancestors and the earth, sky. Besides, it emphasizes the important role of rice and nature in water rice culture. In contrast to the fast food in modern life, the process of making banh chung is time consuming and requires the contribution of several people. Family members often take turns to keep watch on the fire overnight, telling each other stories about Tet of past years.
Main ingredients are glutinous rice, pork meat, and mung beans wrapped in a square of bamboo leaves that will give the rice a green color after boiling. The sticky rice must be very good and was soaked in water in the previous day. Rice cake is wrapped in square shape, and the wrapping power must be neither tight nor loose. Then the cake will be boiled in about 12 hours by wood. It has nutrition with an original tasty flavor and may be kept for a long time. Eating banh chung with vegetable pickles will bring you unforgettable taste.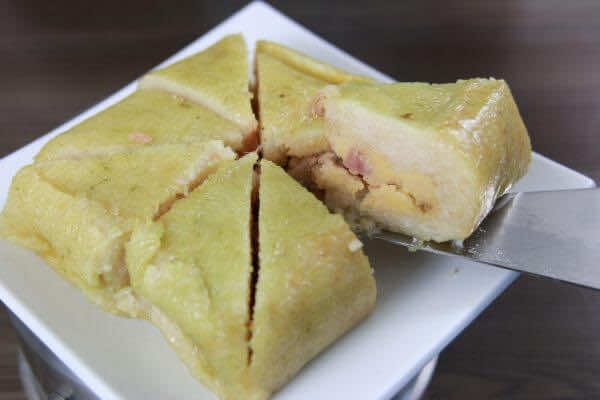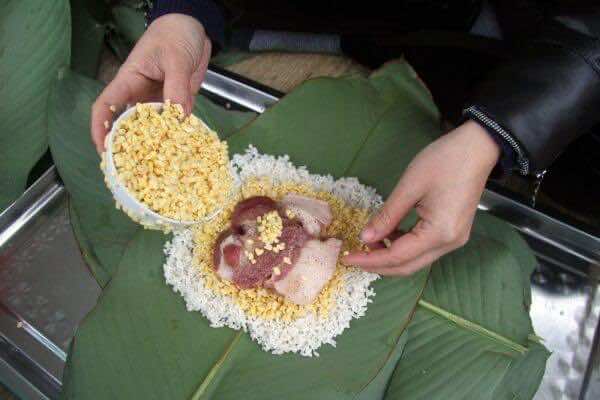 5.Banh duc
Banh duc is a very popular dish in almost rural areas in Northern Vietnam. its main ingredients are from agricultural products, including non-glutinous rice flour, and peanut. It is in white color with a soft texture and mild flavor. Banh duc is typically accompanied by such savory ingredients as ground pork, fried onions, sesame seeds, peanuts and grilled ground prawns. It is served with commonly with Vietnamese sweet fish sauce.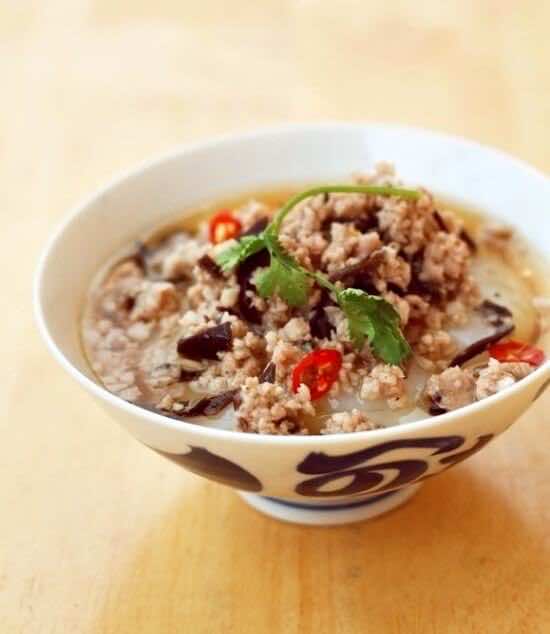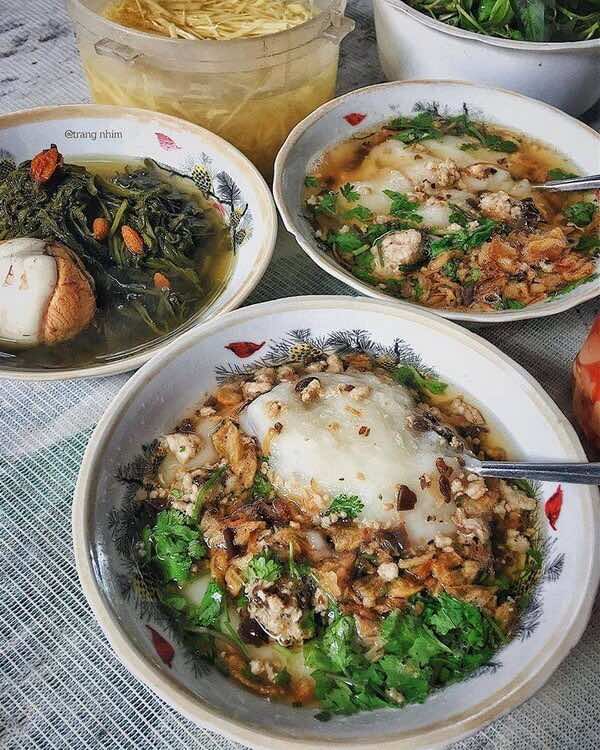 6.Banh khot
These popular cakes are mainly made of coconut milk and rice flour, topped with flash fried seafood such as medium-sized shrimp or squid, and served with fresh vegetables and sweet fish sauce. The plate of banh khot is set on the table leaving you to assemble your very own wrap. If you've tasted banh xeo, a kind of Vietnamese pancake, then you will be familiar with the greasy and sweet-smelling taste in its tinier form.
To demonstrate the proper way of eating banh khot, first, use the big leaves, such as the broccoli leaves, as the base of wrap. Then place the smaller herbs and the small pancakes on top. A little-shredded papaya can also be added. Roll the wrap tight, then dip it into the fish sauce-based condiment, and enjoy.  Even though the crispy banh khot is heavily fried, the actual taste us still light when you mix it with the greens, so you won't get sick of it.  Banh khot bites are ideal as an appetizer and a great street treat for a snack or a light meal, but can be doubled up and turned into a main dish at all hours of the day.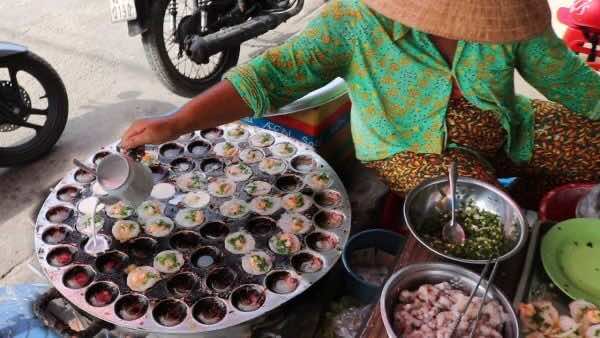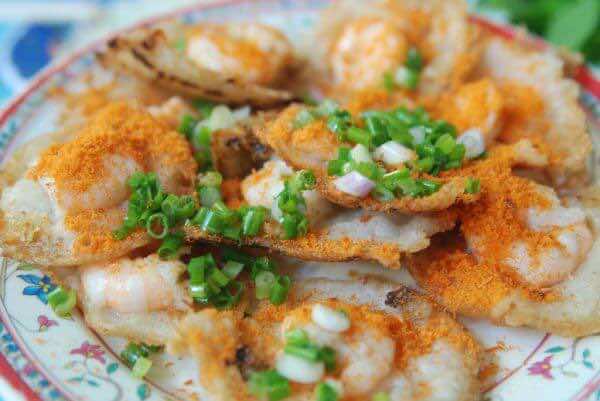 7.Banh da lon – Pigskin cake
There are few things in the culinary that instantly scream "Vietnamese", and I think banh da lon is one of those. This scrumptious dessert is a favorite among locals and found almost everywhere. The cake has such visual appeal with its vivid green and yellow layers and you've wondered how this cake is make, wonder no more friends!
Banh da lon is a steamed layer cake, which includes rice flour, tapioca starch, mashed mung beans, taro (or durian), coconut milk, water and sugar. Its texture is soft, gelatinous and chewy, which explains why it is cheekily referred to "pig skin". This dessert comes in all shapes and sizes with alternating layers of green and yellow tapioca flour. The savory aroma of coconut, the riches of mashed mung beans and the softness of the cake all mingle together to create a pleasant taste that lingers on your taste buds long after you first bite.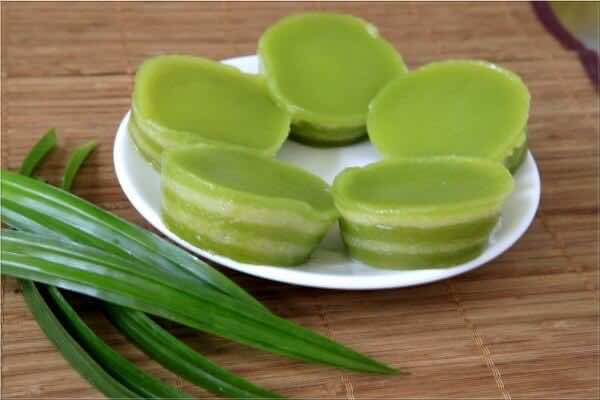 8.Banh gio – Vietnamese pyramid dumplings
In Hanoi, street food stalls can be found everywhere – from hidden alleys in the Old Quarter to newly-constructed roads in the expanding city, to the makeshift afternoon stalls set up by wandering street peddlers. This is why as the sun goes down, it is difficult for Hanoians to resist the temptation to snack. Among these tempting snacks, banh gio is a favorite. Filled with pork, shallots, minced mushroom and pepper, the dumpling comes wrapped in banana leaf.
Once the leaves have been removed to reveal the translucent dumpling, expert eaters just bite into it cupping the leaves in their hands, but spreading the leaves out and using a teaspoon is a far "safer" option in terms of avoiding a mess. Inside the mouth, it seems to melt on the tongue, with the soft exterior and well-cooked filling making the whole cake tender and aromatic. Banh gio is sometimes served with Vietnamese sausage, grilled pork, chili sauce and cucumber. In some places, banh gio is dipped in soya sauce before eaten.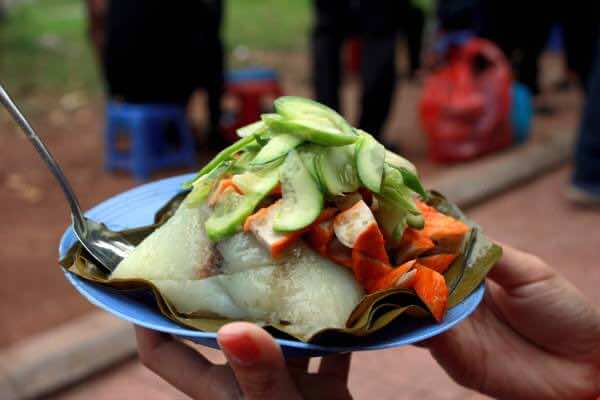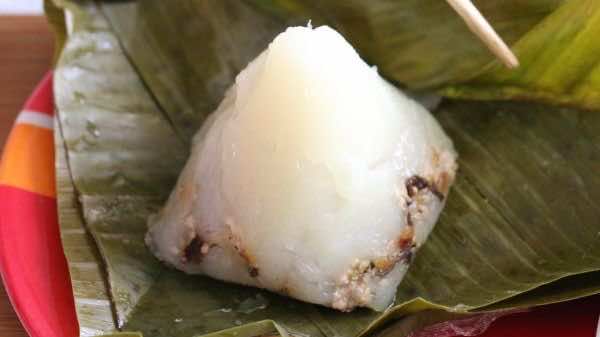 9.Banh tam bi – Silk worm cakes
Coming to South Vietnam, it would be a shortage if you do not enjoy banh tam bi. People call it silk worm cake because cake fibers look like silkworms. A plate of banh tam bi consist of thick noodle made form rice flour and tapioca flour, sliced boiled lean pork, shredded boiled pig skin mixing with roasted rice powder, cooked coconut cream with sugar, fish sauce dip, fresh vegetables such as cucumber, sliced salad, beansprouts and herbs. To eat, diners mix all above well. The food has a perfect taste which could make any person love it.
Anyone eating this dish at first time may be surprised because the dish is both salty and sweet.  In fact, the salty taste comes from fish sauce and sweet taste comes from coconut cream. If you eat banh tam bi slowly, you can feel salty, sweet, sour, hot tastes and greasy. You can eat banh tam bi at any time of the day – every meal.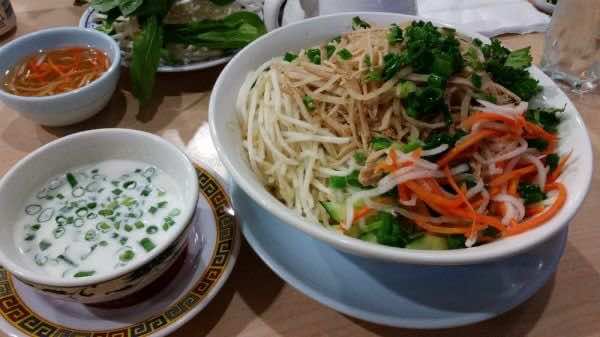 10.Chuoi chien – Fried banana
Fried banana is a street snack that is hard to forget. Chuoi chien is a popular Vietnamese dessert recipe made with bananas dipped in a rice flour batter and fried till golden and crispy. Originated in Vietnam's countryside, the cake has cheap and popular ingredients and simple recipe. Crispy on the outside but warm, sweet, and fragrant on the inside- it is no wonder this is a really common street snack in Saigon. This popular dessert is made from small bananas, known locally as chuối xiêm or chuối sứ, which are much sweeter than the large bananas usually sold in Western countries. Actually, if you want to make the most heavenly crunch outer crust, you have to fry it double. When the bananas fritter begins to golden, take it out and dip it back in the batter, and then refry it.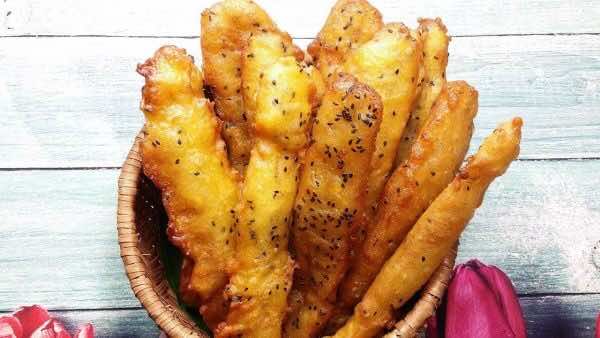 Hopefully, you will have opportunities to crave every single one of the special cakes in Vietnam mentioned above.
Comments
comments