Dalat goes by various lovely names, each associated with one or more of its distinct characteristics: the City of Eternal Spring, the City of Love, the City of Thousands of Flowers, the Land of Peach Blossoms, the Little Paris, the City of Pine Forests, the Land of Mist, etc.
Situated at an altitude of 1,475 meters above the sea level on the Lang Biang plateau with an average temperature of 17.8 degree Celsius, Dalat exudes its own romantic vibe and poetic charm. The city is a respite from the summer heat and chaos of the surrounding cities. You will fall in love with its beauty in no time without even realizing. While visiting, you will see valleys of blooming flowers, spectacular waterfalls and lakes, hear exotic birds singing, and breathe in the fresh pine air.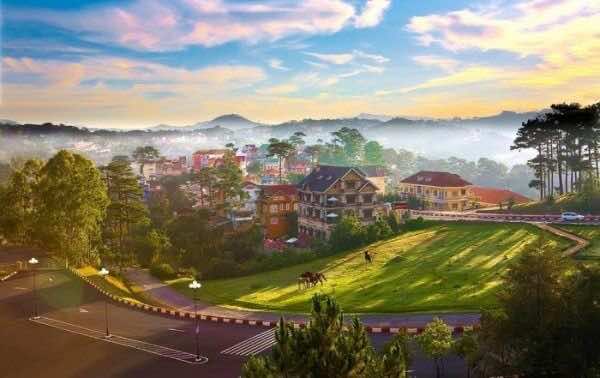 Dalat isn't called "The City of Flowers" for no reason; flower growing is what it's famous for, amongst many other things. The year-round cool climate and fertile soil is ideal to grow not only vegetables and fruits, but also many different kinds of beautiful flowers ranging from lavender to the light pink of blossoms and the buckwheat flower.
Cherry blossoms (from January to February)
When freezing winds of winter is gone and warm spring sunbeam comes, cherry blossoms begin blowing boomingly at every corner of this city. Cherry blossoms with intensive fascination, have contributed to "Dalat brand", and keep long-lasting memories in the hearts of tourists coming here in spring. According to some elders, this flower was called cherry blossom because it is originally the wild apricot trees was tamed by native people. The color of this flower was pink and look like the cherry, so the name of cherry blossom was called as today.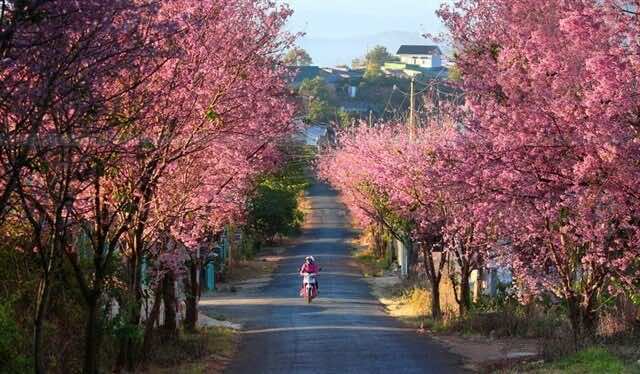 You can find cherry trees in the area around Xuan Huong lake, Tuyen Lam lake or on some streets such as Quang Trung, Dong Da, Hung Vuong, Nguyen Du, Tran Hung Dao.
Purple Phoenix (from March to April)
When the cheery tree vent the final petal as goodbye of spring is appointment of purple phoenix. From March to the end of April, the small streets around Dalat are "dyed" purple by the phoenix trees. And the very same purple made a special thing for Dalat. Only in the highlands, where the climate is cool and cold that can make a living for fragile flowers. This flower has brought to Vietnam from France and Australia during the 1960s and 1990s. You might stumble across a patch of these flowers while wandering the streets of the city, mostly found in Nguyen Thi Minh Khai St, Nguyen Van Cu St, Lycée Yersin college (Cao Dang Su Pham Da Lat).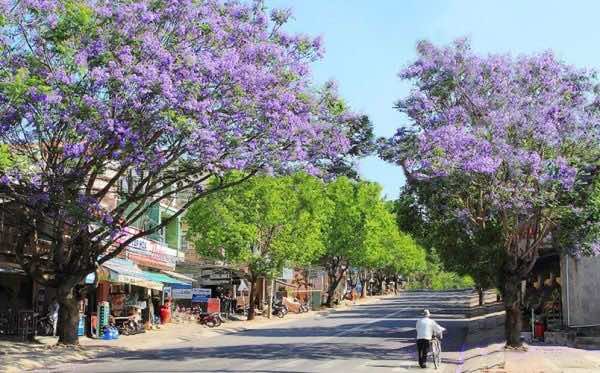 Lavender (June)
Of course, you can find this charming flower elsewhere in the world, but in Vietnam, Dalat is the only city which can offer you a field of the flower. The lavender field is owned by Le Tien Thanh, a local engineer who had failed many times before he could find a way to make the foreign flowers adapt to Dalat's soil and weather.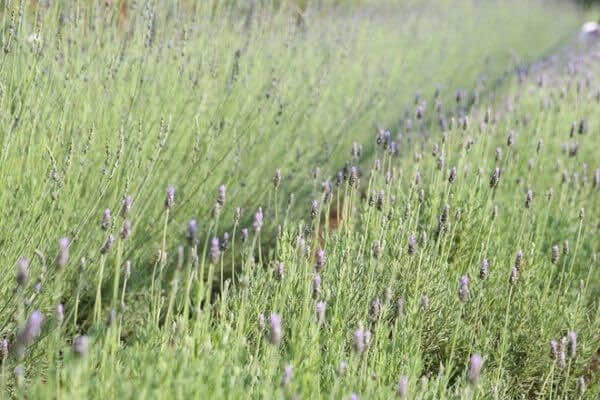 You can gaze at lavender at the most attractive spots in Dalat.
Van Thanh Flower Village – 43 Van Hanh, Ward 8, Dalat, Lam Dong.
Opening hours: weekdays after 4.30 pm, weekends: all day
Entrance ticket: free.
The Valley of Love – 7 Mai Anh Dao, Ward 8, Dalat.
Opening hours: 8 am to 9 pm
Entrance fee: 50,000 VND for children and 100,000 VND for adults.
Tuyen Lam Lake – Ward 4, Dalat.
Opening hours: all day.
Entrance fee: free.
Buckwheat Flowers (from August to September)
When it comes to buckwheat flowers, many people known as the specialty of the northernmost land of Vietnam, because every year, just when the first monsoon starts blowing, these tiny white flowers simultaneously flourish, flooding the whole rocky mountain. These days, southern Vietnamese do not have to travel the long distance to Ha Giang to gaze at the beauty of this flower, as they can find it in Dalat. Master Van tri, the owner of Van Duc pagoda, brought the buckwheat seeds from Ha Giang to plant it in the field facing the pagoda.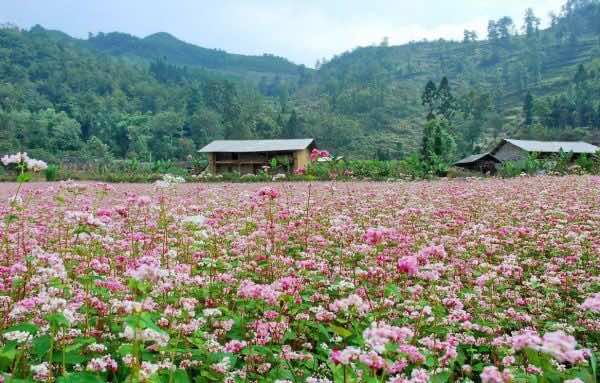 You can enjoy buckwheat flowers at:
Van Duc Pagoda: on the foot of Ta Nung pass. It is approximately 17 km from the city center. Depart from Dalat and drive the route to Cam Ly waterfall, then follow the DT725 route to Ta Nung town.
Dalatmilk Company – Tutra, Don Duong, Lam Dong (30km from the city center). Do not forget to bring your identity card or passport to go inside. It is open from 8 am to 4 pm.
Cau Dat tea hill – Xuan Truong, Dalat, Lam Dong.
White mustard blossom (October)
While tree marigold flower is bright throughout roads of Dalat thanks to its yellow color, white mustard seems become an ideal background, illuminating the tree marigold as their blossom time is the same. Anyway, the white mustard flower carries the elegant, innocent, and romantic charm other flower kinds must admire. The locals grow it for oil and seeds, but they don't think that it provides a dramatic backdrop for visitors experiencing and exploring Dalat city in blossom seasons.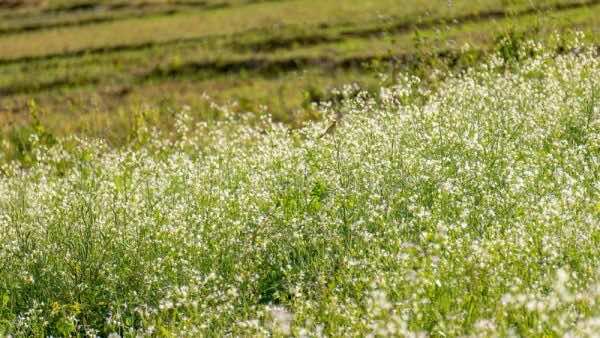 The white mustard field is on the foot of Ta Nung Pass, on the opposite side of Me Linh Garden café.
Wild sunflowers (from the end of October to November)
Not only marked the end of wet season, when wild sunflowers bloom is the time visitors come to Dalat city, to be immersed with the dreamlike the scenes and above all to indulge in wild yellow of wild sunflowers. Wild sunflowers in Dalat is often grow into large dust along the hillside, along the roads, or altering between small gardens.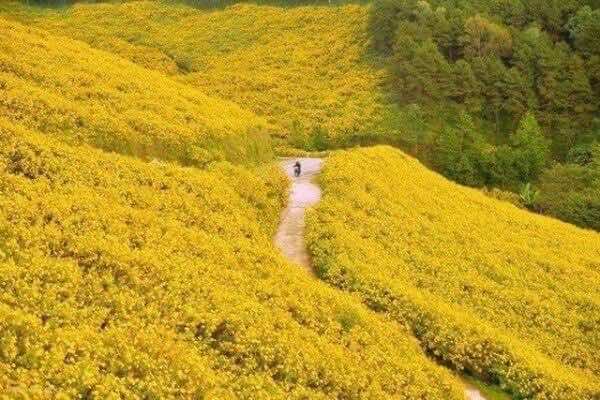 Sunflower (from November to January)
The sunflower has two seasons: November to January and April to May. However, they look most beautiful in the winter and tourists are advised to go here to enjoy the beauty of this flower. The most suitable time to take picture of the blooming flower is 8-10 am or 3-5 pm.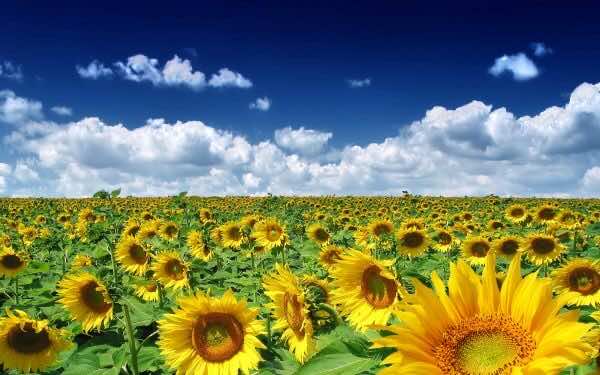 Dalat milk factory has the most beautiful sunflower field. From Dalat city, go straight ahead the Preen pass towards Duc Trong district, pass Fi Nom junction you will see Van Hoa Bong Lai village's welcoming board, 400 meters away from the route. From there, you keep going straight 2-3 kilometers to Tu Tra gate, drive 5 more kilometers from the gate you will get to Dalat milk farm. That where the sunflower filed is!