3 Places to buy silk in VietNam
Silk not only plays an important role in Vietnam society, but it has also been integrated as a staple in Vietnamese culture. This luxurious fabric was once used as typed of currency in trade and lent itself as a medium to showcase Vietnamese beauty through art. Silk has played a big part in Vietnam's history and economic development and still plays a prominent role in the culture today. Vietnam is the sixth leading silk producing country in the world, producing approximately 450 metric tons of silk in 2015.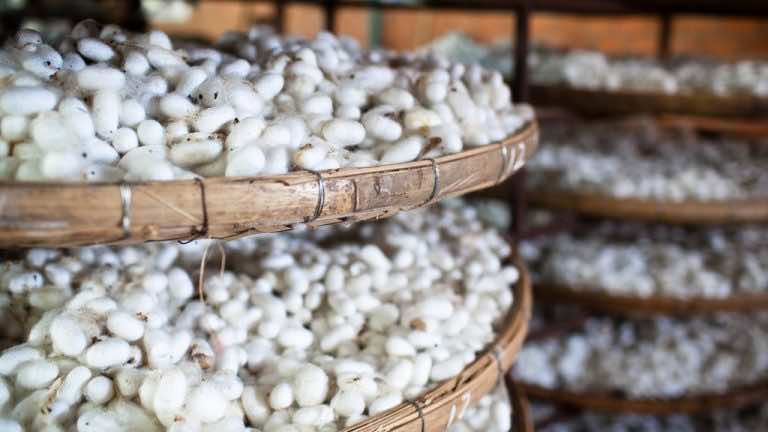 Silk is a natural protein fiber produced from the silkworm's cocoon. The silk fibers are collected are collected from the cocoon, wound onto spools and woven into textile. It takes approximately 3000 silkworms consuming 104 kg of mulberry leaves to produce 1 kg of silk. The process takes approximately 40 hours to produce half a kilogram of silk. It is a comfortable, light weight fabric that possesses the ability to absorb, making it favorable among countries of warmer climates, such as Vietnam.
There are 2 main silk-producing regions in Vietnam: Ha Dong and Bao Loc. Ha Dong is an urban district in the city of Hanoi that has many small silk factories, workshops, and shops. The most well-known silk producing village in this district, Van Phuc, produces more than 2 million meters of silk annually. Bao Loc is a city in Lam Dong Province and is considered to the "capital" of silk production in Vietnam. Bao Loc is home to many large silk producing factories and private workshops. Some estimates say that more that 80% of Vietnam's silk production will come from Lam Dong Province in the future.
One of the best parts about traveling is hunting for souvenirs – exclusive objects that proudly represent their home country. Here are our best picks on great places to buy silk in Vietnam.
Hanoi
Hang Gai Street is the best place in Hanoi to shop for high quality, fashionable silk materials, traditional Vietnamese apparel, and home furnishing. Also known as Silk Street, the entirely of this 300 meter-long street is lined with fashion boutiques and local tailor shops that have been operating for decades, where you can also order personally tailored suits and dresses that are made to measure.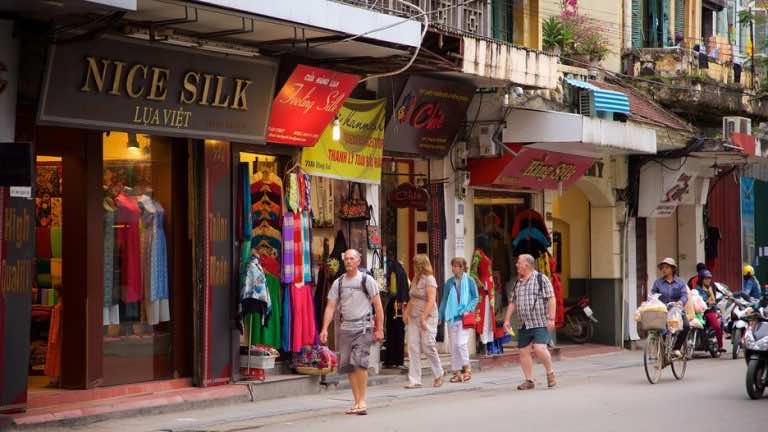 Set on the edge of Hanoi's Old Quarter near Hoan Kiem Lake, Silk Street is renowned for its quality and choice of craftsmen though the best place handed through generations is Le Minh Store at 79-111 at Hang Gai Street, especially if you're looking for a silk T-shirt or a custom-made suit. Added to this, if you search for a wide variety of silk goods including ao dai, dresses, throw scarves, pajamas, suits, you can head over Kenly Silk at 108 Hang Gai.
The ties make the great gifts for the males while the scarves are something the females will love.
Hoi An
Hoi An was once part of the legendary maritime silk road. It is truly a shopping paradise when it comes to silk shops. Whatever you want to draw, print or patterned silk; a wide variety of materials, colors and decorations certainly can satisfy your needs. Think about purchasing something made of silk for yourself or your family and friends back home. Silk scarves and ties are a great choice. The cocoon of silkworm is harvested and turned into individual fibers before it is woven into fabric. Scarves and ties made of silk are extremely soft and lustrous.
There are many shops that sell silk scarves and ties in Hoi An, look in the fabric shop or clothing stores in the ancient town. The price is reasonable.
Bespoke clothing made in Hoi An is preferred because of the sophisticated styles, the good quality of fabrics and the quick services. From choosing the style to selecting the perfect materials, and finally having the skillful tailor take your measurements, you are involved in the entire process. Only a few tailor shops are known for their intricate stitching and are constantly praised for their good work. One of these is Be Be Tailors.
Ho Chi Minh City
If Hanoi and Hoi An are not in your plan when traveling to Vietnam, you can search for some shops in Ho Chi Minh City. Although there is a wide variety of fabrics in some major markets in Saigon like Ben Thanh Market, Tan Dinh or Soai Kinh Lam Fabric Market, you should not go there for buying authentic silk. With fixed prices, you should head over Toan Thinh Silk and Thai Tuan Silk stores in Ho Chi Minh city.
>>> If you looking for a travel agency in SaiGon, Kim Travel is the best Travel Company in SaiGon Ho Chi Minh city. Organise tour package, Mekong delta tours, Cu Chi Tunnels Tours Travel from SaiGon Ho Chi Minh city VietNam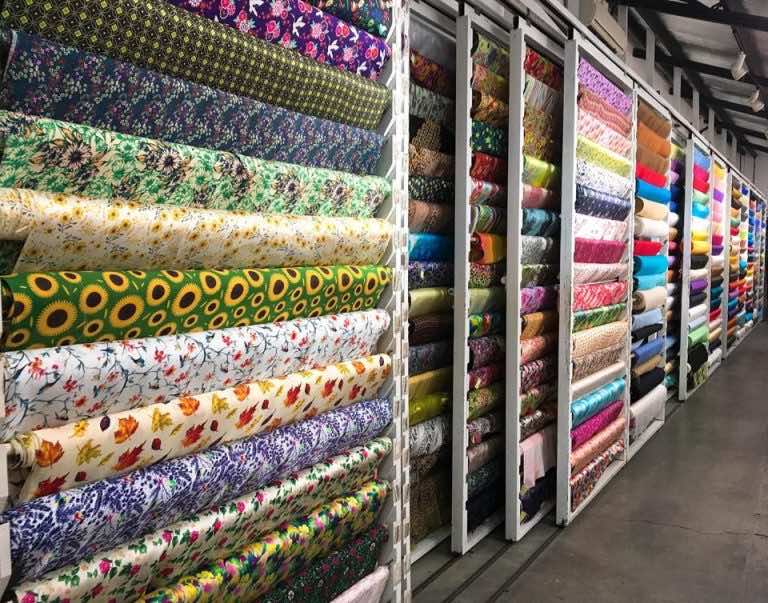 Toan Thinh Silk, 12 Pham Phu Thu, Tan Binh District/ 180 Ly Tu Trong, District 1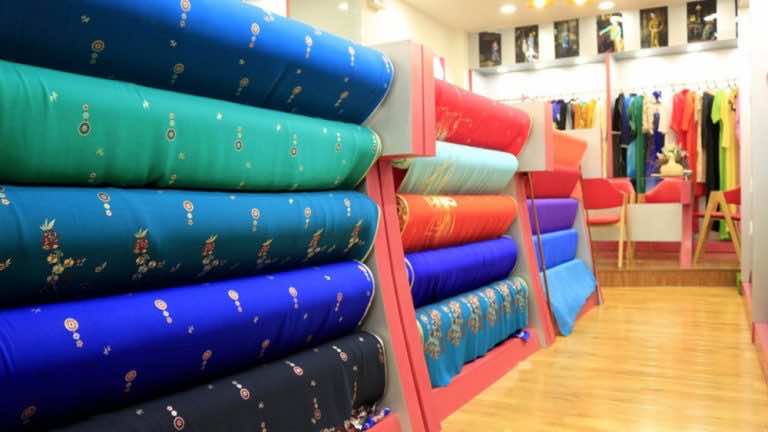 Thai Tuan Silk, 419 Hai Ba Trung, District 3
The Ly Tu Trong area in District 1 offers a wide array of beautifully printed fabrics of the highest quality. Some stores to put in your list: Nice Silk (237 Le Thanh Ton, District 1), Thu Silk (235 Le Thanh Ton, District 1).
Comments
comments