The 5 Yummiest Desserts in Saigon
A meal isn't complete without dessert. That's true around the world, but desserts differ from country to country. Some are light and fruity, and some are rich and chocolaty and they are all insanely delicious. Whether you are a food fanatic or just have a sweet tooth, you probably enjoy a good dessert. Let's have a look on some best desserts that Saigonese always want to enjoy. But some desserts are still fairly unknown on the global menu even though they are famous in the place of origin.
Che (Vietnamese sweet soup)
As the weather in Vietnam is turning up the heat, travelers and locals alike are looking for some heat- relieving foods. But instead of the quintessential summer treats common in Western countries like ice cream and popsicles, Vietnam has its very own version of summer fare, and if you asked a handful of locals about their favorite sweets during the hot summer months, most would answer the same: che. Che, or sweet soup, is a delightful mixture of sweet and savory flavors. Varieties are made with any number and combination of beans, milk, tapioca, fruit, coconut cream, glutinous rice and last but not least, plenty of sugar. Now, che is usually sold as a dessert in restaurants or at stalls along the roadside, and you'll often see the locals grabbing it to go on their motorbikes.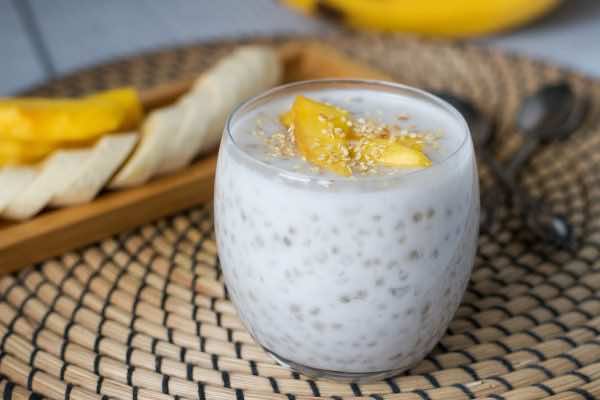 There are some most popular ones that are worth trying when traveling to Saigon.
Che Thap Cam- mixed sweet soup.
Che Ba Mau- three colors sweet soup.
Che Troi Nuoc- sweet glutinous rice dumplings.
Che Dau Den- black bean sweet soup with coconut syroup.
Where to enjoy the best che in Saigon:
Xoi che Bui Thi Xuan, 111 Bui Thi Xuan, District 1.
Che Ky Dong, 153/7 Ky Dong Street, Ward 9, District 3.
Shop Che, 50 Ly Chinh Thang, Ward 7, District 3.
Banh Pia (Pia Cake)
Originally a Theochew pastry, the Vietnamese "adapted" version shares the same characteristics as its Theochew parent, except for the addition of durian in the filling. The pastry should be tender, made up pf many thin paper layers, which are slightly sweet, and can easily be peeled off one by one. The Vietnamese name of this pastry, "pía or bía" comes from the Theochew general word for pastry which is "pia". Locals traditionally serve this pastry with hot ginger. The sweetness of banh pia blends with the bitterness of tea is a delightful experience.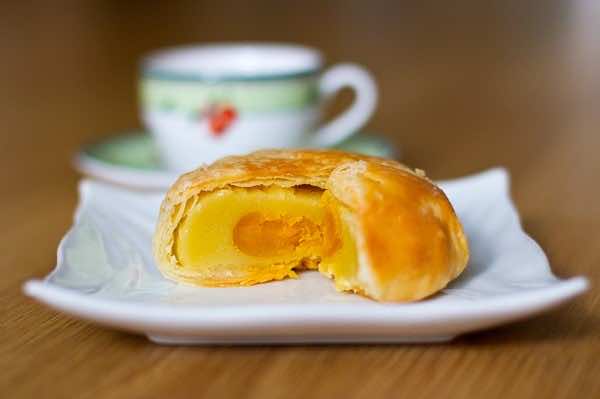 There are some places selling the best banh pia in Saigon:
Banh Pia Tan Hue Vien, 116C Nguyen Thi Nho, District 5.
Banh Pia Truly, 139 Ngo Thi Thu Minh, Ward 2, Tan Binh District.
Banh Pia Minh Dung, 169 Phan Dang Luu, Phu Nhuan District.
Banh Da Lon (Pigskin cake)
Mentioning the Southwest cuisine, we cannot miss pigskin cake, a steamed layer cake, a common cake especially in the Mekong Delta region. Its name seems strange but in fact, the ingredient for kind of cake is quite familiar with tapioca starch, rice flour, pandan leaves, mashed mung beans, coconut milk and other ingredients. This kind of dessert comes in all shapes and sizes with alternating layers of green and yellow tapioca flour.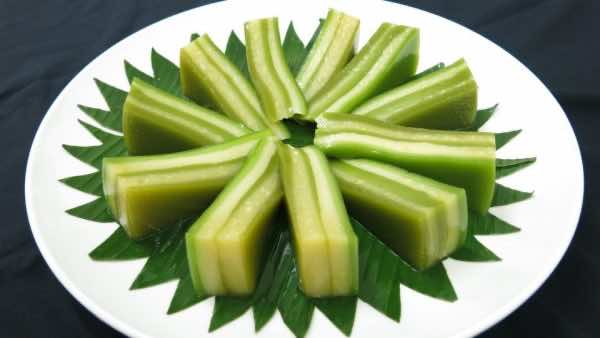 You can find the best banh da lon in Saigon at 270 Vo Van Tan, Ward 5, District 3.
Milk tea
Although Vietnam is not the place of origin of bubble teas, the locals, especially the young, are really interested in drinking milk tea these days. Milk tea, and its family of bubble teas, has been around for decades in various forms. The most popular style of milk tea is a simple blend of black tea, creamer and sugar, chewy tapioca pearls, and usually served cold with ice.
Fruit- flavored bubble tea is also available in an assortment of flavors such as mango, lychee, strawberry, honey and green apple.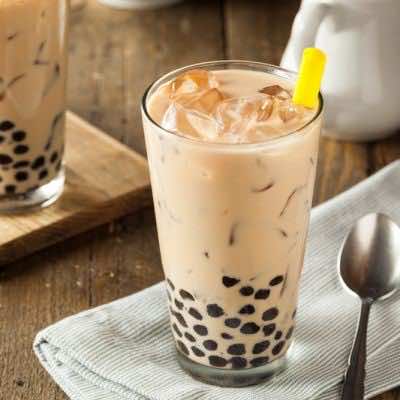 You can easily find many milk tea shop in the city center.
Phuc Long Coffee and Tea Express, 325 Ly Tu Trong, District 1.
Gong Cha, 91 Ho Tung Mau, District 1.
Share Tea, 113 Nguyen Hue, District 1.
Koi Thé, 76 Ngo Duc Ke, District 1.
Chuoi chien (Vietnames Fired Bananas)
Chuoi Chien is a popular Vietnamese dessert recipe made with bananas dipped in a rice flour batter and fried till golden and crispy. Crispy on the outside but warm, sweet, and fragrant on the inside- it is no wonder this is a really common street snack in Saigon. This popular dessert is made from small bananas, known locally as chuối xiêm or chuối sứ, which are much sweeter than the large bananas usually sold in Western countries. Actually, if you want to make the most heavenly crunch outer crust, you have to fry it double. When the bananas fritter begins to golden, take it out and dip it back in the batter, and then refry it.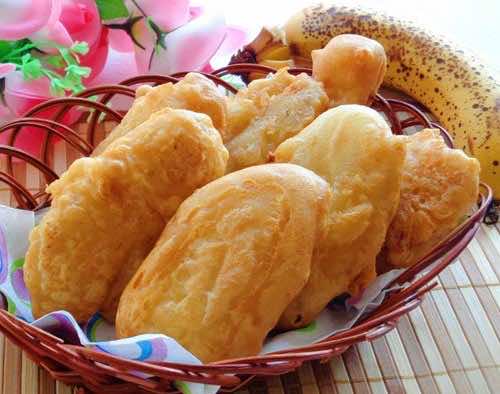 Where to find banh chuoi chien in Saigon:
286 Co Bac, Co Giang Ward, District 1.
40 De Tham, Cau Ong Lanh Ward, District 1.
We hope that you will have an opportunity to try every delicious one of the mentioned list above. Do not forget to share your experience in the comments.