A delicious late night excursion in Saigon
Eating delicious street food is always enjoyable, but staying out and eating late at night in Ho Chi Minh City is a special experience that is sure to create memories that will last. In particular, the vibrant night culture of Ho Chi Minh City serves as the perfect backdrop for hungry travelers to fill their empty stomachs after a full day of exploring. Easy transportation throughout major areas provide travelers with the best means of enjoying a late night tour. Hungry night owls rejoice! Here is just a sample of some tasty spots to satisfy your late night cravings.
Bánh mì Huỳnh Hoa
Undoudtedly, banh mi is one of Vietnam's greatest culinary gifts to the world, and there is no better place to try one these special sandwiches than in Ho Chi Minh City. For many years, Banh Mi Huynh Hoa has had the reputation of making the best one in Ho Chi Minh City operating from 2.30 pm to midnight. Interestingly, you have to be prepared to shout out your order as soon as you make eye contact with the staff. The sandwiches here are made to order, stuffed with as many as nine layers of cold cuts, and slathered liberally with pate.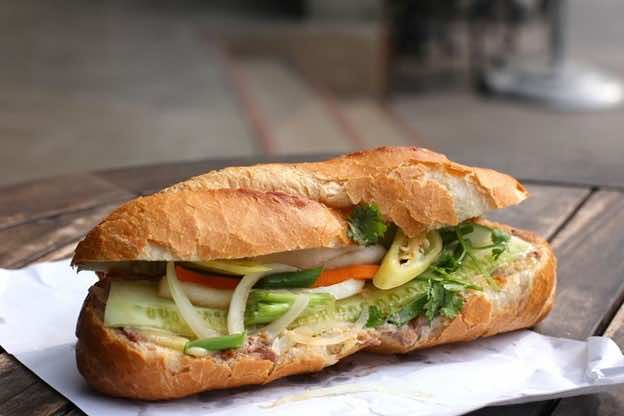 Add: 26 Le Thi Rieng, District 1.
Cháo trắng Hàng Xanh
Congee has been a popular pick for diners in Ho Chi Minh City, celebrated as a go-to comfort with healthy-boosting benefits. Today, this delicious rice porridge dish is as popular as ever and can be found everywhere from street food stalls and markets, to the most high-brow restaurants in the city. Whether you are new to the city and in search of new places to feast on delicious congee, you will love our suggestion. It is the combination of rice boiled in water and an appealing aroma of pandan leaves. You can also customize your taste with pickled cabbage, salted egg, braised egg, fishes…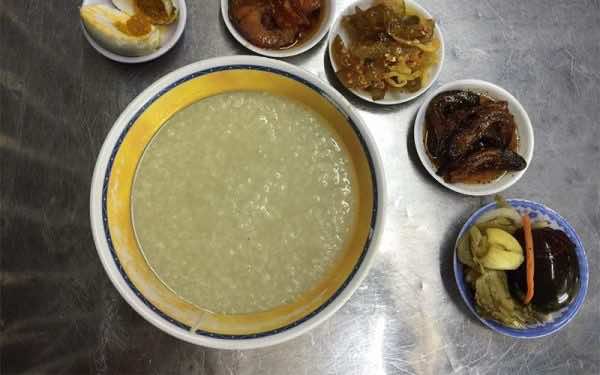 Cơm Tấm- Broken Rice
It is plausible to say that Vietnam is one of the world's top rice producers and exporters, and during the milling process, a percentage of the grains of rice are broken, and set aside. Although the broken grains of rice are often one of the cheapest grades of rice in Vietnam, it is also favorable to many. Especially, after satisfying your thirst for adventure, you should enjoy a plate of rice with some ingredients placed on the top such as grilled pork, fried egg, a steamed pork and egg… On the side you can have pickled vegetables or sliced cucumber and tomato. A dipping sauce of fish sauce, lime and chilli can be served.
Add:
113 Nguyen Phi Khanh, District 1.
142 To Hien Thanh, District 10.
294/35 Xo Viet Nghe Tinh, Ward 21, Binh Thanh District
236 Le Thanh Ton, District 1.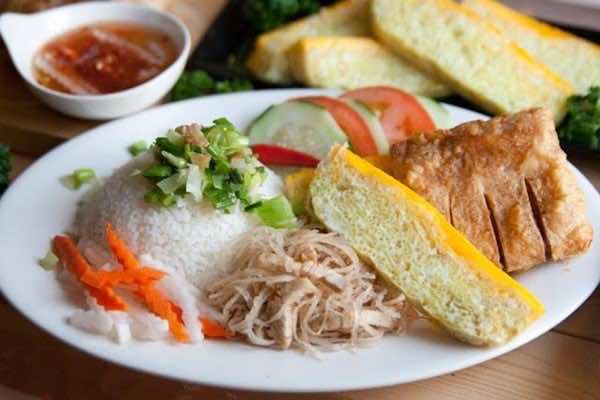 Sticky rice at Ba Chieu Market
Ba Chieu Market is one of the most ideal destinations for gourmands. Here, you can enjoy a wide variety of typical Vietnam dishes. It is also famous for sticky rice that is definitely worth giving it a try. With a very long time of existence, the eatery will for sure takes your endorsement of its signature ( Chinese roast pork and sticky rice). Besides, you can also choose chicken drumstick or shredded chicken as an alternative to have with sticky rice. Sticky rice is put in a banana leaf with your chosen topping. All in all, the sticky rice won't let you down.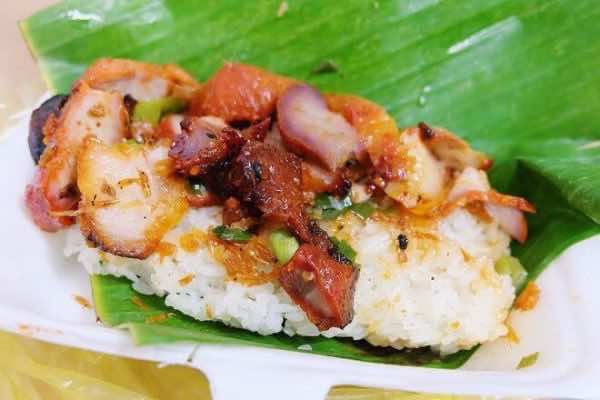 Add: Ba Chieu Market, Bui Huu Nghia St., Binh Thanh Dist.
Hủ tiếu gõ (Knocking noddle)
When it comes to Vietnamese noodle recipe, there are many popular dishes form noodle. Reduce the boring flavor, Vietnamese people creates noodles to many types. Knocking noodle is just a term referring to the selling method of this kind of noodles in Saigon. Interestingly, the noodles are usually sold on bikes or tuk tuks moving one to another place to serve customers instead of having a fixed store. They use two wooden bars and knock them together to make noise to attract customers's attention. A bowl of knocking noodle normally have white noodle, thin sliced lean pork, fried onion, bean sprouts, chives…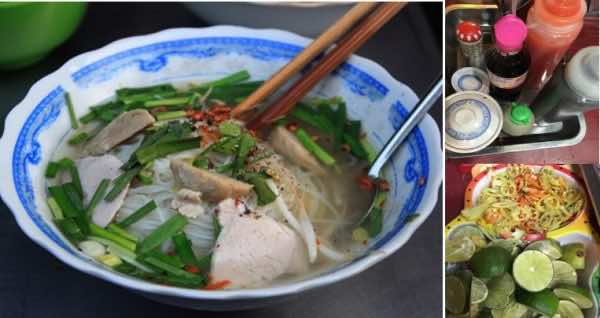 Immerse yourself in the biggest street food city in Vietnam and know some insightful stories about the food culture in Saigon.