Celebrating the Tet Holiday in Hanoi VietNam
 Tet Nguyen Dan or simply Tet is Vietnamese New Year celebration according to the Vietnamese Lunar calendar that differ from Western calendar significantly. Most often the holiday falls in February and thus it also marks the arriving of spring, which of course doubles the joy. Vietnamese take the holiday seriously, and there are sets of typical ceremonies as well as traditional foods one should eat during Tet, which itself can also last for seven days.
Since Tet is the most important festival for Vietnamese, preparations for celebrations begins will in advance. They make offering and pray at temples about the two weeks before and immediately after Tet because visiting temples is considered auspicious. Many families visit the graves of ancestors in the week prior to Tet. Home are cleaned and decorated with yellow apricot blossom, peach blossom, Kumquat tree and many other colorful flowers. On the Eve of Tet, they cook an abundance of food. On the first day of New Year, everybody, especially kids, wear new clothes and shoes to visit families and friends and enjoy traditional Tet food like Banh Chung. Many children receive "lucky money" in red envelopes.
A lot of people recommend not going to Hanoi during Tet and even recommend not going to Vietnam at all during Tet because you won't find a place to enjoy the charms of the city. Read this article what you can expect when you are visiting Hanoi during Tet, this thousand-year-old capital will offer a special Tet in a new and magical way.
Things to do in Hanoi before Tet
Colorful blossoms bloom in Nhat Tan flower village
According to tradition, flowers are an indispensable feature in each Vietnam family home during Tet, therefore the high demand for flowers during the most important helps preserve traditional villages growing flowers. Let's take a tour of Nhat Tan village to enjoy the early Tet atmosphere at Hanoi's flower farms. In addition to pink peach flowers, this village is bustling with chrysanthemums, globe amaranths, honeysuckles, and carnations. This is the best time of the year to take photos.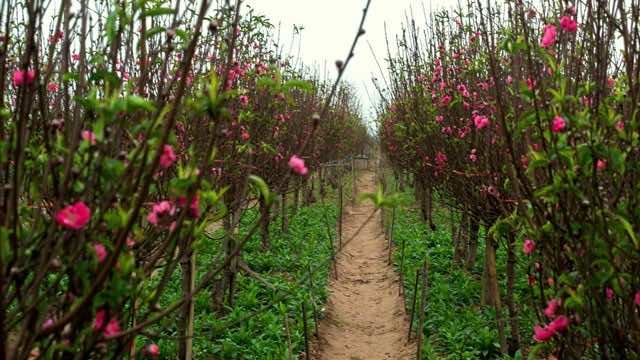 Hang Ma Street in Old Quarter
Hang Ma Street in Hanoi is seeing a flurry of trade with the hustle and bustle of shops selling different types of decorations and votive offerings in anticipation of the upcoming traditional lunar new year festival. Thousands of products such as red couplets, lanterns, decorative papers, and red envelopes are on sale at small stalls.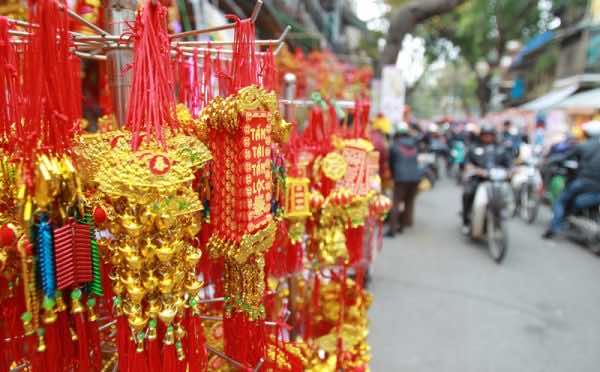 Enjoy Tet atmosphere at flower markets
Vietnamese Lunar New Year is the most important annual celebration in Vietnam. At the beginning of December on the lunar calendar, all Vietnamese people are eager to welcome Tet. Before Tet, from the twentieth to the thirtieth December on the lunar calendar, colorful flower markets are crowded with people selling and buying flowers and potted plants used to decorate houses at Tet. Everyone in all of Hanoi, it seems, is at the flower market. The two lengthy aisles are filled with shoppers and motorbikes, all vying for the same paces.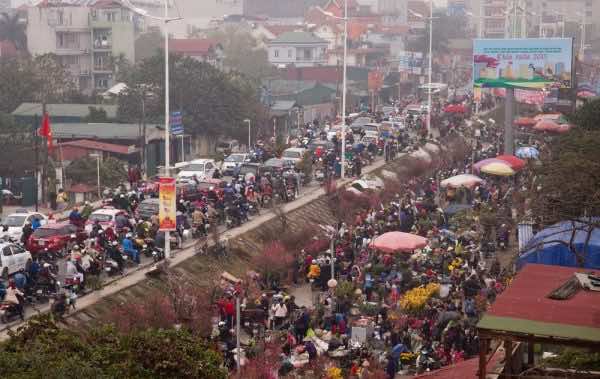 Walking through the markets is like a festive battle: motorbike drivers are dodging around displays and people alike, trying to get through to pick up or drop off loads of flowers. Shoppers looking for the best deal are meandering down the narrow side. Women with trash carts are persistently shoveling bits of flowers out of the walkway, trying to keep up the amount of waste created. You might think the markets smells like flowers, but the flowers are dominated by the smell of grilled pork skewers and sausages for sale on the edges of the market for the hungry shoppers. The whole experience feels a bit like Black Friday, but without the sense of competition.
Several flower markets you should drop by Quang ba Flower Market – Au Co Street, Nhat Tan Ward, Tay Ho District; Hang Luoc Flower Market – Hang Luoc Street, The Old Quarter, Hanoi.
The fireworks display
The fireworks display will take place at 30 sites across the capital. If you want to have a good view to enjoy the fireworks, you should visit one of these 5 locations: Hoan Kiem Lake, Thong Nhat Park, Lac Long Quan flower garden, Van Quan Lake, anh My Dinh National Stadium.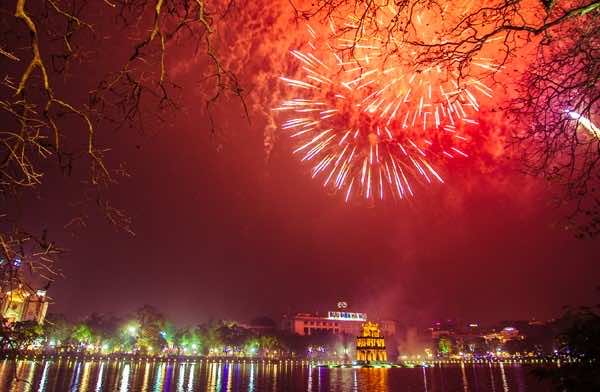 Things to do in Hanoi during Tet
Visit the pagodas and temples
Tet isn't just a family festival. For many people, it's deeply religious and moving time of the year. People in Hanoi will use their free time over Tet to visit their favorite temples and pray for luck and prosperity. For visitors to Hanoi, it's well worth spending some time visiting them too.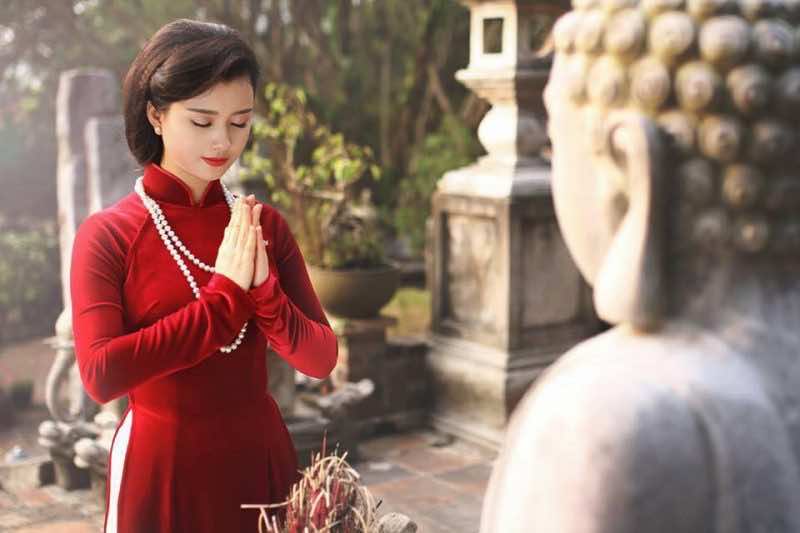 Ngoc Son Temple
The Ngoc Son Temple is located on a small island in Hoan Kiem Lake, right at the heart of Hanoi's Old Quarter. It's place of worship dedicated to Tran Hung Dao, a general whose ingenious military tactics saved early Vietnam from multiple Mongol invasions.
Tran Quoc Pagoda
The Tran Quoc Pagoda is a Buddhist center located on the East side of the West Lake having a history of more than 1500 years. Although it's definitely worth a visit, it is crowded there during Tet. A lot of local people will go to say their prayers, which creates a walking line to get in.
The One Pillar Pagoda
The name already says it: it's a pagoda standing on one pillar. It is located next to Ho Chi Minh mausoleum, right in the center of Hanoi.
Calligraphy Fair 2018 – 9-25 Feb 2018, 6-9 pm at Literature Lake
An annual event taking place at Literature Lake (part of the Temple of Literature) which offers live calligraphy demonstration, hands-on experience of Vietnam of Vietnam's traditional crafts, folk games and other cultural activities.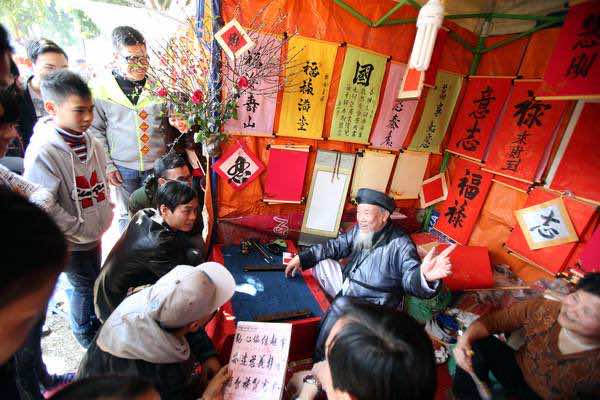 Food
During, Tet there are still enough street food vendors open, although less than normally. However, this really isn't a problem because there are still enough options.
+ Quan An Ngon – 34 Phan Dinh Phung, Quan Thanh Ward, Ba Dinh District.
Opening time: 7am to 10 pm. Closes for 4 days: 14th Feb- 17th Feb
+ Nha 9NKC – 9 Nguyen Khac Chan, Trang Tien Ward, Hoan Kiem District
Opening time: 6:30am to 10:30pm during Tet
+ Ngon Pho – Level 3 Aeon Mall Long Bien, 27 Co Linh, Long Bien District
Opening time: 9am to 10 pm. Closes from 12pm 15th Feb to 12pm 16th Feb
+ Avalon Café and Lounge – 73 Cau Go, Hoan Kiem District
Opening time: 7am to 11pm during Tet
+Mediterraneo – 23 Nha Tho, Hang Trong Ward, Hoan Kiem District
Opening time: 11am to 11pm during Tet
Going to Hanoi during Tet is a strategic in the sense that it will be a lot less touristy and busy. Enjoy and have a great experience in Tet Holiday in Hanoi. Time to new year is counting down. Hope you to have a happy new year and successful road ahead!