Celebrating Vietnamese Lunar New Year in Ho Chi Minh City Vietnam
Tet is the Lunar New Year for Vietnam and falls on the same day as the Chinese New Year. For the Vietnamese, Tet is like Thanksgiving, Christmas, New Year's Eve all rolled up in one.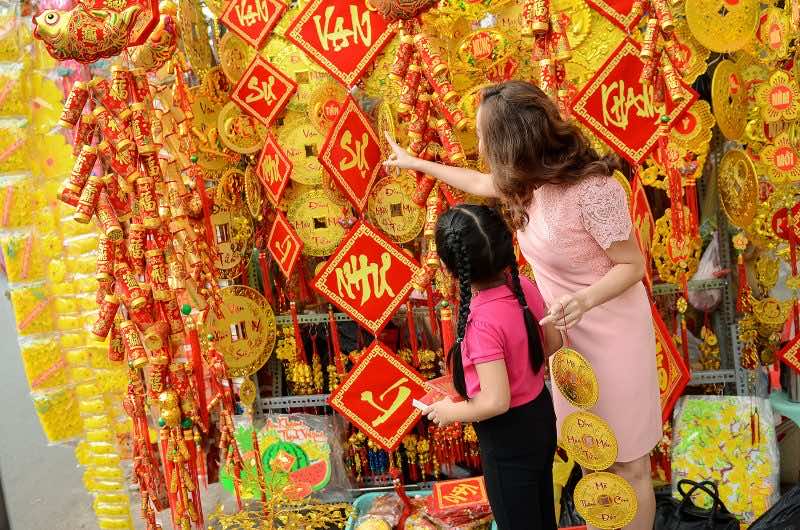 Tet, shortened from Tet Nguyen Dan, is the most important holiday in Vietnam. It marks the arrival of spring, falling in the months of January and February. It is a time to forget about past troubles and hope for a better upcoming year. Preparations for Tet begin two weeks before the arrival of the New Year. The general atmosphere leading up to Tet is in the bustle of shopping, decorating the home, cooking traditional Tet food and waiting for relatives to return home. People try to pay off their debts in advance so that they can be debt-free on Tet. Parents buy new clothes for their children so that the children can wear them when Tet arrives.
Red color represents good luck and appears everywhere during the holiday. Some famous red items you will undoubtedly familiarize you with while here are red envelopes, watermelon, Chinese couplet paintings, lanterns, calligraphy pictures…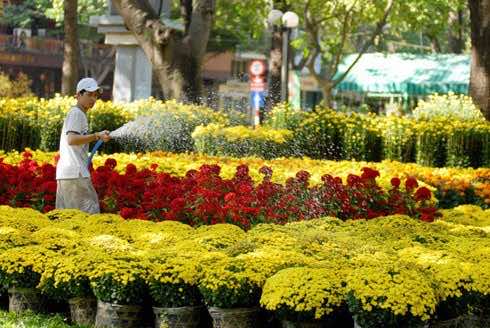 Flowers are very important decorations for Tet. All over Vietnam the most popular plant is the kumquat tree. In southern Vietnam, there are tons of yellow chrysanthemums. Flower market are erected in fields, in parking lots and along the road, all of them selling potted chrysanthemums and yellow blossoms. This time of the year also falls under the spring season of Vietnam, so you will see many flowers decorating streets and houses. The popular types of flowers include yellow apricot blossom, peach blossom, kumquat tree, marigold, the new year bamboo…
The week leading up to Tet and the week after can be as hectic as holiday travel and takes some serious planning to get to any destination. But it is not all doom and gloom during the festival. Tet offers an insight into Vietnamese life as families reunite and celebrate the new year together. Also, if you fancy yourself as a photographer, you will have opportunities to capture many wonderful moments. Added to this, if you are a foodie, there are many different dishes that are made specifically during this time of the year.
If you are traveling to Ho chi Minh City during Tet Holiday, let be a part of this joyful celebration in some special activities in this metropolis.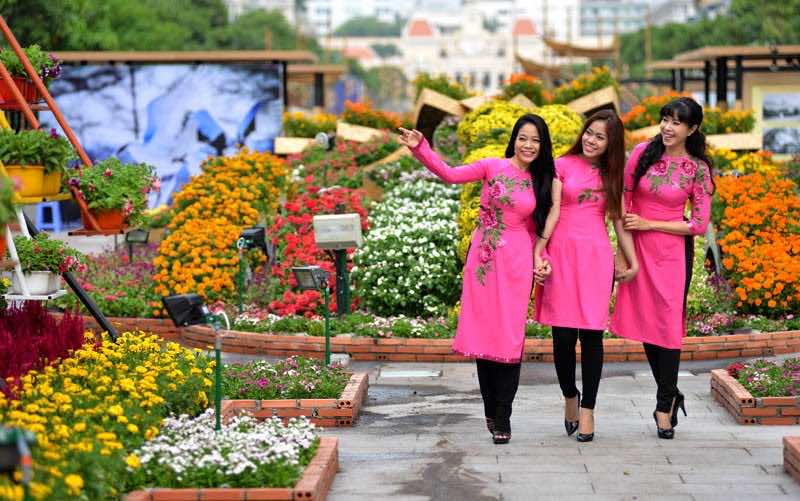 >>> You can book a tour online here: Kim Travel is the best travel agency in saigon Ho Chi Minh city Vietnam Organise tour package, Mekong delta tours, Cu Chi Tunnels Tours Travel from SaiGon Ho Chi Minh city VietNam.
Fireworks display
On the eve of Tet upon the stroke of midnight, fireworks show will ignite at six areas across the city: Thu Thiem Tunnel between district 1 and district 2, Dam Sen Park in district 11, Cu Chi Tunnel in Cu Chi District, Rung Sac Square in Can Gio, Lang Le-Bau Co historical site in Binh Chanh District, and the Nga Ba Giong Memorial in Hoc Mon.
Several streets in downtown Ho Chi Minh City will be blocked and restricted to host the New Year celebrations.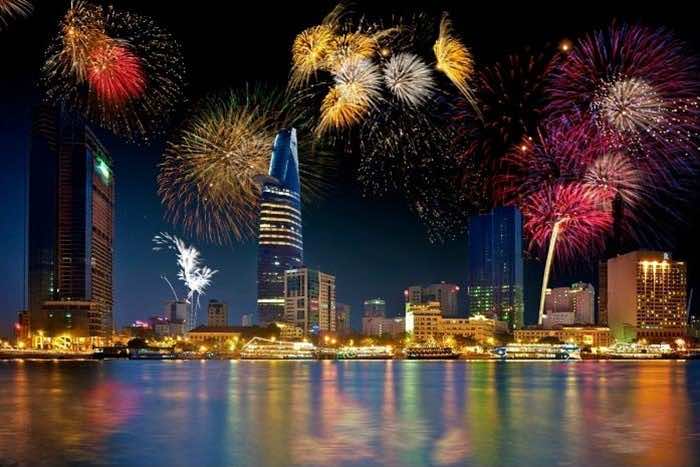 Flower markets
Being a foreigner visiting to Vietnam, what are you going to do to enjoy completely like locals do? Before Tet, from the twentieth to the thirtieth December on the lunar calendar, colorful flower markets are crowded with people selling and buying flowers and plants used to decorate houses in Tet. It is a big chance for any foreigner to visit Tet flower markets in Saigon and learn more about interesting local life at the biggest festival in their country.
In District 8, Tau Hu Cannal becomes the site of a flower market, with blossoms and ornamental trees sourced from the nearby provinces of Tien Giang and Ben Tre. The market's wares vary wildly, from cheap cockscomb flowers in pots to expensive yellow apricot flowers. Besides, you can also pay a visit to Ho Thi Ky flower market on Ho Thi Ky street and its alleys in District 10; Dam Sen flower market (near Dam Sen Park), District 11; Hau Giang flower market on Hau Giang Street, District 6.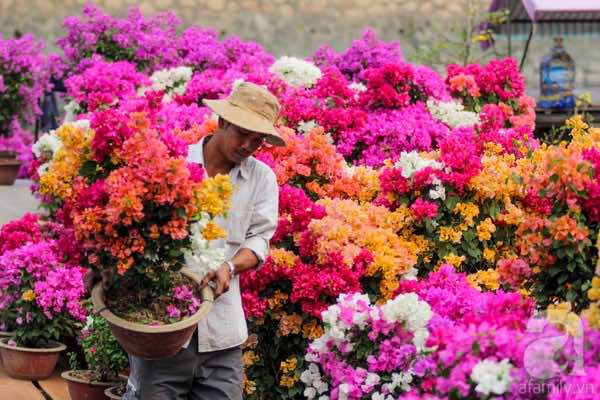 Book festival
In District 1, a book festival takes place from the first to the fourth day of Tet along the streets of Mac Thi Buoi, Nguyen Hue and Ngo Duc Ke. Thousands of books and magazines will change hands during the festival.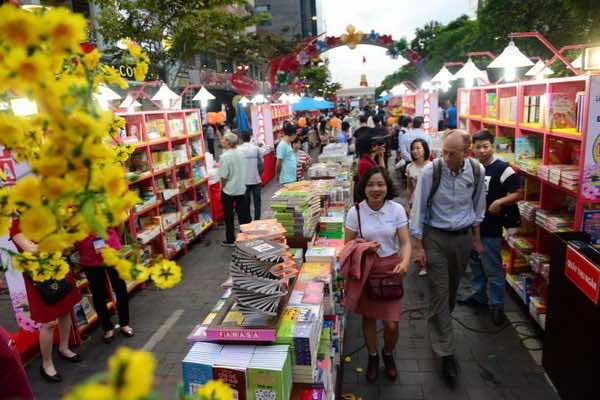 Chinatown
Cho Lon in District 5 offers both color and flavor in excess. Cho Lon is most crowded and beautiful in the year, putting on a new coat from street to street, shop to shop. Being the trade center of the city and the home for decoration materials, Cho Lon is the first place to feel the atmosphere of Tet Holiday. Chinese people here have well maintained a lot of traditional original customs of Tet Holiday, as well as adopted some of Vietnamese people, thus making Tet in Cho Lon very lively and interesting to see.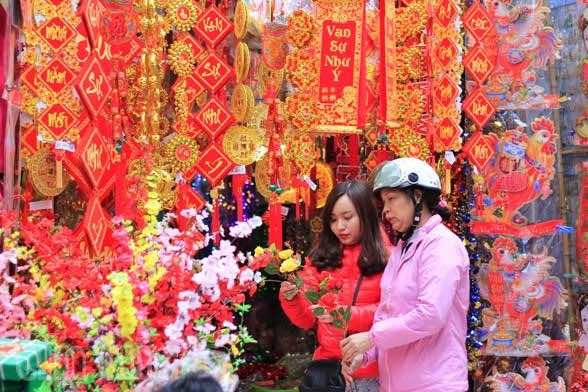 Watch Flower Displays
Different kinds of flowers from many regions of the country are brought to Ho Chi Minh City and arranged into beautiful shapes. The theme is different each year based on the animal of the year according to Chinese Zodiac. You can walk along Nguyen Hue Street and have a look at those beautiful rare flowers and admire the skillful hands of the artist who make all of these things.
Tao Dan Park also has a flower exhibition during Tet Holiday. Many flowers that win the competition are gathered here for viewers to enjoy. You can find surprisingly beautiful flowers and enjoy the game shows and music concerts here.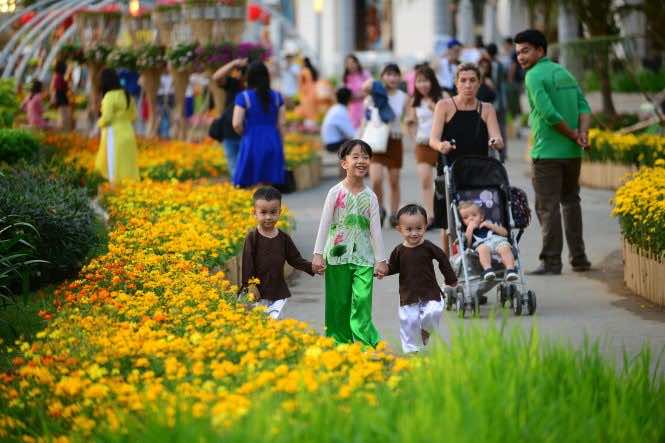 Phu My Hung flower street is one of the largest flower displays in the city. It is located in the richest area in Saigon with one of the romantic Phu My Hung bridge and many luxury villas. You will have chance to see big flowering hundred-year-old apricot tree sold at high price.
Visiting pagodas
Buddhism plays a major role to the Vietnamese. Therefore, in the beginning of the year, pagodas are more crowded than ever, you will have a wonderful opportunity for some memorable holiday images. People come here to pray for a wonderful year.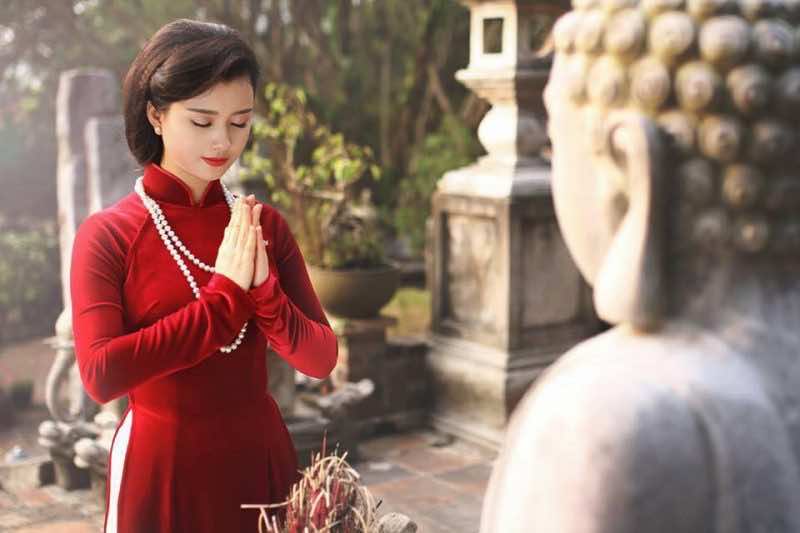 Wishing you a Happy Vietnamese Lunar New Year in Ho Chi Minh City Vietnam and a prosperous and healthy road ahead!
>>> you shoul khown  9 Traditional Activities on Tet Holiday Lunar New Year in VietNam