Buying or renting motorbikes is better when you live in VietNam?
Vietnam is a nation that moves on two wheels. A 200,000-kilometer road network connects cities with farming villages, beach resorts to mountain escapes and dense jungles to a jagged coastline.
Over 37 million scooters snake their way from the Mekong Delta in the south to snow-dusted peaks on the Chinese border. It's the favored mode of transport for the 90 million people that call Vietnam home, and tourists are catching on.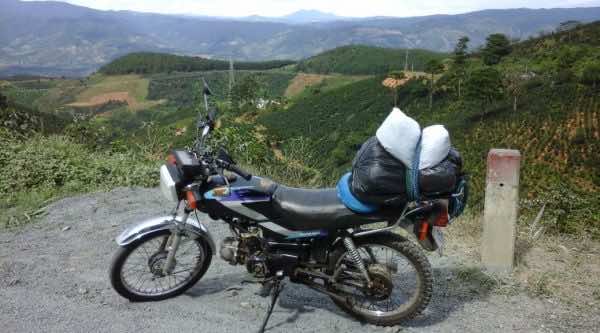 The country sees almost 8 million visitors every year, and recently a new type of traveler has started arriving – motorcyclists. A popular travel route connecting Hanoi to Ho Chi Minh City has developed, mechanic shops and backpacker hostels now fix and flip bikes by the hundreds to fearless foreigners.When thinking of the romantic idea of starting up your engine and riding across the length of Vietnam, buying or renting motorbikes in Vietnam is probably a hard decision, many people don't know what to choose because of many options availability. In order not to have any problems with your motorbikes during your excursion, you should first understand the motor market in Vietnam.
>>> If you looking for a travel agency in SaiGon, Kim Travel is the best Travel Company in SaiGon Ho Chi Minh city. Organise tour package, Mekong delta tours, Cu Chi Tunnels Tours Travel from SaiGon Ho Chi Minh city VietNam
The Chinese Motorbike Market
If you buy a motorbike, the cheapest is a Chinese copy of Honda Win 110cc. Actually, the Chinese motor market exists for the countryside locations because of many reasons such as the cheap prices, the purpose of cargo goods to cut down cost, no authentic service center in the remote areas. Most tourists to Vietnam bought this bike simply because they are on their budget and sellers cheated them by the name. Undoubtedly, Chinese motorbikes are not opted for a long journey. Buying a Chinese motorbike is likely to create a time of unpredictable and fairly expensive breakdowns because of horrible steering, leaking oil, dead bearings and engine that burns oil. If you don't want to spend more time in the garages than ride this Chinese Win, you should think twice and acknowledge before deciding to buy a motorbike to travel in Vietnam.
Buying a second-hand motorbike
A motorbike might be authentic on the outside, but a lifetime of maintenance with Chinese organs means that the inside is now Chinese. In Vietnam, the standard is lower than in China so Chinese bikes in Vietnam are not Chinese bikes in China. This means they are the cheapest possible so you can imagine how the quality will be. You can't get a good quality if you pay less. Chinese motorbikes and authentic motorbikes drive differently.
What you should opt for
 Backpackers should always be renting authentic motorbikes
The motorbike will be safe, drive better than a Chinese motorbike and most likely work out cheaper over the duration of a journey. No breakdowns, no getting ripped off in backstreet mechanics, better gas consumption and less oil changes. When you rent a motorbike in Vietnam, you likely get more support and advice from professional motorbike rental outfits. Most of the motorbikes for rent are new and in good conditions. Most rental shops provide a tool kit and basic spare parts that you can take during the rental time. The newer bikes are a better choice and save you in the long run (less fuel consumption, fewer repairs and more power). The true costs being hidden and broken up over the duration of a journey, are more expensive solution than a simple rental on many occasions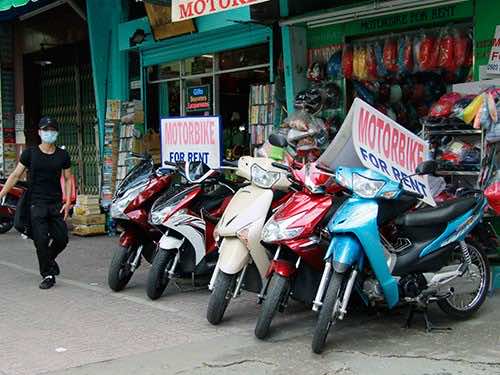 Moreover, for the freedom of mind, not to worry about buying and selling a bike, no need to service motorbikes before and at the end of the trip. Selling to Vietnamese is also not easy as they like to have the paperwork in their own name. As a foreigner, it is possible to transfer ownership papers which means the value of your authentic motorbike in the Vietnamese market is lower than it should be. Due to this loss on resale, backpackers are better off renting motorbikes.
Expats living in Vietnam are better off buying an authentic motorbike
Expats staying in Vietnam for more than three months would benefit financially from buying a genuine and authentic motorbike. Honda motorbikes in particular have minimal depreciation, for expats, providing you to manage to purchase a good one, then resell is going to be similar to the original purchase price. Moreover, expats who have time to understand the market and sell their motorbikes in a calculated way, then buying an authentic motorbike is definitely the way to go.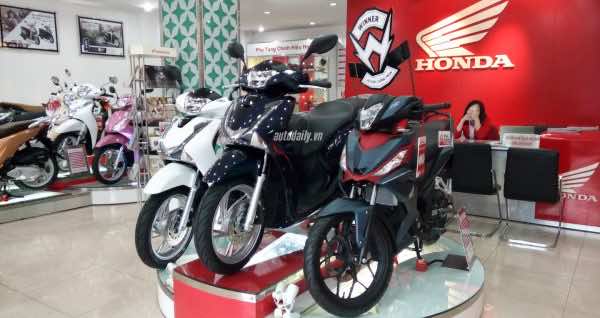 However, authentic motorbikes never go below 500$. For semi-automatics, the safest and most stable investment is the Honda Wave which is Honda's mainstream semi-automatic motorbike. For automatics, the cheapest working scooter is the Suzuki Hayate. However, automatics are much bigger for the money and tend to develop problems the semi ones. If you can afford, the Honda Airblade is the best long term investment.
Motorbiking is no joke, and it needs to be taken seriously. You get what you pay for. Therefore, get a more reliable motorbike may save you in the long run and it won't break your journey.
>>> The reasons why Vietnam is so popular for traveling by motorbike
>>> Best places to rent a motorbike in Saigon Ho Chi Minh City VietNam