Hang out to some amazing coffee spots in Saigon
 Coffee was introduced to Vietnam by the French in the 19th century. And although Vietnamese coffee can be considered obscure, the country is actually the second largest coffee producer in the world. The Vietnamese coffee culture is not to be dismissed easily. Even though the Vietnamese coffee style can also be observed in other Southeast Asian countries, the Vietnamese have embraced it so enthusiastically that it has become a part of who they are.
Vietnamese coffee is famous for its sweetened condensed milk, as it should be. Thick, dreamy and yes, incredibly sugary, sweetened condensed milk is the perfect counterbalance for the incredibly strong, dark-roasted Vietnamese coffee. Whether it is served hot or iced, coffee milk will come with sweetened condensed milk in Vietnam almost without exception. If you ask for the coffee without milk, you may get some stares, and you'll probably end up with black coffee mixed with a ton of sugar. The coffee is so strong and biter, a lot of Vietnamese people will think you're nuts for drinking it straight.
Imagining that on a hot day in Saigon, you would like to enjoy a cup of authentic Vietnamese coffee, Ho Chi Minh City will offer you a collection of great coffee shops to choose. But, at first, you must acknowledge some common phrases in the menu to order the best cup of coffee JJJJ
Iced coffee with condensed milk- Cà phê sữa đá
Hot coffee with condensed milk- Cà phê sữa nóng
Iced black coffee- Cà phê đen đá
Hot black coffee- Cà phê đen nóng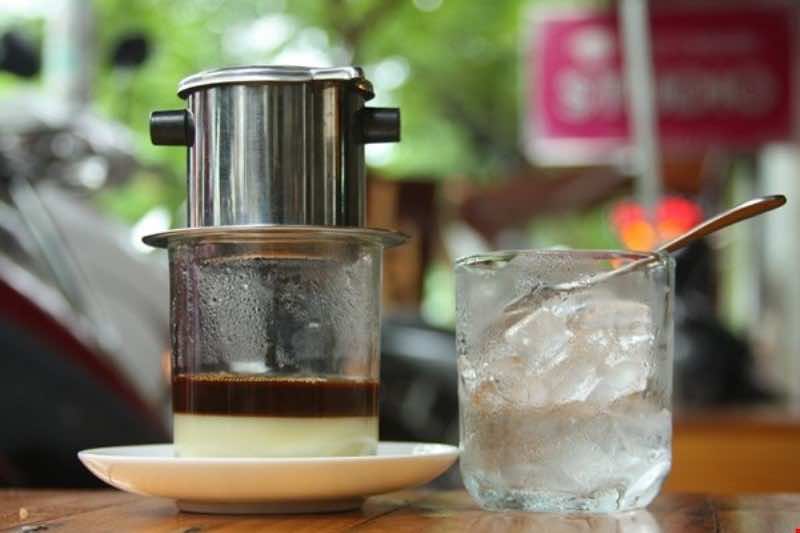 M2C Café- Modern Meets Culture
Lifestyle in Saigon has taken a fast track in recent years as the social and business environment. In the midst of pursuing the better things in life, coffee remains an indispensable element and culture of every Saigonese. It refreshes and energize the tired mind after a hard working day, and it is a spiritual complement in an artisan setting where people from all walks of life meet and interact.
M2C, as the name suggest, is a new café culture that is unfolding from the conspicuous streets to the secluded back alley of the city. Conveniently located in the trendiest areas around town, it truly combines the modern taste and trend to create the ideal space to suit every aspect of Saigon's everyday life. Whether it is for business or pleasure, for couples, friends or just a personal retreat away from the world, this is the place to see and be seen.
Add: M2C Café 44 Ly Tu Trong Street, District 1, HCMC.
          M2C+ Café 230 Nguyen Thi Minh Khai Street, District 3, HCMC.
I.D. Café
I.D. café sets itself apart from the rest with its cozy ambience, created by using interior design concepts. The cafés are designed to complement its surroundings and environment and are intended to be discovered as hidden gems rather than 'loud & striking' monuments. One can expect the entire experience to be a journey from the moment you set foot into the cafés to when you leave.
The cafes are islands or tranquility, in stark contrast to the city's hustle and bustle. You will be instantly transformed by this soulful respite away from the daily stresses and pressures.
With its tantalizing selection of food and drinks which offer unsurpassed quality at an affordable price, one will be spoilt for choice while enjoying a relaxing moment amidst the smoothing music and arty décor.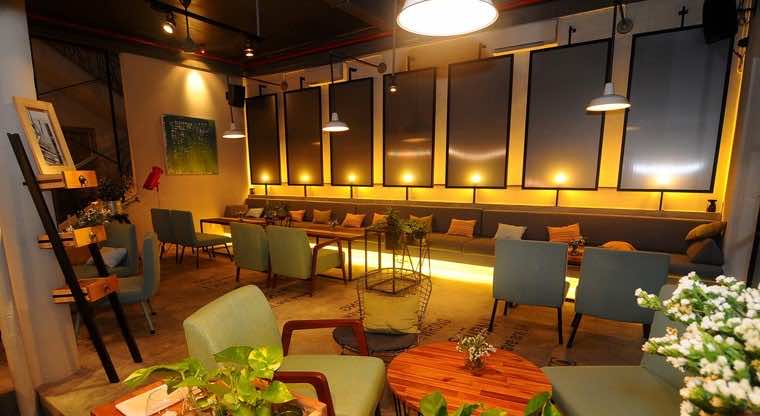 Add: 34D Thu Khoa Huan Street, Dsitrict 1, HCMC.
Racket Coffee- Ca Phe Vot
Nobody knows exactly when the racket coffee naturally occurred, yet in many people's mind, the cultural feature of enjoying the racket coffee dates since the first Saigonese started having this habit in the morning. Ever wonder why it is called Racket Coffee? Actually, it is named after the tool utilized to make coffee; vendors will separate coffee grounds from the liquid coffee by a racket instead of a specialized coffee filter.
These days, racket coffee is not as popular any longer as itself many years ago, and there are a few coffee shops left using this old-fashioned brewing method to make a cup of coffee. They first dip the racket into the boiling water, and place an enough amount of the ground coffee in it. Then, soak the racket with the ground coffee in the pot of hot water and stir it well until it is distributed evenly. Depending on your taste, you can enjoy coffee with condensed milk or sugar, with or without ice. Each glass is 15,000 VND and only cash is accepted. The location is quite far from the city center and in an alley, but I have to say that it is worth giving it a try.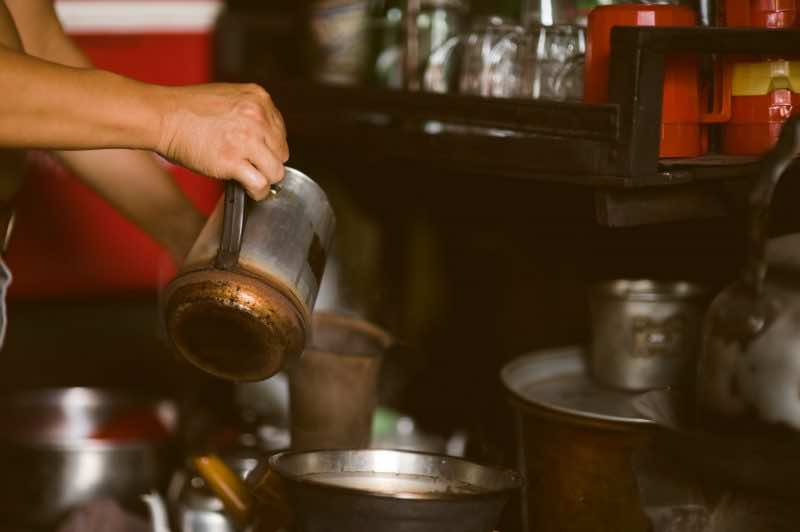 Add: 330/2 Phan Dinh Phung Street, Phu Nhuan District, HCMC. 
The Morning Café
Despite being located on one of the main roads in District 1, The Morning Café is housed in a small alleyway, in a nondescript apartment building, on the second floor. This coffee shop is a cozy place with some vintage items like tape decks and framed photographs. It is insanely quiet, and for a moment, you have the feeling of escaping from the hustle and bustle of the city without honking and the noise of motorbikes.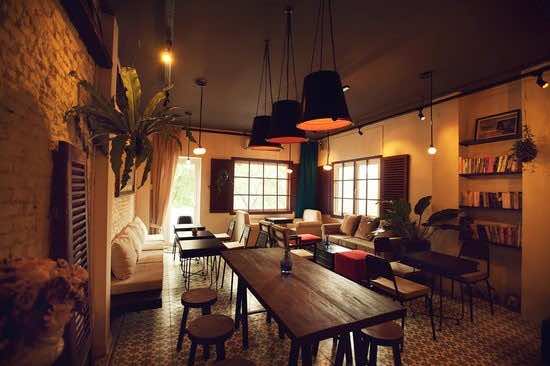 Add: 36 Le Loi Street (2nd floor), District 1, HCMC.
Chez Vous Coffee House
It is one of the coffee shops in Saigon housing in an apartment in the city center. It is near Ben Thanh Market, so you will have a great view of the market when sitting to enjoy a cup of coffee here. You know, this place is highly recommended by many backpackers. The decoration of the café is blended French with Vietnamese culture.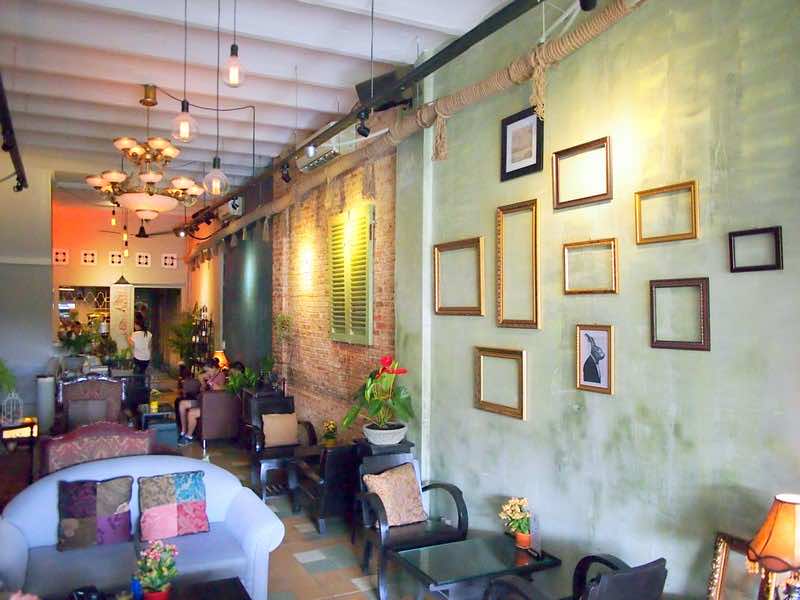 Add: 4 Phan Boi Chau Street (1st floor), Distrist 1, HCMC.
>>> You also might Relax the best bars in Ho Chi Minh City