Let's hunt for the best banh mi in Ho Chi Minh City
One of the greatest joys of travel is being able to sample local cuisine. There is nothing quite like it and frankly it is one of the many things I look forward to when in a new city. Eating your way through the local food is something which you must never miss. However, finding the best local food is not always easy. There are some tricks you need to know so you never end up going to McDonald's and wasting your trip munching in unhealthy fast food. so, in order to help you, we have come up with some tips to make the best of your time enjoying the local food on your trip.
It you're planning on traveling to Vietnam, the one sandwich you will hear about and will not want to miss is the Banh Mi. This iconic sandwich has been consistently ranked as one of the best sandwiches in the world.
What is that makes this sandwich so fantastic that its notoriety is spreading across the world so quickly? As a cool and foodie, I appreciate the balance of the sandwich. It touches every sensation on my tongue perfectly and leaves nothing more to be desired from such a humble and simple sandwich. Layered with meat, smothered in pate and mayo, and topped with fresh herbs, pickles, and chili creates a texture and flavor party.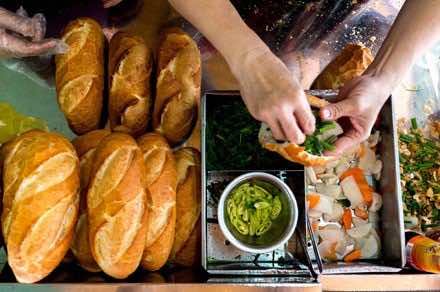 Banh mi Huynh Hoa
Undoudtedly, banh mi is one of Vietnam's greatest culinary gifts to the world, and there is no better place to try one these special sandwiches than in Ho Chi Minh City. For many years, Banh Mi Huynh Hoa has had the reputation of making the best one in Ho Chi Minh City operating from 2.30 pm to midnight. Their business has been very successful. There is not just one, but two fully loaded glass cabinets, packed with all the ingredients needed to make monstrous Vietnamese sandwiches. Interestingly, you have to be prepared to shout out your order as soon as you make eye contact with the staff because there is no real system of a queue. The sandwiches here are made to order, stuffed with as many as nine layers of cold cuts, and slathered liberally with pate.
Add: 26 Le Thi Rieng Street, Ben Thanh Ward, Dsitrict 1, HCMC.
Banh Mi 37 Nguyen Trai
In an unassuming corner off Nguyen Trai in Ho Chi Minh City lies Banh Mi 37 Nguyen Trai whose name is the combination of the single item on the menu and the street address where it's parked, a small Banh Mi push cart, with an international following and snacking lines of customers. The woman who operates it sets up the cart about 5pm, and might be sold out by 8pm, so you need to get there early.
Specializing in Banh Mi Nem Nuong, it is stuffed with the grilled pork patties, luxurious sticky brown gravy, and freshly cut chunks of cucumber. It has a crisp bite, succulent meat, and the sauce is cloys to your mouth leaving you craving or more.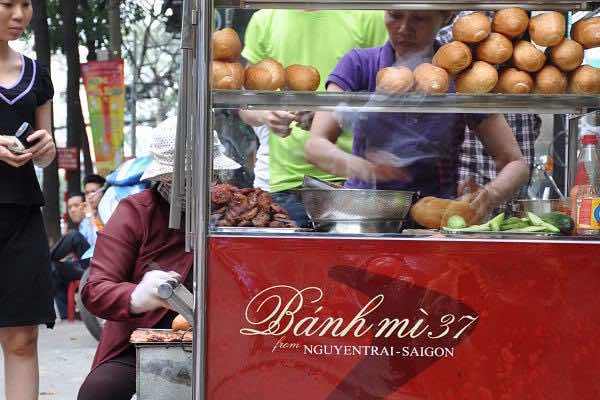 Add: 37 Nguyen Trai Street, Pham Ngu Lao Ward, District 1, HCMC.
Banh Mi Nhan Ngai
Banh Mi Nhan Ngai is a famous brand in Da Lat which hundreds of tourists traveling to Da Lat would like to enjoy it. Now, it has another branch in Ho Chi Minh City. Undoubtedly, it attracts a lot of Saigon people. You know, many of Vietnamese sandwich involve pork liver pate or pork belly or ham slices, plus maybe mayo, some cucumber. But Banh Mi Nhan Ngai has made a distinct difference by changing traditional taste- it specializes in the filling of shredded chicken. The chicken shreds are not big or tiny but medium enough to be fluffy.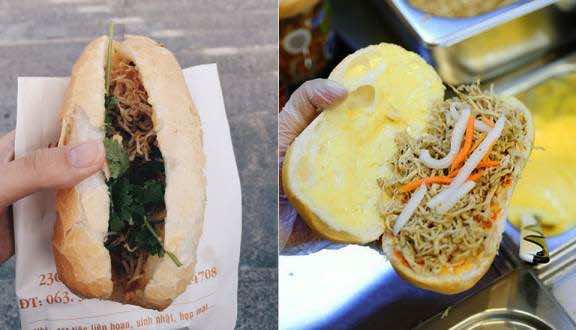 Add: 97 Xo Viet Nghe Tinh Street, Ward 17, Binh Thanh District, HCMC.
Banh Mi Bay Ho
Although it is just a food vendor stand, it has a rating of 8.1 out of 10 from foody.vn which is a community of foodies rating their favorite places throughout the country, and for sure it is worth giving it a try. The banh mi here has a filling of pork, pate, home butter, cucumber and vegetables such as pickled cucumber and coriander inside, especially their sauce and this combination creates a very delicious taste.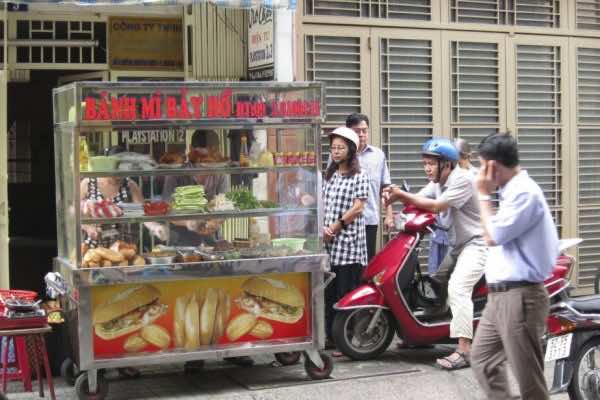 Add: 23 Huynh Khuong Ninh Street, Da Kao Ward, District 1, HCMC.
Banh mi Lien Thai with roasted pork
This place is also one of the best place to enjoy banh mi in Saigon although the topping is quite different from others. The fillings include roasted pork with crunchy skin, pickled carrot and radish, cucumber and herbs, especially it is quite spicy.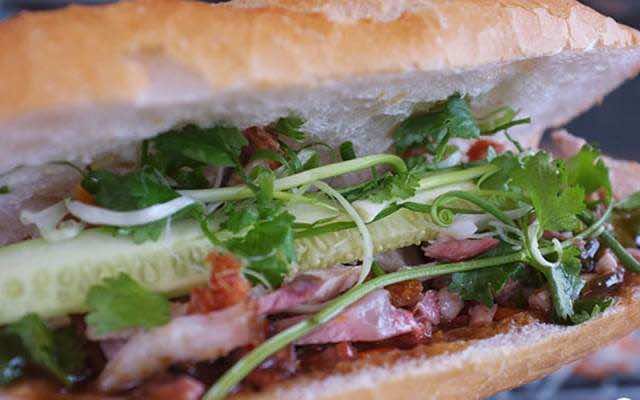 Add: 95 Tran Dinh Xu Street, Nguyen Cu Trinh Ward, District 1, HCMC.
Food has power to fill you and prepare you for the day's activities and it also has the ability to shape your journey, as well as defines your memories. Let's try and share your experience when enjoying the best banh mi in Saigon.
>>> You might also like Street Food in Ho Chi Minh city