Must-see attractions in Ho Chi Minh City
 It's a big world out of there- so big that it can be daunting to decide what destinations to visit in the course of a lifetime. From natural wonders to man-made masterpieces, from wildlife to cityscapes, the choices are seemingly endless. Don't let indecision let you down, or worse, delay the planning of your next trip. We've whittled it down to must-see attractions in Ho Chi Minh City when traveling to the Vietnam's biggest city.
Ho Chi Minh City is a high-octane city of commerce and culture that has driven the country forward with its pulsating energy. A chaotic whirl, the city breathes life and vitality into all who settle here, and visitors cannot help but be hauled along for the ride.
Notre Dame Cathedral
There is a tendency for many tourists to head straight to Notre Dame Cathedral as their first point of interest in Saigon.
Notre Dame Cathedral was built between 1863 and 1880 under the French colonists, located in the middle of Saigon's chaotic District 1. The church has an overall neo- Romanesque design. All building materials were imported from France. The outside wall of the cathedral was built with bricks from Toulouse. Although the contractor did not use coated concrete, these bricks have retained their bright red color until today.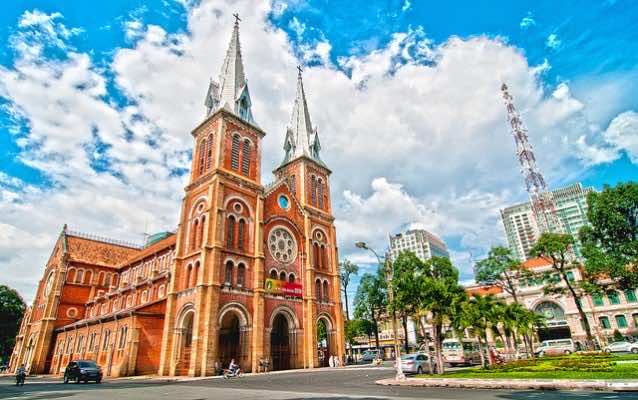 The Central Post Office Building
From Notre Dame Cathedral, you just need to take some steps towards the Central Post Office. Its Gothic- styled began in 1886 and remains one of the country's most celebrated structures. Inside, beneath a long, domed roof, walls decorated with French colonial maps flank a portrait of Ho Chi Minh city, while the elaborate tiled floors complete the refined look.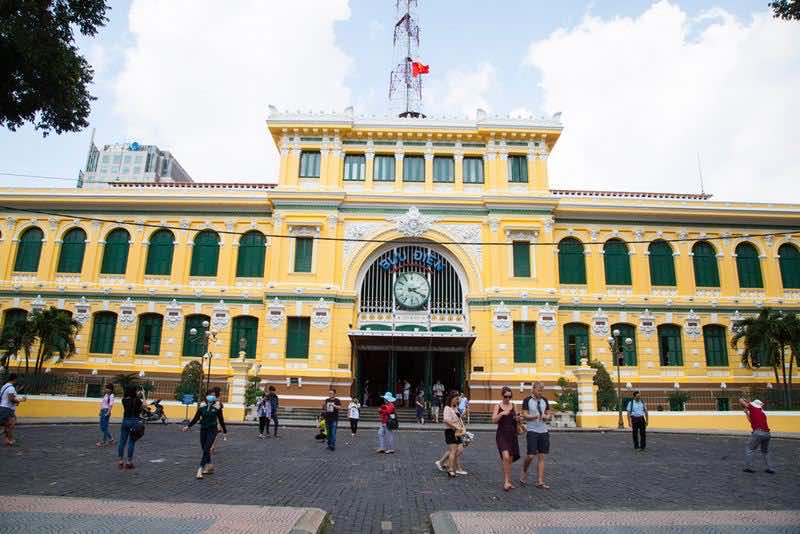 Reunification Palace
Also within walking distance, you can pay a visit to Reunification Palace which is one of the most important historical buildings in Vietnam. The building is deeply associated with the fall of Saigon in 1975. In addition to historical significance, the Reunification Palace is a showpiece of South Vietnamese 1960s modernist architecture and interior decoration. There are some beautiful original pieces of art, especially lacquer on the palace walls.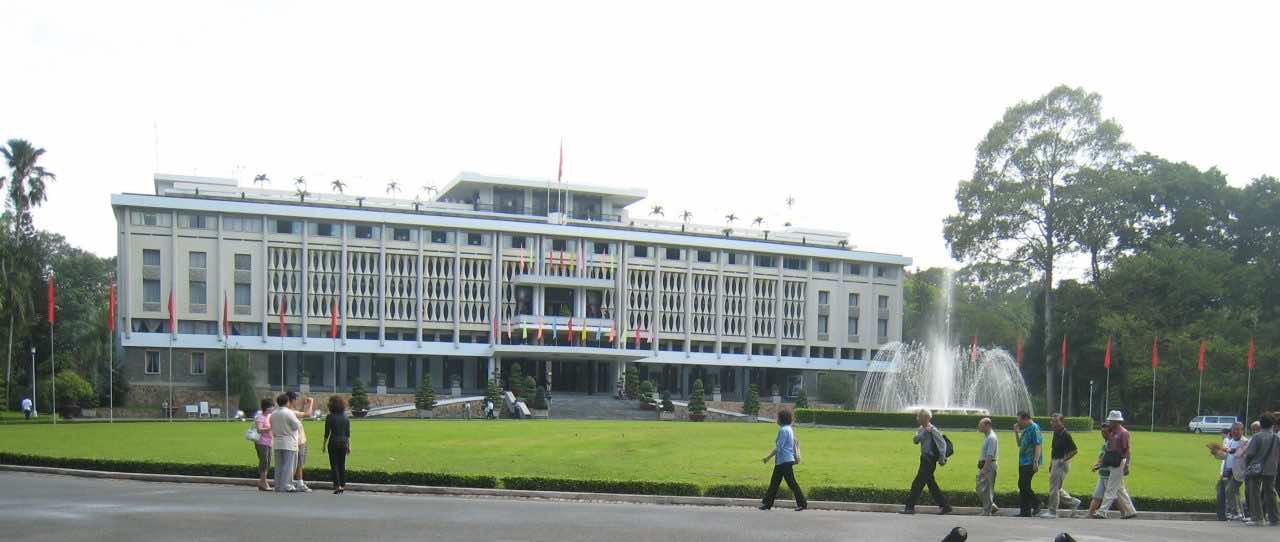 >>> Ho Chi Minh city tours will help you to visit attraction palces in SaiGon VietNam
War Remnants Museum
The War Remnants Museum offers half a million visitors each year a narrative of what Vietnamese people have experienced in the years that they fought for the freedom. The museum specializes in researching, collecting, preserving and displaying evidence- the crimes and consequences of the Vietnam War.
For VND 15,000, you can get to go around this 3-floor museum and be humbled with the collection of over 20000 photos, relics, and information.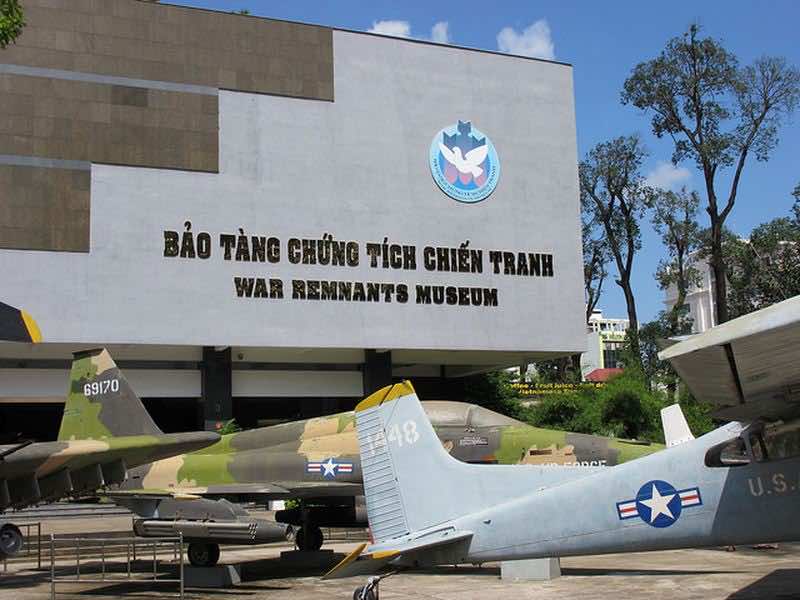 Fine Arts Museum
The yellow, the dramatic colonial era building that houses the Fine Arts Museum never fails to impress. Apart from the eye-catching color and picturesque façade of the building, each floor is also decked one-of-a-kind tiles which can be considered as art pieces on its own created between the 7th and 17th centuries. Added to this, contemporary works of art designed by prominent foreign artists and Vietnam's ethnic groups. Inspect silk, lacquer, and woodcut paintings made in Hang Trong, Kim Hoang, and Dong Ho styles.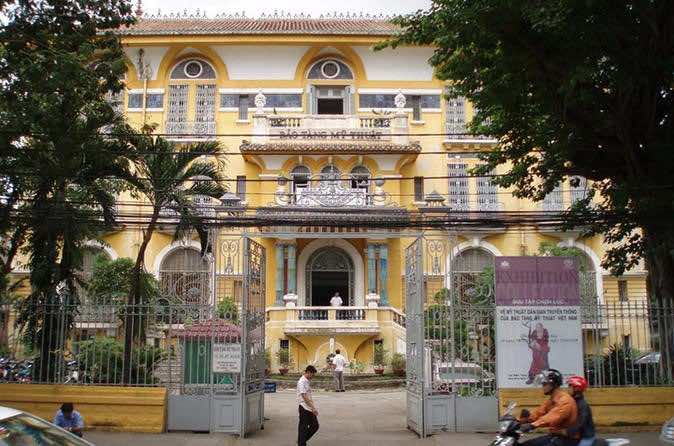 Ben Thanh market
Ben Thanh market has been operating since 1914 up to the present and it is known as one of the oldest markets in Saigon. Interestingly, not only does this 100-year-old market trade daily stuffs, but it also witnessed all the historical happenings of HCMC, or in other words, it is a great place for tourists to experience the duel- existence between ancient and modern Saigon. Added to this, you can find a great deal of items ranging from clothing, fabric, jewelry, and special Vietnamese dishes.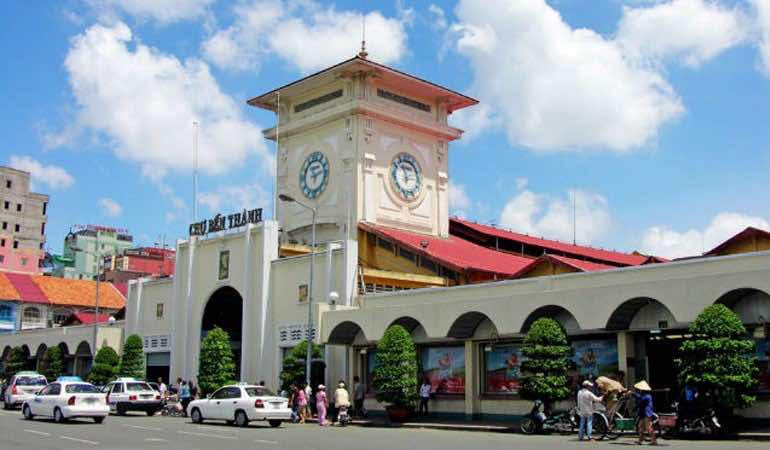 Cu Chi Tunnels are an amazing network of connecting underground man made tunnels built during Vietnam War. They were occupied by Viet Cong base of operations and were built for shelter and hiding. The tunnels themselves run between different buildings such as the locally built war hospitals, kitchens, and offices. Visitors can go through a short section of the tunnels to have the first-hand experience in these special tunnels and know what life was like underground.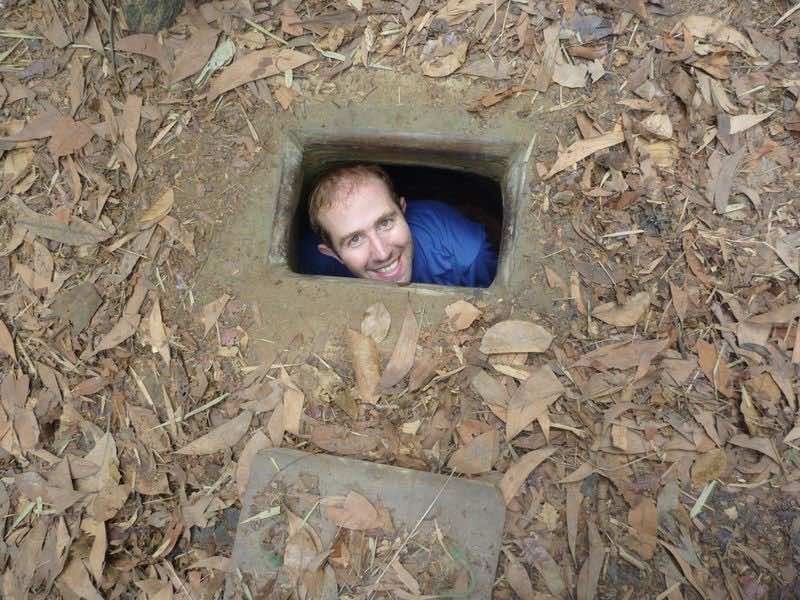 Bitexco Financial Tower- Saigon Sky Deck
Ho Chi Minh City's Bitexco Financial Tower– Sky Deck stands 262 metres high at the center of the city's business district and offers visitors an unparalleled city view from its Sky Deck.
This structure also received an 'Excellence in Structural Engineering' award from NCSEA in 2011 and is currently the 124th tallest building in the world. The main attraction at the tower is the Sky Deck where visitors enjoy dramatic views across the bustling city below.
At the Sky Deck there are English speaking guides, interactive touch screen fact boxes and maps to explain the sites you see below.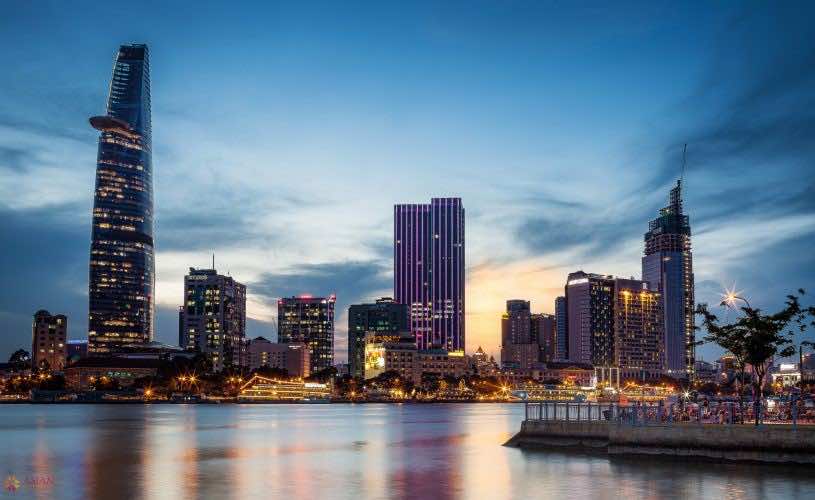 Opera House
Located on the famous Dong Khoi Street, you can see the Ho Chi Minh Opera House. This grand colonial edifice with a sweeping staircase was built in 1897 and is one of the city's most recognizable buildings. Performances range from ballet and opera to modern dance and musicals.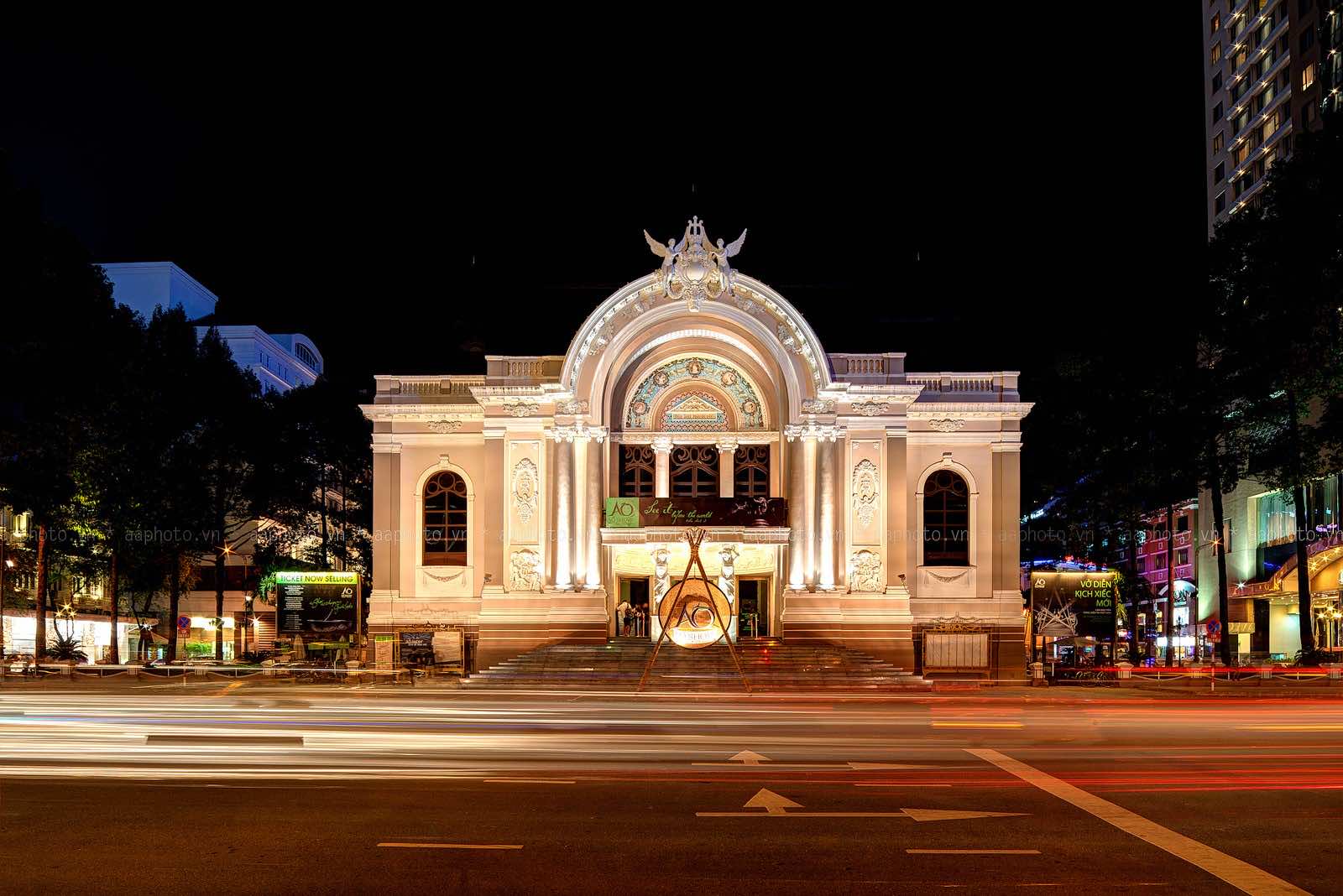 Binh Tay Market
Binh Tay Market was constructed by the French in the 1880s, featuring a beautiful and exotic mix of French and Chinese architecture. When it comes to the markets in Saigon, most of people have the knowledge of Ben Thanh market. But as good, and worthwhile as Ben Thanh Market is to explore, it is Binh Tay Market, a little further out of the touristy area, with special architecture, also the busiest the commercial center in Saigon. This place specializes in wholesale products with affordable prices ranging from candied fruits, vibrant cloths, locally sourced nuts, and other handmade goods.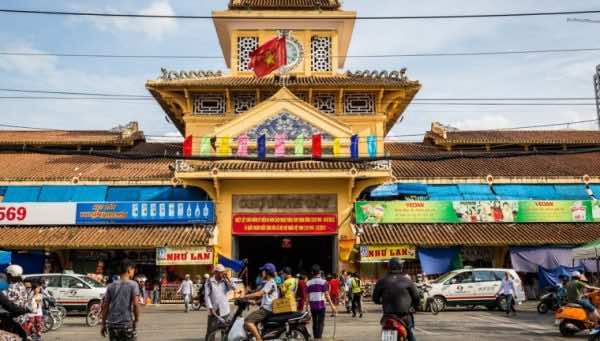 Backpacker district
If you want to experience the hustle and bustle of nightlife in Saigon, you should blend in with the atmosphere in this area.
The Pham Ngu Lao area in Ho Chi Minh City is known as the 'backpacker district' where most backpacking travelerers stay during their holiday, made up of two parrarel streets, Bui Vien and Pham Ngu Lao.
>>>Kim Travel is Located at the corner of bui vien and pham ngu lao streets. We are a tour operator specialising in inbound tours for international travelers to Vietnam: Mekong Delta Tours, Cu Chi Tunnels Tours, Ho Chi Minh city tours, Boat Tours,, Group Tour Packages… from Ho Chi Minh City
Bars around Pham Ngu Lao are easy to find, at almost every corner. The most famous Pham Ngu Lao bars offer a great deal of local beers and atmosphere: Allez Boo bar, Crazy Buffalo Bar, Go2 Bar. It is also common here to meet friendly expats who are more than happy to share a few tips about traveling in and beyond Vietnam.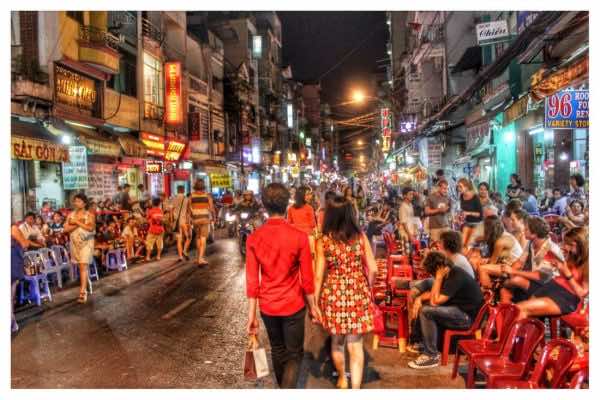 Jade Emperor Pagoda- Ngoc Hoang Pagoda
Built in 1892, the pagoda has a Chinese architectural style with brick decoration and colorful Yin- Yang style roof. The pagoda has approximately 100 statues made of cartridge- papers which are nearly 100 years old but still look new. There are two special fierce and menacing Taoist figures in the main building. Off different halls, the goddess of fertility Kim Hua, surrounded by figures of women and small children, blesses childless couples who pray for an offspring here. The goddess of mercy Kuan Yin, who forms a very important part of any Taoist temple, has an altar in a room on the top floor,
Emperor Jade Pagoda is a living and working shrine very much in use by the locals who come here to prayer or make votive offerings of flowers, and light candles and joss sticks.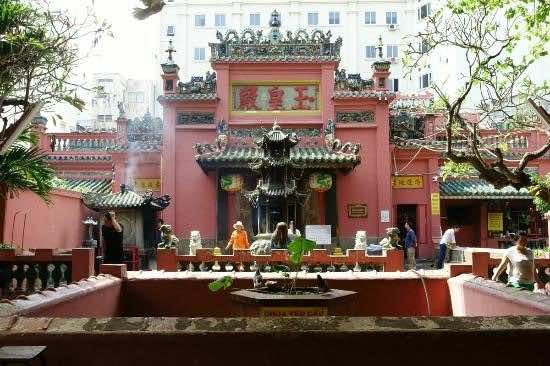 Nguyen Hue Walking Street
When it comes to Ho Chi Minh City, it is usually mentioned to the highest building of Vietnam-Financial Bitexco Tower, Notre Dame Cathedral, the museums and street foods. But Saigon has already added a new tourist attraction. This is Nguyen Hue walking street which becomes an ideal destination not only for Saigon people but also for tourists near and far, especially the ones who like to enjoy the vibrant of nightlife. Especially, do not miss 42 Nguyen Hue apartment building where is full of awesome coffee shops with great views straight to the walking street as well as fantastic corner scene to take photographs. The nightly congregation of locals here is a great experience of people watching.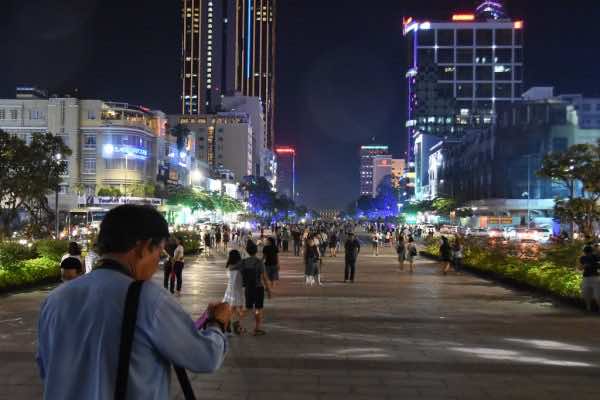 You know, in addition to the stunning and breathtaking views sketching the whole country, unique cultures, interesting history and welcoming locals, Vietnam is also famous for its cuisine. It is plausible to say that Vietnam is known as one of ten countries having the best street food. If you are a gourmet and a good traveler, you for definite have much know about the listing of special street food in Vietnam as a whole and in Ho Chi Minh city in particular.
The cheapest and one of the most delicious places to find cuisine in Vietnam is in a traditional open-air market. Here, single-dish food stalls, run mostly by women, offer crafted dishes passed from mother to daughter for generations.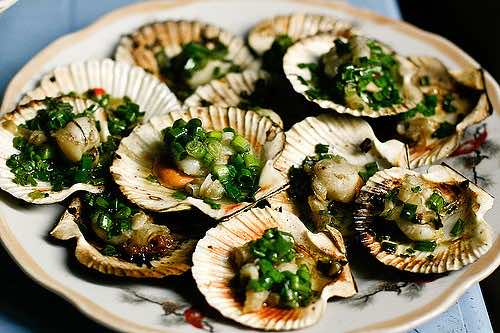 Pick them one or pick them all- you can't go wrong JJJ