Top attractions you definitely visit in Mekong Delta you should know when travelling to Vietnam
The Mekong Delta is a destination like no other. Innumerable rivers, canals, tributaries, and rivulets overflow with fish, and the rich alluvial soil helps produce an abundance of rice, fruit, and vegetables. Lush tropical orchards, floating markets, quaint towns, delicious food, emerald-green rice paddies, and lazy brown rivers and canals add to the photogenic wonder of the place. It's a land touched by ancient and modern cultures, from the Funanese to the Khmer, Cham and Vietnamese.
The northern delta, with its fruit farms and rice fields, is the most accessible from Ho Chi Minh City, with day trips possible to My Tho and Vinh Long. The south-central delta encompasses the Ca Mau Peninsula, with just into the sea from Soc Trang. Can Tho is a major center, a pleasant town with just enough tourist infrastructure for a comfortable stay. In the Mekong's southern section, steamy mangrove swamps and thick palm forests thrive on the flat, flooded delta creating a heaven for water birds including some rare species.
Here is the list of top places worth visiting in Mekong Delta, Vietnam.
 1. Cai Rang Floating Market
It is the dense network of the Mekong River and its tributaries that developed the waterway transport system and formed the special customs of the locals here. The habit of trading goods in the floating markets stands out and has become an image representing the area's tourism. Cai Rang Floating Market is the most famous of all names. You will be interesting in its extremely lively and crowded trading atmosphere, especially the smooth performances of traders and juggling fruits boat to boat. The market is open in the early morning around 3:00 am but the liveliest at around 5:00 am. Basically, there are two feasible options you can consider when visiting Cai Rang Floating Market: go by yourself and buy a tour.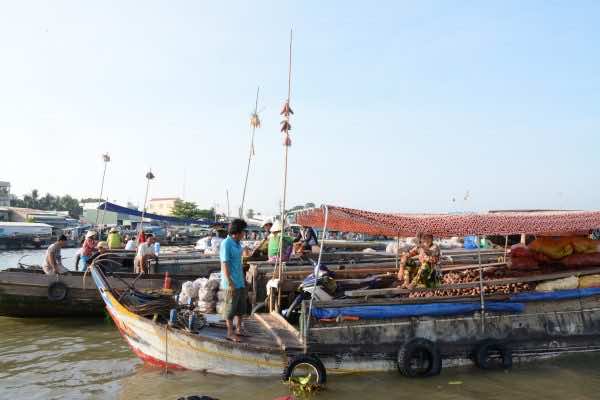 >>> Paying a visit to Cai Rang floating market in Can Tho province 2 days 1 night
Ninh Kieu Wharf
Ninh Kieu Wharf is one of the most famous Can Tho attractions because of the beautiful landscapes and exciting atmosphere in Ninh Kieu Night Market.  It is situated close to the center of the city on the bank of the Hau River which is known as a tributary of the Mekong River. On the wharf, there are always many boats which carry a lot of goods and products of the Mekong Delta. Coming to Ninh Kieu, visitors also have a chance to visit many high-quality restaurants and enjoy delicious dishes.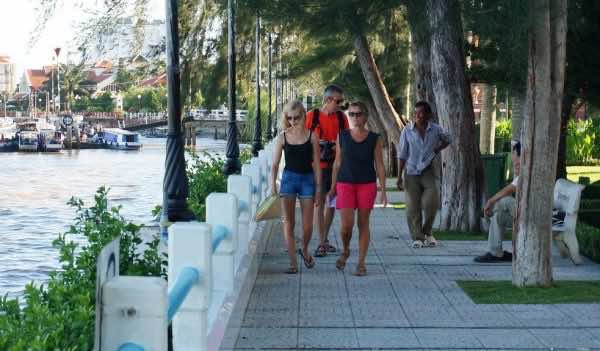 >>> Mekong Delta tour Can Tho Homestay 2 days 1 night
Cai Be Floating Market
Playing as one of the main trading centers in Mekong Delta, Cai Be in Tien Giang Province is a place where the locals sell and buy a wide variety of products catering to their lives. Besides staple commodities, this is a famous location to find local products priced quite reasonably. They may be freshest fruit harvested from the farm like durian, milk fruit, rambutan, mangosteen… Come here and worry no more about what to bring home. Every day, lots of boats and rafts in the delta gather here to trade and do business. Although the market is open all day, the liveliest time is at sunrise.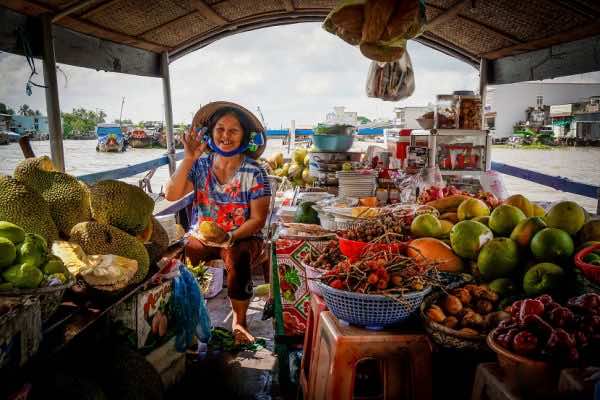 There are a lot of tour operators that organizing Cai Be Floating Market Tour for nature lovers and adventurous visitors. All you must do is simply to book a package tour as well as have yourself ready to get up early in the morning, give it a try with our Mekong Delta Tour (Cai Be- Vinh Long tour full-day )
Fruit Orchards
Cai Be Fruit Orchard (Tien Giang). Surrounded by canals, around the year immersing in fertility alluvial of the Tien River Delta, Cai Be is a specialized cultivation areas providing fruits for domestic needs and for export as well. It is not only a large basket pf fruit of Mekong Delta, Cai Be is also a stop for most tourists.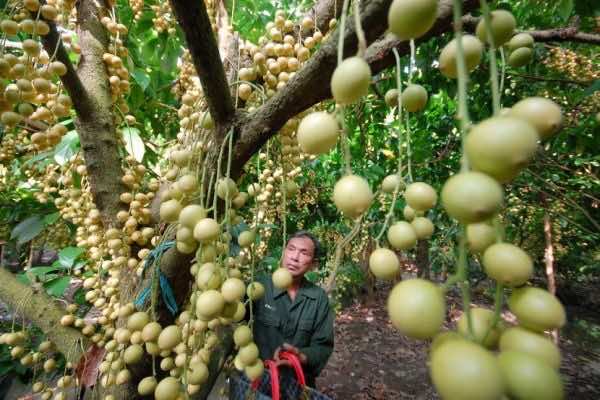 Cai Mon Fruit Orchard (Ben Tre). Known as the coconut land with the moderate climate all seasons of the year, Ben Tre is also a large fruit basket of the Southwest with variety of delicious fruits such as famous durian, rambutan, pomelo, mango, longan, plum…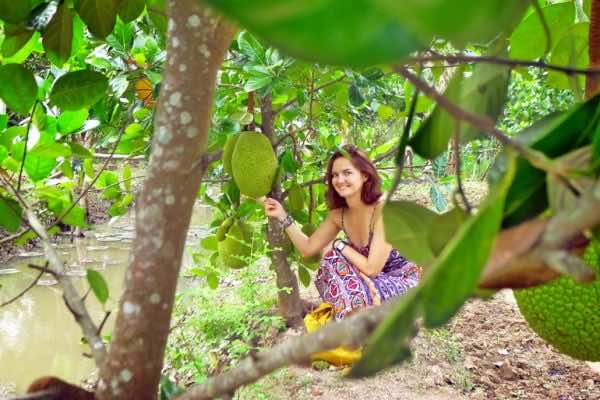 Vinh Long Fruit Orchard. Vinh Long has been famous for green fruit orchards during four season in which there are specially popular Nam Roi grapefruit. Tourists can relax while enjoy hands-on experience in harvesting fresh fruit in the orchard.
>>> Mekong Delta tour My Tho – Ben Tre full day
Private Sampan Tour in Ben Tre or Can Tho
After paying a visit to the floating market, you can continue your journey on the water. Exit the large river and head towards the tiny canals that make up the maze that is the Delta. Undoubtedly, it is the best way to stop over at anything you see interesting – stilt houses, boat houses, orchards farms, cottage industries. Riverside restaurants…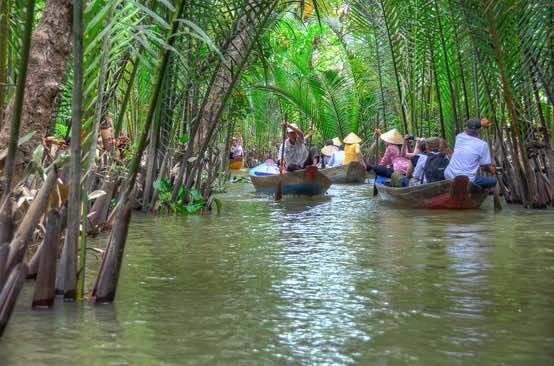 Tan Lap Floating Village
If provinces of Mekong Delta is often one of the first destinations of foreign tourists, there is an eco-tourism site, not far from Ho Chi Minh City. That's Tan Lap floating village, located in the heart of Dong Thap Muoi Area, Long An Province. This is home to Cajuput forest, lotus flower, rice paddies and many wild animals…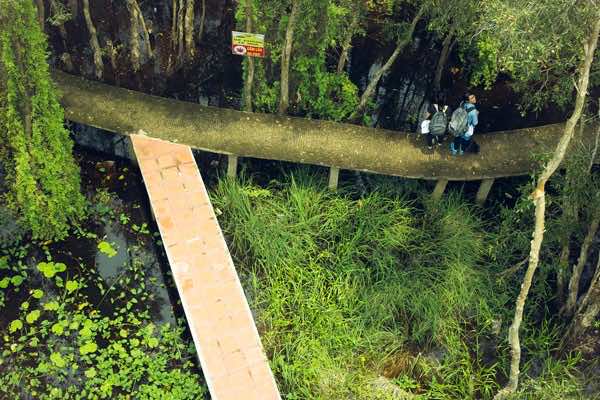 The entrance into the Tan Lap Village is through the Cajuput forest, named Rung Canal. This 5-km long path and 10-floor observation tower are considered as the highlights of the eco-tourism site. Besides, there are many other functional areas such as environmental education, natural reserve, wild animal, floating houses on stiltsm park, pier… Tourists can go along cement paths or go along the river by boat. During October and December, this is a great location for you to admire the blooming of lotus flower. Among an immense of the forest, the combination of trees, flowers and many species of birds, all creates a simple and picturesque scenery.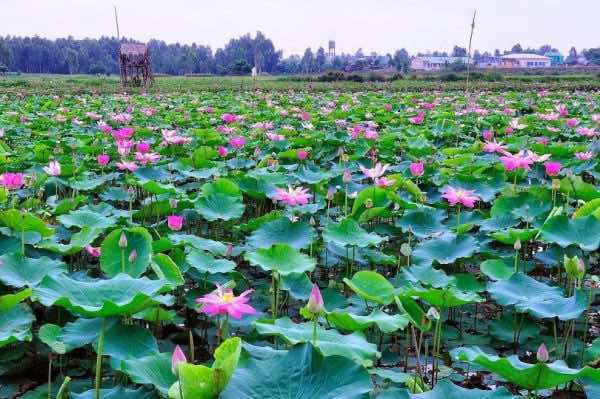 Tra Su Mangrove Forest
Tra Su Mangrove Forest is located about 20 km form Chau Doc and covers an area of approximately 850 hectares. A wide variety of colorful birds and other animals can be found here: storks, bats, snakes, turtles… If you want to visit the protected area, you plan in at least 3 hours. The tour through the habitats can be done by motor boat, rowing boat by foot. From the high observation deck you will have a beautiful view over the mountains in the area, the expanses of mangrove forests and numerous birds.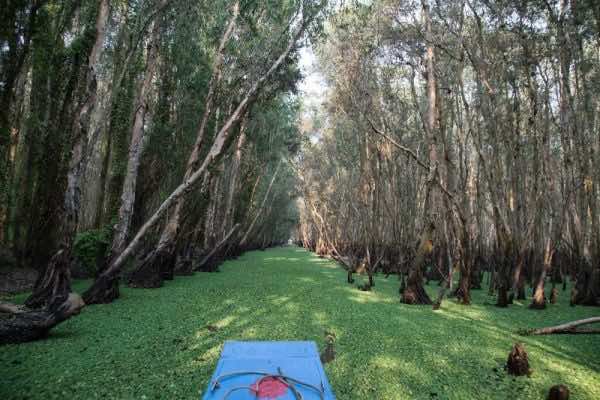 Tram Chim National Park
Tram Chim National Park is around 40 km due north of Cao Lanh and notable for its rare red-headed cranes, though more than 220 species of birds live within the reserve. The cranes nest here from about December to May; from June to November they migrate to northwest Cambodia. Seeing them requires a considerable commitment (time, effort and money), you can take some trips with tourist agencies by car and small boats, or it is cheaper to go if you make friends with locals.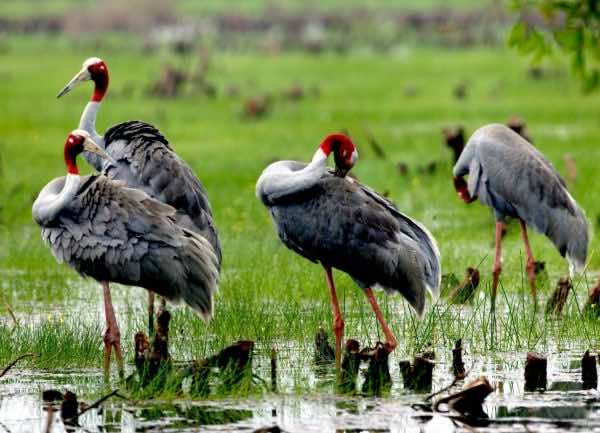 Enjoyed this article and share your first-hand experience when visiting the Mekong Delta, Vietnam.
>>> If you looking for a travel agency in SaiGon, Kim Travel is the best Travel Company in SaiGon Ho Chi Minh city. Organise tour package, Mekong delta tours, Cu Chi Tunnels Tours Travel from SaiGon Ho Chi Minh city VietNam