Coming up with a plan for New Year's Eve in Ho Chi Minh City
 New Year's Eve is the last hurrah of the holiday season. People throughout the world hit the streets in order to enjoy the day. Their goal is to celebrate life and to watch one year end and another begin. It is also definitely known as one of the biggest "party holidays". But if you are not a party person or you'd just rather spend the build-up to the New Year at home, there are still tons of things you could do to make the night memorable.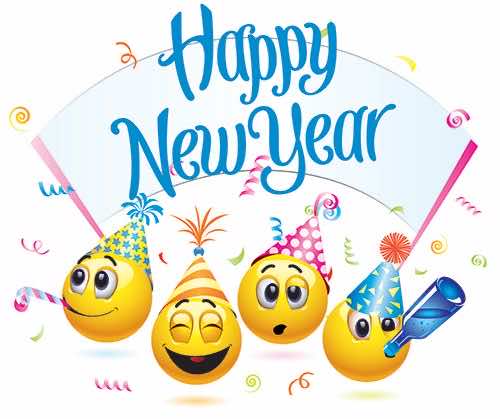 Here is a list of some ideas for celebrating New Year's Eve in Ho Chi Minh City with your friends and family.
Enjoy fireworks
Like many places throughout the world, fireworks are also a big part of the celebrations. Once the New Year comes about, people gather to enjoy fireworks displayed. In some areas, people who can afford fireworks or who know how to make them set them off in their personal property.
A Ho Chi Minh City- based travel company has been allowed to hold firework displays to celebrate both the New Year and Lunar New Year at a local theme park. On the New Year's Eve, a fireworks display will light up at Dam Sen Park on Hoa Binh Street, District 11. Another show will take place at the same venue on the night of February 15, 2018 to usher in the Lunar New Year, or Tet as Vietnamese call it.
The midnight fireworks also shoot off near the Bitexco tower, so people can watch the show from the streets around the tower or from District 2 across the Saigon River.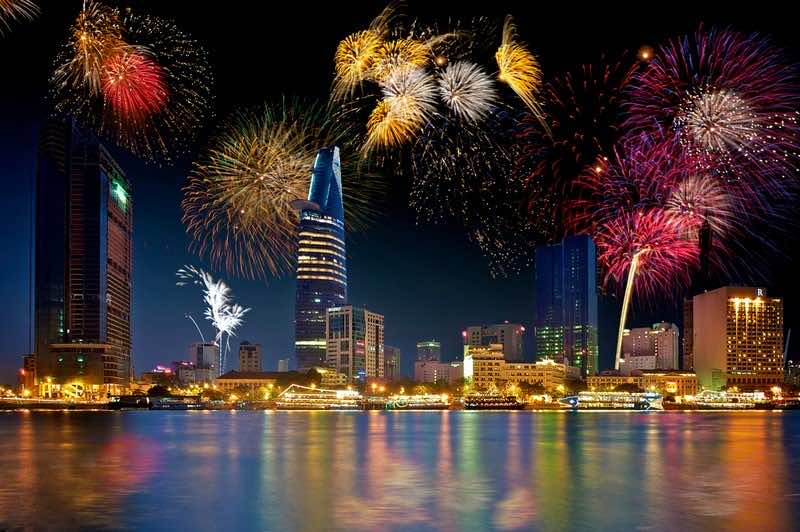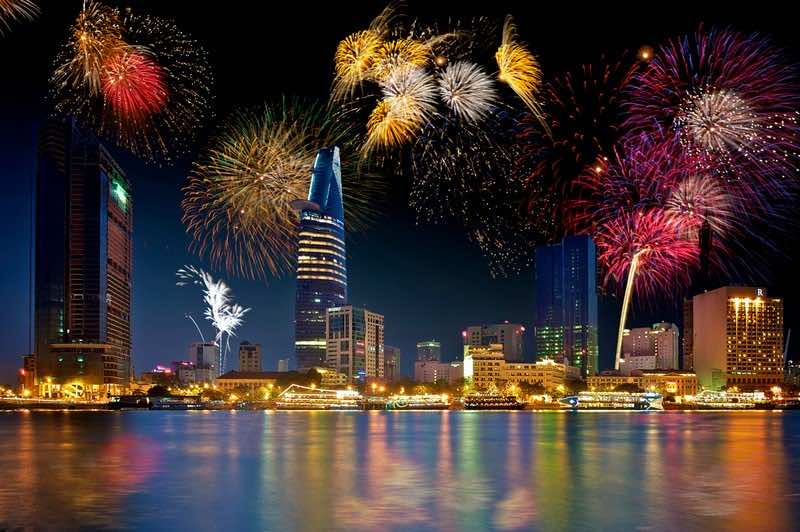 Nguyen Hue Walking District
A New Year's countdown event will be held on Nguyen Hue Pedestrian Street on the evening of December 31 with a 3-D mapping show illuminating the city hall building located at the street's end.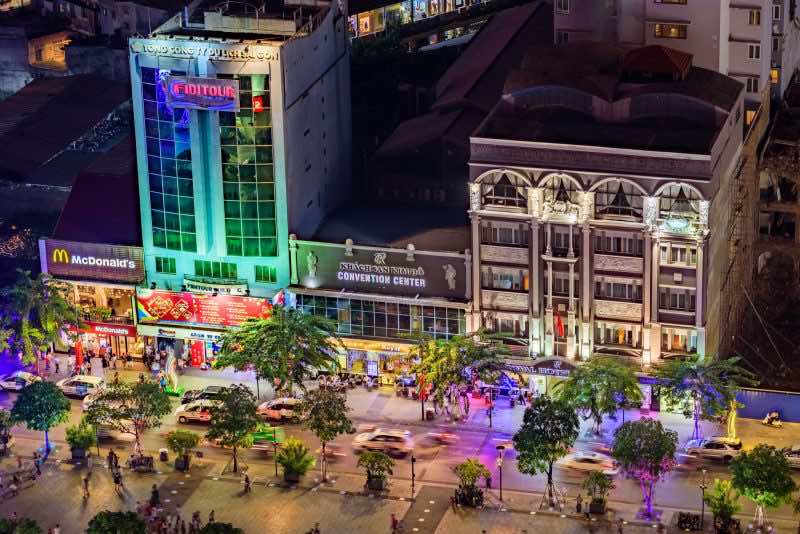 Going to a party
Celebrate a house part. It is likely that someone you know will be throwing a house party for the year. Ask around and choose which party best fits your celebrations desires (party size, activities, location…).
Go out for dinner. Whether it is a family-friendly restaurant with your kids or your favorite restaurant for a night out with friends, going out to eat is a great low-key way to celebrate the New Year.
Hold a friend gathering. Gather some of your friends and arrange a meet up at one of your favorite locations. It could be a bowling alley, restaurant, club or city park.
Rooftops bars
There is no doubt that celebrating New Year's Eve in some rooftop bars in Ho Chi Minh City is the best way because of the combination of fancy drinks, good service, a great view of fireworks display.
Here are some best rooftop bars in Ho Chi Minh City:
Chill Sky Bar, AB Tower, 76A Le Lai, District 1.
Rex Hotel Rooftop Bar, 141 Nguyen Hue, District 1.
Broma Not a Bar, 41 Nguyen Hue, District 1.
Air 360 sky Lounge, 136-138 Le Thi Hong Gam, District 1.
Level 23 Wine Bar & Nightstop, 80 Dong Du, District 1.
The View Rooftop Bar, 195 Bui Vien, District 1.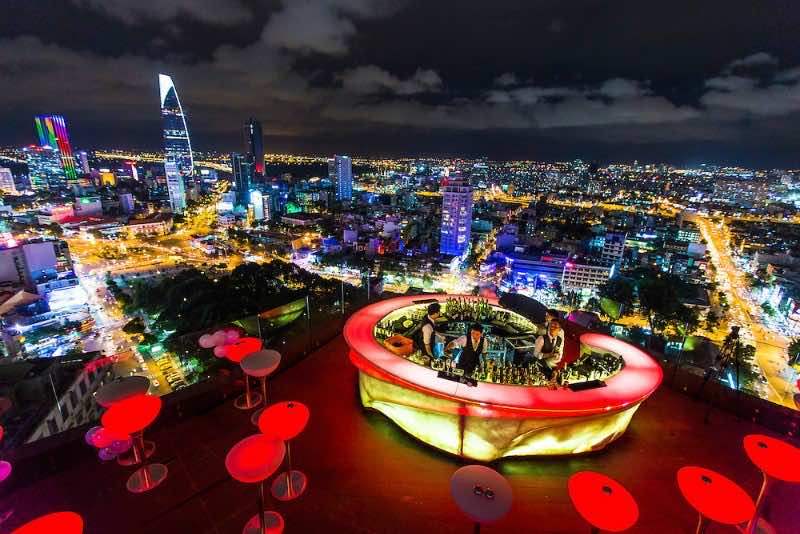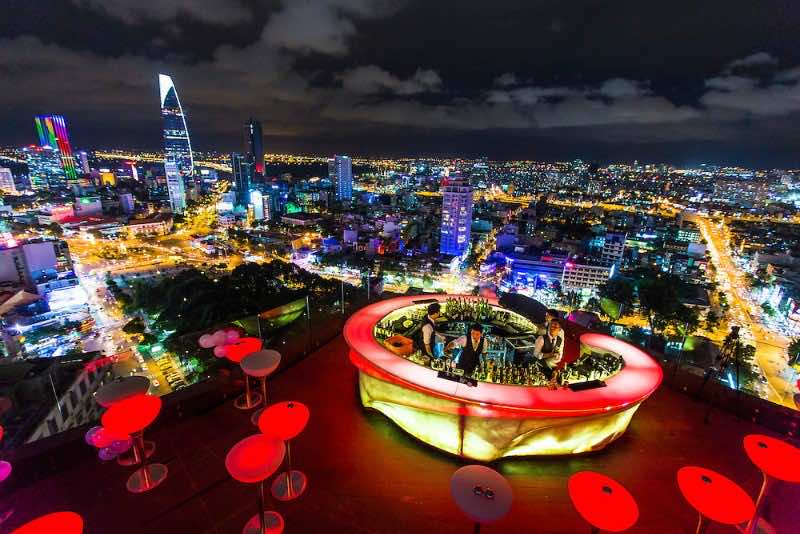 Bonsai Dinner Cruise on the Saigon River
Heading out onto the Saigon River with Bonsai is not just about seeing Ho Chi Minh City by night. Neither is it just about having a nice dinner or being entertained while you drink good wine. It is a total experience from the moment you lay eyes on the gorgeous boat, to that last glimpse of the city from the romantic upper deck. Go for a river boat cruise boat on the Saigon River in the New Year's Eve is to have both e a unique view of the fireworks and a memorable experience.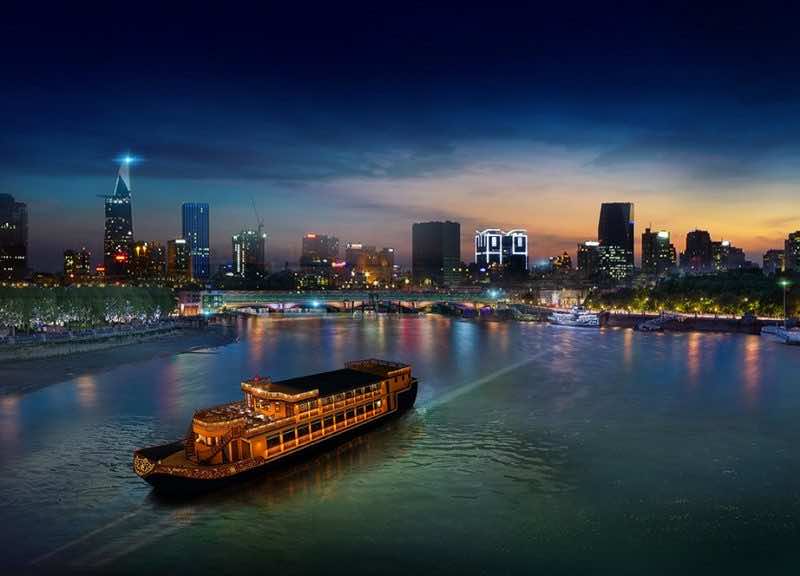 Bonsai Cruise is docked daily at Saigon Port, 5 Nguyen Tat Thanh Street, District 4. Boarding every day at 6.45pm and sail at 7.15pm.
What are your ideas for celebrating New Year's Eve? Do you go out on New Year's Eve or prefer to stay home? Let us know in the comments and then share this article with your friends.
>>> Best time to visit Ho Chi Minh city VietNam have to know
Comments
comments